Georgia 400 Corridor: Growing With The Flow
Eyes on the road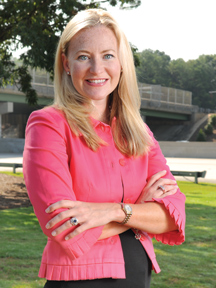 For the communities that border Georgia 400 as it rolls from north Fulton County into Forsyth, this ribbon of concrete has long been viewed as a path to growth and prosperity. From Roswell through Alpharetta and Milton on to Cumming, some of Georgia's most affluent communities are located here.
These days the economy has put the brakes on what was once almost uncontrolled expansion of business and people. Yet, many of the issues that growth delivered, such as sprawl and traffic, are very much still on the minds of local leaders.
"Many people will get off Georgia 400 onto Mansell and take a left onto North Point [Parkway] to get home in the afternoon instead of continuing north on Georgia 400, which is clogged," explains Ann Hanlon, COO of the North Fulton Community Improvement District (CID), as a stream of autos backs up from the intersection. "People get off and use this as a parallel alternate to head north instead of getting onto 400."
The heavy volume of traffic using 400 each day has spurred the CID to put an emphasis on building and expanding other roadways to divert local traffic. Over the past several years this organization, which is supported by a voluntary tax on commercial property owners, has undertaken the slow, gritty and decidedly unglamorous work of improving traffic flow through the area.
Their efforts have been as simple as adding extra turn lanes to prevent traffic backup to major road and bridge construction that transformed Westside Parkway, which parallels 400, into an easy-moving artery serving the crowded business parks that surround it.
Improving the flow of traffic along major arteries such as Mansell Road and North Point Parkway has been less expensive than CID officials had originally thought.
"We had several members of the community who came to us and said, 'Why can't you just widen it?'" recalls Hanlon. "So, we hired a firm to study it, and they found that the capacity of the road was not the problem, but it was the intersections that were causing the congestion. So they identified each of the intersections, and we're now in the process of studying each one to see how to fix them."
Turn lanes are just one small part of the CID's efforts to transform North Fulton into a major population center that features not just employment, but high-density residential, plenty of shopping and entertainment and, for something really different, walkable streets that get people out of their cars.
It's already made progress in putting down sidewalks along areas where brave souls had worn "cow paths" from the MARTA station parking lot and other areas. The once dreary suburban landscape has also started to take on a distinctive look as sidewalks have acquired decorative facades.
"The Tennessee field stone is really one of the most identifiable materials that enhances the level and lushness of the landscaping while using the field stone as a repeating element," explains Eric Bosman, an urban design consultant with Urban Collage, who worked on the project.
The Blueprint
These efforts have been driven in part by a study commissioned by the Metro Atlanta Chamber of Commerce that found the metro area was on its way to a population increase of 2.5 million (the size of greater Denver) by 2030. As a city with no natural boundaries, Atlanta's population has tended to spread out, making the region one of the least densely developed in the top 15 U.S. metro areas – and a leader in traffic congestion.
"We have to put the density along existing corridors and city centers as opposed to letting the sprawl move further out," explains CID spokesman Pat Hill.
To take advantage of this trend, the CID, in conjunction with the Greater North Fulton Chamber of Commerce, developed Blueprint North Fulton. This land use and transportation plan calls for more compact high-density development focused on three specific areas – North Point, Old Milton and Windward parkways. The goal – in line with the metro chamber document – is to enhance walkability and livability while reducing congestion and pressure on transportation.
This development pattern requires not just employment and housing to make it into a walkable center, but also "something to walk to," adds Hanlon.
That something can be on Encore Parkway in the form of the Verizon Wireless Amphitheatre. This 45-acre venue regularly plays host to top names in entertainment, as well as the Atlanta Symphony Orchestra. Condos and apartments have started to sprout up around the facility, reflecting another trend for North Fulton.
The Atlanta Regional Commission named the area as one of the best places to retire in the entire metro region. A steady stream of mostly affluent re-tirees and professionals is spurring a growth in rooftops that is helping drive retail, culture and other amenities.
"We created a strong destination on this side of 400, and now the question is how do we link this all to the commercial activities that are already going on," says Hanlon, pointing to North Point Mall and a host of other commercial establishments that lie on the other side of a narrow bridge spanning the roadway.
The CID is gathering the $6 million in funds for a new, wider bridge with sidewalks and trees that can shade both drivers and pedestrians. This span, and the trails along nearby Big Creek, will bring the area together by overcoming the physical barriers that have created islands linked by roads.
"The goal is to create a sort of Main Street storefront development along Encore Parkway," says Hill.
City Centers
Georgia 400 and the CID are bordered by three cities that display the best and worst of suburban development. Here you can find quaint traditional downtowns surrounded by sprawling development fronting wide, busy highways.
While all have been hit hard by the recession, Roswell has the second lowest level of unemployment after Peachtree City among Metro Atlanta cities, boasts longtime Mayor Jere Wood.
The city has experienced a 10 percent drop in revenues, but has generally been able to maintain services and avoid cutting its workforce. To do so required dipping into reserves, and that tactic sparked some conflict between Wood and the city council.
"We've been able to balance the budget, but what we're really seeing is that our capital projects are suffering," Wood explains. "We're spending down our capital projects fund because we're not replenishing it from revenues."
Wood has pushed for further cuts in city spending – a move that the council has resisted, he says.
Although the city's downtown area has continued to flourish and draw an increasing number of visitors, retailers along Holcomb Bridge Road and Highway 9 have suffered.
City officials think that the establishment of an opportunity zone in these areas will jump-start job creation. Businesses that add two or more new jobs can get an annual $3,500 income tax credit for up to five years.
"We hope that will encourage businesses to relocate to Roswell and business in Roswell to expand," says Wood.
Patience has become the watchword in Alpharetta, where the downturn has put many of the city's projects on hold. While downtown businesses are holding on and few have left the market, ambitious plans are waiting for another day.
"Everybody is just waiting a little to see where things are going to go," says Diana Wheeler, the city's community development director. "Nobody really wants to take that first step while we're still in this transition phase. So we're waiting a little bit to see how things are going to work out – until the time is better."
On hold are many of the initiatives contained in the city's long-range plan, which identifies opportunities for residential space and a new city center comprising mixed-use development.
While Alpharetta may be quiet, that isn't to say there's nothing going on. Main Street Walk, a commercial development that opened just as the economy tanked, has struggled to find tenants but now seems to be full.
Lion's Heart School near downtown and the headquarters of AdvancedEd on Westside Parkway are nearing completion.
On the north end of the CID is one of Georgia's newest municipalities. Incorporated less than four years ago, the city of Milton is home to about 20,000 people living amidst rolling hills and horse farms.
At its founding, it joined other municipalities in outsourcing basic services such as garbage collection to a private company, CH2M Hill. At the time the move was hailed as a free market way to improve services while keeping costs down.
When the economy soured and city revenues fell, cost considerations prompted city officials to terminate the contract and take back operations. The change is expected to save the city about $1 million out of the $7.6 million it was spending on its contract – with little obvious change in the way the city delivers services. In fact, a number of CH2M employees were retained to do the same jobs they handled for the private firm.
Steady Stream
The cars making their way up Georgia 400 into Forsyth County were followed by a steady stream of companies, attracted by an affluent population, good schools and a well built-out communications infrastructure that has been especially attractive to high-tech enterprises.
Of course that was before money for expansion largely dried up and deals became less plentiful.
"We saw a substantial decrease in the total number of projects and folks looking and even talking about making an investment in the community," concedes James McCoy, president and CEO and the Cumming-Forsyth County Chamber of Commerce.
County government was particularly hard hit as fees for housing permits dried up and sales tax revenues declined. Officials were forced to cut more than $25 million over the last two years, reducing the budget to $79 million, according to County Manager Doug Derrer.
As a result, county vehicles were parked, benefits were cut and non-essential services scaled back. County workers were let go in a series of layoffs. Those that remained have endured unpaid "holidays."
But the worst may finally be over. Local businesses are starting to expand, and newcomers are once again finding their way to the county.
"We're trending up compared to where we were several months ago and last year," says Derrer. "In fact, we're averaging about 100 new home permits per month."
The chamber is also making an-nouncements about new investments and more jobs – not anything like past years, but promising nevertheless, says McCoy.
"We have been specifically focusing around environmental technology and healthcare technology firms, and we're getting a lot as a result of that interest," he explains.
Since January, five companies have contributed a total of 243 new jobs and $35 million in capital investments.
"We've also seen a substantial increase over last year and particularly in the last quarter in the number of new companies looking at coming into Forsyth County," says McCoy.
The economic downturn can't negate the reasons that high-tech business has made Forsyth home in years past. These include not just easy access via 400, but a well-developed infrastructure with fiber for communications threaded throughout the region. Then there's the synergy created by the business community itself.
"There are a substantial number of very sophisticated technology firms, and they do a great job of feeding off of one another," says McCoy. "And it's developed a very strong talent pool."
In addition, county schools are ranked among the best in the state according to test scores and, if locals have anything to say about it, they will keep getting better.
"We have a high graduation rate at 88 percent, and we have an initiative going on right now to increase that by another 10 percent system-wide," according to McCoy.
The county has placed special em-phasis on healthcare businesses. One of the latest expansions has been a medical device firm headed by a local physician.
"Healthcare is for the moment and will, for the foreseeable future, be a driving force in our economy," says McCoy.
This particular niche – and the local economy in general – have gotten a boost from the rapidly expanding Forsyth campus of Lanier Technical College. The institution recently completed work on a 750-seat conference center. Along with providing the largest meeting space in the county, the upper level of the building is dedicated to healthcare training programs.
Local leaders say it will only be a matter of time before more businesses make their way up Georgia 400 in search of a new home. In the meantime, the county is still working to make that route even better.
Although the North Fulton CID ends at the county line, officials on both sides have cooperated on making projects happen. A good example is McGinnis Ferry Road, where considerable work is under way to improve access to the area.
"There's been a lot of communication and cooperation on that," explains McCoy. There are a lot of utilities involved, and some fall in Fulton and some in Forsyth. That particular area marks a very important opportunity for our community and for north Fulton as well and the CID. The cooperation between those two entities has been very important."
Community Snapshot
Local Leaders
Ann Hanlon
Chief Operating Officer
North Fulton Community Improvement District
678.397.0566
ahanlon@gnfcc.com
Jere Wood
Mayor
City of Roswell
770.594.6288
James McCoy
President and CEO
Cumming/Forsyth County Chamber of Commerce
770.887.6461
jmccoy@cummingforsythchamber.org
Population
(2009)
North Fulton 367,898
Forsyth County 174,520
Per Capita Income
(2009)
North Fulton, $52,405
Forsyth County $35,746
Unemployment
(June 2010)
Roswell, 8.8 percent
Alpharetta, 8.1 percent
Forsyth County, 8.3 percent
Georgia, 10 percent
Sources
U.S. Census Bureau, Greater North Fulton Chamber of Commerce, Cumming Forsyth County Chamber of Commerce, Georgia Dept. of Labor