Athens/Clarke County: Reinventing The Classic City
Medicine and bioscience are a dynamic combination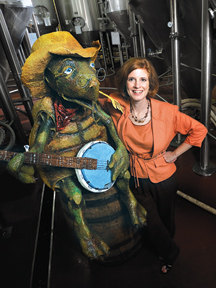 It's a big year for Athens-Clarke County, and change is in the air. To mark the closing of the Navy Supply Corps School after 57 years, the city celebrated with 57 days of activities – a fond farewell: The last class that graduated this year was just 100 students, as operations have been moving to Rhode Island since 2005.
But the move does indeed represent a sea change. The old Navy School campus comprises 68 acres in the middle of the state's tiniest county, home to the state's flagship university. Some 375,000 square feet of building space is becoming home to the Medical College of Georgia/University of Georgia Medical Partnership.
Does the name sound long? Athens is careful to acknowledge MCG in Augusta, where Georgia doctors have trained for decades, as its partner in the new relationship. In the larger statewide competition for bioscience, teamwork is sound strategy – part of a larger trend of reaching out, forming a regional network to meet the challenges of making up a doctor shortage across the state, and growing the bio sector, even as the University System budget has been slashed 10 percent across the board.
While UGA and MCG are wincing individually, their partnership is exempt from the cuts. And federal funding is further insulating the University's research community from the sore economy: The government wants to create renewable fuel from plants, and UGA has been given $135 million to help make that happen.
UGA bioscience is beefing up in other ways, and as the nation trends toward recovery, Athens may finally recover from an underemployment malaise that has dogged its ability to retain graduates and attract employers. The Classic City still has a laissez-faire, European ambiance, and UGA, to the consternation of the administration, was recently ranked the nation's No. 1 party school.
But as the MCG/UGA Medical Partnership eventually fills out the Navy campus, science and medical collaborations will likely transform the region into a magnet for researchers.
While just 40 students enrolled this fall at MCG/UGA Medical Partnership, the potential to expand on these beginnings is exponential, according to the new campus dean, Dr. Barbara Schuster.
"UGA is involved in a great deal of medical research. Every day I discover research related to a medically related topic. Infectious diseases in plants, animals and humans or the Department of Psychology and child development – these often touch medical problems directly. With the medical campus under way, there are more collaborative opportunities," says Schuster.
Physically there can be matching campuses in both cities. "For example, there is the proposed cancer care center here currently without a clinical arm," she says. "To expand research as well as clinical offerings, the university has to use other areas – basic science related directly to cancer – so collaboration between the universities will expand and generate more research ideas and increased opportunities for grants. A rising number of researchers should be able to feed off each other, and we hope to facilitate dialogue more extensively with the Georgia Research Alliance to work more across the state."
On the educational level, there is potential for more combined degrees with other UGA schools such as the School of Public Health and the Veterinary College, both big federal breadwinners in their own right. "Combined programming benefits not only students here but other MCG students in Augusta," says Schuster. "One student entered this fall as a M.D./ Ph.D. student. There is opportunity to expand that program, which would be good for both institutions in the development of physician scientists."
Local and regional hospitals stand to benefit from resident students. "With hospitals in northeast Georgia, we are hoping to expand graduate medical education and ultimately help recruit and retain physicians in the region. Some Augusta students already go to Gainesville [Northeast Georgia Health System] and to Athens [Athens Reg-ional Medical Center and St. Mary's Hospital], but not as many. MCG will grow somewhat. We plan to expand in both places by 300 students a year to meet the doctor shortage forecast by 2020."
Expanding the medical school is important to the rest of the state's ability to attract business, Schuster adds. "If you want good companies, you need good healthcare. If you're 49th nationally in the number of physicians to population, companies will leave. This is an investment in Georgia's economy."
Good Connections
Athens-Clarke County Economic De-velopment Foundation President & CEO Matt Forshee, who arrived this year from the Fayette County chamber (and has worked in Oconee County), hopes the new partnership will spin off multi-layered job growth. "If you look at other university towns, the ones with successful growth, like Austin, have research activities strongly transferred into production in the community," says Forshee. "Athens has had some success with that but not huge. What's missing is the connection between the education side and the business side. With the medical school comes a bigger opportunity for more of that activity."
Athens-Clarke County is a dense area, and medical redevelopment has already started, says Athens Mayor Heidi Davison. "We've identified the northwest side, near Athens Regional Medical Center, as a health corridor," says Davison. "There are an awful lot of doctor offices stretching out Prince Avenue past the bypass, and a 180,000-square-foot cancer care facility has been proposed by Northeast Georgia Health System on Jefferson Street. We already have a long-term care facility on Kathwood Drive – Landmark Hospital. It's interesting that this corridor of land straddles Broad Street and Epps Bridge Road, between Athens Regional and St. Mary's. It's a funky shape, but it's becoming a medical corridor."
As the city seeks internal redevelopment, externally two new regional groups have emerged seeking to further capitalize on Athens medical development. The "Innovation Crescent" is a marketing effort encompassing Cobb, Fulton, Gwinnett, DeKalb, Barrow, Oconee and Clarke counties.
"Like North Carolina's Research Triangle, this is a good life sciences corridor, from Georgia Tech to Emory out to MCG/UGA. We branded ourselves 'Innovation Crescent' because while we want to start with life sciences, it can grow into technology, gaming and all sorts of things that tie back to it," says Forshee. The area also includes Ben Epps Airport, which has development opportunities of its own as well as daily flights to Atlanta's Hartsfield-Jackson International Airport.
There is also the Georgia Bioscience Joint Development Authority, a federally backed initiative to study how to optimize Highway 316. Clark, Oconee, Gwinnett and Hall got $50,000 each to draft a revitalization strategy, which could translate into job creation along the stop-start corridor. A "Brain Train" connecting Atlanta and Athens would help, but many are skeptical that a regional T-SPLOST required would pass in the current state-prescribed district, which splits Clarke off from Gwinnett County, teaming Athens with more rural counties to the north that care little about rail access to Atlanta.
Still, Athens is ahead in creating a Green Belt land trust, implementing conservation pricing for water users, building a multimodal transit station and other environmental initiatives.
"We've applied for alternative transportation dollars," says Davison, "but also housing grants – one for HUD, for the land bank; the other, TIGER 2, is tied to the HUD grant, to connect the Navy School property to UGA and back with park and ride and better transportation options as well as affordable housing for these large employment centers."
Research
As the Medical Partnership seeks more collaborative activity with UGA health-related schools, there is no shortage of bioscience research magnetizing these disciplines.
The Bioenergy Systems Research Initiative (BSRI) is an effort among some 100 UGA researchers that Interim Director Robert Scott believes will soon grow into an institute. Most recently, UGA received $700,000 from the National Science Foundation to create a master's in biomanufacturing as part of a multifaceted research strategy to reverse an entire energy supply chain to something doable and local.
BSRI is building on the efforts of BioEnergy Science Center (BESC), for which UGA was one of three institutions awarded $135 million from the Department of Energy in 2007. "BESC is run out of Oak Ridge, Tenn., but UGA is the major academic partner," says Scott. "We're trying to replace an entire fossil fuel-based economy with something more sustainable – plant materials. Sustain-able in the sense that we can grow plants, use the power of the sun in plant material, convert it back to fuels and recycle leftover carbon for more plants."
There are currently two paths: creating a new strain of species that would give up its cellulose more easily, and creating technology to process existing plants like switchgrass and pine trees more efficiently.
"There are a number of companies involved in this," says Scott. "There are many different strains of an energy crop like switchgrass. Researchers are developing screening technology to rapidly assess best versions of plants for fuel conversion. The redesign part is further off, but my guess is that's the future, because you can target changes you want to make to the plant."
That means jobs now and later. "We're very interested in application and have partnered with the private sector and the government to help with how application can enhance economic development," says Scott. "And not just in Athens. UGA is a Land Grant University, and the Tifton campus is concentrated fairly heavily on this effort."
Reaching the initiative's goals is possible, but there are hurdles. "It will take a significant effort on the part of the federal and state government through tax breaks and incentives, as well as the private sector recognizing the economic benefit here," says Scott. "Also, we must establish environmental and economic sustainability of the whole concept.
"We have a very good School of Forestry researching what are the right trees to grow and the logistics of harvesting them – do we piggyback on current timber operations and after wood is harvested, pick up remains? A few companies are just getting started with commercial scale conversion, but there is a certain threshold before we see the 'pig come through the python.' A lot of predictions have to be taken with a grain of salt, but it is true that Georgia and the greater southeast is a very good region of the country for pursuing this alternative energy effort."
More Opportunities
As medical and bioscience looms large in the region's future, Forshee doesn't want to neglect other opportunities. "We've lost focus on the benefits of manufacturing. All the talk about being a college town and having a creative scene is vitally important, but manufacturing pays some of the highest wages in the region. If we can grow it, it will boost the overall economy. Currently UGA is our largest employer. Our economy survives on students and medical facilities."
Other opportunities exist, however – a creative industry for the creative class. "It would be huge for us to tap into that market – even on a technology-related level, like digital entertainment. We need to find out how to have a music industry as well as a 'scene.'"
Forshee anticipates more companies like New West Records, which won a Grammy for the "Crazy Heart" soundtrack and recently added an Athens office to their L.A. and Austin locations. "We have bands and performing venues. It's great. But we also need to bring in dollars, not just regenerate existing dollars. We need more record companies, publishing houses, that type of thing to tap into the industry side. Nashville grew not just because of the country music," he says, but because of the business structure.
There is no shortage of cultural riches in this fiercely independent community. The Athens music scene is an evolving, organic treasure; established big-timers R.E.M. and Widespread Panic have members and offices here, and the B-52s recently toured with Supercluster, some of whose members, including John Fernandes, represent the younger generation from the Elephant 6 music collective.
Touring bands must find a local band to open for them at most clubs. And there are not one but two independent music festivals that have been launched here in the past decade. AthFest, held in late June, is going strong, having added a second outdoor stage focusing on Ameri-cana music. "By expanding their offerings, they brought huge crowds, and had one of their most successful years ever," says Athens-Clarke Coun-ty Convention and Visitors Bureau Communications Manager Hannah Smith. "PopFest, which took a year off last year, came back this August. The UGA Botanical Garden has an outdoor concert schedule, and there are performances at Ashford Manor in Watkinsville. Athens in the summer isn't quite as sleepy as it used to be."
A big comeback is planned for the Georgia Theatre on New Year's Eve, though financing hurdles remain to finalize the project, which also incorporates a parking deck, a green roof, and office, retail and restaurant uses. And while the great club Tasty World has closed, a new club, Go Bar, has lit up the Foundry community next to The Grit restaurant.
Terrapin Brewery now stages outdoor concerts Wednesday through Saturday to promote new brewery tours. The new Indigo Hotel features bands like Christopher Cross in the Rialto Club and local art from Mercury Art Works. The Georgia Museum of Art, when it reopens early next year, will have triple the amount of space; a SPLOST referendum planned this fall would also enable The Classic Center to expand to host more shows and concerts.
How this unique culture will be impacted by an infusion of doctors and global interests will be interesting to see. It is significant that the temporary MCG/UGA Medical Partnership headquarters is in the old O'Malley's Tavern, the watering hole of choice for countless UGA students before it closed in the '90s. The old mill, which still has a glorious view of the Oconee River, is now a LEED Gold-certified, state-of-the-art facility. Older UGA alum will agree that that is indeed a radical transformation.
But notice that the music festivals are held in the summer, between sem-esters. The Classic City has already evolved on its own from simply a student-oriented "football" economy.
"The night games last season did affect a lot of downtown restaurants, because people were not dining after games like they had been," says Smith. "But what is surprising to most people is that those football games, six weekends a year, account for less than 10 percent of the overall tourism impact in Athens. People come the rest of year as well, and football is just one slice of the pie."
Community Snapshot
Local Leaders
Matt Forshee
President & CEO
Athens-Clarke County Economic Development Foundation
mforshee@athensbusiness.org
Doc Eldridge
President & CEO
Athens Area Chamber of Commerce
President
706.549.6800
doc@athensga.com
Heidi Davison
Mayor
706.613.3010
davison@athensclarkecountyga.gov
Population
(2009)
County,116,342
Median Household Income
(2008)
$36,254
Unemployment
(June 2010)
County, 7.9 percent; Georgia, 10.3 percent
Top Private Employers
Athens Regional Medical Center, Pilgrim's Pride, St. Mary's Hospital, Gold Kist, Inc., Merial Limited, Inc.
Sources
U.S. Census Bureau, Georgia Department of Labor, U.S. Bureau of Economic Analysis