Aerotropolis: Come Fly With Me
Jim Jacoby and his team, who turned an urban brownfield into Atlantic Station, are working on a $1.5-billion development at the site of the old Ford plant in Hapeville.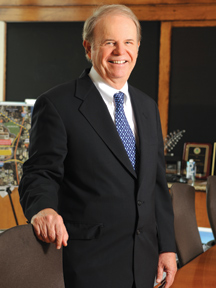 Aerotropolis: The name sounds like something Mad Men's 1960s marketing whiz Don Draper might have invented for Walt Disney's newest attraction. You can almost envision Don and Uncle Walt poring over the "futuristic" sketches for this airport-city, a sort of cross between the Epcot Center and TomorrowLand: Flight attendants in crisp uniforms and gloves glide along a people-mover toward upscale stores, hotels and restaurants. Spectators line huge multistory windows, giving them a view not only of the landing strip, but a monorail snaking through the complex, with stops along conference centers, condos and movie theaters. In one restaurant, a couple sips Aviation cocktails – they took the tram in from town just to have dinner and watch the planes take off.
Reality isn't that far off the mark. Plans for a 10-year, $1.5- billion office/retail/hotel development adjacent to Harts-field-Jackson, incorporating commuter rail and a shuttle service, are well past the drawing board and now under way. The site covers the 130 acres once occupied by the sprawling Hapeville Ford plant. Standing in for Disney is Jim Jacoby, the modern-day alchemist who converted the country's biggest urban brownfield into Atlanta's massive, ecologically friendly success story, Atlantic Station, a model for affordable, efficient and sustainable live/work/play development.
Draper's counterpart is a visionary academic, University of North Carolina at Chapel Hill Professor John Kasarda, who coined the generic term 10 years ago. Known as "the father of the aerotropolis," Kasarda describes the complex as more than a place to catch your flight and kill time, but a destination in its own right. "Access, access, access is replacing location, location, location as the most important commercial real estate principle," Kasarda told The New York Times Magazine, which featured the concept in its 2006 annual "Year in Ideas" issue. Aerotropolises are now blossoming all over the world, surrounding airports in Chicago, Memphis, Bangkok and Dubai, where a $33 million development project is under way.
Jacoby agrees that Hartsfield-Jackson, the busiest airport in the country – scheduled to open its new, $1.5-billion Maynard Holbrook Jackson international terminal in 2012 – is an economic engine for the entire region, playing a role that Charleston and Norfolk played in different eras. "Aerotropolis is all about the port," he says. Airports are equivalent to earlier centuries' seaports, drawing thriving, diverse communities built upon the commerce of moving goods and persons in and out – and entertaining travelers while they're there. "Everyone is there for the multi-modal opportunities, the international cargo and freight," he adds. Atlanta's Aerotropolis will enjoy a direct link to the Norfolk-Southern railroad line, where parallel tracks will handle passengers and freight.
That line once had another use, and its terminus is still visible on a windswept plain directly under a Delta flight path, where huge jets land like clockwork every 10 minutes.
Jacoby is again planning his site on a major inner-city brownfield: Hapeville's Ford plant, which the company had closed and abandoned in 2006. Opened in 1947, the plant had been a powerhouse, generating jobs for generations of locals and sparking commercial life throughout the area. Truett Cathy's original Chick-fil-A "Dwarf House," opened in '46, is a short distance from the old front entrance. It soon became a round-the-clock favorite for Ford's shift workers – the full-service restaurant that spawned a flourishing fast-food chain is still open 24 hours. By the time Cathy bought the last Ford Taurus produced at the plant, he was a billionaire.
On a midsummer visit, the leveled Ford plant's site looks as tidy as an old-fashioned Southern "swept yard." As they did with Atlantic Station, Jacoby's group has already harvested tons of steel and concrete to re-use in the new construction, all part of a larger plan for the new complex to be LEED certified. (About 95 percent of Ford's structures will be recycled, including 100,000 cubic yards of concrete and 40,000 tons of metal.) Small signs of the old plant remain: concrete steps to nowhere; the old guard house and its lush surrounding landscaping; and the railroad line, where Tauruses and Sables were loaded onto cars for delivery to the world. Some 3,000 Ford workers, over time, lost their jobs here, in a town with a population of 6,000. The new development, however, may mean as many as 10,000 jobs, says Hapeville Mayor Alan Hallman, some entry-level, but also higher-end, management positions. "It's really going to make this place a destination," he says.
A Hapeville native, Hallman was heartbroken – and blindsided – when Ford finally pulled the plug. "I'll never forget that phone call," he says. The Ford plant contributed not only thousands of stable jobs to the community, but a critical tax base that has allowed Hapeville to maintain its small-town, well-kept charm.
Careful city planning and partnering with big players have seen Hapeville grow while surrounding communities stagnate or suffer. With empty auto plants plaguing many other cities (including Doraville's GM plant), Hallman knows how fortunate Hapeville is to have found another outcome. "The longer it sits there, the worse it looks," he says. "The stars aligned for this project."
Green Development
That's a sentiment Jacoby echoes. Atlantic Station catapulted Jacoby to a premier rank of "green" developers, and his other projects include ways to harvest solar, wind and methane energy, as well as a proposal to clean up, and re-use, the airport's garbage. His experience in gaining approv-al from government agencies to clean up Atlantic Station's old toxic site – as well as finding public funding to support it – proved crucial to the new project. Hallman describes Jacoby as an "outside-the-box thinker," but maybe "outside-the-big-box" would be more accurate: Jacoby began his career as a developer for WalMart, Publix and Sam's Club, where the prevailing aesthetic involves acres of concrete and giant flat-roofed buildings constructed for a short shelf life. Now he's more interested in planting trees than razing them. "I've gone from Paul Bunyan to Johnny Appleseed," he jokes.
Jacoby's reputation for ecologically friendly construction attracted a partner when the need was critical. Ford was interested in selling the land to an entity that could help make up for the plant's job losses – other bidders included a parking-lot vendor – but the company also needed to sell at a time when banks were casting a jaundiced eye on new construction. When Ted Turner's Turner Foundation stepped in, the partners (which also include Steven D. Bell & Co. and D.H. Griffin Cos.) were able to buy the property with cash. "At the time, banks had stopped lending, especially for real estate," says Jacoby Development Senior Vice President Scott Condra. "So our equity group bought it with cash. That's how strongly we felt about it."
The purchase, however, would perhaps prove the easiest step. The property wedged between Hartsfield and three interstate highways is under the jurisdiction of four governing agencies (the cities of Hapeville and Atlanta, and Clayton and Fulton counties) and subject to Federal Aviation Administration (FAA) approval before the first bulldozer could move. The first major hurdle would be designing the complex under the FAA's strict guidelines for construction under, and anywhere near, the airport's flight paths. High-rises, of course, would be out, so they are pushed to the edges of the development. So is any kind of greenspace or water feature that might attract wildlife. Solution: The area directly under the planes will be a large expanse for parking, shaded by massive solar panels, collecting energy.
The Timeline
Aerotropolis's build-out timeline is market-driven and fluid, but the parking component will probably be built first, followed by office and/or airport-related structures. "That will likely bring density, and density will bring demand" for other services like hotels and retail, says Jacoby Devel-opment Project Manager Todd Addison. While the complex bears many similarities to Jacoby's Atlantic Station, big differences also stand out: The "live" component of the live-work-play development is not actually part of Jacoby's Aerotropolis – two other companies, Interciti Partners and Post Properties, had begun developing their Asbury Park and Oxford properties in Hapeville adjacent to the site before the Ford plant was sold. Asbury Park's long-term plans call for 1,357 condos, 58 townhomes and nearly 700 multi-family housing units, some with ground-floor retail space. (Despite a lagging real estate climate, especially for condos, the Phase 1A units are nearly fully sold.) Oxford Properties adds 169 apartments. While Atlantic Station fits into the Midtown landscape as upscale condos, shopping and restaurants, Aerotropolis's focus will be hotels, conference spaces, offices, parking and retail.
Its uses, too, will be different, taking advantage of the airport's handy "gathering place" for the entire world. Condra envisions "corporate training facilities, to which people will fly in from all over. We've also talked to biomedical centers about building state-of-the-art treatment centers," so patients could visit, receive treatment and fly home – without ever leaving the airport complex. He points out that the airport's nearby location will also ameliorate biomedical situations in which time and perishability are critical factors, such as transplants.
The site may also prove well-suited for aviation-oriented headquarters, for airlines or even governmental entities like the FAA, Condra says. Also, data centers may be attracted to the site's position along the nation's T1 high-speed voice-data link between New York and Miami. Finally, air travelers will enjoy a much fuller range of options, including three levels of hotels, from affordable to luxury. (With the new terminal, says Condra, international travelers will no longer have to check their bags twice while moving from one end of the airport to the other.) Every component of the plan offers opportunities – Jacoby has been talking with Georgia-based Suniva about incorporating an 8 to 10 megawatt photovoltaic installation (solar panels) at the site.
So far, despite the economic downturn that fell just a few months after the Jacoby partners bought the property, the project is still on schedule. Still, the effect is deeply felt. "Large corporations have been hesitant to make big investments in the last year," says Condra. No big-name hotel has yet committed to the project, which would likely trigger a wave of others. "It's like a mall trying to attract a big anchor store," says Hallman.
"That's starting to change," says Condra of the slowdown. "In the last six months, things have really picked up." Other public and private funds have also been helpful in picking up the slack: The project has received approval for a tax allocation district (TAD), which allows a certain percentage of property taxes to be devoted to tax-free bonds, over a limited time, for an improvement project. Jacoby has also been awarded $30 million in recovery zone facility bonds (as part of the Recovery Act). "As traditional financing has not been there, we've been able to work with the City of Hapeville to attract tenants," says Condra.
Such funds have more than paid off in the past. "The TAD for Atlantic Station was the largest in the country, and the first in the city of Atlanta to issue bonds," says Condra. "There was a tremendous return on investment." (Comparing the Atlantic Sta-tion and Aerotropolis timelines proves instructive: Six years passed between the time site cleanup and remediation began on the old Atlantic Steel site and Atlantic Station's October 2005 grand opening. Five years later, that development is still considered only 60 percent complete.) Among other improvements and an in-creased tax base, the city also saw its storm sewer system improved. Like-wise, Aerotropolis will employ a system that will return runoff to the Flint River watershed, which flows south to the Apalachicola.
Jacoby stresses the importance of such public-private partnerships. "You have to be optimistic to be a developer," he says. Asked if he thinks the current climate is the worst he's seen, he demurs, saying, "It's not the worst – it's just different. We're not all wearing WIN buttons and dealing with 28 percent interest rates. The good news is interest rates are low. Part of our game plan is to find out where the opportunities are, and pursue them. Today's climate calls for different financial packaging." After last year's real estate bust, even Atlantic Station had to auction off some properties – but overall still boasts 90 percent occupancy.
In the little trailer overseeing the old Ford plant site, there's a clear view of the Delta jets landing nearby. Despite their closeness, they make little noise, nearly undetectable over the trailer's air conditioner's hum. It feels a little like the quiet at the eye of a hurricane, or the stillness just before a big event. "Nothing is carved in stone right now," says Hallman. "A lot is going to depend on how well the economy recovers.
"We've got a lot of spectators on the sidelines looking for someone else to move first," he says. "We're just waiting for someone to step up to the altar."