Vision, Determination and Optimism: Georgia Leaders Look Ahead
Vision, Determination and Optimism: Georgia Leaders Look Ahead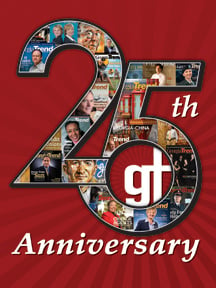 It's as easy to get stuck in the present as it is to stay focused on the past. A sluggish economy and testy political climate make it difficult to see too far ahead. So as we pause to celebrate Georgia Trend's 25th anniversary, we've sought some help from 25 of our state's leaders, representing business, public service and education. Some of them have been around longer than Georgia Trend, some are relatively new on the scene. We asked each one to look ahead, through his or her particular lens, and tell us what they see in store for the state. Their responses are a blend of realism and optimism, determination and concern, vision and hope.
Interviews were conducted and stories prepared by Jerry Grillo, Ben Young, Tom Crawford, Ed Lightsey and Candice Dyer.
Banker's Banker
Jim Blanchard
Retired Chairman/CEO
Synovus
Columbus
Throughout his banking career, Jimmy Blanchard was one of the good guys in the corporate world, a leading advocate and example of servant leadership. But lately, the former leader of Synovus Financial Corp. has begun to understand what it feels like to wear the black hat.
"Mr. D.A. Turner, the man who hired me, used to tell me that the most unpopular guy in town is the guy that used to be rich," says Blanchard. "We're the big bank, the dominant bank in town, a leading corporate citizen, the good guys for 50 years or so.
"Now we're reeling, we're back on our heels, suspending dividends, and the banker and the banking industry is taking a heavy dose of anger from the communities that used to look up to them.
"The industry is weakened; its reputation is damaged – we participated in TARP, we must be bad. Public opinion is pretty negative. We're not very popular."
It's a story with an incomplete arc. Blanchard doesn't believe it stops there, for Columbus-based Synovus in particular or Georgia in general.
"The punch line is, to me, we're gonna make it through this. We're gonna return to profitability. The only thing you can do when you get into a ditch is climb back to high ground. It's not gonna happen with a click of a button. But I'm hopeful because American spirit and leadership always rises to the occasion."
Blanchard has worn glasses most of his life, but he's clear-eyed about the weaknesses plaguing the state: a stagnant real estate market, an antiquated tax system and the troubling lack of an adequate water strategy.
"I think the accumulation of inventory in real estate is a weight we'll be carrying for the next three to five years, most likely," he says. "And we have to update our tax system. Other states have modernized, but there's a lot of commerce that isn't included in ours.
"When things are good, we got more money than we need and we figure out how to spend it. But when times are bad, we don't have near enough and we agonize about what to cut."
He says Georgia has relied on the courts to handle its water problems with neighboring states, and we've lacked the political will to make tough decisions about conservation and other measures.
"I don't know if we're talking 30 years down the road or 50 years, but if we're smart, and understand that we're not the first people that ever had to institute conservation measures – people have been doing it all over the world – we'll resolve our water problems."
He also believes that national financial reform isn't etched in stone.
"Legislators know how the public feels, so, assuming a bill passes, I think we'll see that the pendulum has swung back too far and over the next 10 to 15 years we'll be tweaking it, correcting it, making it rational." – Jerry Grillo
Growth Advocate
Casey Cagle
Lieutenant Governor
Gainesville
Lt. Gov. Casey Cagle has been a true believer in growth and development since he first took office as a young state senator in 1995. While Georgia's growth has slowed a bit over the past two years, he figures it can ramp right back up if the state makes the right decisions on such issues as water and transportation.
The upcoming 2012 vote on regional sales taxes for transportation upgrades – known around the capitol as TSPLOST – is a big step forward but is still, Cagle says, "one of the tools in the toolbox. It will certainly aid our efforts in road construction and improvement of our existing assets, but it will not solve all of our long-term strategic transportation needs."
The next step, he says, is "utilizing the existing infrastructure in a more efficient way – we have to be willing to accept reversible lanes on our interstates, so in peak times, you can move a median to allow for more capacity."
Finally, "we're going to have to build more roads that will need to be revenue-generating roads, which means more toll roads for our state."
As a native son of Hall County, Cagle has always lived within spitting distance of Lake Lanier, the key to Metro Atlanta's future water supply.
To protect that supply, he says, "We have to be a good steward of the resource. We have to build regional reservoirs. I think we need a reservoir that has a capacity of 100 million gallons a day on the south side of the Chattahoochee and one on the northern part of the Chattahoochee that also provides 100 million gallons a day."
"The region itself has to be connected through the [water] infrastructure to share the resource more efficiently," Cagle says. "Interconnectivity of the region becomes vitally important."
He is careful to make a distinction between this "interconnectivity" and the politically sensitive issue of interbasin transfers of water from sources outside Atlanta, such as the Savannah River.
"I see no set of circumstances where that [inter-basin transfers] should be allowed," Cagle says. "The only caveat would be the Tennessee River. If there was an opportunity by which Georgia would be granted riparian rights to the Tennessee River, obviously that is an enormous supply of water that could be utilized to meet Georgia's needs."
Successfully resolving these and other issues is a challenge, but not impossible, Cagle says.
"In five to 10 years, Georgia is going to clearly be the dominant economic force in the South," he contends. "In certain strategic areas, we can be the dominant force in the nation. If we make the proper investments today in these strategic fields, we can be a worldwide player." – Tom Crawford
Respected Voice
Saxby Chambliss
U.S. Senator
Moultrie
Georgia's senior U.S. Senator, Saxby Chambliss, has become a respected voice on military and agricultural matters, having served four terms in Congress before being elected to the upper chamber in 2002.
As the ranking member of the Senate Committee on Agriculture, Nutrition and Forestry and a member of the Senate Armed Services Committee, Chambliss is well positioned to defend and promote two of the state's most critical economic engines, farming and military bases. He has also helped craft legislation on bipartisan issues such as tax and immigration reform.
"I think Georgia is in pretty good shape when it comes to the standpoint of agriculture and our military," Chambliss, a former Moultrie lawyer, says. "We've come off four years of drought with good rains, and we've seen good yields. Last year we saw the highest yields by far all across the board than we've ever seen in agriculture in my lifetime.
"Our farmers need to continue to be provided with a safety net [the farm bill], and they need to continue to get more sophisticated, both from a practical standpoint as well as a technology standpoint, and they are doing that."
Though Georgia has four military bases closed or being closed, the bottom line has improved. "Even though we had the closure of four bases, we saw the largest increase of any state in the country in military population," he says. "Kings Bay [Naval Sub-marine Base] is still the newest military installation in the country, and with the sophisticated equipment in operation there, it's going to be the crown jewel for the Navy. I'm pretty upbeat about the future for all Georgia's military operations."
With the number of census-counted Hispanics in Georgia at 25 percent of the population and growing, Chambliss sees a two-step approach to immigration reform. "If they aren't here legally, then they are a burden on the state," he says. "I think once border security is no longer an issue, it is important that we do have an overall immigration reform package."
Chambliss says he is hearing some of the well-documented voter frustration and anger as he travels the state. "What you're seeing is people are upset about the amount of spending going on," he says. "That's probably the No. 1 issue I hear, and when this country is as much in debt as it is to the Chinese and other folks, there's real reason to be concerned." – Ed Lightsey
City View
Deke Copenhaver
Mayor of Augusta
Deke Copenhaver, an environmentalist who once headed the Central Savannah Land Trust, has made enough progress during his tenure as mayor to encourage unprecedented ambition for Georgia's second largest city and former capital.
"In 25 years I believe Augusta will be the most thriving mid-sized city in the Southeast. We have the foundation, from the Masters Golf Tournament to the legacy of James Brown, and the business infrastructure, powered by the Savannah River Site [in South Caro-lina], Medical College of Georgia, Fort Gordon and Plant Vogtle [in Burke County]. The key is to put the building blocks in place to get us there.
"As a result of our first citywide master plan completed in September, we have created an Augusta Sustain-able Development Agenda. In the next 25 years, we want to lead the nation in bioscience as well as new energy technology – wind, solar and nuclear. As the Savannah River Site completes its mission of cleaning up nuclear waste, we see additional opportunities for new technologies and missions as [those] 1,700 acres become available. We have the potential to be an energy hub. And given the activity at Fort Gordon, we will continue to be a leader in information technology as well, as the Army continues to supply a first-rate IT work force."
It is hard to imagine Augusta absorbing rapid growth after years of little activity, but Plant Vogtle's two new nuclear plants are expected to create 8,000 jobs – one thousand a year over the next eight years, "not all at once like Columbus," says Copenhaver. "I believe you will see more green development and LEED-certified buildings. You will see more of a focus on the redevelopment of urban areas in order to protect Augusta's rural character – the Savannah River and the canals and swamps.
"We already have a strong green foundation. People don't think about it, but we're the electric car capital of the world because of our three companies: Tomberlin Group, E-Z-GO and Club Car. When you get companies like that to work together synergistically, it's a great resource for Augusta going green. Given what we're seeing in the Gulf, it's time to put an emphasis on alternative energy – not just on the national level, but on the local level. When you consider what we have to work with here, it's doable, and that's my goal." – Ben Young
Public And Private
Cathy Cox
President
Young Harris College
Young Harris
Now that Tuition Equalization and HOPE grants have made private colleges more accessible to working-class students, Cathy Cox happily predicts more caps and gowns on her campus next spring.
"These incentives encourage Georgia students to attend private colleges in the state, which ultimately is much more cost-effective than subsidizing them in the university system," says Cox, the president of Young Harris College. "At the end of the day, you increase the skilled workforce in the state; people are more likely to stay in Georgia if they are educated here. The public and private colleges and universities therefore work in tandem to achieve a very important state interest."
The small, Methodist-affiliated liberal arts college is prepared for the influx. Since Cox took office in 2007, it has attained four-year accreditation to offer bachelor's degrees, and it has doubled the size of its faculty and added $60 million of LEED-certified construction, including a residence hall and recreation center, with the ultimate goal of making the 125-year-old campus solar powered.
"We have this inspiring view of five of Georgia's highest mountain peaks, so of course we are conscious of the environment," says Cox. (The sports teams are called the Mountain Lions.) "And I'm hoping those 12 new tournament-quality tennis courts will get me back into the game."
She intends to double the current enrollment of 700 students, capping it at 1,500.
"We want to be great, not big," says Cox, a Bainbridge native who served as a state legislator and Georgia's Secretary of State before running for governor in 2006. "We want to be the liberal arts college of distinction in Georgia. In the South, those schools historically have been located in the Caro-linas and Virginia. We were never known as a junior or community college, always as a liberal arts institution. We're just building on that legacy."
Those granite values, she believes, will withstand the recession.
"Private colleges, just like private businesses, have to be really attentive to their customers if they're to survive," Cox says. "I'm seeing a movement across businesses that very few people are willing to pay for excessive luxury; in fact, folks seem almost embarrassed to be spending money on opulence. But they do want quality and are willing to pay for it. And that's what we're focused on as we grow: adding genuine value to a college education with our beautiful mountain campus, with the personal touch we offer in our academic and co-curricular programs, and with a historic church affiliation that makes it easy to pursue your own faith journey. A great many students today are looking for that kind of environment – top quality but no extravagance." – Candice Dyer
Good Sportsmanship
Vince Dooley
Former UGA Football Coach and
Athletics Director
Athens
The legend is on the road to Macon, another speaking engagement, and a stretch of road with good cell coverage. At 78, Vince Dooley is pretty good at multi-tasking, so carrying on a conversation about the future of college sports, the economy and humanity in general while keeping his eyes and mind on the road isn't too great a challenge.
Nor should it be for Dooley, who won 201 games (including a national championship and six conference crowns) in 25 years as the University of Georgia's head football coach. His teams earned a reputation for a conservative, disciplined, fundamentally sound style of play that netted good results. That's basically the game plan Dooley envisions for Georgia's economic recovery.
"Everybody was anticipating a quick fix, but that's not happening," he says. "It's turning around slowly and headed in the right direction, and that's a good way to build a better foundation for the future.
"The challenges are great in Georgia, because of our terrific rise in population. That overtaxes our infrastructure, creates traffic problems. We've got all the challenges that come with growth, combined with a terrible economic situation."
Dooley, who retired as UGA's athletics director in 2004 after 25 years in that post, seems genuinely amazed at college sports' ability to weather any storm.
"Even now, when everyone has been hurt by the economy, it continues to thrive," he says. "People are drawn to the competition, the brand, the symbols and what they represent."
The national numbers are down slightly at the turnstiles, but humongous TV contracts more than make up for it. Starting this year, for example, the Southeastern Conference (SEC) begins two new, long-term deals with CBS and ESPN that will funnel about $3 billion into the conference over 15 years.
Dooley doesn't see that trend changing direction any time soon, and has confidence in a new wave of leadership in major college sports, especially the hiring of University of Washington President Mark Emmert as president of the NCAA last spring. He also foresees an ever-increasing role for females in key leadership roles, what with five women currently serving at the helm of Division I conferences.
"We've got the right leadership in place, but there always will be challenges, especially in college football as institutions wrestle with the incredible salaries of head coaches," he says, noting wryly that his son Derek (head coach at the University of Tennessee), "will make more money in four years as a head coach than I made in 25."
Dooley spent 40 years altogether as Top Dawg at UGA and became a living textbook on the importance of stalwart leadership, which made the events that occurred a few days after this conversation took place hard to bear: Damon Evans, Dooley's replacement as UGA's AD, was arrested for driving under the influence and forced to resign. – Jerry Grillo
Water Watch
Kit Dunlap
Greater Hall County Chamber of Commerce President and Metropolitan North Georgia Water Planning District Chair
Gainesville
Kit Dunlap sees a bright future for her county and for Georgia, as long as it can solve its water and transportation problems.
"Northeast Georgia is still the prime growth area coming out of Metro At-lanta. In south Hall, we have the No. 1 residential growth community in Atlanta, according to the Atlanta Business Chronicle: the age-restricted Del Webb Community. We will continue to see retirement community growth.
"Healthcare is on everyone's mind and becomes more and more important to a business – that they get into a community or region with access to all kinds of healthcare. We have the Northeast Georgia Medical Center, and we've become a mecca for all sorts of specialty physicians. We also benefit from our closeness to the University of Georgia's new Medical College, which will only enhance all of our offerings.
"Retirement communities like Del Webb and Lanier Village Estates are already enhancing our quality of life. We're understanding that future development maybe won't be tract houses; maybe it will be more like the ones in north Hall, like Glade Farm, a community that is self sufficient – green space, a school, fire station, a little retail – so you can do what you need to within the community. That's the future."
As far as the current ruling on Lake Lanier is concerned – rolling usage restrictions back to 1980s standards – there is no way to pull it off, according to Dunlap, let alone with the growth coming. "I'm not saying it's coming tomorrow or the next day, but in 25 years, the growth is there. Everyone is doing their conservation measures, but you can't conserve your way out of the [growth] problem. Of course we have 440 miles of shoreline on Lake Lanier, so it is important for Hall and the region to keep it full.
"Gov. Perdue has stepped to the table; I'm not sure what that will lead to in [November]. There are three new folks coming in. They may start all over again." (Alabama, Florida and Georgia all turn over governors this year.)
Dunlap also hopes her region will cooperate on a TSPLOST. "If you're not doing something now about roads – commuter rail or something about our highways, even planning and financing – we will be gridlocked, and we won't be able to handle the growth. Business folks understand that it is important to get it on the ballot. North of us, I don't know. There are a lot that don't particularly like fast growth, and a TSPLOST may be a challenge – Hall would do it but I'm not sure about the others.
"We are affected by Gwinnett and Forsyth counties and whatever they do with transportation. Getting through Gwinnett – not even toward Atlanta but also up here – is always a bottleneck, whether it's 12 lanes or two. So in 25 years, maybe we will see commuter or high-speed rail. Wouldn't that be nice." – Ben Young
Ports Promoter
Curtis Foltz
Executive Director Georgia Ports Authority
Savannah
It would be difficult to find a Georgian more excited about the state's future than Curtis Foltz. In rapid-fire, machine-gun de-livery, Foltz recounts the rebound from a 14- to 16-month decline in activity at the Port of Savannah to double-digit increases in traffic, a most promising event for the source of $15 billion to the state's economy and the 300,000 jobs dependent on it.
"We're not a lag indicator, like unemployment," says Foltz. "We're clearly a leading indicator." And indications are the state's economic future should be brighter. "Since the fourth quarter of last calendar year, we've started feeling volume increases," he says. "And as it got toward the end, in November and December, we started recording positive growth. In the first five months of this calendar year, we [experienced] gains of 20 percent [in shipping traffic]. Retailers are clearly replenishing inventory levels that were too low. Demand has picked up to the level where retailers are now forecasting greater demand than there is space on ships. We have had hard indicators that have been extremely robust for us."
To meet infrastructure demands at the Ports of Savannah and Brunswick, $120 million from a $200 million bond package requested by the governor and approved by the General Assembly has been earmarked for transportation im-provements. "And funding came for a harbor deepening project to go from 42 feet to 48 feet to accommodate the larger ships calling on the port as a result of [the widening and deepening of] the Panama Canal," says Foltz.
"The export commerce through our ports has picked up now for the last 10 months, and that is another leading indicator that things around the world have returned from the depths experienced at the end of 2009 and the first half of 2010. We're very optimistic from where we sit today, but there is still an element of uncertainty about the economy and where it goes in the second half of this calendar year, and, more importantly, where it goes in the first half of the next year." – Ed Lightsey
Power Source
Mike Garrett
President and CEO Georgia Power Company
Atlanta
Mike Garrett shifts into an upbeat mood when he begins discussing Georgia's future. Garrett has served on scores of task forces and committees wrestling with critical issues like workforce development and is now leading the ongoing negotiations between the state and its neighbors, Alabama and Florida, over the water disputes that separate them.
On that score, he says, "I am guardedly optimistic. It's imperative we get this water agreement done before these three governors get out [of office] in December." And, he says, Georgia is doing its part on conservation. "Gwinnett County has open-ed up a [pump] station that will return about 40 million gallons of water a day back to Lake Lanier cleaner than it was when it came out of there."
Georgia Power has a long history of making investments in local economic development, a practice that is paying off, according to Garrett. "We're in the fastest growing region of the country, so we're going to have growth," he says. "How do we manage that growth? Do we maintain the quality of life we have here and continue to improve it, or do we let it slip? To keep it from slipping you've certainly got to work on workforce education and training.
"I've been involved in the Certified Work Ready Com-munity [program], and I think that's one of the best things we have done in the last few decades to get communities ready to entertain new pros-pects and getting the workforce ready to go to work. And what better time to train people than when they are out of work? We need to remember that 80 percent of all new jobs come from existing industries. The census people tell us we have 3.5 million more people moving here between 2000 and 2030, so we have 20 years to make sure we're ready for that kind of growth."
Garrett says such growth predictions have Georgia Power making its own plans to meet the needs of new residents. "We're leading the nation in the nuclear renaissance," he says. "We're adding two new [nuclear] units over at Plant Vogtle, and that's as reliable and [the] lowest cost of any fuel source as you can get."
The $14.5 billion Plant Vogtle project near Augusta is creating thousands of construction jobs and will have 800 permanent jobs when completed. Asked to describe the health of Georgia Power customers in the industrial sector, Garrett says, "It's off life support, but probably still in ICU. We're starting to see some improvements. Companies that last year ran [production lines] just enough to manage inventories are telling us that they are going to be able to run more days this year." – Ed Lightsey
Common Ground
David Hankerson
Cobb County Manager
Marietta
As a lifelong farmer and soil scientist, David Hankerson brought some valuable insight to his position as manager of Cobb County: You can break ground and enjoy higher yields when you are not distracted by turf wars.
"So many organizations get bogged down by territorial thinking, which impedes their growth," says Hankerson, who oversees 4,254 full-time and 830 part-time employees with a budget of about $800 million. "We have worked hard to create a culture in our county government that encourages creative, out-of-the-box thinking to generate solutions from everyone, from the ground up and the top down. The fact that we are willing to try new ideas and fresh approaches, that we do not hesitate to reorganize, has kept us strong."
With an estimated population of 679,325, Cobb is Geor-gia's third largest county, with one of the state's highest median incomes and lowest crime rates. It boasts a triple-A bond rating and was the first public water utility in the nation to achieve triple-triple A bond ratings.
Hankerson, a Waynesville native who majored in agronomy at Fort Valley State University, joined the Cobb government in 1993 as manager of the Development Control Department after working as district conservationist for the U.S. Department of Agriculture Soil Conservation Service.
"When I first started, there were only a few of us who had college degrees," says Hankerson, who also hold a Juris Doctorate. "One of my first orders of business was to help our employees get more training and education by sending them back to school at all levels, for G.E.D.s, undergrad and graduate degrees."
He also strove to make customer service a hallmark of the administration, organizing employees into 12 councils that compete for quarterly rewards and incentives. "They're run by the workers, not department heads, so the employees are invested and motivated to offer the friendliest and most effective service to our residents."
To weather budget cuts, Hankerson has teamed up with nonprofits, pursued joint bids and joint procurements, and privatized some operations.
"For example, instead of keeping a full-time staff of paving crews for construction, which is seasonal and depends on weather and overtime, we can use the private sector to save money," he says. "And we assist nonprofits with grants so they can help us deliver services to the homeless and needy, animal control, domestic violence and other special needs. We provide maintenance for the park system, but other jobs there are handled beautifully by volunteers. So we try to mobilize the talent, passion and expertise around us."
An avid gardener who calls himself "just an old country boy from Burke County," Hankerson says, "I always wanted to be a farmer. Now I'm just cultivating another kind of growth." – Candice Dyer
Mission Critical
Donna Hyland
President and CEO Children's Healthcare of Atlanta
Donna Hyland makes every work decision from one simple, unwavering premise: No child should go without medical care under any circumstances.
"The economy has nothing to do with whether a child gets sick," says the president and CEO of Children's Healthcare of Atlanta. It treats an average of 300,000 young patients a year from every county in Georgia, which is ranked fifth in the nation in the number of uninsured children. "As a mother, I can't imagine anything worse than seeing my child suffer, so we believe in treating everyone regardless of their ability to pay. It's tricky when the economy tanks, but we will always find a way."
Hyland guided the 1998 merger of Egleston and Scot-tish Rite into an organization that recently joined forces with Hughes Spalding Child-ren's Hospital and the Mar-cus Autism Center to be-come the largest pediatric entity in the country. The only female CEO among Atlanta's top 25 hospitals, she oversees a medical staff of 1,600 doctors and 7,000 other employees.
Her management style emphasizes teamwork, especially as more of the reimbursement shifts toward the overburdened Medicaid system. She credits a nationwide strategy of sharing protocols on pediatric oncology with raising cancer survival rates to around 85 percent.
"We can do so much more working together than we can alone," says Hyland, a Kentucky native. "I learned that when we combined Egleston and Scottish Rite. It had this one-plus-one-equals-ten effect, so we're tying to take that collaborative spirit to an even higher level."
Hyland has been meeting with foundations and policymakers to brainstorm about prevention and wellness.
"Georgia has some of the worst childhood obesity rates in the country, so we're talking with schools about cafeteria programs, with university research-ers, with the lieutenant governor – bringing everybody to the table. The same for low birth-weight babies and child abuse. There is a lot we can do to prevent kids from having to go to the emergency room in the first place."
It helps, she says, to have a compassion-motivated corporate culture, citing the case of Raven Johnson, the Rockdale County girl who missed her senior prom because she was in intensive care for a devastating immunological disorder. The Children's Healthcare staff organized another dance just for her, there in the hospital.
"It mushroomed beautifully to the point where we had deejay Frank Ski and the R&B singer Monica performing, with Raven's friends showing up in their tuxes and evening gowns to dance under a disco ball," Hyland says. "She passed away a few months later, but we were able to give her that experience. So there is a lot of crying that comes with my job – happy cries and sad cries. We couldn't have a more important mission." – Candice Dyer
Justice For All
Carol W. Hunstein
Chief Justice
Georgia Supreme Court
Atlanta
As the state's highest-ranking jurist, Carol Hunstein finds herself so immersed in the challenges facing the judicial branch here and now that it can be difficult to look ahead to the future.
The collapse of the state budget has hit the judicial system as hard or harder than any agency in state government. While no full-time judgeships have been abolished, senior judges' positions went unfunded and support staff was laid off even as the civil suits and criminal trials generated by a growing population kept pouring in to the courts.
"Frankly, that has resulted in less accessibility to the courts and greater waiting times for cases to be heard," Hunstein says. "I don't think it serves the citizens of this state well for justice to be delayed in this fashion. I don't think it's healthy when businesses have to wait for business disputes to be resolved in court. There is the saying, and it's true, that justice delayed is justice denied."
Hunstein has been closely involved in discussions with legislative leaders as she tries to salvage what she can for the judicial branch's share of the state budget. "I think the legislature has heard us," she says.
Hunstein sees strengths in Georgia's justice system, particularly in the diversity of its judges, that will serve it well when the economy starts growing again and the budget crunch eases.
"Georgia's had a wonderful history of judicial leadership, and I think that will continue well into the future," she says. Leah Ward Sears and Hunstein were the first (and to date the only) two women appointed to the Supreme Court, but she notes that one-third of the 12 judges on the Court of Appeals are women and there are many more at the trial court levels.
"Forty percent of Zell Mill-er's appointments to the bench were women and minorities," Hunstein says. "It makes Georgia's courts a reflection of our population."
"We will always have a judicial system in Georgia," she points out. "I think the real issue is how we're going to address the opportunities currently present to make the system better."
In spite of the current fiscal stresses, Hunstein says, "I'm very optimistic about the future of our judicial system, based upon the current judges we have and their commitment to taking care of their cases. We have judges that are really willing to go the extra mile, especially in courts like drug courts or family courts. That is a very, very demanding scenario for a judge.
"I'm very impressed with the quality of judges, impressed with how they want to learn new ways and better ways to deliver justice. I think it will all work out." – Tom Crawford
Standard Bearer
Johnny Isakson
U.S. Senator
Marietta
When Georgia's U.S Senator Johnny Isakson took office in 2004, he brought with him a wealth of legislative service that included 17 years in the state's General Assembly and three terms in Congress. By the time he arrived in Washington as a congressman in 1999, he had also served as chairman of the state Board of Education. He was the original author of the No Child Left Behind legislation, and education issues continue to capture his attention.
"Almost every education ex-pert of any credibility has said that No Child Left Behind has accomplished what it was set up for, and that was to improve the performance of our most challenged students, those on reduced or free lunches and in poverty," he says. "It has, in fact, raised the reading comprehension and mathematics scores for all kids leaving the eighth grade going to high school, which was the original intent."
Getting a high school education in Georgia, Isakson says, is the most important step toward employment. "In terms of job preparation, we are very fortunate in that we have the best technical college system of any state in the country," Isakson says. "One of the reasons we have companies like NCR and Boeing in Georgia is that we have the capability of training a workforce through our Quick Start program. Georgia has done a good job of preparing to meet the challenges of the 21st century in employment. "
Isakson was eager to discuss Georgia's growing role in developing alternative energy sources. "We're first in the four Ps," he says. "Pine trees, peanuts, pecans and poultry.
"In terms of energy needs, the burning of wood is carbon neutral because it only emits the carbon it absorbed when it was a live tree. Biomass from wood is capable of doing a lot of things. Ethanol from cellulose that comes from pulpwood is one. Right now in Georgia diesel fuel is being made from chicken fat."
And, he says, diesel fuel is being made from peanut oil. "So we're No. 1 in four of those [agriculture] products, and three of them are tremendous sources of renewable energy. All of this puts Georgia in position to be a leader in new energy sources." – Ed Lightsey
Philanthropic Matchmaker
Alicia Philipp
President
Community Foundation for Greater Atlanta
Right after Alicia Philipp took charge of the Community Foun-dation for Greater Atlanta in 1977, estate laws changed to en-courage philanthropy from living donors.
"At the time, the economy was as bad as it is now, and most of our money came from bequests," says the director of the foundation, which essentially plays match-maker with donors and nonprofits and other institutions. "Atlan-ta traditionally has been a city of new money, of first-generation wealth that comes from real es-tate and entrepreneurs, such as Home Depot, so after the laws changed and the city's population exploded, our organization was in the right place at the right time."
The foundation is considered one of the largest and fastest growing philanthropic service organizations in the country. Philipp took its budget from $7 million to more than $625 million today and facilitates more planned gifts than any other locally based nonprofit organization in the Southeast.
Of course, that gangbuster growth comes with bigger challenges.
"Sometimes I get frustrated wondering why we haven't been able just to eliminate certain problems altogether," says Philipp, a Baltimore native and Emory alumna. "For example, we were giving out grants for HIV/AIDS back when it was called GRID (gay-related immunodeficiency disease). Why do we still have new cases? We're rethinking and intensifying our approach with a 'No New Cases' strategy, targeting women and churches in the African-American community and studying the benefits of needle-exchange programs with the goal of solving this problem for good."
In 2008, to ease the burdens of nonprofits, the foundation loosened up its grant wording, so instead of earmarking funds for specific programs, grants tend to be more generalized to cover operating expenses. "In this economy, some groups need money just to keep the lights on and pay salaries, so they really welcomed that move," she says.
And even if Atlanta's nouveau riche are tightening their designer belts, they continue to give, she says, noting that last year the foundation awarded a record $140 million in grants to nonprofits locally, nationally and internationally, and approximately $90 million of that was through individual donor-advised funds. Individual donors still account for more than 80 percent of total giving.
"While the Giving USA study reported a 3.2 percent decline in giving for 2009, this is now the third year that total giving has exceeded $300 billion in our country," she says. "Economic policy and tax policy will always affect the size of the gift, but it will not affect whether someone chooses to give. That motivation is based on personal values and passion. We focus on tailoring donations to the donors' goals – what cause moves them in their gut – and engaging them in the project in new and creative ways, more than we used to." – Candice Dyer
Getting It Done
Kasim Reed
Mayor of Atlanta
When Kasim Reed was sworn in as mayor of Atlanta last January, he arguably faced more crises than any of his predecessors who have stepped into this office.
Pension increases to retirees have threatened the city's finances. Atlanta is on the hook to find more than $1 billion to finish paying for a renovation of its sewer systems. Traffic gridlock threatens to strangle not only the city but the metro region. There's also the small matter of a possible cutoff of Atlanta's largest source of water, Lake Lanier.
Reed insists that these problems can and will be resolved. He acknowledges, however, that Atlanta may not be able to coast on its past successes as it moves into the future.
"There is no question that Atlanta and Georgia's best days are ahead of us," he said during an interview in his City Hall offices, just hours before the City Council voted to pass a crucial modification in the pension system.
"I think the question that remains to be answered is: How well are we going to do? The analogy I have used re-peatedly is that Atlanta and Georgia are a lot like an extra-ordinarily talented track athlete that for years dominated the southeast and literally beat everybody else because of our natural ability.
"We're going to have to get coaching and adjust and be-come more refined to win now," he says.
Reed, a member of the General Assembly for more than a decade, helped lobby for the passage of legislation that authorizes a referendum in 2012 on a local option sales tax to pay for upgrading the region's transportation facilities. This is a crucial vote, he contends, not only for better transportation but to ensure a rebound from the crippling recession of the past two years.
"If the voters decide to support it, it's going to represent the biggest capital investment that the metropolitan Atlanta region has had, certainly in my lifetime," Reed says. "The metropolitan At-lanta region has never had $700 million being spent in it, every single year, for 10 years. I don't think anyone understands yet what that's going to mean for the dynamics of our economy, emerging from an awful recession."
The problem that does more to keep him awake at night is how to make sure the city will have enough water, but Reed sees that being resolved partly through the development of a new reservoir on the 10,000-acre tract in Dawson County that the city originally purchased as a possible site of a second airport.
"This is an asset that is solely within our control, and I think that it's a strategic asset that should be used in that fashion," he says, adding later: "We will get it done." – Tom Crawford
Open To All
Dr. Larry Rivers
President, Fort Valley State University
Fort Valley
One of Larry Rivers' first initiatives when he became president of Fort Valley State Univers-ity, a historically black college, was to hire a diversity officer.
"We have been increasing our non-black student enrollment with white, Hispanic and international students," Rivers says. "We put the word out that here is a university, paid for by Georgia taxpayers, where anyone of any race, creed or color can attain a quality education. In terms of faculty, FVSU is one of the most diverse institutions of higher learning in the University System of Georgia. Presently, faculty members consist of about 50 percent African-Americans, 38 percent whites, and 12 percent Asians and others."
His dogged public relations campaign has paid off with some of the state's highest enrollment increases, including a leap of 17 percent in one year. Since Rivers arrived in 2006, the student population has risen from 1,900 to an expected 4,200, who are benefiting from the school's $160 million spent on capital projects, including a new student center and stadium, residence halls and a science building geared for biotechnology.
"If we get them through the door, they're convinced," he says. "They see our state-of-the-art facilities; they see that we are a progressive, inclusive university on the move."
And everyone benefits, he says, noting that the university is an "economic engine generating $150 million a year for the county."
Rivers, a historian, did his undergraduate work at FVSU and earned advanced degrees from Villa Nova, Carnegie Mellon and the University of London, always vowing to come back some day to this land-grant university in peach country to "help others achieve their dreams." Conscious that many of his students are, like him, the first in their families to attend college, Rivers volunteers with several mentoring programs in his community, including 100 Black Men.
"Our mission for more than 115 years has focused on providing opportunities for students who normally would not have had a chance at a higher education," he says "Many of these students have gone on to become leaders in education, the medical professions, agriculture, government, and in the social services. We still can focus on our history and heritage while reaching out to educate any student who wants to learn. Historically black colleges with large minority populations will remain relevant as long as they continue to adapt and meet the educational needs of students in an ever-changing technological society."
FVSU may be diversifying, but don't expect Rivers to neglect the school's roots. He has published six books about the African-American experience. "So many of our contemporary problems have parallels in history, if we take time to look and learn," he says. – Candice Dyer
What's Real
Herman J. Russell
Chairman/Founder H.J. Russell & Company
Atlanta
Herman Russell helped bankroll the Civil Rights movement. He enjoined and supported a meeting of civic minds for a greater good and helped build a modern city, Atlanta, where his touch extends from the sidewalk to the belly of the sky. It's made him a revered and wealthy man.
It's been real and it's been good. But the real estate meltdown and overall melancholy economy of the past few years has Russell looking back and ahead, doubting the accessibility of the old road, while leaving him some sobering hope for a more sustainable business environment in the years to come.
"This recession has been the worst thing I've seen in my 50 years in the business," says Russell, chairman and founder of Atlanta-based H.J. Russell & Company. "It has affected so many people."
H.J. Russell, considered the largest minority-owned real estate development firm, saw annual revenue plummet from $230 million in 2008 to $180 million last year. The pain is being felt industry-wide, Russell says.
"Nobody has been untouched. We're going to get through this, but it's not going to happen overnight. We have years ahead of getting out of the hole, and when all of this is over with and we get to the other side, you're not going to see the artificial stuff like we saw seven, eight years ago.
"We're going to get back to what's real, and I think we're going to be better people, and better institutions. We're going to learn a lot from what we've been through – a lot of grief and disharmony, and I think we'll ultimately be better off because nobody wants to go through this again."
Atlanta is a strong candidate for "patient zero" in the construction pandemic that's left development firms, like H.J. Russell, holding huge inventories.
"We won't see the mass building like we were seeing four or five years back," Russell says. "We may never see anything like that pace again in our lifetime."
Georgia's greatest assets, he says, are the statewide university system and the new generation of leadership it will engender. He's certainly put his money where his mouth is, donating $1 million each to institutions like Clark Atlanta University, Morehouse College and Georgia State University (where the Herman J. Russell, Sr. International Center for Entrepreneurship is housed).
"Our university system has come into its own, and we are the transportation hub of the Southeast," he says, adding that his priority list for the state includes a better way ahead – quite literally, on the ground – and a more serious approach to improving public K-12 education.
"Transportation and public education may be our biggest drawbacks," he says.
"Particularly in the metro area, we are going to choke ourselves if we don't give our transportation issues priority.
"We've also got to get our arms and minds around public education and understand that it's cheaper to educate our people as children than to keep them in prison as adults." – Jerry Grillo
Private Capital
Robert Shaw
Flooring Entrepreneur
Dalton
No one thought Georgia carpet magnate Robert Shaw was about to retire when he and his family sold Dalton-based Shaw Industries to Warren Buffett's Berkshire Hathaway holding company back in 2001 in a cash and stock exchange, and they were right.
Today Shaw presides over his Gordon County-based Engineered Floors LLC and its 500 employees. From his perch in the North Georgia mountains, Shaw keeps close tabs on the Atlanta housing market as an indicator of the health of the flooring business and the state's economy.
"The multi-family occupancy [in Atlanta] is starting to pick up," Shaw says. "And that means carpet there is being replaced about every three-and-a-half years, where in a home it's replaced about every 12 years. I believe the carpet industry has bottomed out, and I don't think we're going to make the recovery that happens over a year or two years … and recovers the 33 or 34 percent that we lost [in sales]."
Shaw sees a key to the state's future lying in a concentration of high-tech companies in a centralized location. "Atlanta would be perfect for that," he says. "I think North Carolina has done a little better job than Georgia has in having some centralized technology [community]," he says. "I think [looking at] the advantages of Georgia, we could reasonably say our transportation may not be perfect but it is better than most states. And I think we are reasonably competitive as far as utilities are concerned."
Recovery from the recession, he says, "is going to be done with private capital. It's not going to be done with public capital. I have never believed we create any worthwhile jobs by the government creating them. The state income tax is a real cost to people who live in Georgia. I always believed consumers should pay [the taxes] rather than income. "
Shaw lives and does business in a region with one of the highest concentrations of Hispanic workers in the state and has employed them in his companies, so he has definite opinions on immigration reform. "I don't think we need to change anything," he says. "I think we need to enforce what we have. You can make law after law after law, but if you don't enforce them, what have you done?" – Ed Lightsey
Ethical Leadership
Betty Siegel
President Emeritus
Kennesaw State University
Marietta
Betty Siegel was in the first year of her long, historic run as president of Kennesaw State University when she sat down to talk with a renowned futurist. New to Atlanta and the first female president in the University System of Georgia, Siegel was more interested in the past.
"I asked him, 'What's the secret of leadership in Atlanta? Is it old money, old families?' He said there was plenty of old money and plenty of old families. But he told me, 'It's what you give back in time and energy that makes you a real leader in Atlanta," Siegel says.
It's a message that resonated for Siegel, who served as KSU's president from 1981 to 2006. Now KSU's president emeritus, Siegel works with students, educators and business people, spearheading a conversation about values and character, ethical leadership and social responsibility. Never in her lifetime can she remember these things being more necessary.
"Cynicism is at an all-time high, trust is at an all-time low; pessimism is at an all-time high, and optimism is at an all-time low. We're in for some real problems, because neither of those negative qualities can lead us to success."
Siegel has just returned from a trip that took her to China, Crete and England. She'll go back to South Africa this month.
"Every place I went, the same dialogue was going on, and it wasn't just about making money," she says. "There's an overarching theme in leadership around the world, a real movement it seems to me, for people to talk about ethics, to find something that goes beyond good business principles toward a higher calling."
It isn't about spiritual faith so much, though when Siegel the philosopher gets going, it sounds like she's found religion.
"I've been accused of being an eternal optimist," she says, gently and skillfully veering away from the subject of dark and uncertain economic times.
She holds the higher education system largely accountable for the apathy, injustice and unethical behavior in leadership (business, political and otherwise). She also believes a transformed university system that makes ethical leadership and social responsibility a high priority is society's best ticket out of the funk, a catalyst for a positive mood swing.
Siegel helped form the Oxford Conclave on Global Ethics and Social Responsibility, a network of nine universities committed to promoting a more just, humane and equitable society, and holding themselves accountable for training tomorrow's leaders.
"We're trying to create colleges of meaning," she says.
Siegel felt inspired last year after attending the Vancouver Peace Summit, which brought the Dalai Lama and other Nobel Laureates together with leaders from the arts, business, education and politics. So she now plans to bring Metro Atlanta's community of universities and colleges together for a conclave, "to pull together in an open forum to determine what we hope Atlanta will be." – Jerry Grillo
Driven By Data
Dr. Gregory Simone
President and CEO
WellStar Health Systems
Kennesaw
Dr. Gregory Simone heads one of the state's largest health systems. From an administrative standpoint, he sees the future of healthcare in a more efficient delegation of labor to reflect new and more expensive technologies. "We here are extremely data-driven. We require facts and accountability through data from multiple sources, and using software can get a projection of the increase in population as well as demographics and medical data.
So we can see the changing incidents of various diseases and how they apply to various populations and the needs of the community. Once you understand what the community needs, you can prepare in advance and respond in real time.
"Also, the traditional way of healthcare is more like 'sick care' – you come in to the hospital to see a doctor. Treatment has become sophisticated and more effective, but technology costs have gone up. That's the reason why healthcare has become more expensive. But we're only treating the sickness once it's there – the future needs to be prevention.
"In 25 years, the cost of getting genomes – your own personal genome – will only be a few bucks. With that sophisticated data, we can create a national record and be able to predict whether someone will or won't develop certain diseases. Say Mr. Jones has a 75 percent probability of a disease. So we make our first prediction, and maybe at 8 years old we jump all over him – manage his diet, exercise with monitoring. For those who have a high probability of disease, there will be an intensive preventive effort up front. Also, because we will be so advanced in genomics, there will be gene therapy to counter specific diseases, and nanotechnology to deliver very targeted therapies.
"The things we do today will be as outdated as what Egyptians did. In the long run, yes, the majority of cancers will be curable – maybe 25 to 35 years from now. Cardiac surgery is something we will not be doing – not the cracking-chest kind of incision we do now. That's the promise of the future – it has nothing to do with healthcare reform. That was all finance. But the things we describe are dependent on us – we, the providers of healthcare, will make it truly healthcare and not sickness care."
Concerning Georgia specifically and the projected aging of its population, Simone believes the focus on the doctor shortage has been misplaced. "If we continue with the same process, we will have a huge shortage. We have to change the process of delivery. Much of what is done can be done by advanced practitioners. Nurses can take on a lot of roles in the lower strata of skill sets for physicians and free them up for higher strata processes, and some of the nursing can be done by lower-level nurses. There needs to be an upward migration of skill sets of different people in the delivery team, so it's a team, not a number of doctors." – Ben Young
Making The Grade
Calvin Smyre
State Representative
Columbus
Calvin Smyre was first elected to the state House of Representatives as a young man of 26 back in 1974. Now 63 and running for his 19th term in the General Assembly, Smyre says the issue Georgia will have to resolve as it strives to prosper over the next decade is the same issue he faced as a first-term lawmaker: upgrading the public schools.
"If you look out 10 years from now, you'll have some 400,000 new jobs in our economy," says Smyre, who's an executive vice president at Columbus-based Synovus when he's not handling legislative chores. "Of those 400,000 jobs, most of them are going to require a post-secondary education and training."
In addition to the new jobs that will be created during the next 10 years, Smyre cites projections that another 1.4 million positions will have to be filled because of the normal effects of attrition on the workforce (deaths, retirements and so on).
"Those openings will be the same: 800,000 will require a post-secondary education, while 400,000 will require a high school diploma," he says. "It still boils down to education as a key component of where we go. Education is the escalator to upward mobility."
During his 36 years in public office, Smyre has seen the state try to figure out how much to spend on education through an ever-changing alphabet soup of programs like APEG, MPEG, QBE and No Child Left Behind. Over the past few years, state formula funding to local school systems has been cut by a combined $3 billion, partly in response to the crippling economic recession.
"We're funding education at 147 days of school right now," Smyre says. "We're supposed to be funding 180 days of school, and then you look at other systems around the country, some are funding 200 or 220 days. You wonder: How do we continue to compete as a state?"
He hopes the change in state leadership after the 2010 elections can bring a renewed emphasis – and maybe even a little more respect – for public education.
"We've got to make that a priority," he says. "We have to focus on the major issues, instead of 'majoring in the minor.' Education ought to continue to be the top issue. Intellectual capital is the key to everything else."
Of course, transportation and water are major issues that also have to be resolved to ensure Georgia's success, but Smyre says that hasn't dented his optimism about the future.
"When you're in this business, pessimism won't work," he contends. "As frustrating as it gets sometimes, I believe you have to continue to be positive, you have to continue to be upbeat, you have to continue to provide new ideas and alternative measures." – Tom Crawford
Downtown Investor
Pat Topping
President
Macon-Bibb County Chamber of Commerce
Macon
Pat Topping believes that over the next two decades his city will see the fruits of years of investment downtown. "My vision for Macon in 25 years is a vibrant downtown, with residential on second and third floors with business, retail, small locally owned restaurants, and hover craft shops on [the] first floor."
Yes, Topping sees a futuristic, "Jetson-esque" Macon as a middle Georgia transportation hub:
"Our Terminal Station is abuzz with activity as passengers board commuter rail for Atlanta to connect to high-speed electromagnetic trains to other parts of the U.S.," he says. "Light rail moves people from suburbs and surrounding cities to work in their corporate HQ offices, regional offices and other professional occupations in downtown. The light rail also connects people in middle Georgia."
With better transportation connections, Topping sees more tourism in Macon – of the cultural, historical and ecological variety. The well-known and well-attended Cherry Blossom Festival held in the spring combines all those elements. He'd like to see additional activity.
"The Riverfront Development attracts tourists from all over the southeast to our unique shops, restaurants, concert venues and breathtaking landscaping," he predicts. "Research conducted at the University of Georgia has produced a cherry tree that blooms year round, resists pest and disease and can also grow as low-lying shrubs and indoor plants. Young professionals and empty nesters reside in the many apartments that overlook the river. Four new boat ramps serve the canoe, raft and hover boat companies that dot the river all the way from the Bond Swamp to the Frank Amerson Waterworks Park.
"Parks line the river featuring picnic areas, walking and bike trails, observation towers and underground viewing stations. Lake Tobesofkee, a new Ritz-Carlton Resort, hosts the third annual G25 Summit on Education and World Hunger."
Of course there will be corresponding economic development in Topping's vision for his city.
"Macon has become the center for the new electronic commerce serving the international business community. Our buildings in the Historic Railroad District, the industrial hub of the late 1800s and early 1900s, have been renovated to their former grandeur and now house electric motor and battery manufacturers and high-tech design studios developing prototypes for the new electromagnetic cars that are being manufactured in one of our business parks."
Growth at Robins Air Base in Warner Robins will spur aerospace investment, he believes. "Aerospace companies will be manufacturing Unmanned Aerial Vehicles, telecommunication satellites and advanced radar. People- and thing-transporting devices will dot the parks around the Middle Georgia Regional Airport and Robins Air Force Base. The base will be home to the combined military special elite electronics warfare unit and forces." – Ben Young
Primary Care
Joel Wernick
CEO, Phoebe Putney Memorial Hospital
Albany
Since becoming the hospital's CEO in 1988, Joel Wernick has guided the institution to a period of historic growth in staff, revenues and new services, and has expanded the facility's presence in vastly underserved areas in Southwest Georgia.
He led the development of a family practice residency program linked to a network of clinics in the region and this year presided over the first off-site clinical program established by the Medical College of Georgia for third- and fourth-year medical students. His dream is to generate more primary care physicians for the state, in the hopes they will choose to set up practice in Southwest Georgia.
"This state does not have enough post-medical school residency spots," Wernick says. "And those slots need to be created. There is an excellent opportunity over the next several years for us to add probably as many as 100 [residency slots] with assistance from the federal government. We need to take advantage of that opportunity, because you can teach, train and graduate as many medical college graduates in Georgia as you want, but if they go somewhere else for their residency the statistical probability they won't come back to Georgia goes way up."
To Wernick, it's a dollars and sense proposition.
"You can't come out of medical school with less than $200,000 in debt," Wernick says. "What you do when you come out with that much debt is immediately look for the highest paying job and most lucrative specialty you can find."
And, he says, the greatest demand for physicians is in primary care, internal medicine, pediatrics and family medicine, fields that do not pay as well as the specialties.
"If the state of Georgia has a goal of keeping people here in the state practicing medicine, then we need to enhance the opportunity to forgive that tuition in return for living here in the state and practicing medicine. It's a carrot that works extremely well. I wish this country would consider this approach because right now this country has a terrible undersupply of primary care doctors. Somehow we have to come up with that piece of the puzzle because this country cannot be taken care of by just specialists. "
Just two weeks after Wernick made his comments, all five of the 2010 graduating family medicine residents announced they would be staying at Phoebe in Albany and/or going to Phoebe Sumter in Americus. In addition, a 2009 sports medicine fellow at Phoebe will be returning to practice in Albany. – Ed Lightsey
Driving Tourism
Woody Woodside
President, Brunswick-Golden Isles
Chamber of Commerce
Brunswick
Woody Woodside believes transportation improvements will drive more growth to his region and that new seaside development on Jekyll Island will boost tourism.
"We have close to two million visitors a year, according to our Convention and Visitors Bureau. We anticipate, 20 years out, it will be closer to three million. We've gone through 20 years of decaying facilities on Jekyll without a lot of attention, and over the next 20 years, that revitalization will bring a lot of those visitors we're talking about," he says.
"Jekyll will once again be a favorite place for statewide associations and conventions, and [it] will also increase drastically the number of vacationers taking advantage of one of Georgia's most beautiful beaches."
Join that with the rise in freight traffic emanating from the Port of Brunswick, and you can see why the Golden Isles is enhancing its transportation network. "It's not just vacationers but more probably surface transportation to and from the Port of Brunswick. No doubt the rail traffic will also increase as the port continues to grow. We figure if we can get the harbor depth to 36 feet – I don't know if needs to be deeper – but even with 36 feet, the volumes of traffic should increase drastically. One train expansion out of Brunswick Port is one of the biggest in country.
"Working with the Brunswick/Glynn County Development Authority and with the state, we have developed sites adjacent to I-95 where I imagine we will expand our manufacturing and warehousing base. The Federal Law Enforcement Training Center, which is the largest homeland security training center in the country, will continue to expand. It has a $600 million a year impact; since 9/11, some 90 agencies conduct training out there now.
"The College of Coastal Georgia became one of the state's new four-year institutions. They are forecasting 20 years out that the population of students will jump from 3,000 today to more like 10,000. And since 2004, the Southeast Georgia Health System has invested $175 million in capital improvements down here. In the next 20 years, we will certainly see an increase in healthcare capacity for our senior population, and a lot of senior centers will be expanding.
"Our county and city have combined into a joint water commission to protect and ensure our resources are provided for as we move forward. We know that resources for highway expansions and opportunities to improve roads of Southeast Georgia are available through inter-cooperation and the regionalization of commissions now armed with the opportunity to join together for their own local TSPLOSTS. It will be a challenge, but people will take advantage if it is still in place 20 years out. We will need it for the growth. It is incumbent upon the counties in our area to take advantage of the whole idea of regionalization, and I hope the leadership will be there." – Ben Young
Faith In The Future
Andrew Young
Former Civil Rights Leader, Mayor,
Congressman and U.N. Ambassador
Atlanta
Andrew Young may have turned 78 earlier this year, but his work as an international consultant continues undiminished – as he illustrated during this interview by fielding a cell phone call from an acquaintance in Nigeria seeking his assistance in "mediating some Christian-Muslim difficulties."
It is observing that same work ethic in others, Young says, that sustains his faith in the future prosperity of Atlanta and Georgia.
"Nobody here was raised on flowery beds of ease," he recounts. "Even the people who were born rich were made to work for a living. Herman Russell: His father raised him and put him in overalls and gave him a trowel when he was a teenager. And actually, I sent my son to work for Herman Russell when he was about 14. He started them out doing the roughest, dirtiest work in the company, but it made them feel like men at a young age."
Young was part of the leadership team that stood with Martin Luther King, Jr. during the civil rights movement, and he made his own mark as a congressman, mayor of Atlanta, and U.S. ambassador to the United Nations. A common trait of many leaders, he contends, is this early exposure to the working experience.
"Ivan Allen worked in his store, Roy Barnes had a hardware store to work in," Young says. "There's something about working with people, as a kid, that helps you know what's real in life. Before we got overly fascinated with private schools and home school and stuff like that, our kids were raised to be tough and to be able to cope with the difficulties at school, in the neighborhoods, on their jobs. And you learned to respect other people's lives and appreciate other people's work."
The willingness to work hard, to take on any challenge, he says, will be a key factor in determining the future fate of the city and state.
"There is something about Atlanta, that it has always felt that we were a world leader," Young says. "I think it came in part from Coca-Cola, I think [it goes] all the way back to Henry Grady. There was a feeling of more than optimism – it was triumphalism. We just feel like we can overcome any damn thing and every damn thing! It's almost as though we relish a challenge."
It doesn't hurt, either, if you have some brainpower that can be applied to the crafting of a solution.
"It's what my daddy said to me: If you're in trouble, don't get mad, get smart, and think your way through the problem," he says. "We've been able to think things through together. Whatever the challenges of Georgia, whatever they are, we will overcome them." – Tom Crawford