Restoring A Sense Of Community
Connecting historic preservation and environmental sustainability makes good sense. The greenest building, says one expert, is the one that already exists.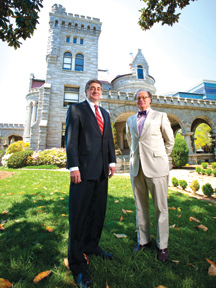 A waxing crescent moon smiles down on the old Buckhead neighborhood where peacocks used to roam, sometimes stopping traffic on West Paces Ferry Road. About 400 of Georgia's historic preservation gentry, in bow ties and evening gowns, have gathered here at the Good-rum House for the 26th annual Preservation Gala.
This crowd and this place, a 1929 manse built by a famous architect for a rich widow, feels affluent, cultivated, maybe even a little bourgeois in the soft places. To Mark McDonald, president and CEO of The Georgia Trust for Historic Preservation (the organization putting on this bash), it feels like something else entirely.
"Preservation is still pretty much a radical concept in America, where the natural tendency is toward disposability," McDonald says. "As preservationists, we're really part of a counterculture movement."
Which, as we learned from 1960s history, encapsulates environmentalism.
"Historic preservation is definitely part of the green building movement," insists Sheffield Hale, trustee and former chairman of The Georgia Trust, and the guest of honor with his wife Elizabeth at the Goodrum House (also known as the "Peacock House"), which is being restored by the Watson-Brown Foundation, the group that purchased the place for $3.5 million last year.
"The greenest building is the one that already exists," Hale says, repeating an oft-heard line in the preservation world. "There are great environmental advantages to pres-ervation as opposed to tearing a building down and replacing it."
The Hales have been longtime supporters of The Georgia Trust and historic preservation statewide, which is why they are the toast of the preservationist elite in Buck-head.
Caitlin Zygmont, on the other hand, is 29 and only got involved with the Trust a year ago, leaving her corporate sales/marketing gig to pursue a Masters of Heritage Preservation at Georgia State and work as an intern with The Georgia Trust.
"I think there is a huge connection between historic preservation and environmental sustainability," says Zyg-mont, who was planning to research that topic as part of her graduate studies this summer. "The sheer waste that is created through demolition of historic buildings is astounding. And I think the more preservationists can work with environmentalists, the better off everyone will be."
The two ideals – preservation and environmentalism – are coming together smoothly in one of the state's most ambitious historic projects, Hardman Farm, just outside of Helen. Meanwhile, The Georgia Trust is keeping a close eye on its designated "Places in Peril," and another homegrown entity, the Fox Theatre Institute (FTI), has emerged as the only comprehensive theater preservation organization in the U.S., filling a particularly important economic development niche, the experts say.
"Theaters are the centerpiece of our downtowns," Mc-Donald says. "We try to include a theater on our 'Places in Peril' list every year because all too often, as these theaters go, so go the downtowns."
The idea for FTI came out of a long-range strategic planning session undertaken by the Fox Theatre board of directors.
"They wanted to look at where we'd come from, as pertains to the theater's restoration, and take some of our resources – human and financial resources – and start thinking outside the Fox," says Adina Erwin, assistant general manager of the Fox. "The idea was to take our expertise in restoration, operation and preservation and work with the other historic theaters throughout Georgia."
It took a few years, but in 2008 FTI was officially launched and started doing assessments of historic theaters around the state, narrowing the focus down to 25 theaters.
"Most were maturing theaters, open and operating, and they'd probably already gone through some level of restoration," Erwin says. "We focused on two pillars, based on what we discovered in our experience at the Fox – preservation and operation.
"What we discovered in our own experience is, it's not [enough] just to preserve a theater. You have to be able to operate it, program it, hire the right people, have good governance in place, budgeting and marketing and everything that goes into making a building viable."
Farm Report
Making a place viable gets to the essence of what the historic preservation philosophy has evolved into.
"Some people still think that preservationists just want to put things behind a velvet rope. That's 50 years ago thinking," says Hale, who is chief counsel for the American Cancer Society. "Back then, when preservationists got together to save a building, the first thing on their minds might have been, 'Let's make it a museum.' We don't think that way anymore."
House museums are out of favor right now, and taking one on without an endowment is an almost certain recipe for failure, Hale says. And he should know.
"There was a big house museum phase that the preservation movement was into," he says. "Using the Trust as a microcosm, we were looking at acquiring more house museums, but knew there was no way visitation dollars could carry such a thing without an endowment, particularly in a rural community. It's hard to get the kind of visitation you'd need, unless you're a Mount Vernon or a Monticello. Very few properties can do it on their own, and even those that can need an endowment."
The Biltmore House, McDonald says, is one of the few in America that makes money on its own. For a time, The Georgia Trust thought it had a property that could make it on its own: Hardman Farm, a 173-acre site loaded with historic structures, including the often-photographed Indian mound topped by a gazebo across the street from the 1869 Italianate farm house built by Civil War Col. James Nicholls and eventually purchased in 1902 by former Georgia Gov. Lamartine Hardman.
The farm property is on the Chattahoochee River, along a busy tourism corridor – the road to Helen. The Trust did a feasibility study, exploring what it might do with the property without an endowment. Ideas included a bed and breakfast or wedding facility.
"We were involved in doing the planning for the buildings, the restorations. We were going to manage it for the state," Hale says. "But at the end of the day, the project was so big and complicated, it ended up being better for the state to just take it."
The powers that be (Hardman family, major donors such as the Woodruff Foundation and Georgia Power, The Trust for Public Land and the North Georgia Community Foundation, among others) heartily agreed, and Georgia's Department of Natural Resources (DNR) acquired the property in Decem-ber 2002. Since then, the restoration has moved forward – in spurts – and brought together the principles of traditional historic preservation with 21st century green building codes. But the ambitious living-history center the state has planned at the corner of highways 17 and 75 hasn't opened to the public yet.
"Unfortunately, there are no operating funds," says Debbie Walsmith, interpretive supervisor for DNR's cultural resources unit.
The 7,000-square-foot dairy barn, which earned DNR a preservation award from The Georgia Trust in 2006, was restored as part of a $2 million first phase, according to David Freedman, retired chief engineer of DNR. The roof and foundation of the leaning structure were replaced, and wood bracing was added. Per the U.S. Green Building Council's LEED scoring system, existing and locally manufactured materials were utilized, and waste products were recycled.
The farmhouse project ("not slightly over $2 million," Freedman says), which involved the use of computer modeling programs to predict energy use, temperatures and humidity throughout the building and employed solar power, is on track for LEED Platinum status, the Green Building Council's highest rating.
"We wanted this to be a demonstration product that others can learn from. It's one of the first of its kind, so we'll want to share the experience," says Freedman, who teaches LEED workshops for the council and whose new firm, Freedman Engineering, specializes in applying the green code to historic preservation.
"There has been a disconnect between the two, a common thought that green building and historic preservation are incompatible," he says. "And of course, that's totally untrue."
When the general public can enjoy the final results at the Hardman Farm restoration is the $1.5-million question – give or take. A brick store on the property must be turned into a visitors center, and adequate parking space and access must be developed and completed. Walsmith figures the visitors center project will start this fall.
But with no operating funds for exhibits, opening day is anybody's guess.
"I've been working on this project for seven, eight years now," an exasperated Walsmith says. "I'll probably be retired before it ever gets finished."
Presidential Pardon
The Fox Theatre Institute exists to educate communities about techniques to successfully sustain their historic theaters.
"A lot of the time that means teaching communities that theaters are assets, not liabilities," says Molly Fortune, director of restoration for the Fox Theatre. "Think about what a theater can do. This is money coming into a downtown after 5 o'clock, income that might not have been there before, that filters through a community when there is a viable anchor.
"But that means the community has to be involved for us to teach you how to fish."
In addition to the free seminars and workshops, the FTI provides strategic planning and project management, the preservation/restoration expertise (people like Fortune) and acts as a facilitator, linking communities with resources (granting organizations, professional resources, other theaters that have been there, done that). FTI does a lot of this through its Theatre Advancement Program (TAP).
"This is all about a sense of place being restored, a place that existed before that you bring back to life," Fortune says.
Last year's primary TAP beneficiary was the DeSoto Theatre in Rome. Modeled after The Roxy Theatre in New York City, the DeSoto opened in 1929 with a seating capacity of 1,000, the first movie theater in the South designed and built specifically for "talking" pictures. Closed in 1982, it soon reopened and remains home to the Rome Little Theatre, a community theater group.
Now owned by the nonprofit Historic Desoto Theatre Foundation, the facility has kept its art deco façade, French mirrored entrance hall and Georgian interior design. But a deteriorating roof led to extreme water damage. FTI brought a contractor in that would donate labor hours for the repair and restoration if the DeSoto raised money for supplies.
FTI also has assisted the Ritz Theatre in Brunswick with the restoration of 56 original windows and has its eyes on Manchester, where a local couple, Regina and Billy Garrett, are spearheading revitalization of The President Theatre.
"We don't want our downtown to dry up, and there was a lot of information out there about theaters being the economic anchor of downtowns," says Regina Garrett, who launched The President Theatre Community Arts Center, a nonprofit organization dedicated to bringing the theater back to its 1935 glory.
Garrett's group has brought in well over $125,000 so far, securing grant money from a number of sources, including the Georgia Council for the Arts, raising a total of $36,000 in their first two New Year's Eve Galas and convincing local contractors and merchants to donate time and supplies. So far, they've stabilized the floor and are just about ready to start on the roof.
During the planning process, The President Theatre group contacted Lominack Kolman Smith Architects, a firm with a reputation for its work in historic renovation, based in Georgia's epicenter of revitalization, Savannah.
"It's a neat building that was in terrible condition when they put this project together," says Jerry Lominack. " They've tackled the big challenge, which was saving the building. The challenge now will be to raise enough money and support to keep moving forward. They're looking for an angel."
Places In Peril
Since 2006, The Georgia Trust has posted its list of Places in Peril, an effort to identify and preserve the most at-risk historic sites. This year's list includes one of the theaters on FTI's list (the Ritz in Thomaston), as well as Central State Hospital in Milledgeville, Morris Brown College, Howard Finster's Paradise Gardens in Summerville, a 75-year-old school in Midway where Dr. Martin Luther King planned his march on Birmingham, and one of Georgia's musical shrines,
Capricorn Studios in Macon. (For the complete list, go to www.georgiatrust.org/news/2010places.php.)
"Capricorn just went through foreclosure. It could be bought cheap," says The Georgia Trust's Mark McDonald. "Macon preserved the Allman Brothers House. Well, it could be argued that this is even more historically significant. This is where the music was produced."
Hale adds, "They're preserving Abbey Road in England. Well, this is Georgia's Abbey Road."
McDonald figures the Trust is batting around .500 in its efforts to save Places in Peril since 2006. "We're losing ground on some, making a lot of progress on others."
Ironically, the lousy economy is actually benefiting their preservation efforts.
"You don't see as many teardowns in a bad economy," Hale says.
In fact, preservation makes good economic sense, according to a report in a recent issue of The Rambler, the Trust's quarterly magazine: For every dollar spent in rehabilitation expenses, five dollars is reinvested in the economy, and preservation projects create about 50 percent more jobs per dollar spent than new construction. What it means, McDonald explains, is that less money is spent on materials and more is spent on labor. And Georgia rates pretty well – "in 2008 the state was 12th in the nation for final projects, with almost $30 million in certified expenses for 18 projects," according to The Rambler.
"And every time we have an economic downturn," McDonald says, "the renovation market bounces back first. If there is a silver lining for us, that would be it. We don't go out and build new greenfields, we renovate existing buildings when the economy is down."
One theater that didn't make the Trust's Places in Peril list (because it already had been mostly destroyed) is the Georgia Theatre in Athens. Fire gutted the place in June 2009 where the B-52's and Widespread Panic made their marks. Estimates for the restoration are about $3.6 million.
Since the fire, there has been an outpouring of support as artists like the Zac Brown Band put on benefit concerts. The Georgia Trust is serving as an advisor, giving technical assistance and setting up a fund for donors to pour their love into.
The Georgia Theatre fire, like the economy, might also have an unintended benefit for the preservation movement.
"I think generating interest in preservation with younger generations is very important to keeping the movement fresh, energetic and sustainable," says Caitlyn Zygmont, adding that the fire in Athens, "opened the eyes of many younger people to the significance a historic building can have on their lives."
For Hale, who remembers seeing Animal House in the Georgia Theatre while attending UGA, the movement was in his bones – he grew up in an old house, and his father and grandfather were active in historic preservation. But the lure of the movement never had as much to with bricks and mortar themselves. It was what they represented.
"What attracted me was the economic revitalization part of it," he says. "And the activist nature of the endeavor. You're out there trying to save the world now, and it can improve the economy. A building has to have an economic use or it will be destroyed.
"So you're not out there saving buildings for the sake of saving buildings. You're saving them for the purpose of making a community."