Gwinnett County: Celebrating Diversity
Courting international business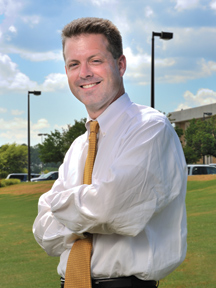 Look at Gwinnett and you're seeing a vision of the future of America. Last year this prosperous and fast-growing Metro Atlanta county reached a new milestone. Preliminary census figures confirmed what many here already knew – they were living in the latest "minority majority" county.
That means 50.8 percent of the county's more than 800,000 population is non-white and 49.2 percent is white. In 2000, whites made up 67.3 percent of the population and minorities just 32.7 percent. Since then, Asian, African-American and Hispanic populations have soared, pushing Gwinnett into the ranks of 300 counties in the U.S. with this status.
Demographers say this pattern will be replicated nationally sometime after 2040 when whites will no longer have an absolute majority.
"We have this incredible mix of people," say Nick Masino, vice president of Partnership Gwinnett, the Gwinnet Chamber's economic development arm. "I say we're the United Nations of the South and probably the most diverse community in the Southeastern United States. Miami may have more diversity, but it's highly slanted toward Latinos while other places are highly slanted toward Latino or African American."
That diversity is reflected in local schools where upwards of 50 different languages are spoken. It's also a major issue for the Gwinnett Chamber, which is hustling to keep up with the changing demographic. While differences can be a challenge, Masino sees opportunity there as well.
Gwinnett is home to 655 foreign-owned companies; more than 100 of those are American or North American headquarters. This emerging cosmopolitan landscape has encouraged economic developers and business leaders to expand their sights beyond the U.S. when it comes to hunting new prospects for relocation.
As a result, the chamber has organized more than a half-dozen trips to China and South Korea for local business and government officials. The contacts gained by organizers also help local businesses cultivate their own international markets.
"It's very hard to expand Gwinnett businesses that aren't already doing business internationally if you don't have an international experience yourself," says Masino.
International companies are coming to appreciate Gwinnett in much the same way as U.S. firms. Locals like to boast of the county's unusual success in attracting companies including high-profile corporate headquarters such as NCR and Asbury Automotive. They join a bustling community of businesses including IT, life sciences and communications that have helped make Gwinnett one of the most prosperous in the metro area.
When it comes to explaining what attracts companies here, tax breaks and other incentives are never more than a partial consideration.
"Very rarely is something completely incentive driven," says Masino. "Incentives can't make a bad deal good, but they can make a good deal great."
For most companies, the prime consideration is the county's ability to provide both good workers and a good place to live. Recruiting talent is essential for companies, and Gwinnett Technical College has served up programs geared to the needs of specific industries. Masino points out the school's video game development degree as an example of responding to the needs of a growing local market.
"We didn't realize that we had a cluster of gaming [companies]," says Masino. "So we've been chasing game companies now and come to find out both Gwinnett and Metro Atlanta have one of the largest concentrations of gaming companies on the East Coast."
Identifying industry clusters has played a role in Gwinnett's success, allowing economic developers to concentrate resources on companies that are a natural fit. In 2007, Masino's organization wrapped up a detailed study of the local workforce and the types of industries found in the county – "what's growing and what's declining, where industries are going," says Masino.
They found that the major industries fell into four broad classifications, including IT, advanced communications, corporate headquarters and professional services, and healthcare and life sciences.
Cities And The County
The recession has also taken its toll on local governments that have seen property tax revenues slide. When Gwinnett adopted its 2010 budget late last year, it contained both spending cuts and tax increases. Even at $1.323 billion, spending was down $387 million from the previous year.
While building projects and many county offices took a hit, public safety received funds for new police officers and the construction of three new fire stations. The commission also took the politically unpopular action of raising property taxes by 2.28 mills.
"That was the result of a previous attempt or suggestion because we actually needed somewhere in the neighborhood of 3.4 mills [increase]," says Com-mission Chairman Charles Bannister. "Then we created a $33 million savings there and along with the 2.28 we thought we could get through 2010 and '11."
That move prompted local citizens to mount a recall drive to oust the chairman, adding to what has been a tough year for Bannister. He has been at the center of a series of controversies such as a mandatory residential trash pick-up plan and charges that Gwinnett paid politically connected developers inflated prices for park land.
The county has also been caught up in a dispute between county government and Gwinnett's cities and towns over the cost of providing services. Local mayors contend they're being taxed for services they already provide themselves or aren't getting.
"Gwinnett County provides more services than any other local government," says Bannister. "As a result, when you itemize those services it gets extensive, and cities sometimes question some of those things."
By law, cities and counties can't provide the same service to the same area without a formal agreement called a Service Delivery Strategy. After two years of negotiations, the sides haven't come to an agreement, and that's proving costly. Earlier this year the state declared the county and the cities ineligible for Georgia grants and permits – potentially costing both sides millions of dollars.
In the meantime, the two sides have hired private attorneys and are now in court over the issue.
"I am expecting that a judge will say that cities are trying to operate under the law that is already in existence about double taxation and that the cities are correct that they have been double taxed for a number of years," asserts Duluth Mayor Nancy Harris. "We feel that the law already says that, and we're just trying to get our county commissioners to follow the law that is already there."
Building Slump
All the headlines about corporate relocations can't hide the reality that Gwinnett hasn't escaped the brunt of the economic downturn. Unemployment is still high, and home building – long a staple of this bedroom community – has slumped.
To fight the deepening recession, Gwinnett has deployed virtually every weapon in its arsenal from tax breaks to the crafting of its own local stimulus package to supplement the vanishing effects of the federal effort.
A new homebuyer's incentive program cranked up this summer to help quell a surging inventory of unsold homes and empty subdivision lots. As part of a larger initiative called Let's Do Business Gwinnett, it offers first-time buyers below-market mortgage rates from a consortium of local banks.
The Community Foundation of Northeast Georgia came through with low-interest loans available for select home purchases. The Impact! Group provides buyers with education services to ensure they get off on the right foot financially.
Qualifying buyers also get a $5,000 down payment incentive to put toward the purchase of newly constructed homes priced up to $205,000. The funds were drawn from federal grants held by the Gwinnett Housing Authority to promote low-income housing.
Local leaders decided to tackle the housing market because it offered the biggest economic bang for the buck, according to Bartow Morgan, the Gwinnett Chamber of Commerce chairman who is chairman and CEO of Brand Banking. He spearheaded incentive effort.
"We felt [housing] touched a lot of parts of Gwinnett County," he says. "We also saw that home building was hurt worse than just about anything else and needed help."
Revving up home sales and getting more homes constructed helps developers, builders, construction workers and home supply stores as well, he adds.
With the popular $8,000 federal tax credit gone, Morgan says the local business community recognized the need to come up with a new initiative to stimulate the economy. The lending freeze shut out many who could have gotten a loan a few years ago. In addition, empty houses aren't good for the occupied homes that surround them.
"You drive around and see all these developments that have started, but then maybe they built five houses out of 30," says Demming Bass, vice president of marketing and public policy with the Gwinnett chamber. "This is really designed to build those subdivisions up and finish them because of the toll that they're taking on property values."
The chamber is also encouraging local businesses and government to spend more dollars inside the county. A range of businesses have agreed to switch five percent of their purchasing to local vendors in an effort that could keep as much as $1 million a day at home.
"It's easy to switch to buying things like office supplies from local sources," adds Morgan.
Commercial Development
Gwinnett is also finding new ways to push more commercial development. In a suburban county that has relatively few greenfields left, redevelopment is fast becoming a buzzword among locals. And, while no old buildings have given way to shiny new mixed-use structures, the county is laying the foundation for what it hopes will be some major initiatives.
With several tax allocation districts (TADs), community improvement districts (CIDs), opportunity zones and $52 million in recovery zone bonding capacity, just a little thawing in commercial lending could turn the tide, officials say.
"I would not say that we're seeing folks ready to put pen to paper, but quite a few people are kicking the tires," reports Gwinnett Village CID Executive Director Chuck Warbington, who also heads the chamber's Redevelopment Forum.
"We've always had the bottom feeders that are just looking for the foreclosure deals. Now we're seeing investment groups, insurance groups and others that are trying to find good investments for the market, and they are going to areas that have TADs in place and have organizations like a CID."
In fact, areas equipped with these development incentives are getting most of the attention because "that's where a lot of folks are investing because they know that's where the activity is going to happen," adds Warbington.
To ease the process for interested developers, the chamber prepared a "Top 12" list of properties ripe for redevelopment. These include the sprawling OFS Brightwave facilities and a complex of old big-box stores off Highway 78. In order to make the list, each site had to be a true redevelopment with the emphasis on vacant properties. The chamber created a fact sheet with the basic details a developer would need on each property.
"We are doing five days of work for them," says Warbington. "All the due diligence is right there. Now they can decide if the demographics and the project works in that area."
Incentives such as the county's new opportunity zones are generating "a lot of phone calls," says Gwinnett County Economic Development Manager Alan Durham. Any business within the zones can now qualify for maximum state tax credits of $3,500 to encourage job creation. The incentive, which can be used annually for up to five years, is available to new or existing businesses that create and maintain two or more new full-time jobs.
Approved earlier this year, the zone encompasses a stretch of Jimmy Carter Boulevard and I-85 that the county views as prime for its redevelopment program.
"That area used to be the county's prominent industrial and office area," says Durham. "It's just really declined over the years, largely through workforce downsizing at the OFS facility."
Another incentive for development came when Gwinnett grabbed the state's largest share of recovery zone bonds. Created by the federal stimulus bill, the bonds totaling $103 million are designed to help local governments finance public economic development projects and private development activities. About $62 million of that sum is available to private developers who get a lower interest rate from the lender who handles the bonds.
The biggest problem has been finding banks that understand the bonds and are willing to work with borrowers, says Durham. As more banks figure out how to structure loans using the bonds, that should be resolved.
While these incentives haven't exactly produced an upsurge in building, they will make the difference once the economy gets rolling again, says Warbington.
"A lot of people won't even talk to us if there's not a TAD in place," he explains. "When you start going to sophisticated developers, if we didn't have a tax allocation district or opportunity zones or other types of incentives, it wouldn't spark any interest. They would say, 'Come back in a few years when you have them in place.'"
Occupancy Up
The county's hospitality industry, hard hit by the recession, is also seeing light. Hotels are booking more guests, with traffic up 7.5 percent over last year, according to Gwinnett Convention and Visitors Bureau Marketing Communications Director Lisa Anders.
"Hotel occupancy is getting better every month," she explains.
More groups and conventions are also making their way to the county, providing an additional lodging boost.
While few big national conventions consider suburban Gwinnett, the county has nevertheless built an impressive meeting industry. Gwinnett's Convention Center and Arena has become a favorite of the faith-based market, hosting major religious events such as InJoy and Catalyst that attract thousands of visitors from across the country.
Gwinnett Center officials hope to go after even bigger events once the complex has its own convention hotel nearby. "That's really the missing piece of the puzzle for our convention center," says Anders
She expects construction to begin later this year on a new Embassy Suites hotel that will fill that bill. The project will include 250 rooms and more than 10,000 square feet of meeting space.
Community Snapshot
Local Leaders
Charles Bannister
Chairman
Gwinnett County Commission
770.822.7010
charles.bannister@gwinnettcounty.com
Nick Masino
Vice President, Economic Development/Partnership Gwinnett
Gwinnett Chamber of Commerce
nick@gwinnettchamber.org
770.232.8802
Chuck Warbington
Executive Director
Gwinnett Village CID
770.449.6515
Population
(2009)
808,167
Per Capita Income
(2008)
$33,527
Unemployment
(May 2010)
County, 9 percent; Georgia, 10.1 percent
Top Private Employers
Gwinnett Hospital System, Scientific Atlanta, Primerica, Emory Eastside Medical Center, Assurant Specialty Property/Service Center, The Atlanta Journal Constitution, Network Communications, EMS Technologies, Siemens, NCR Corp.
Sources
Georgia Department of Labor, Gwinnett Chamber of Commerce, U.S. Census Bureau