Henry County: Location And Access
Manufacturing, development and a speedway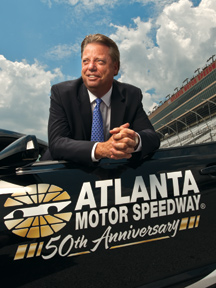 At the end of a narrow street in the little town of Hampton in Henry County is one of the most important companies that nobody has ever heard of. Southern States, LLC, housed in a collection of nondescript buildings behind a chain link fence, turns out the giant switches and capacitors that keep electrical transmission stations humming and lights on in a substantial portion of the U.S.
"Today if you asked most people in Hampton about Southern States they wouldn't know about us," admits CEO Raj Anand, who has led the company since 1996. "Our business is not with the public."
Locals may not know much about a company that has been here since the 1940s when Hampton was very much a company town, but at the nation's major utilities, Southern States is a familiar name. And, despite the low profile, the company is a good indication of how successful Henry County has been in bringing and keeping jobs here.
Although a heavy manufacturer such as Southern States might be more commonplace in the Midwest, Anand says the company has never considered moving.
"This is home," he says. "There's no reason to move."
The company hires a steady stream of engineers from Georgia Tech and trains its own machinists drawn from the local area.
"We have all the talent here that we need," adds Anand.
Although many Georgia counties have lost their manufacturing base, Henry can boast that fully 12 percent of its tax base is made up of such companies.
A growing number of other companies agree that Henry is the right location for business. De Wafelbakkers, a manufacturer of frozen pancakes, waffles and French toast, announced in April that it would locate a food processing operation in McDonough. The facility will create 242 jobs and a $27.5 million investment.
That followed the opening of the sprawling Whirlpool Regional Distri-bution Center that resulted from the consolidation of a number of smaller facilities. The 1.5-million-square-foot complex, two buildings sitting on 90 acres, is the largest industrial build-to-suit construction project in recent Atlanta history and the largest LEED-certified warehouse in the country.
"It's the biggest amount of floor space opened in Metro Atlanta for a major distribution center," explains Kay Pippin, president of the Henry County Chamber of Commerce. "That's going to put another 300 trucks a day on the road for us."
Moving Goods
People down here in this southern Metro Atlanta county are apt to quote the old Realtors' line that success is all about "location, location, location." Major highways and rail lines bisect the county, allowing easy access to goods shipped from Georgia's ports. That infrastructure has made possible a thriving warehousing and distribution sector and put large numbers of freight hauling trucks on the county's busy roads.
"We have to think about how we move these goods in and out of Henry County because we are servicing so much of not just Georgia, but the eastern coast as well," says Pippin.
Although businesses are continuing to find their way here, Henry, like nearly every locale in the state, has faced a slowdown from the days of rapid expansion. In those days locals often boasted that this was one of the fastest growing counties in the nation. Then came the great recession. Rapid home building came to a halt, and developers scaled back plans for extensive new retail.
South Point, which opened with three anchor stores just off Highway 20 at I-75, still has wide expanses of undeveloped property. Yet locals say this is only a pause and that more retailers will be opening as the economy finally begins to improve.
"Retail was just not investing in new stores," explains Pippin. "Everything slowed down significantly, but it didn't die."
Farther north in Stockbridge, the new Town Center retail development is doing well, she says.
In fact, plans by a Birmingham-based developer are still under way for a new retail center at Jodeco Road near McDonough.
"It's upscale retail, and even with the little bump in the economy, things have never stopped their process," says Henry County Commission Chair Elizabeth "BJ" Mathis. "They're continuing to move forward with their plans to get under construction. They're just waiting on a road project to get under construction."
Mathis says the project will move in concert with the construction of new bridge that will provide access to the site, with work expected to be completed sometime in 2011.
The commission threw its weight – and taxpayer money – behind the construction of a major movie studio at the old Tara Field Airport near Hampton. The Development Authority is issuing an estimated $30 million in bonds backed by up to one mill of country tax revenues.
The funds would be used by Big 5 Enterprises to convert hangars at the airport into sound stages for film production. It would be the only such facility in the country with direct airport access, according to Bob White, executive director of the Henry County Development Authority.
Over the past 18 months, the county has tackled the development of a growth management plan called One Henry. Bringing together more than 100 local leaders for regular planning sessions, the project examined the best approaches to transportation issues and land use. It also took a hard look at how to foster economic development, according to White.
"We looked at how our economy has changed, the strengths and weaknesses of our local economy and our local industry mix and where do we want to be," says White. "It's a road map for the future."
The study allowed the county to better understand the types of industries that it wants to locate here. Planning also focused on how the county could use various economic development tools such as Community Improvement Districts (CIDs) and Tax Allocation Districts (TADs) to help spur better growth patterns.
Henry can already create CIDs, but leaders will have to convince local voters to give the county the authority to set up TADs, which use property taxes gathered within a specified area to fund improvements needed to spur new development.
Development Opportunities
Although no specific TADs have been selected, Mathis says a good candidate might be a proposal for a parallel corridor on the west side of I-75 between the Hudson Bridge and Jodeco Road exits.
"There's about 1,300 acres of undeveloped land that is in close proximity to [Henry County Hospital]" says Mathis. "So we feel like that is an area that could create some unique opportunities for development – unlike anything we've seen in the county before."
The new development might include high-rise offices and opportunities for the professionals who are now leaving the county daily – 68 percent of the population works elsewhere, she adds.
"With the hospital, there is a good foundation. I-75 and a corridor along that side of it just gives us an ability to create something," says Mathis.
This corridor would link so-called "activity centers" along I-75 – areas of investment and jobs, adds White.
The proximity of Henry Medical Center means the area will benefit from the strong healthcare sector. In fact, expansion is likely to be fueled by a proposed alliance between the local hospital and one of Atlanta's big medical systems.
Henry is considering a partnership with Piedmont Healthcare that could help it expand medical services while cutting costs. The potential Piedmont-Henry Medical partnership would allow the southside hospital to further develop its cardiac services and perhaps add other service lines such as oncology. In turn, Piedmont could gain access to more complicated heart cases that couldn't be handled by Henry Medical physicians.
"It's very difficult for an independent, relatively small, stand-alone community hospital like Henry to be successful long term when you consider what's happening in healthcare," says President and CEO Charles Scott. "I think more and more we're likely to see consolidation of marketplaces."
Along with healthcare, education has also proven to be a growth industry. Several colleges have a presence in the county, including Mercer University, with more than 800 students, and Geor-gia State University, which offers a professional Master of Business Admin-istration degree.
The county is also planning for a satellite campus of Griffin-based Southern Crescent Technical College.
"We gave 25 acres of land to put it on adjacent to Henry County High School," says the chamber's Kay Pippin. The county also secured $475,000 in state funding for design work on the facility, which is expected to get under way in the near future, she says.
The new technical college will not only train local students in a variety of fields, but also should prove a strong magnet for new companies that can take advantage of its custom training programs. Its close proximity to the newly renovated Henry County High offers additional opportunities for joint degree programs.
City Initiatives
The slowdown hasn't prevented Henry's cities from moving forward, either with actual new features or plans for new developments. In Locust Grove, home to the ever-popular Tanger Outlet Center, a new Walmart is under construction near the I-75 intersection. An aging Economy Inn is coming down and will be replaced by a new QuikTrip.
The area will be getting some senior apartments – a longtime goal of Mayor Lorene Lindsey.
"I've been working on it for 10 years," she says. "It was the first thing I wanted when I got into office. I'm excited because we would love for our people to have available a facility where they can age in place."
The apartments are being built by Atlanta-based Rea Development and funded through a $2.5-million grant from the Georgia Department of Community Affairs and $1.5 million in federal economic stimulus funding, according to Tim Young, the city's community development director.
The construction of a new public works facility will free up space for a park on Cleveland Street.
The city has completed an extensive streetscape project designed to spruce up its downtown. To help spur more tourism, the city is also seeking historic downtown status for the area.
Another attraction that is expected to occupy the lobby of city hall is a memorial honoring local veterans who have served since World War II.
"We've got World War II, but we wanted to honor our citizens who have served their country in wars since then," says Lindsey.
To the west, Hampton is looking to expand. When Highway 20 was widened and extended all the way from the interstate to Atlanta Motor Speedway (AMS), it took a great deal of the traffic pressure off Hampton, the smallest of Henry's cities. Now race fans can largely bypass the downtown on NASCAR weekends, but locals want to make sure they don't forget about them.
"It has a great impact," agrees Hampton City Manager Andy Pippin, who is the son of the Henry Chamber's Kay Pippin. "[Fans] come, and it's important for us to remind our residents that we have to deal with the traffic because they leave a lot of money here."
The city's downtown development authority recently commissioned a local artist to build a series of columns and archways to place at the entry points into the city "to spark interest in the city and show the race fans that Hampton is just a mile up the street," says Andy Pippin.
The downtown has more to offer visitors than ever before. New restaurants, shops and JailHouse Brewing Co. – a microbrewery located in a former jail building – have opened in recent times.
Hampton also has plans for a possible mixed-use development on downtown property occupied by a public works storage building. The city is using an Atlanta Regional Commission grant to study the possibilities of a multi-story structure that could accommodate office and retail, with residential on its upper floors.
As probably the biggest business in the county in terms of economic impact, AMS is important not just to Hampton, but the entire county. It's one of the reasons that the county commission is seeking to upgrade the local airport, which, in a twist of fate, is located here but owned by neighboring Clayton County.
"We've got to get it in better shape and more hospitable to race fans and these drivers and team owners," says Pippin.
Henry County's tourism efforts have long billed the area as a great place for travelers who didn't want to stop in Atlanta, and that still appears to be the case. Studies have found that visitors stop for the night either before they brave the big city or after they come through and want to rest before pushing on to Florida.
"Travelers [see] us as a safe and convenient place to stay," says the chamber's Pippin. "That led to our slogan of 'Comfortably South of Atlanta.'"
Community Snapshot
Local Leaders
Kay Pippin
President
Henry County Chamber of Commerce
770.957.5786
Elizabeth "BJ" Mathis
Chair
Henry County Commission
770.954.2400
Bob White
Executive Director
Henry County Development Authority
770.288.8000
Population
(2009)
County,195,370; Hampton, 5,295; Locust Grove, 4,811; McDonough, 19,768; Stockbridge, 14,360
Per Capita Income
(2009)
$26,233
Unemployment
(April 2010)
County, 9.8 percent; Georgia, 10.3 percent
Top Employers
Henry County Schools, Henry County Medical Center, Georgia Power Customer Care Center, Federal Aviation Administration, Briggs & Stratton Corp./Snapper
Sources
U.S. Census, Georgia Dept. of Labor, Henry County Chamber of Commerce