Merging & Consolidating
Hospitals and healthcare systems are joining forces to thrive – or simply survive.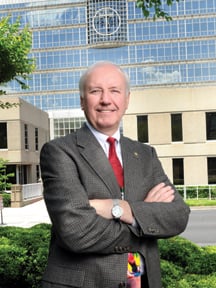 Kirk Wilson says St. Joseph's Health System was trying to ensure that it would still be providing the kind of care it does today 50 years from now. That's why it entered into an agreement to merge with crosstown rival Piedmont Healthcare.
Among other things, Wilson expects the blockbuster partnership to rewrite math.
"We'll be sharing resources, doing some things we can't do now because we're competitors, creating a better system of care for more patients, creating more points of access.
"Basically," says Wilson, CEO of St. Joseph's, "we're hoping that one and one makes three."
The two venerable nonprofit healthcare systems announ-ced in April that they were planning to form a joint operating company (JOC), a deal that Wilson says will be capitalized to the tune of "$600 million to $700 million. We're putting in roughly $300 million in net assets, and expect Piedmont to do the same plus a little bit more."
And while details of the plans were being ironed out in May, hospital leadership made clear that this was not intended as a complete merger, and not a partnership that would result in the total purchase of St. Joseph's by Piedmont. Both systems would ostensibly retain their separate identities, existing as parent organizations according to Wilson, keeping some assets outside the JOC.
"We're not throwing it all in," Wilson says.
His counterpart at Piedmont, Tim Stack, says the venture would only "combine certain assets of both organizations. It is a mutual effort to control costs and improve quality and efficiencies of care."
It is also indicative of the times, says Stack, who obviously has been listening to the industry consultants and researchers who are watching health system consolidation trends.
"Greater Atlanta is one of the most fragmented hospital markets in the country," Stack says. "Collaboration among providers will become even more necessary under changes to insurance and healthcare delivery in the federal healthcare reform package. Experts predict more mergers, acquisitions and joint ventures."
They do and they have, for decades. The St. Joseph's-Piedmont merger would be the largest (at this writing) consolidation of its kind in Georgia, which has seen two dozen different hospital system mergers, acquisitions or consolidations since 2000, in which about $750 million has changed hands.
These range from the $1.1 million sale of Minnie G. Boswell Hospital in Greensboro to Pacer Health Corp. in 2005 (and its subsequent resale to St. Joseph's for $3 million two years later) to the Medical Center Hospital Authority's combined $149 million acquisition of two nearby hospitals in Columbus, in the spring of 2008, to this year's $7 million purchase of Banks-Jackson-Commerce Medical Center by Restoration Healthcare.
"Yeah, it certainly is a trend," says Brad Guest, an Atlanta-based principal with BDC Advisors, a national healthcare consulting firm. Hospitals want to get larger to spread their fixed costs over a larger base, he adds. "There's always an operational efficiency aspect at play."
And often there's the other aspect – a grab for greater market share. Lest we forget, healthcare providers compete with one another to fulfill the Hippocratic Oath.
The hospital consolidation trend goes back to the mid 1980s, says Bill Custer, director of the Center for Health Services Research at Georgia State University and associate professor in the J. Mack Robinson College of Business.
"It's a trend that moves faster in some periods, in response to changing demands," Custer says.
Every era has its own set of challenges and issues, Guest adds.
"I think right now the thing that is uppermost in most CEOs' minds is basically, how can we have enough economy of scale to really do two things," he says.
"One is to be a major force vis-a-vis insurance companies – everyone wants to be big so insurance companies will pay attention. That's not new, that's been the case for 15 years.
"The second thing is, management teams and boards are concerned about being big enough to support a wide range of investments they believe are strategically required to succeed under any kind of healthcare reform."
The Other Joe
Both hospitals were faith-based, nonprofit institutions. Both were facing pressures from outside – for-profit corporations making inroads, competing for market share. Managed care was penetrating the region, and admissions were decreasing; the hospitals were looking at excess capacity. They realized that together they could do more than they could as competitors.
So, St. Joseph's (of Savannah) and Candler hospitals merged in 1997, and things haven't been the same in Southeast Georgia since.
"Things can't possibly be the same," says Paul Hinchey, CEO of St. Joseph's/Candler (SJC). "This was a major, major reorganization."
It brought together two of Georgia's older systems. Started in 1804 as the Savannah Poor House and Hospital, Candler (with 331 beds) was the first hospital in Georgia (and is considered the second longest continuing hospital in the nation). St. Joseph's (305 beds) origins go back to 1875 when the Sisters of Mercy were contracted to operate the Forest City Marine Hospital.
St. Joe's is rooted in Catholicism. Candler is Methodist.
"Different styles and cultures, but over time that has mostly grafted, so now it's like one entity," says Hinchey, who was CEO at St. Joe's before being offered the helm of the joint operation.
"There was a frenzy of consolidation in the healthcare arena around the time we did it," Hinchey recalls. "A rush to find partners in many regional markets, because there was a sense that the pressure was on and it seemed like the thing to do. But many of the systems that came together blew apart later.
"When we were contemplating consolidation, we studied a lot of other merged systems around the country, talked to a lot of CEOs to learn from their lessons. We asked, 'If you had to do it over again, what would you do differently? What would you do the same?'"
SJC celebrated its 14th anniversary as a joint entity in April. The system had total revenue of $439 million in fiscal 2009 and leads the region in primary service market share (52.5 percent in 2008, up from 51.5 percent).
Last year SJC invested strategically in the long term with its acquisition of Savannah Oncology Group, adding to the system's array of services. SJC also serves, on a contractual basis, as a tertiary care partner for an affiliated network of smaller, primary care hospitals in communities across Southeast Georgia.
Back when the two hospitals were courting, the discussion about economics and business growth didn't happen until leadership talked about developing a common vision and held meetings strictly for "getting to know one another, getting to trust one another," Hinchey says. "These are very thorny things, and so important because no matter how diligent you are, there are going to be huge bumps in the road that you didn't see. If you're not rooted in some type of relationship, everyone is on pins and needles.
"So we spent time getting to know the trustees at Candler and vice versa. Our merger was governance driven, not CEO driven, not driven by individuals trying to advance their careers."
It had to make good business sense, though.
"Bigger entities have more market power," Georgia State's Bill Custer says, adding that changes in healthcare reimbursement over the years, the changes in the way healthcare is financed, puts more providers, especially hospitals, at risk. "And one strategy to cope with risk is to get bigger, in size and scope."
It makes sense, then, for a system strong in primary and secondary care (like Candler) to marry a system strong in tertiary care (St. Joseph's). Both brought specific special strengths to the table. In the end, for example, pediatric and women's services were closed at St. Joe's and moved to Candler's campus, while orthopedics and most of the cardiology work was moved to the St. Joe's campus.
"It's difficult to give something up, but it has to be done up front. Once you shake hands and reach an agreement and go back to your office is not the time to start the discussion on who is going to give up what," Hinchey says.
That goes not only for healthcare delivery, but administrative, information technology and other operational redundancies.
"If you've got a lot of redundancy, you've got complications in maintaining any kind of efficiency in trying to get your cost structure down," Hinchey says. "Once you have a successful programmatic fit, once you achieve economies of scale, once you develop that integrated model, you make your company, your system, more nimble in its ability to deal with an uncertain reimbursement market.
"But if you're not careful it can go the other way and you end up loading corporate overhead. Then you're not getting at the waste."
Getting into Position
While national healthcare reform assumes three dimensions and consumers continue to grapple with the costs of getting well, the consolidation trend among healthcare providers continues. It's happening with healthcare insurers, too.
"Part of this consolidation trend we're seeing in the healthcare-provider community is a response to the increasing market power of insurers," Custer says. "The new health reform law doesn't alter this trend at all. In fact, it steps on the accelerator.
"Many of the changes in reimbursement in healthcare reform are framed in a way to bundle services together, to create medical hubs that will provide a wide range of services and [address] consumer needs. To do that requires consolidation among providers."
Hospital systems consolidate in part to achieve economies of scale, to increase market power and position themselves to negotiate better rates from insurers (and other suppliers) and to attract physicians. But in the process, the consolidation trend may be driving up healthcare costs, according to insurance industry lobbyists.
American Health Insurance Plans (AHIP), one of the industry's major lobbies, cites a Robert Wood Johnson Foundation study that shows hospitalization markets increased concentration by 47 percent from 1990 to 2003, and that 88 percent of metropolitan areas in the U.S. have highly concentrated hospital market areas.
That sort of market power is a major factor in health insurance premium increases, AHIP alleges. And the Massachusetts Attorney General's office agrees, having recently attack-ed that state's artificially inflated healthcare costs, claiming the costs do not reflect better quality or complexity of care as much as they reflect market leverage.
"So much of the healthcare reform focused on health insurance premiums, but there's been very little focus on the underlying factors contributing to premium increases. Hospital consolidation is the elephant in the room that needs to be addressed," says AHIP spokesman Robert Zirkelbach.
Even in an era when healthcare cost in-creases are as certain and commonplace as death and taxes, Zikelbach claims, "There's a lot of evidence showing that prices go up more after consolidation than before. Our members are getting take-it-or-leave-it offers from hospitals across the country, particularly those in higher concentrated markets."
Guest says that federal antitrust scrutiny, especially of larger system mergers, tries to stem such activity.
But the consolidation trend thrived among providers and insurers and government payers long before President Obama took office, and the new law not only borrows from some of the practices therein, but will probably feed them.
"The consolidation trend existed before healthcare reform was enacted," Custer says. "There's been a trend for Medi-care specifically toward offering bundled payments to pro-viders, to pay on the whole episode of care, rather than separate entities – the physician, the pharmacy, the hospital.
"The notion is, as we get more efficient with healthcare, we can say to the all-inclusive provider, 'Here's the mon-ey, now you make this person well in the most cost-effective way. The better you do, the more money you get.'
"That trend was there, now it's written into law, and it's those reimbursement models [that] will likely become commonplace for private insurance also. So if a provider wants to have the ability to create that episode of care, it makes sense for systems that are strong in some areas to merge with systems that are strong in different areas."
Survival of the Biggest
Some hospitals or systems consolidate as a matter of survival, and some may leap before they think twice.
Banks-Jackson-Commerce Medical Center (BJCMC) was bleeding money. Last year 45 jobs were cut from the 90-bed hospital and 165-bed nursing home, and the community health system began this year with a $6.3 million shortfall and $5.2 million in debt. The sale to Restoration Healthcare, a private firm based in Clinton, Tenn., had been in the works since the middle of 2009.
Restoration and a group of local physicians bought the facility for $7.1 million from the local hospital authority in March and actually moved the signing date up a bit (before Presi-dent Obama signed healthcare reform into law) to forestall any limitations the new healthcare law would have on growing new physician-owned hospitals.
"Sometimes the last line of defense, the only way to save a small, rural hospital is for physicians to step in," says Steve Clapp, CEO of Restoration Healthcare and interim CEO of BJCMC.
Clapp says the limitations national reform will place on physician-owned hospitals is an unintended consequence of the new law for rural hospitals, whose numbers shrank from about 2,600 nationally in 1987 to just under 2,000 in 2007. Restoration currently owns three small health systems – BJCMC and two others in Tennessee. Clapp says he's been contacted by other small Georgia hospitals interested in being absorbed.
In 2008 the Columbus Regional Healthcare System (CRHS) underwent a rapid consolidation when it absorbed two hospitals (Doctors Hospital and Hughston Orthopedic Hospital and Rehabilitation Center) from Hospital Corporation of America (HCA), the largest private operator of hospitals in the country.
The Medical Center Hospital Authority actually bought the hospitals (and their combined 319 beds), and also owns the 413-bed Medical Center, cancer centers (and a number of other specialized care centers), long-term care homes, a retirement community, pharmacies, an urgent care center and so on. CRHS is the operating company that manages it all.
"We had an opportunity to take a for-profit competitor out of the marketplace and return those facilities to nonprofit, community ownership," says Larry Sanders, CEO of CRHS. But the rapid consolidation, done before Obama was elected amidst promises of healthcare reform, may experience some growing pains under the new law.
Sanders cites "the ex-traordinary requirement in healthcare reform for information technology, data sharing, integration with physician networks, sharing data between hospitals, portability of records.
"Integrating all of that is going to be a hurdle for us, probably more than for some other systems. The challenge is huge."