Help Desks For Business
Georgia's six centers of innovation offer help for startups and established companies, providing expertise, advice, connections and access to university research.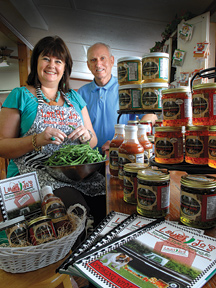 Lauri Jo Bennett was realizing two dreams at once.
A year ago Bennett, who lives about halfway between Moultrie and Tifton in Norman Park, in the house she grew up in, had just landed the gig she'd been praying for – her dream job as a teacher for profoundly disabled children in the local school system's special education de-partment.
Bennett started the job in August. And then another prayer was an-swered, and an older dream – the one about turning family recipes into a business – became a rapidly growing reality. So she had to make a choice. She quit the teaching job in November
"I had a steady job, the job I'd always wanted, and a paycheck and benefits, but I had to give that up and take the leap of faith," says Bennett, who launched Lauri Jo's Southern Style Canning as a bona fide business last September, and is now selling her salsa, pepper jellies and green tomato pickles in 16 states, thanks to the internet, and thanks to the Center of Innovation (COI) for Agribusiness.
She met Donnie Smith, director of the COI (headquartered in Tifton), at the Sunbelt Ag Expo last October, and business has been growing ever since.
"He introduced us to a lot of CEOs and state government people right there," says Bennett. "We were really not in a business mindset mode at all; we didn't even have a business plan. [The COI] provided that for us. They provided marketing; they're helping us get the loans we need now because we're growing so fast.
"It's been just amazing. They've been a godsend. And now I probably contact their office at least once a week."
Smith calls Bennett a force to be reckoned with, "like another Paula Deen." His office helped her identify a location for a processing facility, assisted in getting the proper licensing and certification, even introduced her to Deen. It didn't cost Bennett a dime, but it opened her eyes to possibilities she'd only … well, dreamed of.
The COI clued Bennett in to the Flavor of Georgia contest, and her salsa was a finalist there in March. On the strength of that, Lauri Jo's products were exhibited at Cobb Galleria in May for the Metropolitan Cooking & Enter-taining Show (starring Deen and her Food Network cohorts Bobby Flay and Mario Batali).
In April, Bennett was in negotiations with Cracker Barrel and QVC, and had her eyes on a small business loan (that the COI was helping her with) to help her create jobs and start producing on a larger scale.
"I know how to make the product and sell it, but the center's job is to help me think outside the box," she says.
The Agribusiness COI is one-sixth of the Georgia Centers of Innovation program, launched in 2003 after the Commission for a New Georgia identified six strategic industries – most with a history of proven success, and all considered the best bets for future job and revenue growth.
Sky's the Limit
The other five COIs are focused on aerospace, energy, life sciences, logistics and manufacturing. Each is affiliated with a college or university (or several) and has access to an array of different resources, including directors and staff with industry and/or entrepreneurial expertise.
Operating with a budget of about $3 million as part of the Global Commerce division in the Georgia Department of Economic Development, the COIs exist as the link between their clients and the resources they need to grow, update or improve their business. COI clients gain access to university and technical college research, technology solutions, grants, potential investor networks, and experts from government agencies and industry.
In essence, the centers serve as a help desk for pioneering startups and established businesses trying to break new ground.
The network is scattered across the state: Atlanta (COI headquarters and home of the energy COI), Augusta (life sciences), Eastman (aerospace), Gaines-ville (manufacturing), Savannah (logistics) and Tifton (agribusiness). They are woven into a local but elastic fabric.
"The centers each have a statewide impact," says Sterling Wharton, exec-utive director of the COI program, which has undergone significant change at the management level in the past two years.
Wharton and five of the six COI directors have been with the program for two years or less. Steve Justice, director of the COI for aerospace, started his job in February. But he had a more well-rounded familiarity with the program than his colleagues.
"I was a customer of the aerospace innovation center," says Justice, an aerospace engineer who brings 30 years of experience to his role, including stints with Lockheed-Martin, Gulf-stream and Delta, in almost every as-pect of the industry. He also founded two aerospace companies – Aviation Science & Commerce (which brought him into contact with the COI program) and Advanced Aviation Products LLC.
Oddly enough, Justice had to shut down the company that brought him into the COI fold – a project that didn't make it.
"When the bottom dropped out of the economy in 2008, it hurt a lot of small businesses, including mine," says Justice, who shuttered Aviation Science & Commerce, an engineering and consulting firm, in late 2009.
When previous aerospace COI di-rector Nick Furman announced he was leaving, first he asked Justice if he had any recommendations for the job, then he asked if Justice would be interested. So he took the job and divested himself from the other company, Advanced Aviation Products LLC, which remains a viable business.
"I decided to jump from one side of the industry to another, and my perspective has changed," Justice says. "Instead of thinking in terms of growing my own business, I'm thinking about growing a statewide industry."
Aerospace is a good example of what a "strategic industry" is – the whole thing about proven success and continued potential. Georgia is ranked 8th in U.S. aerospace industry employment with more than 80,000 good-paying, high-tech jobs.
Based at the Middle Georgia Col-lege Aviation School, the COI for aerospace has helped accelerate the growth of diverse companies. One of them, Aerotonomy, is developing unmanned air vehicles (UAVs) through a contract with NASA, and found grant money through the COI. The vehicle is being fabricated at Middle Georgia College from technology developed at Georgia Tech.
Justice is the kind of guy who writes on Facebook how much he loves his job, and he's not afraid to admit how geeked he gets over his role.
"I'm a Georgia person, lived here my whole life and don't plan on living anywhere else," says Justice. "For me, this is about both personal and business interests."
Biomass Central
American Process Inc. (API) was looking for a place to build a biorefinery demonstration plant to try out its proprietary processes for making eth-anol from woody biomass. So company president Theodora Retsina contacted the Energy Center of Innovation, located in the offices of the Georgia En-vironmental Facilities Authority (GEFA) in Atlanta.
"Within two hours of asking about locating the plant in Georgia, they had found and proposed locations to us," Retsina says. "The next day we were visiting them, and we had a contract on an existing building within days. They also introduced us to the community and helped us expedite the permit applications."
The company also used state assistance to find the 25 or so employees it will take to run API's operations at its new plant in Thomaston and its business office in Atlanta. The API experience reflects another basic facet of the COI mission – straight ahead economic development. The reason the Energy COI was a good fit for API is Jill Stuckey, center director.
"I'm like Yenta the matchmaker," says Stuckey. "I bring people together."
Stuckey was the state's director for alternative fuels and became well acquainted with the resource that has been luring domestic and international countries to Georgia: 24.5 million acres of biomass, forest that Stuckey says is growing 38.5 percent faster than it is being harvested.
"We currently have 34 announced biomass-to-energy projects," she says. "There is biomass in most countries of the world. We just happen to have more of it in a smaller space than anyone else."
So when the second German Ameri-can Energy Conference was held in Berlin and attendees wanted to hear about the U.S. bioenergy market, they heard it from Stuckey. And when two of Europe's largest energy firms – RWE (German) and BMC (Sweden) – wanted to develop a wood-pellet production plant, they worked with Stuckey and the Energy COI as part of the economic development team that ultimately landed a $150 million plant in Waycross.
Operating as Georgia Biomass LLC, the company is creating 75 jobs and will eventually produce up to 1.5 million tons a year of wood pellets at the plant, which broke ground in March. The pellets are used in Europe (which has strict clean energy mandates) to generate electricity.
"The Center of Innovation opens doors," says Sam Kang, managing di-rector and COO/CFO for Georgia Bio-mass LLC. "They link you with an extensive network of people and re-sources [and] introduce you to an open, business-friendly environment. It's re-freshing."
Stuckey and the COIs have their fingertips on a massive Rolodex, built on handshakes and experience.
"I learn the needs of individuals, companies or countries and try to help them find the solutions, and many times the best solution is in Georgia," says Stuckey, who knows who to call at the University of Georgia or Georgia Tech or the Herty Foundation. And she hasn't only been working with biomass companies.
"We're currently working with about 20 different solar energy projects," she says, citing the grants and federal stimulus money that became available to enterprises attempting to tap the sun's energy. "The solar business is kind of exploding in Georgia."
Point A to Point B
Maybe you've seen a GasHopper on a Georgia highway. With its weird two wheels up front, one in the back design, it looks like something out of George Lucas' imagination. Developed by a company called Moto America, the GasHopper is registered as a motorcycle, with the weather protection and drivability of a car, and it gets more than 80 miles on a gallon of fuel.
Introduced 30 years ago, the thing never really caught on. About two years ago, though, gasoline prices were hovering around four dollars a gallon.
"That's when Moto America came to us and said, 'We have to get this thing back on the drawing board,'" explains John Zegers, director of the COI for Manufacturing, located on the campus of Lanier Technical College in Gainesville.
Zegers secured $20,000 in grants and went to Georgia Tech and recruited a senior industrial design group, a collection of about 10 students who redesigned the vehicle. Meanwhile, another group of senior-level engineering students worked out the best materials and modes of manufacturing.
"Now Moto America can go to investor groups with a new design, new suspension, better materials, a plan to go to battery power – the whole package," Zegers says. The company was meeting with investors in Rome, Ga., and also in Canada, with plans to produce the GasHopper in Georgia.
Zegers doesn't just drink the COI Kool-Aid, he grew up swimming in it. He was raised in a manufacturing family and has spent his entire professional life in the business of making stuff.
"I've got manufacturing in my blood and always have had a deep interest in government and economic development," says Zegers, who was a project manager for the Georgia Department of Economic Development before landing his current job. He's been involved in bringing jobs to Georgia, and occasionally saving them, a task he says "gives me goosebumps."
Page Siplon isn't as interested in making stuff as he is in getting it from Point A to Point B and growing the companies responsible for moving the stuff. When he looks at a Georgia map, he sees a spider web of connectivity that overlays everything else, a golden supply chain linked by trucking companies, the seaports, the airport and many miles of railroad track.
Siplon, director of the COI for logistics, based at Georgia Tech's Savannah campus near the ports, calls it Georgia's "logistics ecosystem." When he was asked how the COIs could be a better partner to industry, his first thought was, "Georgia needs a business plan targeting freight and logistics. We didn't have one."
So he helped spearhead the $1.8-million planning process that establishes a hierarchy of transportation projects to keep freight moving apace, from port to marketplace.
Siplon also sees his job as "helping companies that want to change the way they're doing things to improve their own prospects and processes, how they can add technology to improve the way they provide their services to their clients."
The logistics COI does all the usual things – makes connections for people and companies (big and small), helps guide the transition from paper to technology to better technology and provides grants and training opportunities.
But the COI for logistics also is managing about $15 million in Department of Homeland Security funds for port security improvement projects being undertaken by qualified applicants. Siplon is the middleman between companies who want the money and the various government entities controlling the purse.
"We streamline the process, do all the heavy lifting," Siplon says.
Last year the logistics COI launched the first Georgia Logistics Summit, bringing together 400 different industry people who helped identify who and what the industry is – a million employees, some 11,000 companies, about 81 percent of them trucking companies with five or fewer employees, companies that want to know how they can survive, get into new markets.
This year's summit drew 800 people, more than 80 percent of them representing private industry.
"That is exactly what we want more of – private industry involvement looking to build a business or expand upon their own business," Siplon says. "Because we don't create the jobs at the Centers of Innovation. We help companies create them."
The Centers of Innovation can look back on a year in which they played a key role in establishing a statewide logistics industry database, hosting the world's largest gathering of biotech and life sciences professionals, sponsoring the state's first bioenergy conference, and forging alliances and partnerships between problem holders and problem solvers. And the program seems headed for another stage in its evolution.
State Director Sterling Wharton has spent a career as a technology-savvy entrepreneur and CEO with a habit of improving operations, expanding market shares and increasing revenue. He sees the centers' help-desk philosophy moving toward a more hands-on approach for the clients – the dreamers like Lauri Jo Bennett.
"We want to create an online marketplace, a connection between companies and problem solvers," says Wharton, who has seen the beginning of such a network come out of the life sciences COI (which launched the Georgia Life Sciences Team-Up network) and the Georgia Research Alliance, which started iResearchGeorgia, a cyberspace outlet that acts as a bulletin board of experts, research and projects with commercial potential.
A few years ago there was talk of a Center of Innovation for Information Technology. But the economy imploded, budgets got tiny and IT's role as a universal necessity in the molecular structure of the COIs only increased. In other words, it's too integrated to be its own thing.
"My background is IT and communications. It's been part of my DNA for 20 years," Wharton says. "And it's become like air and water in the world we live in, something we need to survive. It's already being applied progressively, and I don't see us moving toward an IT Center of Innovation. It's already a major part of who we are."
So Wharton predicts that a cyber COI model will be rolling out this fall. He's not saying it'll eliminate the need for actual human beings at each of the centers. Not quite.
"We're going to do some of the same things we do now with an online solution, linking problem holders with problem solvers at universities, with industry experts," Wharton says. "Some problems may or may not require a Center of Innovation person at all. What we're doing is making a whole community of problem solvers available."