Douglas County: Right Place, Right Time
Available land and a good price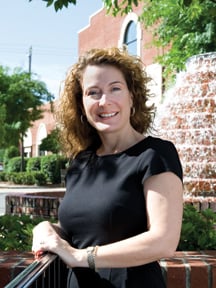 "Location, location, location" may be the real estate industry's mantra, but it's also the most commonly cited factor in Douglas County's continuing growth.
The county straddles Interstate 20 west of Fulton County, less than half an hour's drive from downtown Atlanta and Hartsfield-Jackson International Airport. Douglas County is more than a bedroom community for Atlanta workers. It provides sites for logistics companies seeking easy access to the state's highway, rail and air transportation systems. At the same time, local leaders say, the county seat of Douglasville and the surrounding area provide a quality of life that reflects small-town Georgia more than a metropolitan suburb.
Douglas County was formed in 1870 from portions of what are now Fulton, Carroll and Cherokee counties. Although its 199 square miles make Douglas one of the smaller counties in Georgia, it also ranks as the 16th most populous county in the state with more than 129,000 residents. Douglasville, established in 1875, is the only incorporated city in the county (although portions of Villa Rica and Austell are also in Douglas).
The proximity to Atlanta is what brought Kali Boatright, president and CEO of the Douglas County Chamber of Commerce, to the community 15 years before she took her current position. Boatright previously worked at an international nonprofit in downtown Atlanta. She says Douglas is "incredibly convenient" to Atlanta, providing the advantages a metropolitan city offers: athletic teams, theater, music – "all the things that are great parts of living in big cities," she says. "Yet you feel like you live in a small town." She adds that the combination of proximity, big-city amenities and small-town flavor is "our sweet spot from an economic development standpoint."
Boatright says about 70 percent of the workers in the county commute to Atlanta, so "it is still very much a bedroom community." However, as Doug-las grows and adds companies like the recently opened American Red Cross Southeast blood-processing center, "We're able to have folks who live, work and play here."
The mix of business and industry in Douglas is still heavily concentrated in the service and retail sectors, particularly with Arbor Place Mall off I-20, Boatright notes. Logistics companies are drawn to the area because of the proximity of the interstate, the Atlanta airport and rail access. "We're still seeing new businesses opening," Boatright says, with a mix of startups, relocated businesses, new enterprises and entrepreneurs coming to the area.
Atlanta has done such a good job of selling itself that Douglas County's logistics industry has grown in turn, according to Ed Cahill, director of economic development for Greystone Power and a former Douglas Chamber chairman. He says GreyStone, which operates in Douglas and seven other counties, serves "quite a few" logistics companies as well as such clients as Colgate-Palmolive, Quaker Oats Co. and the Red Cross. In addition to I-20, he notes, Thornton Road in Douglas turns into Camp Creek Parkway and leads directly to the Atlanta airport. Norfolk Southern's intermodal facility in Austell is right across the Cobb County line at Thornton Road.
The availability of land in Douglas County is also a factor, Cahill says. The nearby Fulton Industrial area has a "monumental job ahead" tackling crime and other problems in that area, an effort that he has been involved with. "Douglas County has benefited from some of those issues," he notes, as some companies have moved across the Fulton line into Douglas. "If they can resurrect that area, it would only help Douglas County," he added.
Cahill says the air quality non-attainment issue eliminates most "big smokestack-type industry" in the Atlanta area, "so you're limited to environmentally friendly industries." He says many Douglas prospects are high-tech companies looking for good infrastructure and a dependable power supply. Thus, Douglas has attracted "some data center-types of companies."
The outlook for further growth is improving. Cahill says he is surprised there are so many new projects in the works right now. "I guess they budgeted and planned for these before the downturn in the economy," he says, "so we've been pretty busy with some rather large projects coming our way."
Good Value
Abundant land at a good price is also cited by Ken Barber, CEO of MetroBank. He says Douglas County commercial and industrial land is "quite a value compared to other parts of Metro Atlanta," particularly property available along the I-20 corridor. But even with the industrial use, he adds, Douglas is not as congested as other counties in the region.
Residential land is also more reasonable, Barber says, and contributes to a high quality of life. For years the county has protected the Dog River basin, not allowing dense development on the western end of county, he says. "They kept a lot of our county preserved. That quality of life brings a certain homeowner and keeps the existing homeowner here."
Barber, a Douglasville native who launched and sold two previous banks in Douglas and Cobb, opened MetroBank in January 2008. Barber says the area's economy is slowly rebounding. He notes west Georgia has relied heavily on residential construction over the past 25 years and there is still a lot of industry tied to homebuilding. "That's going to take a while to come back," he says.
Steve Guy, president and CEO of Entertainment Design Group (EDG), also points to easy Atlanta access as a major factor in Douglas's growth. Guy says it is important for manufacturers and distributors to locate their operations near an interstate. "Because of the intense traffic in the Metro Atlanta area, they like to be no more than a couple of red lights away from a main thoroughfare like I-20." He says the Thornton Road area around Blair Bridge is only about 10 minutes from downtown Atlanta. "So while you may feel Douglasville is far out in the west Georgia area," Guy adds, "a large portion of Douglas County abuts Cobb and Fulton counties – right next to the city of Atlanta."
Guy, who has operations in Douglas and Cobb, says a readily available work force is another advantage for the county. EDG builds theatrical sets for themed environments, so he draws on the Douglas labor pool for metalworking, millwork, painting and similar skills.
Guy says EDG continues to expand in Douglas. The company is in the process of opening a photographic and video studio. "We've found there are no studios on the west side of Atlanta, so we're building a Class A studio on our property on Oak Ridge Parkway." He says EDG will be able to work with digital media and even create small newscasts. The company has rented another 15,000 square feet for a $3 million project to provide Santa Claus-themed settings to Taubman Centers' mall properties.
Workforce development is a priority for local leaders, according to Dr. Skip Sullivan, president of West Georgia Technical College (WGTC). Sullivan says his college works with both the city and county development authorities. "When they meet with new prospects," he says, "we're there at the table, talking about the prospects' workforce needs." WGTC is heavily involved in such programs as providing Quick Start training for new and expanding companies and helping Douglas attain Georgia Work Ready certification. He says WGTC just completed a Quick Start project with the American Red Cross in Douglasville. WGTC's Douglasville campus has a large dental hygiene program, Sullivan notes. "Most of the dental hygienists on this side of the state are our graduates," he adds.
"We work inside business and industry" to identify educational needs and design programs to meet those requirements, Sullivan says. Companies may need medical, hydraulics, welding, or leadership and supervision training, he says. "Our greatest advantage is that we are nimble and flexible."
As Sullivan notes, the county and city each have a development authority. While the Development Authority of Douglas County has been around for many years, the City of Douglasville Development Authority (CDDA) was reactivated in 2008, according to Jamie Gilbert, executive director. One of CDDA's initial focuses was a business expansion and retention program. "Eighty percent of new jobs and investment come from existing businesses," Gilbert says. The city worked with companies such as the Ross Group and Mitchell's Specialized Fabrication – which had been looking around the region for expansion sites – to keep them in Douglasville.
(The county development authority's long-time executive director, Robert Reynolds, resigned last spring to take an out-of-state position; at press time, his successor had not yet been named.)
Prime Prospects
"Our goal," says the city authority's Gilbert, "is to transform Douglasville from being a bedroom community with a lot of company distribution centers into more of a high-tech, knowledge destination for businesses." The city is targeting certain sectors, such as IT, life sciences, software development, data centers, the gaming industry, medical services, advanced manufacturing, data processing, customer service and professional/technical services.
Gilbert says the city chose those niches because of its location in Metro Atlanta. "If you look at how Douglasville's boundaries sit, we have downtown and the area on I-20 by Arbor Place Mall. We also go to the Thornton Road/Skyview Drive area and Riverside Parkway. So the city boundaries are pretty extensive." Those areas are only 20 minutes from downtown Atlanta and up to 30 minutes from the airport, he notes. "So access to the interstate, the airport and downtown really gives us an advantage with location."
City leaders also want to develop small businesses and entrepreneurs in Douglas-ville, Gilbert says. "We do chase these big projects that come in from our allies at Georgia Power, GreyStone Power or the Georgia Department of Economic Development – the ones looking for a couple hundred thousand square feet of manufacturing, for example." However, officials feel "growing certain niches will pay dividends down the road," Gilbert says.
One new business coming to Douglasville is Kaiser Permanente, which is scheduled to open its first Douglas medical office by late summer. Kaiser Permanente officials say a typical office in Georgia employs 15 to 20 healthcare professionals, with the organization investing about $2 million in each office.
Gilbert ticked off other economic development advantages for the area. He says the five-county area from which Douglas draws workers is "the most educated labor market in Metro Atlanta." There are slightly more than one million people in that pool, with 100,000 working in professional or technical services. For many people commuting from Metro Atlanta to Douglas, he notes, the drive is a "reverse commute" for workers who travel in the opposite direction from heavy rush hour traffic.
The city is mainly targeting two business parks, both located on Riverside Parkway. One is Park Commerce, where the anchor tenant is the American Red Cross Southeast blood-processing facility and headquarters. The facility has some 500 employees and 185,000 square feet of space. Gilbert says, "We see the Red Cross as a model," demonstrating to life science companies that "we have a workforce that can support that type of operation." The second park is East Hills, an undeveloped 400-acre area that is more oriented to traditional manufacturing facilities.
The city has several goals for its development efforts, Gilbert says. One is to attract higher wage jobs. The second is to fill vacant space, particularly older retail locations. (For example, Georgia Highlands College is opening a campus in 40,000 square feet of space that formerly housed a Cub Foods supermarket.)
Another goal is to increase the number of jobs at a given facility. "That's the reason the authority was reactivated," Gilbert says. Although the county still has plenty of room for new development, the city has limited land and buildings available. "We wanted to see more job creation maximizing the space and property we have available," he says.
For example, there are several large vacant buildings on Riverside Parkway that were designed for distribution and logistics companies. Gilbert says, "Even when they were open, a lot of those projects were taking up a great deal of land, but they were not generating a large number of jobs – and they were not high-wage jobs." He says the city has a target of creating .7 jobs per 1,000 square feet of space.
Gilbert acknowledges it is a challenge "figuring out what to do with these large distribution buildings." While there are some manufacturing prospects looking at sites, "It's hard to find someone who is not a distributor to take those buildings." He says the city would not turn away a logistics company that wanted an existing building, but the CDDA is not actively recruiting distribution companies for raw land development. However, there is an older 450-acre industrial park with rail access near Bankhead Highway "that distribution would be very suitable for," he added. One company is interested in building at the site, which "we think could jump-start other development," Gilbert notes.
Welcoming Tourists
In addition to industry, business and transportation, tourism is also part of the Douglas economic mix. The largest event in the county is the Hydrangea Festival each June, which drew 6,000 attendees in 2009 from several states and foreign countries. Other popular events include the Taste of Douglasville in May and the Downtown Douglasville Summer Sampler & Wine Tour July 29-31. Officials have high hopes for the first West Georgia Quad bicycle ride Oct. 23 – the same day as the popular Moon-light Run 5K race. Talent shows like "Douglasville's Got Talent" are also a big draw, with participation up 100 percent from 2008 to 2009.
A new tourism development angle is bridal shows, says Kimberly Weaver, who was special projects manager for the Douglasville Convention & Visitors Bureau until mid-June. The events promote Douglasville and Douglas Coun-ty businesses that are in wedding and related businesses. "We find bridal shows also encourage attendees to have their wedding here," she says. "They come back with friends and relatives who then visit the area." She says brides-to-be "realize they don't have to go to Atlanta or Buckhead. They can have their wedding at Le Jardin Black estate or another venue."
Proximity to Atlanta is a plus, says Weaver, who is now director of membership and events for the Douglas County Chamber of Commerce.
Community Snapshot
Local Leaders
Kali Boatright
President and CEO
Douglas County Chamber of Commerce
boatright@douglascountygeorgia.com
770.942.5022
Dr. Skip Sullivan
President
West Georgia Technical College
skip.sullivan@westgatech.edu
770.537.7940
Jamie Gilbert
Executive Director
City of Douglasville
Development Authority
gilbertj@ci.douglasville.ga.us
678.715.2050
Population
(2009 estimate)
County, 129,700; Douglasville, 32,800
Unemployment
(March 2010)
County, 11.4 percent; Georgia, 10.4 percent
Per Capita Income
(Estimated)
County, $21,405
Major Employers
Silver Line Building Products, Douglas County Government, American Red Cross, APL Logistics, WellStar Douglas Hospital, Benton Georgia, Staples Fulfillment Center
Sources
Atlanta Regional Commission, Development Authority of Douglas County, Douglasville Development Authority, Georgia Department of Labor, U.S. Census Bureau