Widespread Panic And The Business Of Making Music
As the Athens-based band approaches its 25th anniversary, it has a core group of devoted fans, a solid work ethic and a successful marketing plan.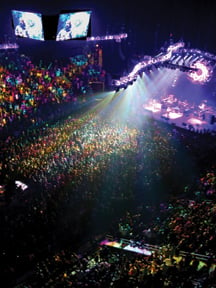 Bill Cochran was talking about Widespread Panic's grip on his soul, and he kept coming back to the word energy. "The reason I go everywhere I can to see these guys is the energy they provide. They give me something I can't get anywhere else," says Cochran, an entrepreneur and poet who lives on St. Simons and has seen every Panic show I've seen, and another 200 besides.
"It's the energy, the vibe, something you can feel."
I can feel it in the "energy room" at Cedar Heights, a holistic wellness center in Clarkesville, where John Bell, Panic's lead singer and guitarist, discusses the business of being Widespread Panic, golf, improvisation and the music industry while our cells graze in the room's detoxifying bio-regenerative energy field.
And I can feel it a week later at the House of Blues in Myrtle Beach, where Panic plays three late-March shows to begin its 2010 spring tour. Cochran arrives just before Friday's show, a last-minute decision to drive up the coast to meet friends and enjoy music. But it's obvious there is no other place in the world he should be right now.
"I've watched this band since they started," says Cochran, who has seen Panic all over the country, on both coasts, and can claim that he – along with many other itinerant fans from the early days – is responsible for pushing forward Widespread Panic's grass-roots, only somewhat accidental marketing plan. It's a long-range "plan" that has taken Panic from fraternity parties in Athens to sold-out venues around the world to induction in the Georgia Music Hall of Fame (in 2008). As the band approaches its 25th anniversary in 2011, business continues to grow.
They've just released their 11th studio album (Dirty Side Down, recorded at John Keane Studios in Athens). Most years, Panic is ranked among the Pollstar Top 50 grossing tours (some estimates put their annual touring gross at $20 million).
A road-hardened group, Widespread Panic has flown beneath most of the usual radars – never cracked the Billboard Top 100, doesn't receive much radio play, hasn't produced videos for MTV or VH1. But they have sold three million albums (that doesn't include the more than two million Internet downloads of live recordings that typically become available – for money – the day after a show).
They've built their following in person, and their devout fans (called "Spreadheads") – neo-hippies and frat boys, white-collar professionals and rednecks – catch up with the band when, where and as often as they can.
Surrounding us on the balcony at the House of Blues are a residential real estate developer and his wife (from Alabama), a caterer (Metro Atlanta), a mortgage specialist (North Carolina), and Phil from New Jersey. Middle-aged, pretty moms dance in front of us, and one is either playing air guitar or pretending to reel in a fish. We haven't met anyone who is actually from Myrtle Beach. Like the band, the Spreadheads are well traveled.
Cochran says the band, "evokes a gypsy feeling for me, a feeling of the road that reminds me of Ken Kesey and Neal Cassady, that reminds me of the bus. The bus came by and I climbed aboard and it's been an ongoing story. Whether you've seen Panic two times or two thousand times, they write a new chapter every night."
Garrie Vereen, Panic's equipment manager, has seen Panic about 2,000 times. He's been with them since before they were a band, for the past 20 years as a full-time employee.
"They play a different show every night," he says. "They might play five nights in a row and not repeat a song – no choreography, nothing scripted, just a different show every night. They continue to come up with something new and they manage to keep it interesting."
Playing Nice
Like the Grateful Dead before them, Panic developed its calluses and fan base through relentless touring and a swashbuckling improvisational approach im-bued with multiple dimensions of sound and style – rock, jazz, country, blues. Panic is at the forefront of the "jam-band" genre, though the six artists in the band don't aspire to the limitations of a label.
"Labels are for people who don't bother listening," bassist Dave Schools says.
Drummer Todd Nance says Panic is a dance band. "That's what people do when they come to see us. They dance."
Bell says the jam-band label bothers him.
"When we were younger, we'd be sitting there, look at each other and just say, 'Let's just jam,' which is a way to say, 'Let's just experience each other musically.' That's what 'jam' means to me. It's a beautiful sentiment," he says. "Beyond that, it's become a hackneyed phrase that has a bad rap out there for people stumbling around, not really playing nicely with each other."
Panic doesn't stumble on stage. Instead, the musicians engage in a fluid musical conversation, telling jokes with riffs and glances, connecting through sonic threads with an audience that seems to know all the words.
Lead guitarist Jimmy Herring, weaned on jazz and the free-style ton-ality of Col. Bruce Hampton, plays faster than thought or instinct. Percus-sionist Domingo "Sunny" Ortiz is pounding furiously, flicking gently, adding a tangible Latin texture to Nance's staccato machine-gun drumming. Schools, a large man with long hair and agile hands, plays bass like a lead guitarist while keyboardist John "JoJo" Hermann's flying fingers take you from New Orleans boogie to classical and most places in between.
And Bell, whose dynamic vocals can sound like the devil on your shoulder or a compassionate bard with a breaking heart, is at the center of it all, up front.
"We're six guys listening to each other from the other five directions, actually six directions because you're listening to yourself, seven if you're listening to the audience. Go on and add the universe," says Bell, whose wife Laura is a counselor and the boss at Cedar Heights, which the couple opened in 2008 in a green-renovated 1914 house.
"If you're really on, and paying attention, you're hearing everyone at once. And if you get to that place where all six voices are listening to each other, with intention, you've got the makings of something really huge when you play music in an improvisational form."
Meanwhile, something else is happening on the road and behind-the-scenes that makes the band's music inevitable, like currents and tides.
Road Warriors
Steve Lopez sat in his car at a drawbridge in his hometown of Portland, Ore., on his way to a concert, listening to a story on the radio about the Colorado Avalanche winning the Stanley Cup.
"There was a guy on the team that I knew. I grew up watching him play hockey, and now he'd really made it, and I was wondering, 'So, what am I gonna do?' That's when the overwhelming feeling hit me," says Lopez, touring manager for Widespread Panic. "I want to be a success, I want to work in the music business."
Apparently, unaware that those two things are usually incompatible, Lopez took his revelation bliss to the concert and told the lead singer of the band, "I want to be part of this."
He eventually became the band's manager.
Ten years ago Lopez joined Wide-spread Panic's crew and started climbing the corporate ladder – the band incorporated in 1987 under Brown Cat Inc. (whose offices are located in a renovated Athens warehouse).
Now, Lopez says, "my job is to get the band and crew from Point A to Point B to Point C the most efficient, safest way possible, and along the way help the band with its daily schedule."
That means ensuring the band's three semi trucks (filled with lighting and sound equipment, instruments and a mobile office) and three motor coaches (hotels on wheels filled with about 30 people, including drivers) get to where they need to be. It also means, among other things, setting up press interviews and backstage introductions, as in, "Jerry, we don't have any press passes, per se. But this is Yeager. He runs security backstage. He's your press pass."
Yeager is a large man, bald with a goatee and a great disposition despite having once been run over by a car. "As long as I recognize you, you're golden," he says.
Lopez gave a tour of the band's "bus" (from Roberts Brothers Coach Company in Springfield, Tenn.). There are man-sized bunks with overhead DVD players with iPod plug-ins, a kitchen/den area with a big-screen TV (the crew was watching Rocky before Friday night's show), and a lounge area with couches (and another TV) in the back.
As he showed me the reclining feature on the shotgun seat, Lopez recalled a dearly departed favorite driver named Yogi, and a time when everyone had to get from Middle-of-Nowhere, Minne-sota, to Chicago for a gig the next day.
"Yogi said he'd get us there in time," Lopez says. "Well, something happens in the middle of the night on the road. I'm telling everybody we're gonna be late for load-in, and then we hit a time warp and somehow Yogi gets us there on time. I don't want to know what's going on, but you know something's up when you start floating around weightless in a bus."
Nance remembers well the days when he shared the driving and the band's fleet included John Bell's car and an eight-person Econoline.
"First time we headlined at Red Rocks (in Colorado, where Panic holds the record for sold-out shows), we were coming from Big Bear, Calif., and we didn't do the math," Nance says. "We didn't get the equipment to Red Rocks in time, and so we had to play our first headliner with rental gear. Imagine driving the Indy 500 in a rental car. It was like, 'Suck it up, boys, and play.'"
Band Business
More stuff – the buses, semis and equipment – is one reminder of how the business of Widespread Panic has grown and evolved. There are others.
"When we started getting health insurance," Ortiz says, "we realized we're not only taking care of ourselves, but we have a staff of folks to think about."
The salaries were another early reminder that the artists were open for business.
"We'd incorporated, and we were making something like $68.44 each per week," Bell says. "Then we got our first raise, up to something like $87, and it was like, 'Well, business must be doing better.' So we definitely knew we were a business then.
And over the years, like any socially conscious corporation, the band has reached into its pockets in the spirit of philanthropy. They've raised more than $650,000 to support high school band programs in Georgia through the Tunes for Tots program, raised about $2 million to fight Spinal Muscular Atrophy (the Hannah's Buddies program, Bell's pet project inspired by his god-daughter's battle with the disease); and the band has given generously to the post-Katrina rebuilding effort.
Even the band's unofficial stakeholders, the Spreadheads, are involved, holding food drives at Panic concerts and creating The House the Widespread Panic Fans Built in New Orleans' Lower 9th Ward. The Panic universe is spreading the love.
Before much of this could happen, though, the band had to go through its toughest trial yet, hitting a critical crossroads eight years ago when Michael Houser – Mikey, the beloved lead guitarist – lost his battle with pancreatic cancer.
Houser, nicknamed 'Panic' for the panic attacks he used to have, was a string artist who'd sit in a chair on stage, face shrouded by his long hair, and work magic up and down the neck. He left behind a wife and children among his many mourners.
When it came time to settle his affairs and stay home, Houser gave the band his blessing to keep playing.
Bell says, "We knew we'd never be the same without Mikey. But we had these other individuals and their families in our business, the Widespread Panic business – a lot of friends and livelihoods to consider.
"There was still music to be made. It was easier to keep going, to be protective of our own sanity, so we could let the profundity of Mikey's passing sink in slowly while we were going through the rhythm. But as a business we thought, 'You can't give up, you can't let even a huge thing like this bring down the whole castle.' I didn't feel like I had the luxury of saying I'd rather do something else."
The band fulfilled its obligations through 2003, touring with several other guitarists, including longtime producer and friend John Keane, then announced it was taking 2004 off.
The band hit the road hard in 2005 with George McConnell on lead guitar. When he left the band in August 2006, Herring was offered the job. He'd sat in with Panic before, played on the same card plenty of times. First he had to finish a tour with his own band, then had two weeks to learn about 300 songs, then played his first Widespread Panic gig as lead guitarist at a sold-out Radio City Music Hall.
"No pressure, it's only Radio City," says Herring, who has a reputation for an ant-like work ethic, which he shrugs off. "People are very kind. But I've always felt a responsibility to show up ready for work. A lot of it has to do with just loving to play. I'm blessed to be making a living at something I'd be doing no matter what, whether I was getting paid or not."
Leave the business of getting paid to the businessmen, says Hermann: "The reason I have a good life is because of the business people, the managers, the people who work in the office. If it wasn't for them, I'd be living in a school bus in some ditch outside of Knoxville, Tennessee."
Instead, he lives near Nashville. Schools lives in California, Herring lives in Buford, Bell lives in the northeast Georgia mountains. Only Nance and Ortiz still live in the Athens area. They all rely on Sam Lanier, who has been managing Panic since 1987, and co-manager/agent Buck Williams (who has represented R.E.M. for 30 years, and has been with Panic since 1991) to run the business.
Williams is particularly adept at connecting all the dots on the map. Every tour, he says, has a mission. "Might be to promote a record, maybe it's for revenue, or to build new markets."
Even specific shows have a purpose. Take Myrtle Beach, for example: "The band does not rehearse, generally. I want them to play before they go out before big festival audiences, so this environment is a paid rehearsal after a three- or four-month break."
And the more dates they can do back to back in one arena, the better.
"A lot of three-day runs mean you don't cover as much territory," Williams says. "But that means just one load-in and one load-out for three shows. You make a little more money."
The road to those three-night gigs was paved in part by friends and fans like Bill Cochran and Horace Moore (now the band's official archivist), who taped the shows, often making copies, often sending them to friends in other cities. It might mean 10 more people coming through the door, which was a big deal then, says Bell.
"For us the taping was huge. It was a no-brainer. We always recognized it as a positive thing.
"Then, when we got into our first record company negotiations," Bell recalls, "they said we had to stop the taping because it would eat into our album sales. And we said, 'Dude, this is what brought you to us, this is what got us here, so just live with it.'"
No one in the music industry, Dave Schools says, is made fun of more than "the evil record company guy. It's a cliché for a reason. This is a highly exploitive business, the books are cooked in many cases and the artists are supposed to feel lucky to do what they do.
"That's never how we saw things. It was always about this thing growing just fine naturally, organically. We never saw any reason to over-fertilize it with an infusion from another source. We just never felt it would behoove us to bend our ideals."
So they didn't get the MTV, they didn't get the Top 40 airplay. They got the gigs, though, and the miles will be paying off for years. In addition to a warehouse full of merchandise, Panic has shelves of boxes filled with old recordings and has enlisted Moore to spin those into an archive series of CDs. So the business plan evolves a little more – these are quality recordings, made by the band.
They're selling fast, these archive recordings, but it hasn't changed Panic's attitude. Tapers may still tape. Why kill a good thing?
"The tapes made it across the Mississippi long before the band ever did," says Schools, who is sitting at a picnic table a few feet from the watchful Yeager near the backstage door.
That's when Bill Cochran pipes in, "I took a lot of them out there, from here to San Francisco."
Schools looks at Cochran, says, "Well, thank you." And he really means it.