Columbus: Success Brings Success
More jobs, more development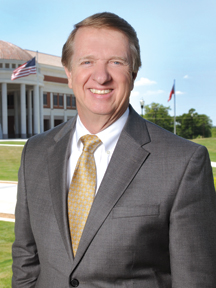 The rumble coming from the south side of Columbus – to the tune of $2 million a day in construction work at Fort Benning – makes it seem as though the city is humming like a jet getting ready for takeoff. And indeed it is.
The U.S. Army is spending $3.5 billion to move the Armor Center and School to Fort Benning next year from Fort Knox in Kentucky. The move will create a whopping 11,403 jobs and ultimately bring as many as 30,000 people to the region.
In today's economy, it is difficult to imagine a county of 200,000 absorbing so many people so fast, but Columbus-Muscogee County has been investing in itself for years. For a city already rich in Fortune 500 money, the gravy is flowing.
Passing any new taxes these days is always a risky proposition, and yet Columbus passed an education SPLOST last year to build schools and absorb the new population. The penny tax is projected to raise $233 million over three years. Of the new residents expected in Columbus as a result of the military move, 6,886 are spouses and 9,800 are kids. Of the news jobs created, 4,712 are with the Army, 1,889 are civilian jobs and 4,802 will likely go to contractors.
That means there are more private sector jobs than public. Becca Hardin, executive vice president of economic development for Greater Columbus Georgia Chamber of Commerce, has visited Fort Knox four times and is enthusiastic about defense industry prospects.
"These projects are different. They are not traditional economic development projects," says Hardin.
"We may have someone who needs 500 square feet or a thousand. They may need 'metal bending,' which is a defense phrase, or they may need 100 acres. It depends on what they're vying for, and what they receive."
Of the 40 to 50 different defense contractors currently serving Fort Benning, some have a presence at Fort Knox, says Hardin, and may beef up their Columbus presence. "We could see the expansion of existing contractors as well as new contractors," she says.
The effort will be aided by a $3 million Workforce Development Grant from the federal Base Realignment and Closure Commission, through the Valley Partnership, made to Columbus State University, Chattahoochee Valley Technical College in Phenix City, Ala. and Columbus Technical College. "They have developed specific programs out of those grants to match up with [contractor] needs," says Hardin.
Hot Spot
Columbus as a region has been a hot spot ever since the Base Realignment and Closure Program (BRAC) decision to relocate the armor school coincided with the announcement that Kia would open a billion-dollar auto plant nearby in West Point. Success attracts success.
Consider NCR Technologies, which relocated its headquarters to Georgia from Dayton, Ohio, last year, in what was a major economic coup. Columbus is one of three Georgia communities that will benefit from the relocation. Here, NCR will employ 872 people and invest $27 million to build ATM machines and other high-tech kiosks. (NCR will put its headquarters in Peachtree City, creating 916 jobs, and will expand its manufacturing site in Duluth, creating 1,250 jobs.)
Georgia lured the company by creating a "megatax," which gives a company that creates a certain number of jobs a credit against employee withholding taxes that goes directly to the bottom line. The move caught Columbus somewhat by surprise.
"If you'd asked me in first quarter 2009, I didn't think we'd get anything last year," says Hardin. "In the fourth quarter of 2008, we had about 25 projects go away. To get an NCR, in the economy of 2009, was a real coup."
The city had a large building vacated by Panasonic that was attractive to the company. "We didn't know that on our end, but the state's partnership is what kept us in the mix," says Hardin. "We also had the 300,000-square-foot building, the capability to move them in, and a very aggressive incentive package locally. The mayor, city council and development authority stepped up, pursued NCR and won the deal."
Across the street from NCR in Corporate Ridge Business Park, longtime Fortune 500 company and local hero Aflac opened its new Paul S. Amos campus last year; the move will create 2,400 information technology (read: high-paying) jobs for the insurance giant. Another Fortune 500 company, Nash-Finch/MDV, set up shop in Muscogee Technical Park this year; it will invest $25 million, hire 175 and fill an empty 400,000-square-foot building to distribute food to military bases around the southeast.
To call this economic activity robust is an understatement. But the truth is that Columbus has been hurt by the economy like everyone else. "The new jobs being created will provide the region with new opportunities at a time when job growth has been tight," Columbus Mayor Jim Wetherington said in a statement.
Indeed, longtime major employer Cessna is shutting down its aircraft manufacturing facilities, phasing out 300 jobs; in the beleaguered banking industry, layoffs have also been announced at two other Fortune 500 companies – TSYS (400 across the board, 200 locally, and half attrition) and Synovus (200 nationwide, 75 locally).
But growth at Fort Benning is indicative of an even bigger trend – growth in the Southeast. There is still plenty of good news in Columbus, even for banks, says new Synovus COO Kessel Stelling.
Banking Optimism
"This is a short-term problem," says Stelling. "Looking at the states in which Synovus operates – Georgia, Florida, South Carolina and Alabama [with some locations/office space in North Carolina] – there is no better place to do business in the country. People are anxious to play offense again. Our goal is to emerge stronger, and I hope we see a return to profitability later this year."
That's an ambitious goal for Stelling, who comes from Alpharetta's Bank of North Georgia and is expected to succeed Synovus CEO Richard Anthony. But consolidation of some 30 community banks under one banner will create savings opportunities as the economy returns, says Stelling.
"Because of legal charters, from a regulatory standpoint, consolidation will make us stronger and allow our bankers to spend less time on nonproductive reporting and more time on customer interface and service."
Stelling, who says he is excited about moving to Columbus ("It has a lot of great secrets no one knows about," he enthuses), shows no sign of anxiety at being named second in command of a company that lost $1.4 billion last year. Then again, Stelling has his own track record of success and is moving into one of the Southeast's most vibrant economic communities.
In a recent Manpower survey, the Columbus MSA was No. 1 in the country for job outlook in the first quarter of 2010.
The mood of optimism has swept across several sectors. Companies that have recently announced expansions in Columbus include Exide Technolo-gies (200 jobs and an investment of $35 million); Lance, Inc. (70 jobs, $10.5 million); Berry Plastics (25 jobs, $4 million); and Columbus Gourmet (50 jobs, $700,000).
Healthy Sector
One of the most vibrant growth sectors is healthcare. The Army is renovating its Martin Army Community Hospital, but has no plans to increase beds; the civilian and contractor growth is an opportunity two other Columbus hospitals are seizing to expand and upgrade.
Columbus Regional Medical Center is building a new Women and Child-ren's Center; the John B. Amos Cancer Center, which opened last year, has a $10.5-million clinical enhancement project under way to expand its radiation therapy capability. The medical center broke ground in October for a $25-million emergency department expansion that will nearly triple the size of the region's only dedicated Level II trauma center.
"We needed to triple our space to accommodate some hundred thousand patients a year accessing our facilities," says Larry Sanders, Columbus Reg-ional Chairman and CEO. "The street right behind the Medical Center and Doctor's Hospital has two hospital emergency departments, and in be-tween the two is the after-hours pediatrics facility for local pediatricians. Together with expansions at St. Francis Hospital, we feel the new space will be adequate to address the growth coming to the region."
St. Francis Hospital is also tripling the size of its emergency room as part of a larger scale, $110-million expansion that includes a new tower that will hold 248 private rooms.
"Since we're the area's cardiac hospital, the expansion will also enable us to have a dedicated cardiovascular intensive care unit and treatment center in one facility," says St. Francis President and CEO Robert Granger. The expansions are good for the economy as well as the general health of the population. "We partner with Colum-bus Technical and Columbus State University," says Granger. "We're big financial sponsors of their nursing programs, and every six months for the last 18 months, we've hired 15 new graduate nurses at each graduation cycle." The expansion, says Granger, will create "150 new permanent jobs, and an annual payroll of $6 million."
"All the growth in the community could put a drain on resources like healthcare," says Becca Hardin. "But leaders are trying to be proactive, not only in healthcare but also schools. We've hired a new superintendent, Susan Andrews, from Harris County. She took on the tremendous challenge of her first few months campaigning for SPLOST, that passed [with 57 percent of the votes] even during a horrible economy."
Columbus State has established a doctoral degree in education, and President Tim Mescon notes that enrollment for 2009 was up 3 percent over the previous year. "More importantly, our January 2010 enrollment versus a year ago was up over 5 percent. That means we're doing a better job of retaining existing students, which is a very important objective."
CSU recently opened a campus in West Point in conjunction with Kia, which has enrolled 150 students; and on the south side of Columbus, CSU will develop 170 acres adjacent to Fort Benning for Benning Technology Park.
The park, to be built in conjunction with Senoia Development, will eventually house a CSU academic presence next to Fort Benning, says Mescon, as well as a number of military and defense contractors. The project is tied to $2 million in congressional earmarks this year, most going toward gaming and simulation development in CSU's TSYS School of Computer Science.
"It all ties in to work with the TSYS School," says Mescon. "We're really looking to attract multinational defense and military contractors, who will now see Columbus as a critical location to expand operations."
The technology park, adds Mescon, will be "profoundly significant to the southside." This district, which connects Columbus to Fort Benning, also holds promise to become a tourism district, due to the proximity of the Infantry Museum, the Columbus Trade Center and other sites.
The $100 million National Infantry Museum and Soldier Center, which sits on Legacy Drive on south Columbus, heralds the redevelopment potential of the mostly vacant but very auspicious strip separating Fort Benning from the city. The museum, which is part of Patriot Park, should enhance the visitor count – adding in those expected for Armor School graduations, the number could climb by some 300,000 to 400,000 a year.
"Although it is a year or so off, the Army is also moving the [Patton] Armour and Cavalry Museum here," from Fort Knox, says Chamber of Commerce President and CEO Mike Gaymon. "In fact, the Army has already started bringing down some of the artifacts from Patton's – there will be a whole series of gigantic tractor trailer trucks hauling 40-ton tanks down here in a five-mile-long caravan. Combine that with the infantry museum, all right there at Fort Benning, and you're looking at a tremendous opportunity for tourism." Gaymon is also excited about whitewater rafting through the city on the Chattahoochee River (see sidebar).
"I heard the Governor say more than once that this part of the state has been a shining spot during a down econ-omy," says Hardin, "with Kia to the north, and Fort Benning to the south, and in the middle, a cluster of Fortune 500 companies. We have an amazing workforce, and now close to 7,000 spouses will need a job. We're using those numbers for recruitment efforts."
"I think Columbus is very, very ready for an influx of additional population," says Columbus Regional's San-ders, who serves on the chamber board and has lived in Columbus nearly 30 years. "We've been ready and are really excited about doing this, given our close, long-term relationship with the Army."
Community Snapshot
Local Leaders
Jim Wetherington
Mayor of Columbus
706.653-4712
jwetherington@columbusga.org
Mike Gaymon
President and CEO
Greater Columbus Georgia Chamber of Commerce
706.327.1566
mgaymon@columbusgachamber.com
Becca Hardin
Executive Vice President
Greater Columbus Georgia Chamber of Commerce
706.257-1190
bhardin@columbusgachamber.com
Population
(2008)
186,984
Median Household Income
(2008)
$40,276
Unemployment Rate
(March 2010)
County, 9.7 percent; State, 10.6 percent
Top Employers
TSYS, Aflac, Columbus Regional Healthcare System, Pezold Management, BlueCross/BlueShield
Sources
U.S. Census Bureau, Georgia Department of Labor, Greater Columbus Georgia Chamber of Commerce