Building It Green
Sustainability is increasingly mainstream, and LEED certification is commonplace in commercial design. What started out as social responsibility is becoming standard business practice.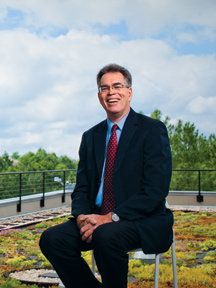 Sustainability is hardly a trend. It's more of a movement – and it's happening from within. In a time of slow growth, builders are shifting from fast and cheap to the affordably sustainable model. It hasn't exactly galvanized a non-start sector, but construction work, like construction materials, may improve as a result of sustainability standards. When building comes back, it will come back stronger.
According to the U.S. Green Building Council, a private nonprofit in Washington that has administered the internationally recognized LEED (Lead-ership in Energy and Environmental Design) green building certification program since 1998, the green building industry will contribute more than half a trillion dollars to the national economy from 2009 to 2013.
"I think it's safe to say that the 'sustainability trend' is moving away from being a trend and is now becoming commonplace and an integral part of commercial building design," says Kelly R. Levy, Graduate Engineer and LEED Accredited Profes-sional for Walter P. Moore, which has built several Georgia buildings to LEED standards, including Georgia Tech's College of Management, and consulted on a junior high facility at The Paideia School in Atlanta.
"There are several market sectors that we work in, including healthcare, higher education and the federal sector, where sustainability goals are established for virtually every project," Levy says.
A fortunate confluence of environmental awareness, rising energy costs and common sense has provided momentum for the green building movement, which has been embraced by engineers, designers and developers as well as environmentalists. What started out as social responsibility is rapidly becoming standard business practice.
A big part of this is the LEED rating system, a way to measure building sustainability. It has evolved to address a variety of building types and emphasizes sustainable site development, water efficiency, energy savings, material selection and indoor environmental quality. The rating system for new construction encompasses several levels: certified, silver, gold and platinum, depending on the degree of sustainability and carbon emissions re-moval achieved.
"It's becoming more evident now that firms that are adopting sustainability within their practice are setting themselves at a competitive advantage over others," says Jeff Ross-Bain, founder and principal of Ross-Bain Green Building, LLC, who has 30 years of green building experience around the Southeast. "If you're not LEED, then you're obsolete."
"Initially, green building and LEED was an owner's opportunity to choose the right thing for no other reason than best management practices, as good stewards of the environment," says Deborah Martin, Man-ager of Technical Resources and LEED AP for Rosser International Inc., which has LEED construction projects at Atlanta's World of Coke (along with Ross-Bain) and Columbus's Fort Benning. "Now, further along the way, people are asking, 'Why aren't we doing this anyway?'"
LEED Leaders
The Georgia Department of Natural Resources was one of the first to use the system to promote sustainability in the late '90s and is now ranked third nationally among building owners – public and private – for the most LEED buildings. "When the DNR was led by David Freidman years ago," says Ross-Bain, "he told me that if they were protectors of Georgia's natural environment, then they may as well build buildings that represent that."
Emory University, which has one of the largest inventories of LEED buildings on any American campus, opened the first existing gold-level LEED building in the country in 2004 (the Goizueta Business School). The first LEED-certified building in the southeast, Whitehead Biomed-ical Research Building, was built at Emory in 2000; so DNR and Emory were two of the first LEED builders out the gate.
Other LEED projects include Atlanta's Philips Arena, Atlantic Station (with six million square feet of LEED-certified office space) the Gwinnett Braves Stadium and Whirl-pool's 1.5 million-square-foot distribution facility in Henry County, the biggest LEED warehouse in the country, as well as Melaver's Abercorn Walk in Savannah (retail) and Enterprise Mill in Augusta (mixed use).
The LEED concept has caught on without any sort of regulatory "punishment" for failing to adopt the standards; yet LEED is not without detractors. Sen. Blanche Lincoln (D-Ark.), chair of the U.S. Senate Committee on Agriculture, Nutrition, and Forestry, noted in a letter to the green building council in April that the LEED rating system "discriminates against wood products produced in our own backyard and prohibits the two largest sustainable forest certification programs in the U.S. – the Sustainable Forestry Initiative (SFI) and the American Tree Farm System (ATFS) – from gaining credit by recognizing only Forest Stewardship Council (FSC) certified wood."
But unlike other environmental rating mechanisms, LEED benefits from a third-party verification system built into the ratings, and technology has caught up so that LEED structures like Southface Energy Institute's "eco-office" in Atlanta are living laboratories with live data that back up sustainability claims. There are, after all, some bogus sustainability claims out there.
"Some companies produce a brochure with a leaf on it that says, 'We care,'" says Ross-Bain. "But if you look at the big competitors like Whirlpool, there is an internal kind of value to it rather than a marketing effort, and the sincere adopters of sustainability are the better companies. It's all changing so rapidly, and I'm really glad to see it."
For insiders, the reason is a no-brainer. "The greatest cost to a company is people," says Dennis Creech, co-founder and executive director of Southface, which began promoting sustainable building in the late '90s with its EarthCraft Program, aimed at promoting sustainability in residential construction. He believes increased productivity results from a healthier environment. "Say 80 to 90 percent of cost is labor. Even a small percentage change in your workforce cost is a huge benefit, which more than pays for the costs of green building."
Bigger developers have found they can beef up the bottom line by reducing their carbon girth. "Even those who pass the cost on to their tenants are still doing green building because it reduces liability for problems like mold. It's common sense," says Creech. "From Cousins to Richard Ellis and Jones Lang LaSalle, large property owners are doing everything they can – in both unoccupied and occupied properties — to keep the rent down."
Inducements, Incentives
With the passing of the American Reinvestment and Recovery Act and other new signals from the Obama Administration, regulations are enhancing market forces. In the Georgia mountains, Cleveland's Georgia Green Loans is distributing $50,000 loans to businesses with 500 employees or less to carry out sustainability measures using ARRA money distributed by the Georgia Environmental Facilities Authority – and representing a third party that can help in education efforts and work to shape a new economy.
The Georgia Municipal Association now has a Green Communities Fund that uses $2 million from GEFA's $21-million in Energy Efficiency and Conservation Block Grants (EECBG) for energy improvements grants from $10,000 to $250,000.
Sustainability has become something bigger than LEED; it's a virtual labyrinth of potential funding for a new breed of builder.
Cities and counties are also eligible for the block grants and are increasingly incorporating LEED standards into zoning codes. Private developers may be enticed to use the LEED system to anticipate local codes and regulations. "By voluntarily choosing to do a LEED building, you are moving away from code minimums, by being [at least] 20 percent more efficient than code," says Ross-Bain.
The cities of Atlanta, Athens and Chamblee have incorporated sustainability goals into their zoning. "The Interna-tional Building Code has introduced [sustainable requirements] in codes," says Rosser's Martin. "So it's now looking like sustainability will become less a trend and more of a way we do business."
Then, it is hoped, the customer will join in, through federal rebate programs like EnergyStar and WaterSense. "We will also see some stimulus dollars coming through the utility companies, providing funds to customers for energy upgrades," says Creech.
"Hopefully, federal HomeStar legislation will pass. Like 'Cash for Clunkers,' HomeStar would provide further rebates for residential construction, which is in the doldrums to say the least. The administration has a climate policy, and 48 percent of the greenhouse gases come from the building sector."
HomeStar, EnergyStar, WaterSense and other such conservation programs could be seen as a patchwork without LEED. "Commissioning" – the term for the process of bringing different disciplines together to design to LEED standards – "brings into tandem several different sustainability incentives," says Ross-Bain.
Thoughtful Blueprint
Part of the beauty of LEED is this process itself. "Even if you are incorporating high-level technology, you're also producing much more scrutinized drawings, which makes the construction easier, with no loose ends for the contractor to take care of [as often happens]," says Ross-Bain. "LEED is a very clear, thoughtful blueprint, which makes maintenance easier over the course of a building's life. It all meets at the intersection of good."
A green building can pay for itself in a few years, or it may take a decade or more, depending on the size. While the length of time for a return can be daunting, LEED status adds instant credibility.
This has an acute effect, particularly on students. In 2009, the University of Georgia opened its sixth LEED Gold building, the Tate Student Center, and other institutions are going green to woo bright, progressive students.
"Emory has two dorms for freshmen, one of which [East Village] is an 'immersion sustainablility' LEED Gold building," says Ciannat Howett, Emory's director of sustainability initiatives. "Anecdotally, I've heard that in our incoming class, 75 percent submitted a separate application, requiring an essay, asking to live in the sustainability theme dorm. That's remarkable."
Howett says enlisting in the LEED program "was an economically sound decision. Although at first the decision was ethical, the return on our investment has been four and half years or less."
"Despite a challenging economy, universities like Southern Polytechnic State University [SPSU in Marietta] are putting millions into housing for its value as a recruitment and retention tool, and students respond even more favorably to green building initiatives," says Kate Freeman, marketing and community relations director for Ambling Companies, Inc., which just built a Silver LEED Dining Room for SPSU.
"If incorporated at the concept stage, LEED doesn't necessarily cost more," says Ross-Bain. "People who believe that have never done a green building. I find if you build one, you will build two."
Ross-Bain believes much of the credit for Georgia's preponderance of green buildings goes to Southface. "It has been a consistent voice to the architectural community as well as on the Capitol steps," he says. South-face's Creech gives credit to the At-lanta Homebuilders Association and progressive Atlanta leadership for partnering with Southface early on for EarthCraft.
The Next Level
The ongoing success of LEED has led engineers to aspire to buildings with no carbon footprint, net zero buildings. This may be hard to fathom, but is likely not that far off. "The technical issues are out there," says Ross-Bain, "but we're finding that all the thought, regulations, ratings, and standards are generally driving toward the ultimate – a net zero building."
"There is a movement in the architectural community called the 2030 Challenge [www.architectural2030.org]," says Creech. "The goal is for all buildings to be net zero energy use buildings by 2030. They have a roadmap on how to achieve that in increments of five years. It's doable. But it will require public policy. It won't happen in our current direction."
According to Creech, Georgia isn't investing in energy efficiency like other states, and there are laws that restrict returns on Georgians' energy investments. "Other states like Florida and North Carolina are doing much more," he says.
"North Carolina requires that 12 percent of all electrical energy used in the state be supplied by energy efficient or renewable sources. Over half the states in the country have that kind of public policy. Georgia does not lead in this regard, in terms of our investment. In fact we have some laws that prevent development of renewable energy. It's insane to think that Cox, Walmart and Target are investing in solar technologies in other states."
Creech explains: "If I have a big flat roof, and want to partner with a solar energy company to install solar electric equipment on my roof, and sell me the green power they generate, it's against the law in Georgia. I can do it on my own, but I can't violate the third-party power agreement. It's a big driver in other states, but Georgia's Territorial Act blocks that. That's a problem because those third-party companies represent a new economy.
"Utilities are penalized for looking at aggressive energy efficiency," Creech continues. "They should be more profitable as energy services companies, not commodity sellers. That's why most water conservation education revolves around outdoor watering – not trying to save water, but reduce the summer peak demand. It's the same thing with energy efficiency. We have to change the game. We would generate more jobs through energy efficiency than any other building program."
As LEED becomes more common in new construction, Georgia still is faced with the task of retrofitting old buildings – not impossible (the Hurt Build-ing in downtown Atlanta received a 91 EnergyStar rating) but not exactly cheap. "I know many who want to retrofit, but it can be cost prohibitive, especially the older buildings," says Martin. "And they are the structures that need it. The older buildings are energy hogs.
"I don't foresee the owners, in this economic climate, wanting to commit to retrofitting unless they are required to. I realize there are tax incentives, but I'm not sure owners are aware they're available. And there is another challenge: When you introduce something new, it's more difficult to get people to think differently, even when it makes sense. The owners are easier to change than the developers and builders."
Still, says Martin, "When it comes to being good stewards, if you make it easy and cost competitive, people are going to do it." And in the midst of the building bust, this is as good a time as any to overcome the learning curve.
"I believe we will begin seeing the policies of partnership – like we're already seeing between the Environmental Protection Agency, Department of Transportation and HUD – toward building sustainable communities, not just buildings," says Stephanie Armistead, founder and general manager of GreenBusiness Works, which holds the annual Green EXPO in Atlanta each fall. "I expect a lot more partnerships, and lots of collaboration coming out of an environmental way of doing business."