The Duck Stops Here
Dan Amos has guided Aflac to success through good and not-so-good times. With help from a now-famous bird, he has greatly enhanced his company's name recognition.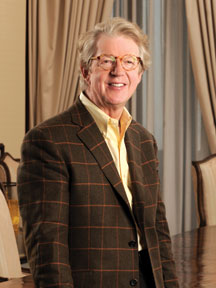 Dan Amos doesn't wear a tie to the office as a general rule, but he keeps one in the car just in case. And when he does put on the occasional ornamental fashion noose, chances are good it has a picture of a duck on it. So, it's another in a long line of casual dress days at Aflac headquarters as Amos greets his overdressed visitor and yanks a chair into position with a deft flick of his foot, quick reflexes honed on the squash court at the YMCA.
"Have a seat," he says, plopping into his chair. "Get comfortable."
Get comfortable? Sitting across from an insurance man talking business in his office? Not bloody likely.
But then, Amos is not an ordinary insurance man. This is the CEO and chairman of Aflac, the Fortune 500 Columbus firm that has set a standard for workplace satisfaction and ethical practices. This is the guy who runs the largest supplemental insurance seller in the world. This is the guy who fostered the duck.
"I used to wear a tie, all the time," he says. "And they finally convinced me not to."
"They" being the employees at Aflac who got tired of wearing ties in the saturating Columbus summer heat. Then they extended casual dress to daylight savings time, and now it's pretty much all year. Amos listens to his employees. And he pays attention to his kids.
"When my daughter, Lauren, was four or five years old, she drew a picture of me mowing the lawn and I had a tie on. Never forgot that. And I realized, maybe I am a little tight, so maybe I need to loosen up."
Now here it is, late February 2010. Amos's son and heir apparent, Aflac President and COO Paul Amos, is ringing the closing bell at the New York Stock Exchange in celebration of the duck's 10th birthday. The pictures will be posted on the duck's Facebook page (more than 170,000 fans).
But Dan Amos is tie-less in Columbus.
"The CEO doesn't always have to be at the forefront," he says, about an hour before the duck's loud, shrill cry of "Aflac!" (in lieu of an actual bell – a first) signals the end of another trading day.
Sure, the acerbic duck usually gets more press (for those keeping score, just keep reading), and yes, it's made Aflac a household name and made Amos somewhat famous, even outside of Columbus. But without Amos, there wouldn't be an Aflac duck.
"That duck is just an incredible reflection of Dan's intuition and instinct to push the right buttons," says Jim Blanchard, retired CEO and chairman of Synovus and a charter member of the Columbus servant-leadership elite.
Amos already had a knack for the game when he became CEO in 1990, on his 39th birthday. He grew the company from $2.7 billion in annual revenues to almost $9 billion by 1999, before anyone realized Aflac rhymes with quack, before most people outside of Japan even knew what Aflac was.
And it's been Amos, not the white-feathered Pekin, who has led the way in developing Aflac's reputation for corporate citizenship, civility and ethics, who has earned high marks for a transparent approach to investor and shareholder relations, who guided the company to a record $18.3 billion in total revenues in 2009, in the midst of a worldwide recession (and about three quarters of that in Japan, where Aflac insures one fourth of the households and is the No. 1 seller of medical insurance).
For all of those reasons – and the duck – Amos is Georgia Trend's Most Respected Business Leader for 2010.
Making The List
In truth, Amos is one of the most respected business leaders in the country, recognized on different fronts for the way he balances business and social responsibilities, and it's reflected in the way Aflac wins recognition year after year.
This year Amos was named to Institutional Investor magazine's list of "Best CEOs in America" for the fifth time (best in the insurance sector two years running).
Fortune magazine has ranked Aflac one of the "100 Best Companies to Work for in America" for 12 straight years (and ranked Aflac No. 1 on its global list of "Most Admired Companies" in the life and health insurance category). Forbes magazine has given Aflac the nod as "America's Best-Managed Company" (insurance category).
For three straight years, Ethisphere magazine has named Aflac one of the "World's Most Ethical Companies" and Amos one of the "100 Most Influential People in Business Ethics."
Old friend and associate Blanchard (Amos sits on the Synovus board) agrees that Aflac has one of the best CEOs in America.
"Dan has a great sense about him, a wonderful feel for his people and his markets, and he's converted Aflac into one of the most admired insurance companies in the world."
Under Amos's guidance, the company that was a pioneer in the cancer insurance industry has anted up more than $50 million to the Aflac Cancer Center and Blood Disorders Service of Children's Healthcare of Atlanta.
The company also supports the Child Life Therapy Program at the Morrell Center for Childhood Cancer and Blood Disorders in the Children's Hospital at Albany Medical Center (New York), and has established the Aflac Fund for Childhood Cancer Patients and Families at the University of Nebraska Medical Center.
The sale of stuffed toy ducks in Japan has raised more than $12 million to support parent housing near cancer centers in that country.
On the job, Amos always has subscribed to the business version of the golden rule: "Give your employees everything they need to succeed, and they will give everything they can to help the business succeed."
To him, that means encouraging employees to take chances ­­– without fearing the inevitable mistakes along the way.
"If you're not making a few mistakes, you aren't taking enough chances," Amos says. "You want to make decisions that push the envelope a little bit. If everything you do is right, then maybe you're in too safe a territory.
"Lot of times, people are scared to make a mistake, worried that they'll be punished. Around here we don't have that attitude. What gets you into trouble around here is if the mistake is there and you don't correct it.
"So, the first thing an employee needs to succeed is job security," says Amos, who never has instituted a layoff in the 20 years he's been CEO. Job freezes and the occasional salary freeze (this year, for example), but no job cuts.
The company also is consistently ranked among the best places to work for minorities and women. Aflac boasts the largest on-site child-care facilities in Georgia.
Full Disclosure
Aflac is a "pay-for-performance" company, and Amos says he is no exception to that rule. He made national headlines for giving up a $13 million golden parachute – and a $2.8 million bonus – during the banking and investment firm crisis of 2008, at a time when CEOs and executives were being scrutinized for inflated pay while their companies withered.
"You know, when I became CEO I had a golden parachute, and I think I deserved and needed it 20 years ago," he says. "You take up a position like that and you need a little protection. But at some point, it's my belief that you've either proven yourself or you haven't, and at that point you don't need a golden parachute.
"I felt like, at this point in my career, if I wasn't doing well I wasn't gonna call on the company to pay me something. I just felt like I'd leave quietly and retire. I decided to drop it."
In 2006, an Aflac shareholder – Boston Common Asset Management – proposed a "Say-on-Pay" vote that would allow shareholders to voice their opinion on compensation.
Amos wondered what he had done wrong, and he wasn't quite sure why the request was made, but he never blinked. He went to his board of directors, and in 2007 they voted unanimously to adopt the proposal; Aflac became the first publicly traded company in the U.S. to adopt a say-on-pay.
The whole transparency thing really is an issue with this guy.
"Dad's always said that as long as you're open and honest, people will understand," says COO Paul Amos. "One of his favorite lines is, 'Bad news doesn't improve with time.'"
The father continues, "It's not like wine, where the older it gets the better it gets. The older bad news gets the worse it stinks. I believe it's important that when you've got a problem, you address it immediately. I believe open disclosure is very important. Bad news in a corporation can be a cancer, and you need to cut it out and be through with it."
Considering this is a company that was founded as a cancer insurance firm, the idea of malignancy resonates with the Aflac CEO.
In January of last year, for example, Aflac's stock was mangled virtually overnight as investor concerns arose over the company's investment portfolio, specifically the large amount of European hybrid securities, some issued by banks under extreme financial stress. It was the avalanche at the end of a slow decline.
Aflac stock had reached $68 in the middle of 2008, dipped down to the mid-$40s, then fell like a body in January 2009 after a Morgan Stanley analyst spelled out the company's exposure to hybrid securities issued by struggling European banks.
"We'd been buying [hybrid securities] for 15 years and never had a problem before," Amos says. "But this was during the financial crisis, and people were asking me about it, over and over, and I got tired of it. So we posted every hybrid security we had on the Internet. It's all there.
"Sometimes when adversity happens, there is a tendency to pull back and wait and watch. I believe it was important to go forward, to talk it out and explain what was happening."
Aflac stock, which had bottomed out around $11, climbed back to almost $52 by late January of this year and had settled in around $49 when the duck quacked the closing signal on February 25.
Where The Duck Stops
Three brothers – John, Paul (who is Dan's father) and Bill Amos – founded the American Family Life Insurance Company in 1955. Dan grew up in the business, graduating from the University of Georgia in 1973 with a bachelor's degree that focused on insurance risk management.
He went to work as a salesman for Aflac and became president in 1983 after his uncle John died, and took it upon himself to firmly establish the company's footprint in Japan, where the company began doing business in 1974.
His efforts helped make Aflac one of the most profitable companies in Japan, though he admits, "I can speak a few words of Japanese, enough to find a bathroom, a telephone and something to eat." His son Paul speaks fluent Japanese.
So, in 1964, American Family Life Insurance Company changed "insurance" to "assurance" as a result of a coin flip agreement with a Wisconsin company of the same name. Amos changed it to Aflac in 1992, to help distinguish the company from the countless other firms whose names begin with "American."
Actually, that never was a big problem in Japan, where there aren't many companies that begin with "American."
While Amos has remained mostly on the sidelines of this country's national healthcare debate, he says the U.S. needs an all-access approach, and that all citizens have a right to health coverage. It wouldn't hurt his business.
Japan has a national single payer system that began with no co-pays or deductibles.
"It has since gone to 10 percent, 20 percent and now 30 percent, and those gaps in coverage have created opportunities for us to fill the gaps," Amos says.
Medical insurance dominates Aflac's business in Japan, while accident and short-term disability insurance dominate its U.S. market, where cancer insurance represents less than 20 percent of the company's business. You know, like Yogi Berra said in one of the early Aflac duck commercials: "If you get hurt and miss work, it won't hurt to miss work …" because, "They give you cash, which is just as good as money."
In the commercial, that's when the duck basically loses its mind. Turns out the perpetually frustrated bird – which has been enshrined, by the way, in the Advertising Hall of Fame – was inspired somewhat by Amos himself.
"Dan was telling us stories about how he was tired of walking into boardrooms and meetings and being introduced as the CEO of Aflac, and the people around the room didn't know what company that was," explains Tom Amico, one half of the team that created the the Aflac Duck at the Kaplan Thaler Group in New York.
"Company awareness was so low that he said jokingly, 'I don't care if you have to put a naked man on the roof, I want people to know my company.'"
Aflac was cruising in Japan and doing quite well in the U.S., but Amos has an instinct for marketing that told him, "We could do a lot better. We needed to do something different."
Changing the company name to Aflac and spending $8 million in the 1990s on a name awareness ad campaign raised recognition from about two percent to almost 10 percent. So the company went shopping, and one of the advertising firms it settled on was Kaplan Thaler, where Amico and his partner Eric David wracked their agitated brains.
One day, after getting on each other's nerves, David stormed off to grab lunch.
"Out of frustration, I'm walking down the street after lunch, saying the name of the company out loud to myself, like a crazy person, over and over," David says. "They wanted brand recognition, how can I do something with the name, and I'm saying 'Aflac, Aflac, Aflac,' and all of a sudden it sounded like a duck quacking."
He went back to the office and Amico wrote a script in about a minute. The resulting ad scored much higher than anything Aflac had ever experienced. On average, an insurance ad might score a 12, which means 12 percent of people polled recall the company's name after watching the ad. The duck bit, called "Park Bench," scored 27.
The dilemma for Amos was that the duck was sort of making fun of the company's name. And it had a grumpy attitude that reflected its creators.
"Eric and I have anger management issues," Amico says. "And it translated well in the form of a duck with an attitude problem, because nobody listened to him, so he was frustrated about getting this message out there."
That attitude has served the duck and Aflac well. Amos asked a CEO friend – should he go with a commercial starring comedian Ray Romano, a gentler ad that scored a healthy 18? Or take a chance on the bellicose duck? The other CEO suggested Romano.
"Dad has a gut intuition, like a sixth sense for marketing," Paul Amos says. "It isn't about complexity. He's just really in touch with what works."
Amos gambled on the duck. When it hit national television on New Year's Day 2000, Aflac got more hits on its website that first week of the duck era than it had the entire year before. Name recognition soared. It hovers around 95 percent now.
"It's the weirdest thing," Amos says. "But that frustrated duck has changed our lives."
Today, instead of a naked man, a naked white Pekin duck sits on top of Aflac's 246-foot-tall headquarters, the tallest building in Columbus. There is a duck pond down on the property below, but like the tie-less CEO in the 14th floor office, the Aflac duck is on top of the world.