Mode Shift
Georgia is behind the curve in moving from roads to rail. Even though the state missed the boat on federal transportation funds this year, some solutions are emerging.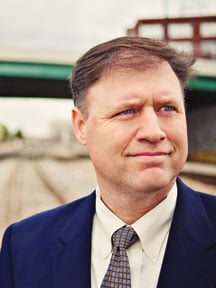 Although Georgia leaders requested more than a billion dollars in federal American Recovery and Rein-vestment Act "TIGER" funds, when the awards announcement was made earlier this year, the state came away with nothing.
The reason? Too much emphasis on road building, apparently. For the first time in its history, the U.S. Department of Transportation provided more funding to rail than to roads, but Georgia had no rail projects to speak of and pretty much missed the boat. Meanwhile, Tennessee and Alabama received $100 million each to build multimodal terminals in Memphis and Mobile, respectively, and reconfigure tracks for commuter service.
In Georgia, gas taxes and highway appropriations are no longer sufficient to keep Georgians on the move, but legislators have been unable to create new funding for transportation. Some $80 million in federal monies earmarked for commuter rail to Lovejoy has sat idle for nearly a decade, and may vanish entirely if it isn't spent in the next two years.
Nonetheless, there are signs of solutions, some of them coming from the private sector, some from the state and some from joint public-private efforts. This year's legislature, at the Governor's urging, has shown some interest in solving the transportation problem as well.
In the latest round of federal transportation funding, every single Georgia project got "snubbed," says Page Siplon, executive director of the Center of Innovation for Logistics. Siplon, who is based in Savannah, says Georgia is nonetheless too big a logistics hub not to be part of a Southeastern transportation makeover. "The logistics industry in Georgia is huge, with 8,000 logistics providers and a million employees," he says. He and the center are developing a massive statewide freight plan for the Georgia DOT that is due early next year.
Logistics, the business of moving goods throughout the state – many of them from the ports of Savannah and Brunswick – is a huge part of Georgia's economy and is likely to become even more important. Freight moves by rail and by truck, and many believe improvements in the rail system and some designated freight routes could help move goods more rapidly and reduce the wear and tear on the highway system.
The forthcoming plan is one that GDOT's Planning Director Todd Long anticipates with enthusiasm. "The freight plan is Phase 2 of the CNG [Commission for a New Georgia] recommendations – the implementation phase. It will help me in drafting the statewide transportation plan," he says. "I know certain corridors, but not the companies that would be impacted. We talk about freight but lack the details. We need a comprehensive, top-heavy overview."
This year Gov. Sonny Perdue proposed a bill (HB 1218) that would allow counties to band together as regions and enact a penny Special Purpose Local Option Sales and Use Tax for transportation (TSPLOST), tied to $300 million annually in bonds to help GDOT move forward on projects. The first bond money was to be spent almost entirely on rubber tire freight, preceding the statewide logistics plan to coordinate freight routes and take traffic out of Atlanta. At press time, the bill was stalled, but it did generate some interest.
Truck Talk
"Trucking is central to everything," says Ed Crowell, president & CEO of the Georgia Motor Trucking Association. "North of 80 percent of all our freight moves on trucks. In hindsight, it was not a good idea to run interstates through your biggest city in the state. So the solution would be to make more outlying roads better able to handle freight. I think it's a great idea."
Two "freight routes" around Atlanta – one along the Fall Line Freeway in Middle Georgia up Highway 27 to Interstate 75, and another up Highway 441 around Athens to Interstate 85 – have been identified for this purpose, which could remove some 40 percent of all trucks currently passing through Atlanta.
Within Metro Atlanta, the public-private partnership (or P3) law in Georgia was also strengthened in last year's legislature (HB 200), says GDOT Commissioner Vance Smith, a former legislator, to allow for "managed lanes."
GDOT is on track to replace the High Occupancy Vehicle lanes with a High Occupancy Toll lane along I-85, with plans to add two managed lanes to I-75/575 in north Atlanta. Motorists would pay to use the lanes, while cars with multiple occupants may still ride for free. "The trucking industry didn't want truck-only lanes, and this will free up room in the other lanes to service both the growing population and the industry," he says. "We're ready to go when the money is there."
The funding bill that was introduced this year in the General Assembly would also have replaced the Congres-sional Balancing restriction – requiring transportation dollars to be spent evenly across Georgia's congressional districts – with a regional structure, prorated by population. "This way the regional districts will get their fair share," says GDOT's Long. Georgia's transportation laws were written when the federal DOT was called the Federal Highway Administration, and the country was busy dismantling trolley lines and building roads. But GDOT's emphasis on road construction is also based on ownership.
The state owns the highways, but CSX owns most of the rail track in Georgia (2,700 miles). Norfolk Southern owns 1,778 route miles and the state owns 454 miles. Georgia's track is significant, but its share of the problem is disproportionate, and GDOT had requested just $10 million of the $300 million package (specified in the TSPLOST legislation) for freight specifically for its rail lines. "You could never sell bonds for privately owned rail," says Long. The TSPLOST could provide a mechanism for regional rail projects, however.
"People are seeing the public benefit to freight rail," says Craig Camuso, company spokesman for CSX. "A ton of freight moves 436 miles on one gallon of fuel. In terms of emissions and safety, it's a more sound infrastructure [than roads]." Nationally there is a growing desire for such "mode shift" from roads to rail. Locally there is little. Of $8 billion in federal stimulus funding (in addition to the Transportation Investment Generating Economic Recovery or TIGER grants) awarded to high- speed rail projects – in other states – Georgia received less than $1 million to study a rail line to Charlotte.
But Georgia faces the reality of its successful Savannah and Brunswick ports, which are expected to double freight traffic on rail and rubber tires in the next two decades. Neither the roads nor the tracks can handle it.
Like the federal highway system, the nation's rail network is hardly self-sufficient. In fact, the U.S. DOT estimates the cost to maintain competitive rail operations over the next 30 years at $130 billion nationally; that includes hundreds of millions needed for improvements in Georgia. On the bright side, that amount is directly linked to the country's economy and global trade, reflecting an 88 percent increase in cargo tonnage by 2035 (according to the National Rail Freight Infrastructure Capacity and Investment Study, Cambridge Consultants, 2007). Rail companies should absorb most of the cost, but the balance remaining – nearly $40 billion – leaves CSX and Norfolk Southern on the hook for $1.6 billion annually through 2035.
Georgia already is benefiting from outside investment through Norfolk Southern's ongoing $2.5 billion Crescent Corridor expansion program. The 2,500-mile existing corridor, stretching through 13 states from Louisiana to New Jersey (including Georgia), will be heavily double-tracked and will reportedly divert 1.3 million long-haul trucks from interstates along the route annually.
Outside Georgia, CSX has a similar National Gateway Project, an $842 million public-private partnership that involves much double tracking through Maryland, Ohio, Pennsylvania, Virginia, West Virginia and North Carolina.
The Cambridge study does not take into account realignment required for commuter or high-speed rail. But these factors can enhance federal interest in a project: Crescent Corridor and Gateway each got $100 million in TIGER funds. "Stimulus funding changed everything," says CSX's Camuso. In Georgia, "We see commuter rail and the [Atlanta] BeltLine as an opportunity. We have to have a successful freight line. But we want to be part of the solution – not part of the problem."
Hub And Spoke
Atlanta is a difficult city to get through by rail or truck, due to its "hub and spoke" transit configuration. All the major interstate highways go through the city, rather than around it. In terms of rail traffic, CSX and Norfolk Southern come into four switchyards in Atlanta eight ways, says Camuso. "Sometimes they only run 10 miles an hour, and it's single track in most places. We need more switch stations and longer siding extensions. Last year we invested $116 million in Georgia, just to keep the trains running."
Passenger rail bolsters the chance for private companies to get federal funding to solve existing challenges. Around $300 million of the total $1.5 billion TIGER funding went to improve rail freight bottlenecks to accommodate passenger rail for corridors near Chicago, Ohio-Pennsyl-vania, and Tennessee-Alabama.
"We've had numerous conversations with Norfolk Southern, who have offered their spur line to help keep us off their main track," says Gwinnett Village Community Im-provement District Director Chuck Warbington, of a plan to bring light rail to south Gwinnett. "Our existing right of way keeps our costs for the project so low that we're years ahead of other transportation light rail projects – we're practically shovel ready."
Savannah's Page Siplon believes Georgia's private companies with heavy investment in logistics – UPS and The Home Depot among them – can also bring much to bear in solving both configuration and funding challenges. "We wouldn't be doing the statewide route plan if there was no enthusiasm from the private sector," he says. "The trucking factor alone is bringing us together as an ecosystem."
Passenger rail is an important component of the solution, because "the bottom line is, over 60 percent of freight traffic does have origin and destination here in Metro Atlanta," says Atlanta Regional Commission (ARC) Truck Route Master Plan Project Manager Michael Kray. "And when you look at the projected growth of freight, even if you build a western bypass using Highway 27, which absorbs all that through [truck] traffic from Metro Atlanta – still, by 2030, the growth in inbound, outbound and intraregional traffic will more than make up for that. In fact it will blow it away."
Kray concludes that it would "probably be beneficial to shift some of that to rail." But to what extent that is possible is debatable, he says. Rail serves a specific segment of the freight market – long-distance travel – so a line from Gwinnett to Douglas County wouldn't make economic sense: "Even for a couple of hundred miles – Savannah to Atlanta – the trucks will win out," he says. "That's why the Crescent Corridor is a very interesting project. Public investment will make the corridor more competitive so it can compete with truck traffic, creating mode shift. … You have to have a quantified public benefit. "
ARC has identified Atlanta's light rail needs in its Concept 3 Plan. In addition to identifying the potential rail switchyard and multimodal terminal at Gwinnett Village, it has helped mitigate a territorial dispute among GDOT, Amtrak and Norfolk Southern over the Atlanta BeltLine and its ring of light rail planned to circle the city, in a landmark compromise that could help with a broader reconfiguration to better serve the state's rail needs.
A TSPLOST in Metro Atlanta would also help existing stations. "A TSPLOST would help a project like the Howell Junction upgrade," says ARC Transportation Planning Director David Emory, "where several key rail corridors intersect. Also, a lot of trains pass through Atlanta that don't serve the city, and there's talk of creating a multimodal bypass around Atlanta. Historic tracks could be upgraded so trains that didn't have to come through could get outside and free up capacity."
"There are a lot of opportunities to improve our freight infrastructure," says Kray. "Currently Atlanta has four intermodal yards – the downtown 'Gulch,' Austell, Fairburn, and Inman Park – and I don't know how many other metro areas have more than two. "Amtrak wants a MARTA connection, and is also very constrained in Midtown," he says, from the standpoint of accommodating disabled passengers and handling bags.
"They have to bring it up to compliance in the next two years, so there's a good opportunity for them to find a new site," says Emory. "Atlanta may wind up with more than one inner-city rail station – a downtown site, and possibly another site on MARTA's northeast line."
With the BeltLine and South Gwinnett Passenger Rail intended to spur economic development in blighted neighborhoods as well as ease traffic congestion, a new statewide rail plan could be looked at as an economic development tool for rural areas that need jobs and industry.
Shortlines
There are plenty of these opportunities for communities on abbreviated "shortlines," like Heart of Georgia Railroad in Cordele, which serves the agricultural community when it isn't transporting tourists. "Shortlines are critical to connecting small communities and inland ports," says Siplon. "Heart of Georgia is a critical connector."
"Shortlines are the former lines of our predecessors, which were not profitable so they were 'shortlined' to provide better service," says Camuso. "Typically a branch line will be run 20 miles to a manufacturing facility, delivering five carloads a week. Our 23 shortlines are providing a lot of jobs in rural Georgia." Georgia's intricate rail network could support multiple "inland ports," like the one under construction in Cordele, and "mode-switch" centers.
"Augusta has been batting the inland port concept around – to get trains with loads out of Savannah a point to go from," says GDOT's Long. Austell is an inland port. "Even Chatham and Glynn County want their own ports. That's just 20 or 30 miles [from Savannah and Brunswick ports]," says Long.
"There's a lot to be said for moving quickly out of maritime ports to deal with product," says the trucking association's Ed Crowell. "Geographically, there is only so much space at the ports in Savannah and Brunswick. If all your warehousing and storage are there, then it's part of the bottleneck, and the clog. So if you could move it elsewhere for distribution, you would keep free the flow of freight moving in and out of ports."
"Typically an inland port needs distance – 300 miles from node to node – to make it work," says Siplon. "From truck to rail, it is difficult to justify the economics. But if it had a manufacturing [component] – such as a bagging facility for clay – so it's not just a pass-through point, it has a value-added activity. It makes sense to have more manufacturing there instead of just core transportation providers."
"There's all kinds of ways to look at it," says Long. "But there has to be a multi-tiered approach to doubling the capacity of our ports. We're not the only state in the game – we're trying to be the only one, but people are working against us. Mobile, Ala., is trying to capture our market."
And at least one expert thinks the economic slowdown could actually work to Georgia's advantage in confronting its logistics infrastructure. Prior to last year, says Ed Crowell, "We were getting to a very serious breaking point, to where we were being very tight on freight – on our facilities and our infrastructure. So if you have to have a silver lining to the downturn in the economy, it has taken the pressure off, and it's a good time to start rebuilding. If we act wisely we can profit mightily."