Albany/Dougherty County: Optimism And History
Finding the right combination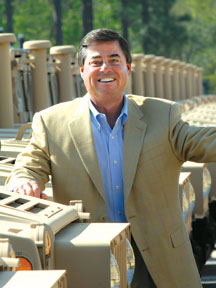 You have to hand it to folks in Albany and Dougherty County – they're never short on optimism, and perhaps that helps account for the new companies and jobs that keep emerging from some grim economic reality.
It hasn't always been pretty. Clearly this southwest Georgia community is still struggling to recover from the loss of almost 3,000 manufacturing jobs as three very large employers packed up and left town. As painful as the disappearance of Cooper Tire, Merck and Bob's Candies has been, a growing number of enterprises – including some spin-offs from those companies – have taken root in what locals say is fertile economic soil.
"We have some smaller businesses that even in the midst of recession have found growth opportunities and taken advantage of them," says Ted Clem, president of the Albany-Dougherty Economic Development Commission. Exhibit A is a local concern called Equinox Chemical that recently announced a $5 million expansion that is adding 40 additional jobs. The company, a global researcher and manufacturer, was founded by a former Merck employee who first visited Albany in 2001.
At the same time, large-scale employers such as Miller-Coors have also modernized to expand production lines demonstrating the company's commitment to its local operation, adds Clem.
Albany also had reason to cheer when yarn manufacturer Coats & Clark relocated its North American distribution hub to the city, adding more jobs and leasing a 280,000-square-foot distribution center.
"It's a testament to Albany and our people's work ethic and skill level, our natural resources and the price of property that these good things are happening," says Dougherty County Commission Chair-man Jeff Sinyard.
Those assets have helped keep the local economy diverse, according to Clem, who points out that "we have a pretty wide mix of industries in the area. All types of manufacturing and distribution."
Officials are even optimistic they can one day fill the now empty 2.2 million-square-foot Cooper Tire plant. Few think there is a company with operations big enough to warrant that much space, but it could become home to a variety of companies.
"We're looking at all options, and sub-dividing the building is certainly one of those options, but you just have to make sure you get the right mix of tenants," says Clem.
Stabilizing Influence
The region also has a powerful – and seemingly recession-proof – stabilizing influence in the Marine Corps Logistics Base (MCLB), a dependable jobs and spending engine generating nearly $1 billion in economic impact within the community.
The base, which is one of the Marines' largest logistics and maintenance facilities, has profited both from the ongoing wars in Iraq and Afghan-istan and the Pentagon's base closure program. In recent years, other bases have been closed and their maintenance duties reassigned to the base.
Local officials have long recognized the base's importance and have been quick to seek out ways to make keeping the facility in place a little surer. After five years of on and off efforts, the county completed work on a project to pipe methane gas from a local landfill to the base for use as an alternative energy source.
The 20-year agreement provides the base with a green source of energy and helps the military meet a congressional mandate to reduce greenhouse gases and energy consumption, while expanding use of renewables to at least 7.5 percent. By the time the project is fully implemented, MCLB will be getting 22 percent of its energy from this source.
The county will spend about $2.9 million from its reserve fund to finance its share of the project and deliver the landfill gas to a base treatment system. The military in turn will handle all processing expenses and pay for the pipeline through base property.
"We're blessed here with the fact that we do have a landfill that is geographically located in the right place," says Sinyard. "It's going to be very cost efficient and help the Marine Corps reach their goals."
It will generate a small amount of revenue for the county, he says – about $150,000.
At the same time, local officials are busy attempting to upgrade the areas surrounding the base. Like many neighborhoods in the shadow of large military bases, adjacent areas have fallen into decline. To draw in more businesses and encourage employment, three sections of land have been designated as military zones by the state Department of Community Affairs.
The designation makes local businesses creating at least two new jobs eligible to receive tax breaks of up to $3,500 for each new employee. The tax credit lasts for up to five years and is a powerful incentive to employers, according to Clem.
"That's a pretty big deal for anyone if they're looking to attract new restaurants, retailers or even businesses associated with the marine base," he explains.
In fact, the development commission has fielded a number of inquires from developers, as well as defense contractors, since the credit was announced last summer. That interest hasn't translated into new facilities opening yet due to the "uncertainty about what direction the military will take over the next few years" relating to strategies in Iraq and Afghanistan, says Clem. "That's slowed down the actual investments being made."
Another stabilizer is the medical community, most prominently Phoebe Putney Memorial Hospital. The facility produces more than $794 million in direct economic impact along with more than $35 million in charity care and community benefit, according to a report from the Georgia Hospital Association.
The hospital has moved aggressively to expand both its service offerings and reach into surrounding communities. Early last year the hospital opened a new $40 million medical tower to house its cancer treatment and recovery center. It also began work on a new $110 million hospital in nearby Americus – to replace a facility destroyed by a tornado in 2007.
Courting Visitors
Over the years, it seems that the City of Albany has done everything in its power to make its downtown an appealing place for visitors. First there are all those attractions, including the Thron-ateeska Heritage Center, which boasts a planetarium with a first of its kind high-definition digital light system, and the expanding Flint RiverQuarium & Imagination Theater, among other sites. The city and county governments have been careful to keep their operations downtown, and considerable public funds have been poured into the city to fund a civic center and conference hotel.
Yet business has been slow to make its way downtown, and city streets have a tendency to be deserted after 5 o'clock.
Troubles in the Albany Dougherty Inner City Authority (ADICA) didn't help matters much. Ultimately, several board members resigned or were forced out, and the city had to launch a search for a new downtown manager.
In the meantime, the deepening recession has discouraged business expansions, at least for the time being, but new development is on the way if locals are willing to support it, according to Assistant City Manager and now interim ADICA manager James Taylor.
"We're trying to get public involvement and commitment and focus to determine what the community wants to see happen – how they want to see the downtown redeveloped," he explains.
City leaders hosted a visioning session in March to gather input from citizens, developers and other businesspeople on what types of development might work best in the area. The primary focus now is on a property along Front Street near the river that could be converted to mixed use including residential, office and retail.
City officials see more people living and shopping in the downtown area as key to bringing it back to life. The new development will make urban living more appealing by providing both below-market and market-rate units, adds Taylor.
To make it happen, the private sector must be willing to step up to the plate and get involved with the project.
"That will be the thing that tells me they're really committed and really have a willingness to assign some financial value to it in terms of signing a lease, a rental agreement or purchase agreement or something that says this is something we really want to do," says Taylor. "Otherwise, it's just conversation."
It's not hard to see why locals believe Albany's downtown is on the cusp of new life. On sunny days, people crowd into Riverfront Park, eat lunch in Ray Charles Plaza with its bronze statue of the music great and his piano, while tourists visit the exhibits at nearby museums.
The city's convention business has held up well even in the economic downturn as "all the people that have been coming here are still coming," says Lisa Riddle, director of the Albany Convention and Visitors Bureau.
That fact is reflected in hotel and motel tax revenues that have held steady from the previous year, even as other communities have seen their collections drop by 10 to 20 percent, she adds.
"We're a very small market compared to Atlanta, and I think that's one reason why we don't feel the hit as much as other communities do," she explains.
Albany is a favorite destination for small regional groups, associations and especially religious organizations. Many make use of the city's convention hotel, the Hilton Garden Inn, near the riverfront. Backed by public money, the hotel accommodates meetings of up to 250 people in one place – something that wasn't possible prior to its construction.
Nearby Darton College is using its meeting facilities to attract more of the 400 to 500 groups that visit the city annually, says Riddle.
Her agency recorded an economic impact of $16.6 million from just 17 different events that took place in the city last year.
"We've got some very strong assets with which to market our area," says Albany Area Chamber of Commerce President & CEO Catherine Glover. "Many people may not think of Albany as a tourist destination, but when you look at the RiverQuarium, Thronateeska and the Civil Rights Museum, we've got a lot of unique opportunities here."
Tourism is clearly a strength: Dougherty County ranks in the top 10 percent of counties in the state in terms of monetary impact. In fact, every local household is getting what amounts to a $287 tax break thanks to tourism, according Glover.
Civil Rights History
Albany has turned some of the darker moments of its history into a positive force for both education and economic development. The Albany Civil Rights Institute chronicles the city's long civil rights struggle. In 1961, crowds gathered at Mt. Zion Church and neighboring Shiloh Baptist Church to hear Dr. Martin Luther King, Jr. speak.
Within its newly expanded museum, visitors find displays representing the Freedom Riders of 1961 along with the façade of a restaurant from mid-century with separate entrances for whites and blacks. The new facility is near the old Mt. Zion Church, which for many years contained the museum itself in its cramped quarters.
In 2004, the museum received $3.5 million from the Albany City Council to expand the facility, but after an initial burst of enthusiasm, support began to wane and many supporters didn't renew their memberships. Most of the support was coming from the $5,000 a month donated by the Mt. Zion congregation, according to historian Lee Formwalt, the Albany Civil Rights Institute's new executive director.
"That was most of the revenue because we were not getting very much in tours and membership," he explains. "It's still large for us, but there is a growing amount of other revenue coming in now."
Since taking on the job a few months ago, Formwalt has instituted a visiting lecturers program and spruced up the museum's exhibits. He's also launched an effort to build greater awareness in Albany about the museum "because you have to have local support before you can build it nationally."
Much of the museum's support is still found in the African-American community, but that's beginning to change as the public acquires a greater understanding of the importance of the facility and the era it represents.
"As we deal with racial issues today, we hope that the Civil Rights Institute would be a place that those issues could be discussed, put on the table and examined," says Formwalt, who is white and lived in Albany before moving to Indiana to serve as executive director of the Organization of American Historians. "We are still struggling in Albany today with racial issues."
The museum will begin to reach beyond its focus on the struggle of African Americans for civil rights and examine how it can serve as a model for understanding the struggles of women, gays and even the internment of Japanese Americans during World War II.
"I think that it is really important for us to show how the African American freedom struggle connects to all those other freedom struggles," he explains.
The city elected its first African American mayor, Dr. Willie Adams, a physician, in 2004.
Yet the past is still very much a part of Albany's present. Economic hardship is still a part of everyday life, with some areas of the city facing a poverty rate of nearly 45 percent.
Those grim statistics prompted the chamber of commerce to launch an initiative to bring together the private sector and social service agencies in an effort to give disadvantaged families the tools to improve their economic situation, according to Glover.
"It is a targeted educational effort for families in particular that teaches them the basics of life skills, social interactivity, basic financing and budgeting and working with folks that are already doing that," she says of the Strive 2 Thrive program.
Participants take an initial 12-week course and then continue to work with volunteers for two to three years afterwards as they move up the economic ladder to greater success.
"The end goal is a pretty massive undertaking, and that is the complete eradication of poverty," says Glover. "Now whether that is possible or not, I don't know, but what we hope to do is provide a tangible set of goals and objectives for families to follow to get out of poverty [and] not just do it on their own, but through what we call circles and allies."
Few should find it unusual that Albany and Dougherty County think of eliminating poverty as an attainable goal. This is a community that likes to think big even in the face of a great recession and economic turmoil.
Community Snapshot
Local Leaders
Ted Clem
President
Albany-Dougherty Economic Development Commission
229.434.0044
tclem@choosealbany.com
Catherine Glover
President/CEO
Albany Area Chamber of Commerce
229.434.8700
cglover@albanyga.com
Jeff Sinyard
Chairman
Dougherty County Commission
229.431.2121
Population
(2008)
Dougherty County, 95,754; Albany, 75,831
Unemployment
(February 2010)
Dougherty County, 11.5 percent; County, 12.5 percent; Georgia, 10.5 percent
Per Capita Income
(2006)
Dougherty County, $26,349; Georgia, $32,095
Top 10 Employers
Marine Corps Logistics Base, Phoebe Putney Memorial Hospital, Dougherty County Board of Education, Procter & Gamble, City of Albany, Dougherty County Government, MillerCoors, Albany State University, Palmyra Medical Center, Coats & Clark
Sources
Albany-Dougherty Economic Development Commission, Georgia Department of Labor, U.S. Census Bureau