South Metro Atlanta: Moving South
Groundwork for growth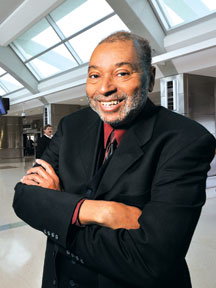 It's a new day for the south side of Atlanta. For years, businesses overlooked the promise of the southern arc of counties – Clayton, Coweta, Fayette, Henry, Spalding and the southern portion of Fulton. Now, as Atlanta slowly pulls itself out of a recession, the real potential of what lies south of the city is starting to be discovered. From new cancer centers in Fayette and Coweta to an innovative industrial park in Spalding County, more people and businesses are moving south.
"This is certainly a good area for a company to take a look at, particularly because of our access to Atlanta and to Hartsfield-Jackson International Airport," says Greg Wright, president of the Coweta County Development Authority. "Being right on I-85, we're getting a lot of interest from companies who are saying this is a good location."
Grant Wainscott, director of the Clayton County Office of Economic Development, agrees.
"A lot of companies that we're seeing coming and talking to us are companies that either were downtown or in areas where the prices were escalating significantly," he says. "They felt like they could get a better value for their dollar where they could still get into town quickly and still reach their customer base."
The airport continues to be a main economic driver for the region, both in term of jobs and the amount of companies drawn to the area because of its close proximity.
"The Atlanta airport is still an amazing magnet for Georgia and the Atlanta area," says Bob White, Henry County Development Authority executive director.
A number of projects are completed or in the works surrounding the airport, which handled more than 90 million passengers in 2008 and is expected to accommodate 121 million by 2015. The second $1.35 billion international concourse is under construction, with an expected completion date in 2012. Its 12 gates will increase the airport's capacity for international travelers, which current FAA data indicate will reach 13 million by 2015.
The $635.9 million rental car facility recently opened and ties to the airport via an automated people mover system, which also connects to the Georgia International Convention Center and the 1-million-square-foot Gateway Center.
The project's 28-acre Phase I is nearing completion, with two hotels already opened – a 147-unit SpringHill Suites by Marriott, and a 403-room full-service Marriott hotel.
Despite the economy, the Aerotrop-olis Atlanta in Hapeville is still on schedule. Demolition and environmental remediation is nearing completion, and construction is scheduled to begin in 2010.
"You'll be able to live, work and play right at that commercial node at I-75," says Joe Johnson, vice chairman of economic development for the South Ful-ton Chamber of Commerce. "I think that's going to be a tremendous project for all of Fulton County."
Elsewhere, the 2,500-acre Parkway South development is under way along South Fulton Parkway, and Camp Creek Parkway continues to attract growth, anchored by the airport on one end and the Camp Creek Marketplace retail center on the I-285 side.
"You have a tremendous growth corridor from a development standpoint," Johnson says. "And development always attracts more development."
Many such companies are finding the pull of an international airport and close proximity to major interstates too enticing to resist.
Sinclair Systems, for example, re-cently moved a printing operation to Fayette County to take advantage of Atlanta's central location and ease of access to transportation arteries.
"They had a small operation in Florida, but they just couldn't hit the East Coast the way they wanted to," says Matt Forshee, president and CEO of the Fayette County Development Authority, who is leaving to take a similar position in Athens April 5. "So they relocated that operation up here. They'll be producing labels for various fruit and vegetable pack houses and growers from Florida all the way up to Ontario and west to Texas."
Accessibility
Grant Wainscott understands that ease of transportation is key for those considering Clayton County.
"We have affordable land, and the accessibility is second to none. We have four major interstates in Atlanta, and they all run through Clayton County somewhere," he says. "So we're seeing a lot of attention being paid [to this area], especially along the 675 corridor. That's really our high-growth, larger product markets."
QT is one company that saw the allure of the south side. It recently opened a $22 million facility in Ellen-wood. "Because the 675 access corridor has such a quick access time to 285 and down south to I-75 … it will just help QT get their products to the market that much quicker," Wainscott says.
Despite the lag in the economy, the south side has seen a steady flow of businesses to the area over the past year.
In November, ATM manufacturer NCR Corp. opened a 360,000-square-foot Services Center for Excellence in Fayette County. It, too, chose the south side because of its proximity to the airport. "They can fly them in, have them stay locally, then fly them back out," Forshee says.
The center will bring some 6,000 people a year to the area, where they will stay an average of one to two weeks.
"Our hotels and restaurants and local shops are certainly very excited about that," says Virginia Gibbs, president of the Fayette County Chamber of Commerce.
In Clayton, the Fort Gillem base is scheduled to close in 2012. According to Fred Bryant, executive director of the Forest Park/Fort Gillem Local Redevel-opment Authority, about 720 acres for an industrial business park and warehouse flex space are currently moving through the application process.
"The remainder of the property will just depend on what the market will bear when it comes time to redevelop it," says Bryant, who is also vice chairman of the board for Clayton County's development authority.
"In a county that's 93 percent built out, that is our one big chance to be globally competitive," Wainscott says of the site. "It's rare to have that big of a piece of property that close into town. It is darn near inside the perimeter. Having something that large with that big of an impact so close to the interstate and so close to the downtown area really sets us above a lot of other communities we'd be competing with."
In Henry County, several announcements, including a consolidated distribution center for Whirlpool and a new 158,000-square-foot manufacturing plant for Inline Plastics Corp., have shown promise.
"We've had some leases signed just in recent months of more than 600,000 square feet of industrial space, which is a very positive sign from the economy," White says. "Even during the downturn, companies were continuing to prepare for growth and to prepare for the coming years. Projects like Whirl-pool and Inline Plastics are representative of that optimism that I think a lot of our business community feels."
Healthcare, Education
It's not just distribution warehouses that are being drawn to the south metro area. According to the Atlanta Regional Commission, the healthcare sector promises to provide the biggest job growth over the next several decades. As Atlanta continues to solidify its reputation as a hotbed of medical research, more healthcare-related businesses are choosing to operate out of the region.
Dendreon Corp. is building a $70 million manufacturing and lab facility for an experimental prostate cancer drug in Union City. Piedmont Fayette Hospital has completed a $3.4 million expansion and just broke ground on a new cancer center in January.
In Coweta County, The Cancer Treatment Centers of America (CTCA) has received a Certificate of Need to build and run a regional treatment center in Newnan. CTCA expects the $150 million facility to generate $500 million in economic activity within five years of opening.
Wright notes that with more than two-thirds of the patients coming to the center from outside the state, the impact could be felt across the county's economy.
"They would need to stay in the local motels, so we would certainly see an impact from a hospitality standpoint," he says. "But then you're looking at well-paying jobs and probably 500 employees within five years of the opening of the facility. So that will certainly have a positive impact on the local economy."
Clayton State University recognizes the impact of the healthcare industry to the region, and has noticed an uptick in enrollment in science laboratory courses and its pre-pharmacy program.
Tim Hynes Jr., interim president of Clayton State University, hopes that in future years, a new science building will be in the works "to contribute to the scientifically educated workforce that I think will be the next phase of economic growth and development here in metropolitan Atlanta."
Coweta County already hosts a West Georgia campus, and Brewton-Parker College offers classes in the county. In 2010, Mercer University will begin offering classes, and local investors have donated land for West Georgia Technical College to build a new campus.
"What you see is just really neat partnerships developing, schools like Clayton State University doing programs to support nursing, and of course all of the things that pop up when you have a really strong healthcare system," says Forshee, who notes that Fayette's school system is considered one of the top five in the state. "We really see that as a great economic development driver in future years."
In Griffin, the UGA campus continues to grow. "They started off small – a handful of students – and every year it's been growing," says David Luckie, executive director of the Griffin-Spalding Development Authority. "One day, we're excited that this may be a college town."
Plans have also been in the works for nearly a decade to develop and expand a University Food Technology Center, and the county is closer than ever to seeing the project come to fruition. A group affiliated with the University of Georgia is considering financing the $8 million project, according to Luckie. "If they were to do this and we could build our building, it would become one of the only in the southeast," he says. "We believe that some of these companies [which develop products through the center] will need spaces to make new food products – either manufacture or distribute the food products. It represents a huge potential."
Closer To Home
Despite all this activity, many who live in these counties are still commuting to work.
According to Forshee, 70 percent of Fayette County's population works outside the county. "They're the folks who work for Georgia Power or Coca-Cola, but they're living down here because, honestly, the commute's better."
"Most of the metro counties have a tremendous amount of short-term residents, whether they're in apartments for contract or whether they're just here for a short time for a specific job," Wainscott says. "We're not a bedroom community anymore."
"One of the things that we're very aware of is that we have a lot of people driving outside of Coweta County to work every day," says Wright, who notes that 52 percent of the population leaves to work outside the county. "We certainly want to do what we can to recruit companies who will bring those good paying jobs to keep those folks here in Coweta County."
"We're going to continue to be an attractive location, whether it be for individuals or companies," says Henry County's Bob White. "We still have that superior transportation and location access. We have a very good quality of life. We have an outstanding value for the dollar, and we have a good school system that will continue to improve. So we see all those factors continuing to work in our favor."
While the economic downturn has spurred job losses statewide, many south metro communities are seeing a surprising silver lining.
"We have had a tremendous amount of new members that are entrepreneurs starting new businesses," Fayette County Chamber President Gibbs says. "We've been kind of surprised and extremely pleased with how many members we've got. … That certainly bodes well for the future."
The Griffin chamber, too, has seen an upswing in new members who are small businesses – nearly 50 in the past year, and many started by people who already live in the area.
"When you look across the United States, small business really is the backbone of our business world," says Bonnie Pfrogner, executive director of the Griffin-Spalding Chamber of Com-merce. "It's great to have the big industry – you certainly want that. But it's also prudent to foster the small business community. It just provides so many opportunities."
Silicon Valley-based MiaSolé, which makes low-cost, high-efficiency solar modules, is planning a 500,000-square-foot manufacturing plant in Spalding County that could eventually be one of the largest solar factories in the country.
The county is also developing The Lakes at Green Valley industrial park outside Griffin. The 564-acre mixed-use park will include industrial pads, a 45,000-square-foot grocery store, office and retail space, and residential units, plus a five-acre nature center with walking trails. What makes it unique, however, is that the entire project is LEED-certified.
"As far as we know, it's the first true green park in Georgia," says Luckie. "LEED certification is not a fad, but is in fact the future."
New Looks
Looking at things differently seems to be the key to pulling out of the recession.
"Our goal is to be able to repurpose a lot of what we have and do infill projects and responsible redevelopment," says Clayton County's Wainscott. "We did the sprawl thing, and we have a lot of shopping and a lot of districts that have added a lot of tax dollars to our bases over the years, but now we need to work on sustainable communities and sustainable development. We've got to do it better than we've done it in the past."
Atlanta's ongoing traffic congestion could be a key driver of businesses south over the coming years.
"There's a real acknowledgement that there's going to be a continuing, growing transportation and distribution issue – how long is it going to take my product to get to market, or for me to get to work – and companies are starting to split the difference," Wainscott says. "Not everyone, but strategic industries are going to have a northside presence and a southside presence."
"We have to work to get the message out to the project managers and the real estate brokers and the consultants that we've got the sites, we've got the buildings, and we've got the business atmosphere for a company to locate," Coweta's Wright says.
"There's a lot of energy, a lot of good ideas, and a lot of people working together," White agrees. "That's what it's really all about, is working together, having collaboration and having common goals and working together to find solutions."
Community Snapshot
Local Chambers
Clayton Chamber of Commerce
www.claytonchamber.org
Fayette County Chamber of Commerce
www.fayettechamber.org
Griffin-Spalding Chamber of Commerce
www.griffinchamber.com
Henry County Chamber of Commerce
www.henrycounty.com
Newnan-Coweta Chamber of Commerce
www.newnancowetachamber.org
South Fulton Chamber of Commerce
www.sfcoc.org
Clayton County
Population
(2008)
273,718
Per Capita Income
(2009)
$21,377
Unemployment
12.2 percent
Coweta County
Population
(2008)
122,924
Per Capita Income
(2009)
$28,581
Unemployment
9.9 percent
Fayette County
Population
(2008)
106,465
Per Capita Income
(2009)
$41,048
Unemployment
8.0 percent
Fulton County
Population
(2008)
1,014,932
Per Capita Income
(2009)
$38,006
Unemployment
10.2 percent
Henry County
Population
(2008)
191,502
Per Capita Income
(2009)
$28,883
Unemployment
10.1 percent
Spalding County
Population
(2008)
63,913
Per Capita Income
(2009)
$20,737
Unemployment
14.6 percent