Matters Of The Heart
Even as researchers open hopeful new doors for patients, cardiovascular disease remains the leading cause of death in Georgia, where the death rate is about 10 percent higher than the national rate.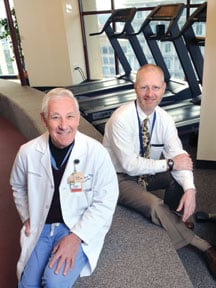 It got to where Paul Smith couldn't feed his dogs without losing his breath or feeling chest pains. Couldn't hunt, couldn't even take a bath. The exertion was killing him.
"I was living, but just living, wasn't much functioning to it," says Smith, 60, a retired maintenance man for the state of Florida who lives just south of the Georgia line.
He'd been well enough for about 12 years, following six bypass surgeries. But trouble had returned. His aortic valve was severely narrowed, restricting blood flow to his entire body.
"My aorta was pretty much closed," Smith says. "It happened slowly, through the years, and there wasn't anything I could do."
Then his doctor heard about something happening up in Atlanta, a clinical trial at Emory University for a new, less invasive procedure to treat Smith's aortic stenosis.
The traditional way to treat this condition is to remove the diseased valve through open-heart surgery, but Smith's cardiologist said he probably wouldn't survive another operation. Absent surgery, there's medicine that might manage the disease.
"Even with that, there's a 50 percent mortality rate after one year," says Dr. Peter Block, the Emory cardiologist and professor of medicine who is directing the trial. "Stenosis is not a good disease to have, there is no good way to manage it."
The best way to manage it is to avoid it – an ounce of prevention. But dodging cardiovascular disease (CVD), which includes all diseases of the heart and blood vessels, remains a costly challenge for a sedentary, sodium-rich population. Even as researchers open new hopeful doors for patients, CVD is still the leading cause of death in Georgia and the United States. Heart attack, stroke and other cardiovascular diseases kill more than 800,000 people a year in the United States (about 22,000 in Georgia).
"It accounts for one third of the deaths in Georgia," says Dr. Wayne Holley, a cardiovascular and thoracic surgeon with the Phoebe Putney Memorial Hospital Heart Center in Albany. "In southwest Georgia, the rate is 20 percent higher than the state average, and as a state our death rate is about 10 percent higher than the national average."
One in four Georgians who die from cardiovascular disease is younger than 65. The healthcare cost alone is $5 billion a year in Georgia, and about $11 billion when lost productivity is included ($503 billion in the United States).
"It's huge," Holley says. "And with a rapidly aging population, the pressure's on for us to do better."
Baby boomers are swarming into old age, so their risk for hypertension and heart disease is increasing.
"What's frightening is, baby boomers haven't really hit the system with any force yet," says Tom Edwards, director of cardiac services at Northeast Georgia Medical Center (NGMC) in Gainesville. "I'm a baby boomer, and I don't think our generation took very good care of ourselves. I'm afraid the healthcare system, cardiac services particularly, is going to be overwhelmed.
"But what also scares the heck out of me is, we're seeing younger people in our cath lab for more procedures."
They tend to be smokers, and overweight, and that weight gain, particularly around the belly, is leading to more cases of diabetes, which increases the risk for heart disease by 50 percent.
State Champion
For five years in a row, NGMC has been ranked No. 1 in Georgia for overall cardiac care by HealthGrades, an independent ratings group. Located 55 miles from Atlanta in a city of about 36,000, NGMC also placed first for cardiac surgery, non-surgical services and coronary interventional procedures. It was one of only six hospitals in the nation to top all four cardiac categories.
HealthGrades considers NGMC a five-star rated heart center, which means the mortality or complication rates for surgery, interventional procedures, treatment or heart attacks and heart failure are well below the national average.
"These rankings are based on hard data, and that's meaningful. This is something we do take pride in," says Dr. Mitch Davis, a cardiologist who works with NGMC.
"It's all about outcomes," Edwards says. "Patients and their families. That's where the rubber meets the road. How well did we do for this guy? Did we do all we could? We have to constantly be challenging ourselves."
Edwards says the volume of NGMC's heart center is growing, but not at the same rate it had been, and he believes it is evidence that drugs to treat high cholesterol (a definite risk factor for heart disease), which have been prescribed widely, are working.
"We've also come a long way in the cath lab, helping a good number of patients who years ago would have wound up in open heart surgery," Edwards says.
For patients recovering from the broad range of procedures, NGMC offers a busy rehab program focused on exercise and diet.
"A guy lying in the recovery room after an angioplasty is pretty malleable; they've seen the light," Edwards says. "They're ready to raise their hand and take the oath. But then, they could smoke three cigarettes on the way home. We can't watch them 24/7."
Davis, medical director for NGMC's cardiac rehab program, is thinking beyond the trip home, stressing the long haul.
"Lifestyle is the key to primary prevention, or secondary prevention – after something has already happened," he says. "We'd like to help patients avoid the knife. Even though the mortality rate has gotten so low, an operation is still a lot to go through. It takes six weeks to get over something like that, so the goal is to avoid heart surgery."
Some interventional, less invasive procedures, like angioplasty, have come a long way in preventing more invasive procedures like bypass surgery. Often, while doing the angioplasty, the surgeon also will insert a stent to support artery walls and keep the blood vessel wide open.
"What's encouraging is, when I was in training there was a 30 percent closure rate of the blood vessel within six months, with the stents that were in use 10 or 15 years ago," Davis says. "Now, especially with the use of drug-eluting stents, the rate of closure is less than two percent. The landscape has changed."
Safety Nets
NGMC and Phoebe Putney are in opposite corners of the state, one standing at the gateway of the Northeast Georgia mountains, the other in the heart of economically challenged South-west Georgia. They are surrounded by or right next to rural countryside, and are emblematic of a healthcare web that surrounds the state's medical hub, Atlanta.
Atlanta has its bulging healthcare cluster, with renowned heart centers, hospitals like St. Joseph's and Piedmont. The city is crowded with cardiac care and research. It is home to the Centers for Disease Control and Prevention, and to Emory and Georgia Tech, partners in a range of cutting-edge research centered on cardiac care.
For instance, Emory cardiologists and Georgia Tech biomedical engineers are working on advanced nanotechnologies focused on analyzing cardiovascular disease, developing methods to detect plaque buildup in blood vessels at its early stages.
And last summer Georgia Tech announced creation of the Center for Innovative Cardiovascular Technologies. Georgia Tech Regents' Professor Ajit Yoganathan, who is directing the center, says projects done in partnership with Emory, St. Joseph's Research Institute and Children's Healthcare of Atlanta are focused heavily on "minimally invasive cardiac therapies."
"The concept is to engage Georgia Tech faculty to take their discoveries to another level in the area of cardiology. We're looking for technologies that could be translated from concept to prototyping, from the bench to the bedside. This center isn't about promoting basic research. It's geared with economic development in mind."
For NGMC, economic development is dependent on broken hearts.
"Our revenue stream in cardiology is based on treating those who are broken, or people who have not taken care of themselves, and we do that really well," Edwards says. "Unfortunately, it means we are in the fix and repair business. I say 'unfortunately' because we should be in the 'prevent' business. The healthcare system seems a little backwards. We don't get into the 'prevent' business until after the fact."
"Fix and repair" not only pays the bills. It feeds itself.
"Cardiac surgery is volume related," says Phoebe Putney surgeon Dr. Holley. "The number of cases and the number of procedures has a relationship to how proficient you are, and to good outcomes. Do you want to fly with a pilot who does one landing a year?"
The goal for most of us is to steer clear of Holley, who is admittedly a repairman. But he is a fervent minister of the prevention gospel, especially given his own experience. Holley says there are nine risk factors for cardiovascular disease.
"Two of them you can't do anything about – genetics and age," he says. "The others are modifiable."
He lists them in order: Smoking, lack of exercise, poor eating habits, obesity, high blood pressure (hypertension), high cholesterol, diabetes. The numbers for Georgians are not great. Almost 30 percent are considered obese. One in five (over 35) smokes, 30 percent have high blood pressure, about 75 percent don't eat the recommended five daily servings of fruits and vegetables, one in four don't exercise, and nearly 40 percent have high cholesterol.
Holley was part of this last group. His total cholesterol level was at 350 – the target is 200. His LDL (bad cholesterol) was through the roof and his HDL (good cholesterol) was miniscule. He exercised regularly, changed his diet, all to no dramatic effect. He started taking a statin (cholesterol medicine) and now the 6-1, 220-pound surgeon is cruising at 150.
"I'm of the opinion that as our bodies age, our cholesterol is like a thermostat," he says. "And the only way to change the thermostat is to take the right medication. At least, it made all the difference for me."
Holley, who works in one of the most economically deprived regions of the country, says poverty could well be considered another risk factor. Emory professor Dr. Allen Dollar, who is chief of cardiology at Grady Memorial Hospital in Atlanta, might be inclined to agree.
"Poverty often tends to be tied with smoking, alcohol use, obesity. There's a lot of interesting work out there focused on poverty in general as an inciter of hypertension," Dollar says.
Grady, like NGMC and Phoebe Putney, is a safety-net healthcare system – albeit, one of the largest in the country. That is, it provides a wide range of services to the uninsured and other lower-income people, in communities where these services would typically be absent.
Dollar, who lists preventive medicine among his specialties, says it is not uncommon for him to see patients with blood pressure of 250/150, what he calls, "industrial strength hypertension. It's devastating."
African Americans are particularly at risk for hypertension, a condition that Dollar has studied closely. As a preventive medicine specialist, he says we should probably rearrange our thinking about what is or isn't high blood pressure. And it's all tied into how fat we've become as a species, especially in the western world.
"For the longest time, the established definition of hypertension was 140/90," he says. The top, maximum pressure number is systolic. The bottom, minimum pressure number is diastolic.
"In places where people stay skinny throughout life, in those societies, 90 to 100 systolic is normal. What did God design the human body to have, in terms of systolic? I'd say mid 90s to 105 is probably closer to what true normal is.
"The risk of stroke, heart attack and kidney damage starts to rise somewhere around 120, so 120 to 139 is considered the pre-hypertension range. It's a label that people can be concerned about a little, and maybe it will cause them to lose some weight and control the sodium in their diet and stop smoking."
For Dollar, the most critical preventive measure aside from smoking cessation is losing weight. Diet, more than exercise, matters.
"The benefit of exercise, truly, from a heart standpoint, is overrated, and it has little to do with weight loss," says Dollar, who goes to the gym four days a week. "If I had a choice of getting someone to lose weight by dieting, or to exercise and not lose weight, I'd much rather they go on a diet and lose the weight.
"I think we almost do a disservice. I hear executives that complain, 'I can't lose weight, I've got no time to exercise.' I tell them, 'I'll save you time. Stop eating.'"
Last Chance
Prevention was no longer an option for Paul Smith, who has never had a problem with getting physical.
"I'm not a couch potato, never have been," says Smith, who nonetheless had a badly damaged heart and one last chance, up in Atlanta at Emory University, where Dr. Peter Block was directing a Phase 2 clinical trial to test percutaneous aortic valve replacement, an alternative to open-heart surgery.
The procedure is not unlike angioplasty. A catheter – inserted through a cut above the groin or, in some cases, the rib area – is threaded toward the heart, through the aorta, carrying a new aortic valve made of animal tissue, sewn to the inside of a stent. Once in position, the new valve is expanded, pushing aside the damaged and useless native valve, allowing blood to flow normally again.
Emory, the only hospital in the Southeast taking part in the trial, has tried the procedure on 140 patients as part of a national trial involving 800 people.
"I'm very hopeful about this whole issue of transcatheter valve therapy," Block says. "The hope is that we'll be able to do more extensive, non-surgical repairs to treat valve disease, rather than opening the chest.
"And with the graying of America, the aging baby boomer population, we're likely to see more aortic stenosis and heart disease. The technology is just in time."
Smith, who'd had his chest cracked open 12 years earlier, was advised against risking another open-heart surgery. After Thanksgiving, he made the trip to Atlanta for his new aortic valve. It didn't take long for him to feel "a hundred percent better."
He celebrated New Year's Day with his hunting dogs in the woods and fields near his home.
"And I liked to overdone it, I was having such a good time," Smith says. "But I thank God for them at Emory and what they done, this procedure. It is unreal. Just unreal."