Heavy Metal
North Georgia is the epicenter of a thriving detention industry, anchored by nationally known companies that are leaders in criminal justice innovation.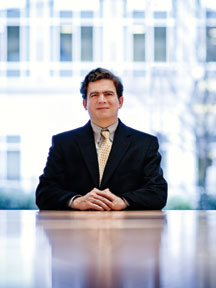 Forget the iron bars.
That bleak, defining image of jail – and the files, hacksaws and clanging metal cups that go with it – no longer holds in sleek, modern cell design.
"We had one client request the bars awhile back, maybe for old time's sake, which was strange because jails just aren't made that way anymore and haven't been for a while," says Erford Harrison, a technical consultant for SteelCell of North America, a Baldwin-based manufacturer of modular, metal enclosures. "They obviously have too many security risks because prisoners can reach through them."
SteelCell, founded in 2001, is a spin-off of an older Georgia company, Habersham Metal Products, which popularized "hollow metal" doors, frames, windows and wall panels in the late 1970s as a cost-effective and escape-resistant alternative to those iconic pens known in engineering lingo as "bar grille."
"Habersham Metal effectively led the industry in getting rid of the bars," says Lawrence Goldberg, a Missouri-based architect who specializes in detention and uses primarily Georgia vendors. "In fact, several companies clustered in northern Georgia are in the vanguard of criminal justice architecture and innovation. Together, they've changed the face of the entire industry for the better."
Since the dark days of chain gangs, Southern corrections specialists increasingly have been thinking "inside" the box, relying on basic building materials and hard-won ingenuity, and in the process, earning a global reputation for progressive business practices as well as lock-ups that are as innovative as they are sturdy.
"There was always this concentration of expertise in Georgia, and in recent years, the steel industry has returned to the South, which is where it started," says Tom Rapone, a retired U.S. Marshal, former secretary of public safety for Massachusetts, and currently a partner in Detention Man-agement LLC, a Cleveland-based group that is steering the state toward prison privatization. Georgia now claims three privately operated prisons, with more in the planning stages.
The detention-oriented businesses that form this Hobbesian Research Triangle in north Georgia include:
• SteelCell. It supplied Guantanamo Bay Detention Camp with more than 200 cells – a dramatic upgrade from the exposed, wire-mesh cages that formerly housed detainees in the notorious, rat-infested Camp X-Ray – along with a secret number of units shipped to the government's "undisclosed locations" for terrorism suspects. The company is negotiating contracts with Libya, and its executives also have advised administrators in Singapore, Malaysia, Thailand and other countries whose penal institutions would benefit from an extreme makeover.
"Anytime a country wants most-favored trade status, the first indicator of its human rights record is its jails," says Mike Smith, CEO of SteelCell, "so some of them come to us for help in becoming better world citizens."
Closer to home, the company also supplies county jails across the United States, including several in Georgia; detainees in Stephens, Rabun, Jackson and Coffee counties, among others, have experienced SteelCell hospitality.
• Habersham Metal Products. This company is the "granddaddy that opened the door for everybody," says Harrison – by keeping other passageways tightly sealed. In addition to rendering iron bars a relic of the past, Habersham Metal furnished the doors for the Los Angeles County jail system, one of the world's largest holding facilities, and it currently is outfitting Canada's biggest correctional institute, in Alberta. Founded in 1954, it began with a handful of employees crafting basic steel goods before shifting into "Life Safety" wares.
"Inmates took over a prison in Alabama and tried to break into the infirmary to get to the drugs," recalls James Stapleton, president and son of one of the company's founders. "They beat our door with all kinds of implements but couldn't get through, so they eventually smashed a hole through the wall. We've never had a call-back that our doors failed."
Habersham Metal recently expanded its line into Homeland Security products, including blast-resistant and "forced entry"-resistant materials. "Since 9/11, we've been thinking about how to keep the bad guys out as well as how to keep them in," says Stapleton, who studied mechanical engineering at Georgia Tech.
• Detention Management LLC. It owns and operates the Irwin County Detention Center, a 1,225-bed operation in Ocilla. Part of the campus functions as the county jail, with the other space housing inmates referred by U.S. marshals and Immigration and Customs Enforcement. The company – the first from the private sector to own a jail in Georgia – was founded by Charles D. "Bud" Black, a White County native who was a longtime manager and pacesetter for the Georgia Department of Corrections.
"Private jails end up being the biggest taxpayer in the county," he says. "Jails are moving toward a lease-to-purchase model, in much the same way a county will lease an expensive fire truck, with private financing options that don't require tax increases."
In 1993, after retiring from the state, Black launched Detention Management Services (DMS), a probation supervision and case-management enterprise viewed as the state's first meaningful step toward privatization, as well as a revolutionary player in the field of "alternatives to incarceration." DMS applied electronic and GPS monitoring, work-release programs and "common-sense efficiency" (example: probationers tend to succeed when they pay fines in small, weekly increments rather than in monthly lump sums) in ways that tripled collection rates and facilitated greater restitution to victims.
"The state had the vision to turn to the private sector to help alleviate overcrowding," Black says. "What we did enabled nonviolent offenders to pay their own way while being held accountable, and it freed up corrections to focus on the hard felonies like child molesters, saving the taxpayers millions of dollars."
DMS eventually was purchased by Sentinel Monitoring of Augusta.
Black also is a founding partner, with criminologist John Southern, of Southern Associates, a go-to clearinghouse of experts who offer needs-assessment services such as staffing projections and training and transition assistance.
• Piedmont Metal Processing. In the wake of Brian Nichols' shocking homicidal crime spree that started with his escape from the Atlanta courthouse, the Fulton County Commission contracted with Demorest-based Piedmont Metal Processing to reinforce the holding-cell doors at the Justice Center Tower. Piedmont, a 1996 spin-off of Habersham Metal, specializes in on-the-spot renovations and remodeling that enhance operational security.
• Carter Goble Lee. Joe E. Lee, of Alpharetta, is hailed as the "father of privatized jail maintenance," having originated the first outsourced janitorial program of its kind specifically for criminal justice facilities, which is implemented in more than four million square feet of detention space. His company, Lee Engineering and Manage-ment Group, merged with Carter Goble Associates in 2002 to form Carter Goble Lee.
• Proteus On-Demand Fac-ilities. This Villa Rica-based company can throw up a secure, improvisational holding pen in a matter of days. "For example, at Talladega during the races, they get a lot of knuckleheads acting up," Black says flatly. "So they call Proteus to expand the county jail temporarily."
• Rosser International. The venerable, 63-year-old Atlanta firm, with offices across the South and one in Cairo, Egypt, is considered one of the top three firms in the United States for criminal justice architecture and design. "You end up acquiring a lot of stories about human nature in this particular aspect of the business," architecture director Doug Shaw says.
Changing Industry
SteelCell's Harrison, a 76-year-old native of Pea Ridge, has worked in the jail business for most of his life and marvels at the industry's changes with folksy bluntness. "In the '40s, there were just a few companies in the country that built jails, and they would come in and build the whole damn thing from the ground up, taking years, using one guy to straighten the bars," he says.
Those bars, he adds, created too many opportunities for noise, note swapping and assaults, particularly "cocktails," the practice of splashing guards with human waste.
Also, the jails generally were constructed from mason blocks, the absorbency of which proved revoltingly unhygienic. "If you've ever been to a jail in the past, what's the very first thing you notice when you walk in the door?" Harrison asks. "The smell. Concrete absorbs every body fluid plus every creepy, crawly germ there is – HIV, Hep C, staph, SARS, oozing sores on meth and heroin users – you name it. It's a breeding ground. It's unhealthy for guards and visitors as well as inmates, and you cannot get rid of that odor once it's there."
Adds Shaw from Rosser, "Prisons used to be made from concrete because the material was cheap and the labor was available, but there's been a change in the labor force; not as many people lay block, or do it well. Steel is lighter, portable, more cost-efficient and less labor-intensive."
And it smells better.
Nowadays, prison steel is coated with a polyurea polymer, similar to the lining of truck beds, that is easy to sanitize and hard to carve with graffiti. Following some grim principles of "feng shui," designers are using LEED-certified, recycled materials to develop enclosures, furniture and other features resistant to bacteria, noise and defacement, with seamlessly smooth edges without any hollows, lips, hooks or detachable items that could be used to hide contraband, commit suicide or craft weapons.
"We're talking about housing a human being for, say, 15 years, so metal that rusts is not acceptable for living conditions," says Goldberg, who is designing a jail for White County. "At the same time, these products must stand up to abuse in the most hostile environment in the world. A prisoner can screw up an anvil."
So the nesting instincts of incarceration require a certain balance of needs and priorities.
"Politics aside, Gitmo is nicer than most of the prisons in this country," says Ray Handte, SteelCell's vice president. "All of our cells are certified according to strict humane, energy-efficient guidelines, but at the same time, any prison is supposed to serve as a deterrent, a place you don't want to be. So inmates get three square feet of natural light, but not a huge picture window."
Evolving Standards
While the detention industry comes under scrutiny by many professional and activist groups, Harrison says, "There is no national set of standards for exactly how a jail should be. It all gets determined by lawsuits and court rulings – prisoners are very litigious."
And tragic trial and error play a role, frequently in county jails, which lack a diagnostic classification system. "You don't know if you're dealing with Otis Campbell or Jeffrey Dahmer," Harrison says, "and sometimes both types get thrown together on a Saturday night."
In one example from a northern state, a violent offender ripped the handicap-accessible rail from the wall of the toilet area and bludgeoned to death his cellmate, who was there for a DUI. "That taught us not to make any detachable features," Harrison says. "The industry evolves with every incident like that."
Perhaps the most talked-about new amenity is the SteelCell unit's individual shower; "dropping the soap" no longer implies the same menace.
"It's not a way to make life cushier for the inmate; it's about crowd control," Handte says. "The more people you get crammed together in a group shower, the more trouble you get, and the more guards you need. Plus, having the shower in the room fosters a sense of responsibility. Inmates tend to keep themselves and the room much cleaner."
So far, north Georgia detention businesses are proving as fiscally durable as their products. SteelCell just opened a new 115,000-square-foot plant to keep up with demand. Inc. magazine ranked it in the top 100 manufacturing businesses in 2008, and last year, the company was listed at 698 on the "Inc. 5000," the magazine's annual ranking of the fastest-growing private companies in the United States. Detention Management LLC is planning for at least another 750 beds, and Habersham Metal reports similar prosperity.
"All businesses have cycles, but in the past couple of years, we still haven't experienced a corresponding downturn," Sta-pleton says.
Goldberg, who serves as a forensic expert on these matters for the Technical Advisory Service for Attorneys, attributes the success of north Georgia manufacturers to their rigorous quality control. "They all have a legacy of testing leadership – impact, abrasion, lighting – it's their hallmark," he says. "One of their two competitors in another part of the country had claimed to have tested doors a million times in back of the factory. Well, the first time they were used in a prison environment, 900 locks failed. So you learn to be critical and discerning. That would never happen with these guys down here."
Georgia did, after all, start as a penal colony.
Of course, more somber forces also keep the criminal justice system busy. "Hard crime rises during hard times," Stapleton says. "And mandatory sentencing and the 'three strikes' rule keep the prison population growing."
In fact, from 1987 to 2007, the number of inmates tripled, and now one in every 100 adults is incarcerated, according to the U.S. Department of Justice. A jaw-dropping statistic that prison manufacturers often recite as a mantra of job security is that the United States claims two percent of the world's population and 20 percent of its inmates, far outpacing China and Russia.
"I keep hoping I'll work myself out of a job one day," muses Tony Turpin, a partner in Detention Management LLC. "But it doesn't seem likely."