Emphasis On The Practical
Armstrong Atlantic State University's new president is committed to making the school a part of the community and a driver of its economic development.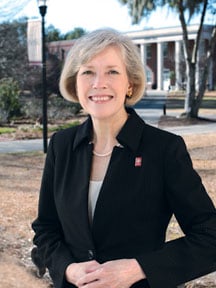 In two decades as a Savannah resident, Linda Bleicken never saw Armstrong Atlantic State University (AASU) in her future. As a professor and provost at the much larger Georgia Southern University in Statesboro, she was happy where she was and not interested in making a move even when a retirement made the AASU president's job available.
"Then the more I looked, the more I thought there's a lot about Armstrong today that's reminiscent of where Georgia Southern was when I first arrived in 1990," recalls Bleicken, who was appointed AASU president last July. "There's more of the small school focus on students and professors who are scholars, but teachers first."
That explains much of AASU's appeal. Students are attracted to its campus, on Savannah's south side, not only by full professors teaching small classes, but by the opportunity to do things that might be out of reach at a larger institution like the University of Georgia. They have more opportunities earlier in their college careers to work closely with administrators on projects like planning new buildings and in helping conduct economic research that influences public policy.
Bleicken likes that emphasis on the practical. There are no ivy walls insulating town from gown. In fact, the university is very much a part of the community and determined to be a driver of its economic development.
"I can't think of a table they're not sitting at and joining the community in problem solving or advancing plans and ideas forward," declares Brynn Grant, executive director of the Savannah Creative Coast Alliance, who recruited two AASU faculty to serve on her board.
AASU, which has about 7,000 students, has undergone a number of transitions. Founded as a junior college by the City of Savannah in 1935, the school opened in a mansion in the historic district – a gift from the family of the late George Ferguson Armstrong. The family had moved to North Carolina, when Mayor Thomas Gamble asked Mrs. Armstrong to donate the home to house the new Armstrong College of Savannah.
"It really was his energy that persuaded the city aldermen to proceed with it," explains Janet Stone, a retired AASU professor and author of a history of the university, speaking of Gamble. "There was much discussion about establishing the college, but the depression came along and there wasn't any money. The depression was still in effect in 1935, but he made it happen anyway."
While Gamble was short of stature, he had big ideas. The fact that the city had no authority to run a college didn't stop him from using taxes to support the new school, according to Stone.
"He saw the college would benefit the community," she says. "Educated men and women would contribute to the city, and businesses could get special training for their employees."
Early students have fond memories of the old mansion and a certain awe of the marble lobby and staircase – the first real luxury many had seen. Eventually, Savannah turned the college over to the University System of Georgia.
Pioneering Student
Armstrong also successfully integrated its student body without violence. The first African-American student to set foot on the downtown campus was the current mayor of Savannah, Dr. Otis Johnson.
In the early 1960s, predominately black Savannah State University was the scene of almost daily civil rights protests. In reaction, the school's president expelled student leaders. That provoked a strike by students, and to up the ante, some, including Johnson, picked up applications to transfer to Armstrong.
"Armstrong had never had any Af-rican-American students before, and we felt that it would ramp up the pressure on Savannah State," he recalls. "When the deal went down and we were supposed to turn in our applications, I was the only one who followed through."
That decision changed everything for the aspiring music major and band director. He became a trailblazer in integrating the college and a passionate campaigner for civil rights. Although Johnson never experienced the violence that marred other Southern schools, he spent much of his time as "the invisible man." As time passed a number of professors were helpful and some went out of their way to make him feel welcome, he says.
His experience with civil rights and integration also changed his career goals. Music didn't seem so appealing any more, and he switched to community organizing.
"It changed the course of my life," says Johnson. "I would have been a band director, which would have never led me to become mayor of Savannah."
Today, AASU is a good deal more diverse. African Americans now make up 23 percent of the population, and Hispanic students are another 4 percent.
By the 1960s, it was clear that Armstrong, along with other state schools, was going to be upgraded to four-year status to meet an anticipated influx of baby boomers. That meant growth, and it also made the historic district campus untenable.
"And this is the same time the historic preservation movement is gaining strength and getting well established downtown," says Stone.
College leaders looked southward and with the aid of prominent banker Mills B. Lane purchased an undeveloped track of land. In 1965 the college relocated to the south end of Abercorn Street, which was then a stretch of pine trees. The road itself came to an end at what is now the traffic light in front of campus.
Leaving behind the old mansion was tough for many students, but it opened new opportunities for a bigger, more modern campus, more students and expanded programs.
It also set the stage for university status. At that time there was considerable talk about a new name as well. The Armstrong family had no connections with the newly relocated institution and some thought a change would better reflect its regional focus.
The proposal ran into considerable opposition from older alumni. As a compromise, the university retained the Armstrong name while adding Atlantic to reflect its expanded focus.
Community Engagement
These days the leader of that new emphasis is Bleicken, AASU's first woman president. During her years in Savannah she has become a fixture, serving on many boards and learning the inner workings of the community. Those experiences created a determination to make AASU a participant at every level of the community – including business.
"She picked up a job begun by her predecessor Tom Jones in really engaging the business community and business leaders," observes John Helmken, president and CEO of Savannah Bank.
In her office on campus, Bleicken likes to list the numerous community programs in which AASU is involved in one way or another. Several are aimed at improving education in the Chatham County School System, while others are designed to help foster economic development.
"We have strong partnerships with the healthcare community," she explains. "A fact that isn't as well known is we have one of the largest health professional training programs in the state."
Check out area hospitals, nursing homes and physicians' practices: The nurses, radiology technicians and physical therapists caring for patients are overwhelmingly AASU grads. In fact, the university has made the needs of healthcare institutions one of its primary goals.
One of its latest initiatives is the upgrading of its popular physical therapy program. Students must now complete a doctoral program instead of the shorter master's degree program – which means more training and better-prepared PTs.
"We're keeping abreast of the changes in health professional education," says Anne Thompson, head of the department. "The profession has evolved such that as entry-level practitioners they need to have a wider range of skills than we did back in the '70s."
AASU has also forged links between education and the environment through its work with the Ossabaw Island Foundation, a private organization that manages the 26,000-acre barrier island off the coast of Savannah.
With funding from Georgia Power, the Foundation installed a power grid and wireless communications system around the largely uninhabited and well-preserved island, according to Paul Pressly, director of the Ossabaw Island Education Alliance.
"We created an educational partnership and began this process of putting up a network of sensors and monitors and eventually web cameras," he explains. These devices monitor ground water quality, weather patterns and the changing terrain of the island, he adds.
AASU's computer science department took the lead in this project with a program called Ossabest. The three-year effort, funded by a $1.2 million grant from the National Science Foundation, allows Chatham County students, along with teachers, to visit the island for an intensive summer institute and additional on-campus workshops. Students live on the island for three days, conduct readings of ground water and weather, and then create a web-based field guide to the island.
"It's both seeing and breathing the island," Pressly says. It offers students the opportunity to gain technology skills and to experience something quite different. "Half of the children have never been in an environment like this."
Giving students new experiences that translate into renewed interest in education is also central to "Let the Games Begin." Funded by a grant from AT&T, this two-year outreach program is designed to spark interest in technology among at-risk Chatham County High School students. Aimed at ninth graders, the program offers a four-day camp at which students acquire computer skills through using and developing gaming programs.
"Our foundation decided we were going to make an impact on the high school dropout rate and more especially we would use the majority of our foundation money to target ninth grade retention," says Camille Russo, regional manager for AT&T Georgia and AASU Foundation trustee.
Student Research
For a relatively small institution, AASU has also placed great emphasis on research – and much of it gives students a chance for hands-on work. The College of Science and Technology has 65 tenured faculty members and "the vast majority of them do research with undergraduates," says its dean, George Shields.
Last summer, 55 students were working on projects of various sorts and many were even getting paid for their work – most about $300 a week, he explains.
The quality of research is reflected in the number of National Science Foun-dation grants that faculty members have applied for and won. Since 2008 the College has received more than $2.1 million to fund faculty research.
Last summer the NSF awarded two "research at undergraduate institutions" (RUI) grants of more than $450,000 to the college. This was followed by a five-year $1 million grant specifically supporting research by 20 incoming freshmen over the next five years.
"Students take classes and they learn things from books, but they don't really understand how science is done until they do it," he explains. "You can read about it all you want, but when you're faced with investigating the unknown – that's where the scientific method becomes real."
Student participation isn't just limited to engineering and the hard sciences. Kathryn Smith, a senior economics major from Dallas, Texas, has worked closely with AASU's Center for Regional Analysis gathering data and helping prepare its Economic Monitor.
Smith learned how to gather data when she worked on a project for the Housing Authority of Savannah on resident satisfaction following renovation of housing units.
"We helped assess the success of that project from the viewpoint of the residents and helped determine why former residents may not have returned," she explains.
This project led to a paper on the effects of long-term public housing residency on self-sufficiency. When completed, the document will be submitted to a professional journal for publication.
Smith is also working with the Center's Director Michael Toma in developing well-being indicators for Savannah and Chatham County.
"It's really meant to be a tool for policy analysis for community or political leaders," Toma says. "To help them allocate resources to address needs or problems as perceived by the community – poverty reduction, for example."
Developing leadership qualities that will translate into public service is another aspect of AASU's commitment to the community. That's the idea behind the University's Nick Mamalakis Emerging Leaders Program, which takes a select group of new students through a series of seminars and meetings with outstanding community leaders.
"Professors identify incoming freshman that they think exhibit outstanding leadership potential and put them into a program for their freshman year," says Cliff McCurry, vice chairman of Seacrest Partners and a University trustee. "Then when they've completed their college careers, they will become leaders in their area."
One alumnus who says the program was a decisive factor in his own success is Savannah resident Somi Benson-Jaja. "It changed my outlook on college, as well as what I could do here at Armstrong," he explains.
As an orientation leader and Student Government Association president, he was called on to do a great deal of public speaking. He credits the confidence instilled in him by the program with enabling him to overcome a stuttering problem. After receiving his degree last December, he won a Congressional internship in Washington, DC.
In years past, AASU was considered primarily a commuter school, but with the construction of dorms, the campus is attracting students from other states and even other nations. These days the championship tennis team is made up entirely of international students.
Building during a time of tightening budgets has been made possible by a series of public-private partnerships initiated by the university's Educational Properties Foun-dation. By selling bonds through the Savannah Economic Development Authority, the foundation has been able to build and then lease facilities back to the University.
"We've made projects available to the University that would not have been possible just through general funding," says Don Waters, president and CEO of Brasseler USA and chair of the Foundation.
Along with dorms, the foundation has also financed the purchase of an old Publix shopping center that is now AASU's meeting and continuing education building. A new student union building is going up on the main campus as well.
Those facilities and the many programs they house are positioning AASU as a major force not just in Savannah, but across the state and region.