Barrow County: Fortunate Location
Adding retail to the mix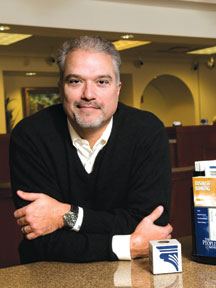 A few years ago the folks in Barrow County were seeing nothing but growth coming at them, as the next stop on Metro Atlanta's fast-moving expansion. Homebuilders were working overtime and companies were following their employees in search of better deals and lower taxes beyond Gwinnett County.
At that point, the concern was how to manage all that new building without becoming just another bedroom community noted more for sprawl than quaint hometowns. Now, in the midst of a battering recession that has affected just about everybody and everything, those concerns aren't so pronounced. Yet local leaders say all the factors that made the community so attractive in the past are still there.
Or, to borrow from the realtors: "It's location, location, location," says Chris Maddox, president and CEO of The Peoples Bank and former chair of the Barrow County Economic Development Council.
In the path of two major highway corridors – Interstate 85 crosses its northwest border while State 316 cuts through the south – the county is easily accessible to the rest of Metro Atlanta.
The first to discover Barrow were working-class families from Gwinnett County who migrated here in search of more home for less money. A trickle soon became a flood. Between 2000 and 2005, the county experienced a 30 percent population spurt, becoming the fifth fastest growing county in Georgia and the 20th fastest growing in the nation.
Now standing at more than 70,000, the population is expected to hit 125,000 by 2020 and more than 175,000 by 2030.
Those numbers have made home building one of the dominant employers in the county and, as a result, the collapse of the market dealt a severe blow to the local economy. Two local banks have gone under in the wave of foreclosures, and observers don't think they've hit bottom yet as banks continue to hold on to bad assets.
At the same time, new home sales are starting to pick up again and more "for sale" signs are coming down. The fundamentals of strong population growth and an attractive location that made Barrow so appealing in the beginning are still intact and should bring the county out of the recession in better shape than many of its neighbors.
"As companies and people continue to want to move out of the congestion of the Metro Atlanta area, we are seeing them move into our area," says Linda Moore, vice president of the Barrow County Economic Develop-ment Council.
Most of those people have traditionally traveled out of the county every day to find work, but in recent years more have been able to stay in Barrow. The county's industrial parks are starting to fill up with companies that have come here for the same reason as everyone else – a better deal at a lower price. All those rooftops have also been noticed by developers as well.
Retail Growth
One of the biggest developments retail-wise has been Faison Enterpris-es' Barrow Crossing shopping center at the intersection of Highways 81 and 316. The county's largest retail development to date, the center has attracted the likes of Target, Belk, PetSmart, and a variety of other stores.
"It is kind of silly to say that one development has changed our market, but I think it has established that part of Barrow County as where the new retail is going to be," says Maddox. "It should be followed by hotels and restaurants and then some office space out there."
The new shopping center just may be the shot in the arm that the economy needs. Located in the middle of the county, it is beginning to foster a different kind of growth.
Historically folks have thought of warehouses and manufacturing," says Maddox. "We still need that as we need jobs; all areas need jobs. I think to some degree economic development in this part of Barrow County is going to be retail/commercial, too."
Developments such as Barrow Cros-sing are also keeping a greater number of shoppers close to home.
"We're being realistic," says Moore. "I can't imagine our people doing all of their shopping in the county, but certainly we want to capture as much as we possibly can and continue to grow that sector."
Population growth has served as an attraction for not just retail, but less obviously for industry as well. Getting manufacturing and warehouse jobs here is something of a reversal of a long-time trend.
Once textile mills and apparel manufacturing were the dominant industries and the main employers for local residents. The city of Winder was even known as the "Work Clothing Capital of the World." As is true throughout Georgia and the rest of the South, those companies are long gone from Barrow; local plants were shuttered and businesses moved offshore.
"Now the county is more diversified," says Tommy Jennings, president of the Barrow County Chamber of Commerce. "We have brought in any number of industries from Harrison Poultry, which has grown to be one of the largest private companies in the state, to the small, innovative companies that are coming out with new products and devices."
Jennings is intimately familiar with the old-time textile industry and its problems. Before joining the chamber three years ago, he was president of Barrow Manufacturing Co., a clothing company started by his grandfather in 1931. It once employed more than 600 people in four plants and managed to survive up until 2006 when it finally succumbed to economic pressures.
As an old industry hand, Jennings is now delighted to point out that the apparel business is making something of a comeback in the form of RTI Brands. This graphic design T-shirt business is the creation of two 20-something entrepreneurs who started the company with a $145,000 SBA loan. It now earns more than $2.8 million in revenues and is recognized as one of the fastest growing companies in the apparel design and printing industry.
The county has also won several large warehousing operations including clothing store chain Chico's. After another local company went out of business, leaving a void in the industrial park, Chico's decided to expand and purchased the vacated building to increase its own local operations.
Price Industries, a producer of high-end HVAC systems for hospitals and cleanroom environments, recently relocated a manufacturing operation to its Barrow facility. In addition, Olympic Steel added an administrative office to position its Winder location as a South-eastern sales headquarters.
Just off I-85, the city of Braselton has experienced a wide variety of development, ranging from new retail to a Leadership in Energy and Environmen-tal Design (LEED) certified industrial building.
What is the attraction for employers to move to the county?
"We've done several industrial parks and one of the questions we always ask is, 'Why did you move to Barrow County?'" says Jerry Maynard, owner of Maynard & Bartlett Realty Group LLP. "We could never really identify any trend or source of advertising. The common answer we got from people buying buildings – we developed 10,000-square-foot office warehouse buildings – was 'My people already live here. So we decided to move the business closer to where they were.'"
The Tax Base
New retail and more industry have also begun to tip the county's tax base in a more positive direction. All that residential growth doesn't generate the kinds of revenues needed to build schools, roads and other infrastructure needed by a large population. Business, on the other hand, tends to pay more in taxes, while not consuming services.
"It is still pretty heavily leaning towards residential; but, yes, there has been some expansion of existing industries and a couple of industries have moved in," says Maddox. "It is getting better, but is nowhere near balanced if you mean by that 50 percent residential and 50 percent industrial/commercial. We are nowhere close to that."
Another asset is the county's emphasis on education. The local school system is part of the Internet2 Network, a next-generation Internet Protocol and optical network that delivers production web services to meet the high-performance demands of research and education.
With a local branch of Lanier Technical College in Winder, the county has also been able to offer employers access to training for their employees while providing more education to local citizens. More than 850 students are currently enrolled in either credit or adult education classes at the cramped facility, according to executive director Lisa Maloof.
"We're out of room in our facility," she explains. The 25,000-square-foot building is shared with Gainesville State College, resulting in near round-the-clock classes, she adds.
To meet the expanding needs of Barrow residents and businesses, La-nier officials are seeking a new campus on the county's fast-growing 316 corridor.
"We're attempting to partner with the Barrow County School System for our new location," says Dr. Mike Moye, who was president of Lanier Tech until last month, when he left to helm Central Georgia Tech. "They are very interested in a Career Academy, and we would like to be located adjacent to that to further enable students to experience a seamless kind of transition from high school into the secondary education area."
The recession has also impacted Barrow's cities, which have been tightening their belts and cutting back on spending. In the county seat of Winder, employees have been laid off or furloughed and capital spending projects have been delayed, according to Mayor George "Chip" Thompson III.
The city finished the last fiscal year more than $800,000 in the red, but in the months since officials have been able to stem the flow and are breaking even, he adds.
The slowdown has also enabled the city to make decisions about how to deal with growth when the economy starts moving again. The city already provides about two-thirds of county residents with water and gas services.
"While the growth is slow we want to set priorities on what needs to be done," says Thompson.
The city recently completed a new $17-million water treatment plant capable of handling four million gallons of septic. About a million gallons of the capacity have been allocated for use by the county, which will be joining with Winder in a venture to build additional lines to the plant throughout Barrow.
"They have an industrial park they want to develop, and they've got to have sewer in order to be able to make it affordable for people to use," says Thompson. "They've got some sewer lines, but we own the actual plant. So it's a joint effort because it's too much of a expense for us to be doing our side and [for them to be] doing their side."
By selling capacity to the county, the city is able to pay off the new plant faster, according to the mayor.
"It will open up a lot of industrial area growth, which is not in the city limits, but if there are more jobs for people in their county, and then that in turn helps both the county and city," he explains.
Auburn, Barrow's second largest city, is not only holding its own, but has launched an effort to revitalize its downtown area. After considerable planning, involving an outside consulting firm and citizen input into a comprehensive plan, the city is getting the project under way.
"We are ready to start getting down to the details of coming up with parcels to put together for our downtown and determining the actual look and feel of what buildings will work," says Mayor Linda Blechinger.
Robert & Co., the consultant, is doing an assessment of sustainable development in the area. In the meantime, the city has fostered the creation of a Downtown Development Authority (DDA) and Auburn Business Association to help promote new business investments.
"There will be a very specific look and feel to this area in order to bring in new businesses to the area and to have it accessible to everyone," she explains. "Red roofs throughout all the downtown overlay district and lots of iron, yet there will still be freedom for people to express their individuality. We like the idea of having streets that make everything very walkable and connected so that people can ride bikes or walk."
The city has also joined with other cities and surrounding counties on The Great Rail Trail. Still in the conceptual phase, the trail will accommodate cyclists along Highway 8 all the way to the Oconee county line. Event-ually the trail is expected to extend to Athens.
"For many sections of the roadway, simply adding bike lanes to each side of the road facilitates bike travel," according to Auburn City Planner Larry Lucas. "But, where the trail travels through the cities of Dacula, Auburn, Carl, Winder and Statham, more innovative design is needed to negotiate existing sidewalks, utilities and driveways. In some cases, the route will divert to local streets instead of Highway 8. Also, other trails leading to parks, schools, libraries and other such destinations will eventually branch off the main route."
Blechinger adds that each municipality will have to come up with its own source of funding for the project.
"We have been working on this for the last two years and there is a lot of interest, but, of course, during the economic slowdown everybody said we have to put this on the back burner right now," she explains.
Although work on the trail has been halted, city leaders are hoping that a proposal to widen a section of Highway 8 within Auburn can be re-designed to include the first bike lane elements on the trail.
The city also has big plans for two other major developments. The Downtown Development Authority is working on a cultural arts center that can serve as a home for local and visiting artists. A veterans memorial – to be privately funded – is in the planning stage; it will be located on city property.
As Barrow slowly recovers from this latest bump in the economic road, local leaders haven't given up on their plans for managing growth and creating the kind of community that is good for both business and family.
For Moore, that vision is best summed up this way: "We want balance and to be able to offer opportunities to our local citizenry and to attract quality business and development to the community. We are still learning and have some growing pains, but we are continuing to work toward that goal."
Community Snapshot
Local Leaders
Linda Moore
Vice President
Barrow County Economic Development Council
770.867.9440
Tommy Jennings
President
Barrow County Chamber of Commerce
770.867.9444
Chris Maddox
Member and former chair
Barrow County Economic Development Council
770.867.9111
Population
(2008)
County, 70,073; Winder, 14,064; Auburn, 7,496; Statham, 2,922; Braselton (partly in Barrow), 5,565; Bethlehem, 1,096; Carl, 318
Per Capita Income
(2008)
County, $20,266;
Georgia, $34,893
Unemployment
(November 2009)
County, 10.6 percent;
Georgia, 10.2 percent
Top Employers
Barrow County School System, Harrison Poultry, Barrow County Government, Château Élan Resort
& Winery, Anderson Merchandisers
Sources
Barrow County Economic Development Council, Georgia Dept. of Labor, U.S. Census Bureau