2010 Power Women: Change Agents
One altered the face of public housing, one turned a passion for bugs into a pioneering academic career, one is a longtime civic leader and the other stands guard over Georgia's largest river system.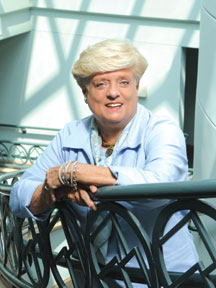 Renee Lewis Glover
Atlanta
President and CEO
Atlanta Housing Authority
When Renee Glover came to the Atlanta Housing Authority in 1994, the city had a larger percentage of its citizens living in public housing than any other major American city. The projects were blighted, crime-ridden concentrations of poverty, served by what Glover calls "captive elementary schools, among the worst-performing in the state."
Today the housing projects are gone, replaced by successful mixed-use, mixed-income communities – 16 and counting, she says – a result of partnerships with private sector developers. Two of the communities have new schools, and others have improved schools.
"We raised expectations and standards," says Glover, a former corporate finance attorney. It was not simply a matter of razing old buildings and putting up new ones. "The whole social design had to be completely changed. We had to have an economic mix that was sustainable. We were not trying to create a nicer version of a failed strategy," she says.
For her work at the housing authority, Glover received the 2009 Urban Innovator Award from the Manhattan Center for Civic Innovation. She was lauded at the presentation for "innovation and improvement."
Atlanta, site of the first public housing project in the country – the old Techwood Homes – became the first major city to do away with such properties completely. Techwood was one of the first two to come down on Glover's watch. The last ones are scheduled for demolition this year.
When she arrived on the job, Glover found 14,000 authority-owned units in "unlivable" condition and "a very broken agency, an agency that was not fulfilling its mission."
"The point of my coming on was to really be a change agent," she says. "It was clear that everything that was going on was unacceptable. The agency had been embattled for so long that I think it also did not have a vision of itself being effective or being able to meet the needs of its residents.
"If you think back to the original vision of the [public housing] program, it was really about providing temporary assistance during the period when families were down on their luck, so they could regroup, rebuild and continue on the path to mainstream society."
Two things in particular helped Glover get started. The federal government had come up with Hope VI grants for public housing, offering money and some regulatory flexibility. And the city was preparing to put its best foot forward for the 1996 Olympics, then just two years away. The Techwood and Clark Howell projects, located across the street from the site of Olympic dormitories, were eyesores that the community was anxious to get rid of.
All sorts of proposals were floating around, and residents were fearful that plans would leave them literally out in the cold.
Glover recalls misunderstandings, accusations, lawsuits and negotiations. She describes a long process of working with residents, listening to their concerns. Section 8 housing vouchers turned out to be a big part of the solution. Most families wanted to have a choice in determining where they would move, rather than simply being assigned to another project that might be worse than the one they were leaving.
"We needed buy-in and support from residents," Glover recalls. "They wanted to have a seat at the table and better understand what the whole mixed income [concept] was about. This hadn't been done before. We said, 'We'll include you in the process … and signed an agreement with the residents' group."
The result was Centennial Place, the first mixed-use, mixed-income community developed under the housing authority's auspices. It includes the top-performing Centennial Place Elementary School. That one was followed by other successes like The Villages of East Lake and its Drew Charter School.
Atlanta is now considered the national leader in housing innovation, and the "Atlanta Model" is being copied in other cities around the country.
As the old "warehouses of poverty," as Glover deems them, came down, more than 10,000 families were successfully relocated.
A big component of the strategy was helping families move toward the mainstream. In 1994 only 13 percent of public housing residents were employed; now the number exceeds 60 percent. Now, as then, most residents are women and children.
"We require families to engage in the workforce – unless they are elderly or disabled," Glover says. "We were wanting to create a culture change. When we required people to work, they went to work."
The agency also paid for coaching and counseling services for relocated families. "If we haven't helped families be successful," she says, "we have failed."
Even after more than 15 years on the job, Glover says it's still satisfying. "Housing is at the center of everything." – SP
Beverly Sparks
Athens
Associate Dean of Extension
College of Agricultural and Environmental Sciences
University of Georgia
The administrator was a very large man in cowboy boots. He was leaning back in his chair, talking on the telephone when 27-year-old Beverly Sparks entered the office, looking to break the gender barrier in the Texas Cooperative Extension Service.
"He waves me in and motions for me to sit down, then proceeds to talk on the phone for another 20 minutes," says Sparks, now the associate dean of extension for the College of Agricultural and Environmental Sciences at the University of Georgia – she's the first woman to run Georgia's statewide cooperative extension service.
"I knew Texas A&M was under pressure to hire females, and that's why I got the interview," Sparks says, "I figured it would be good experience just going through the interview process. But I was also really interested in working in their fabulous system."
She was scheduled for 30 minutes. By the time he hung up, Sparks figured she had maybe seven minutes left in her slot.
"He puts down the phone and asks, 'So, Bev, what does a female urban entomologist do?' And I tell him, 'They do exactly what a male urban entomologist does, but with more class,'" Sparks says. "Then he rings his secretary and says, 'Hold all my calls, this is gonna take a while.'"
Sparks, whose entomologist father used to keep his bugs preserved in the family freezer, got the gig and spent six years in the Texas A&M system before being lured back to her native Georgia. Renowned for her expertise in fighting a regional fire ant scourge, Sparks has spent her entire career in a male-dominated field that seems to be headed for some change.
"The majority of our students in the college of agriculture, about 52 percent, are females," she says.
And Sparks is dealing with changes within her department as massive budget cuts leave holes in the statewide extension system. Currently, she says, there are 70 vacancies in county extension offices.
"These are very tough times, and we don't have the resources to carry out our program to the extent that we'd like to," Sparks says. "The flip side is, there's never been a time in my career when the work that we do is needed more."
The extension service brings university research to the far-flung corners of the state, helping farmers stay abreast of the latest developments; helping families balance the challenges of home, work, health and finances; overseeing the Georgia 4-H program; helping cities create urban gardening programs; and developing safe, best practices within the food industry.
"When the economy turns around and we fill those vacancies and restore those resources at the local level, the face of extension will be different," says Sparks. "The young people coming along now will be the future of cooperative extension."
Sparks expects more women to enter the ranks and has started Extend Academy, a training system for the next generation of extension system leaders, targeted for people in mid-career.
"They identify a person or role in cooperative extension as their aspiration position, then shadow that person, who becomes a mentor," Sparks says, adding that 10 of the 12 employees who began the training program are women.
That includes the person aspiring to fill Sparks' shoes some day. – JG
Kathryn "Kit" Dunlap
Gainesville
President/CEO
Greater Hall Chamber of Commerce
There's an old proverb, usually attributed to the Greeks, that has become popular on T-shirts, posters and coffee cups over the years: Old age and treachery will overcome youth and skill. Kit Dunlap has it on a plaque in her office.
She earned the "award" for a tennis victory from a few years back.
"I used to play five, six times a week," says Dunlap, president and CEO of the Greater Hall Chamber of Commerce in Gainesville. "Well, this guy who was maybe 20 years younger than me says one day, 'You play all the time, I've seen you. Well, I think I can beat you.' I accepted the challenge, and I beat him. Hands down. Why? It's exactly what he said – because I played all the time!"
Her point being, if you do something long enough you get to be pretty good.
Dunlap has been with the Hall County chamber since 1997, and she's gotten to be pretty good at it, earning the respect of economic developers across North Georgia.
A founding member of the Gainesville/Hall County Economic Development Council since 1992, she also served on the board of the Georgia Department of Economic Development (when it was called the Georgia Department of Industry, Trade and Tourism) for 10 years.
For the past three years she's chaired the Metropolitan North Georgia Water Planning District, the water planning agency for 15 Metro Atlanta counties and more than 90 cities. She's served on the district board since its inception in 2001, and watched a crippling drought devastate nearby Lake Lanier.
"The drought brought a lot of attention to how complicated our water issues are," Dunlap says. "We have to be mindful of conserving, and in developing other sources. The lake is full now, and my concern is that our collective attention span will go away in a heartbeat."
As a young woman, Dunlap, a native Alabamian, wanted to attend the University of Alabama, like her brothers. But a relative on the board of trustees at the Gainesville women's college got her interested in Brenau, and she's been in Gainesville ever since.
"That turned out to the best thing that could have happened," Dunlap says. "Brenau, in its small setting, provided opportunities to succeed in every way."
She was president of the student government, and later taught physical education before launching her business career. Dunlap worked in banking and, then, for 13 years in the commercial printing industry.
Her interest in community building and economic development blossomed at Home Federal Savings and Loan, where the bank president, the late James Mathis, Sr., taught by example.
"He was a great local leader, and I learned so much about community from him," says Dunlap.
But the greatest lesson, the one that hits closest to home, came from her grandmother, Stella Long of Jasper, Alabama.
"We lost our parents at an early age and she took us in, three teenagers," Dunlap says. "She laid the groundwork for the person I've become, through persistence and love.
"But can you imagine if you suddenly had to raise three teenagers when you're 70 years old? What would you do? I'd give 'em back." – JG
Deborah Sheppard
Darien
Executive Director
Altamaha Riverkeeper
Deborah Sheppard is out of the office. She's gone home to meet the plumber. "You cannot advocate for conservation and the environment and have a leaky faucet," says Sheppard, founding executive director of the Altamaha Riverkeeper (ARK). "I'm keenly aware of the need to practice what I preach."
Since 1999 Sheppard has guided a grassroots effort to protect, preserve and restore the biggest river in Georgia and one of the largest watersheds in the Eastern U.S. Based in Darien, where the Altamaha flows into the Atlantic Ocean, ARK (which now has 1,200 members) vigilantly monitors pollution and polluters along the river, its tributaries and the coast, rallying public support and keeping tabs on regulatory agencies.
"I've had a number of 'A-ha!' moments over the years, and the biggest one may be when I realized that the regulatory agencies' permitting process isn't about prohibiting pollution. It's about quantifying and managing pollution," Shepard says.
"If we're lucky, government regulators are enforcing the laws they've created to manage pollution."
But we're not always lucky, and it's understandable that Sheppard might sometimes feel as if she's fighting the good fight in a losing battle.
"When you've worked in this arena as long as I have, you realize that enforcement is not very strict," she says. "You realize that businesses, industries, municipalities and individuals are allowed to violate the rules more often than not.
"Riverkeeper organizations exist to get government to stand behind its own rules and enforce the laws and regulations that exist to protect society."
Sheppard is the mother of four adopted children, all born in Japan (their birth mother, who died of breast cancer, was Sheppard's best friend). The children, 16 to 22, have been absorbed into the community and Sheppard's work as an advocate for one of the country's most scenic and endangered rivers.
"There's hardly been a mail-out, a river clean-up, a function of any kind that my kids and their friends have not been a part of," Sheppard says. "Our staff relies on them as major volunteers. And when they apply to colleges and they're asked about volunteer work, well, guess what – they've done it all."
Sheppard began her career at the northernmost tip of the watershed, at the State Botanical Gardens in Athens, on the Oconee River, a tributary of the Altamaha. She later worked with Cam-paign for a Prosperous Georgia, formed in the 1980s to challenge Georgia Power's attempt to persuade state lawmakers into allowing rate hikes to pay for Plant Vogtle, the nuclear power plant under construction at the time.
"Sound familiar?" says Sheppard, a cynical nod to the utility's success along those lines last year, to help fund additional units at Vogtle.
For decades, her mantra has been conservation and efficiency, of energy, of water, for the good of the whole. And she hasn't enjoyed being sometimes cast opposite economic development.
"The environment is often pitted against the economy, and that's the wrong-headed approach," says Shep-pard, who was honored last year for a lifetime of environmental advocacy by Georgia WAND (Women's Action for New Directions). "Protecting the environment can be a major economic driver. It's evidenced by things like employing plumbers to install water saving devices."
Or to fix leaks. – JG