Renewal And Revitalization
The Georgia Cities Foundation is providing direction and funding to help downtown districts make a comeback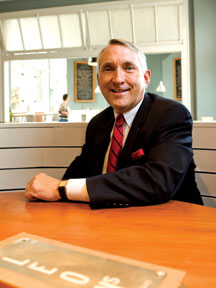 Each spring, when buses from the Heart and Soul of Georgia Tour roll into a select group of cities, the visitors are met by high school marching bands, exuberant elected officials and citizens excited about the opportunity to showcase their downtown areas. The tour, which is sponsored by the Georgia Cities Foundation, or GCF, is a celebration of successful downtown comebacks and the individual projects that have contributed to that success. Tour guests are representatives from agencies and organizations that have worked with the foundation to create these local successes.
The GCF, a nonprofit subsidiary of the Georgia Municipal Association (GMA), provides a lifeline – in the form of expertise and access to funding – for downtown districts that have been stripped of commerce by big box retailers, malls and "commercial corridor" development. While the GMA advocates for cities in the legislature and provides educational and technical services to its more than 500 member cities, GCF is devoted to revitalizing downtowns.
"Downtowns are important – to Georgia economic development as well as cities'," says GMA Deputy Director Paul Radford. He and other GMA and GCF officials sat down with Georgia Trend to talk about the work of the foundation.
The foundation's stated mission is "to assist cities in their efforts to revitalize and enhance downtown areas by serving as a partner and facilitator in funding capital projects."
Working with downtown development authorities, the Georgia Department of Community Affairs (DCA) and its Better Hometown and Main Street programs and other entities, the GCF has helped with nearly $12 million in loans for 66 projects in 37 cities. The DCA has provided loans totaling $7.2 million for 35 of these projects. Total cost for the 66 projects – including arts centers, hotels and other historic building renovations – exceeds $73 million.
"What GCF has done," says Al Outland, GMA communications director, "is to create a platform for downtown projects. It's a catalyst that gives added force to the discussion of the value of downtown – it's a vote of confidence."
In 1999 when GCF was founded, downtown vacancies were a serious problem, a consequence of mall development left over from the '80s and newer commercial corridors typically near interstate highways. That's where the traffic was, and that's where bankers were concentrating their lending; they needed incentives to turn their attention back to the town squares and once-vibrant business districts.
"One of our legacies is that the GCF helped banks learn to lend to downtown businesses," says GCF Board of Directors President Mike Starr. "Being a former banker in some of these cities, I know it was easier to lend money for real estate out on the highway – you look at traffic count, an anchor tenant – and many banks were just uneasy about how to lend to businesses downtown. The DCA and GCF have helped people understand the financial viability of downtown business."
"In the early days, banks were not familiar with us, or the DCA downtown loan program," says Perry Hiott, GCF managing director. "They were skeptical about what we were doing. We don't see that reluctance [now]."
The GCF initially sought help from the private sector, and found a partner in the Woodruff Foundation. "Their [$9 million] investment in the concept brought the state along in the partnership," says Radford.
"Woodruff wanted leverage," Starr explains. The private foundation was committed, he says, but wanted to be sure the state would step up and that more private sector involvement would be encouraged.
Outland describes an "evolving enthusiasm" for the GCF's mission on the part of the General Assembly, which committed $9 million in 2002. "There were a lot of struggles there, but the state did meet our $9 million commitment over a seven-year period – it became something that budget writers understood and the appropriations committee recognized," says Radford.
Starr says Hiott engineered the "methodology that makes everyone happy" and allows private foundation input for specific projects or regional efforts, such as revitalizing downtown LaGrange in Troup County. "The Callaway Foundation committed $692,000 as long as it is regionally focused, principally for projects in Troup," says Starr.
"We based [the approach] on college and university foundations," says Hiott. "They prefer unrestricted contributions, but they also accept specific donations for whatever department. So we said, why can't we do the same thing?"
The GCF's revolving loan fund, set up in 2002, provides up to $250,000 for individual downtown projects, and the foundation provides access to additional funds from its partner entities.
Active Partnerships
Among the many partners working with GCF are businesses, nonprofits, civic organizations and governmental entities, including Georgia Power, Macon's Payton Anderson Foundation, The Georgia Trust, DCA, the Georgia Environmental Facilities Authority (GEFA) and chambers of commerce.
"In the last year, we created a new partnership with [the U.S. Department of Agriculture's] Rural Development, and have received approval for a $750,000 Intermediary Relending Program, which allows us to re-loan funds for specific projects in the 13-county southwest Georgia region," says Hiott. Counties that stand to benefit include Calhoun, Colquitt, Decatur, Early, Grady, Lee, Miller, Mitchell, Randolph, Seminole, Terrell, Thomas and Worth.
The program allows GCF to borrow the money at 3 percent through a loan reserve fund, then re-lend at 1 percent. The funding is intended to spur commerce, and create or save 2,000 jobs nationally. Agriculture Secretary Tom Vilsack said last April that the funding "reflects President Obama's commitment to stimulate rural economies."
The GCF's successes can be seen in rural and urban communities throughout the state. Projects have resulted in 188 new businesses and 931 new downtown jobs and created 136 new downtown housing units and seven cultural facilities. These have helped generate some $65.8 million in private investments.
Signature Projects
The biggest recipients of funds generated by the cities foundation so far are Rome, which has nine loans, and Thomasville, which has seven. Rome used the funding to convert a former manufacturing facility to River Crossing, a hotel with retail and restaurants. Another Rome project, the West Lofts, converted two dilapidated buildings into 18 loft apartments and six commercial spaces, and still another converted the Forrest Hotel to apartments. The three projects represent nearly $12 million in investment.
"The Forrest Hotel needed to be saved and helped set the tone for a good relationship with the historic preservation community," says Starr.
"With its anchor position in downtown, it was important that it became something major and substantial," says Hiott.
In Thomasville, the foundation and the local Main Street program helped Flowers Foods relocate downtown, rehabbing two vacant buildings and bringing 100 employees there in the process. "One of the vacant buildings, a former JCPenney's, was a two-story with a mezzanine," says Hiott. "The city's Downtown Development Authority purchased it with funds from us and the DCA, added a third floor, which they converted to office space, then leased it to Flowers Foods with a purchase option. It was so successful for Flowers that they wanted to bring even more [employees], so the DDA purchased the adjacent building, which was a hotel – without our participation – and did the same thing, adding 80 more employees."
"We love it when there is subsequent investment," says Radford. "Those numbers aren't in our budget, and we don't take credit – but we could."
In Moultrie, the foundation partnered with Hal and Priscilla Carter to refurbish the Colquitt Hotel, and in Macon the GCF had a hand in refurbishing the Cox Capitol Theatre. In Social Circle, the Blue Willow Village and in Dahlonega, the Smith House renovations were helped by the GCF.
"Sometimes it's the small projects that can have a great impact," says Outland. "Old gas stations, for instance," throughout the state. He notes that gas stations have been transformed into chamber offices, restaurants and even police headquarters.
Cultural venues such as theaters or art centers in Carrollton, Clarkesville and Commerce are often a part of GCF revitalization strategies. "Someone once mentioned about small-town arts groups, that 'that's our country club,'" says Starr. "They [arts groups] do things around cultural events. They don't have golf or tennis, they have exhibits, performances – which gives you that sense of community."
Going Green
The GCF is adapting to the times, incorporating environmentally friendly initiatives into its loan program through GEFA, which is loaded with federal stimulus money. The GCF Green Communities Fund would take $2 million from GEFA's $21 million in Energy Efficiency and Conservation Block Grants (EECBG). Those funds would be put in a separate account restricted to energy improvements, distributed as grants from $10,000 to $250,000 at a 3 percent interest rate.
Starr said he became aware of this opportunity when he was talking to state people about working to leverage some stimulus dollars to create a revolving loan fund for downtown projects "to improve sustainability through energy efficiency." These will be smaller loans but at a lower interest rate, he says. "The specifics will be developed once dollars are approved, and we've received strong signals that they will."
"We can set up low interest rate loans and leverage those recovery act dollars because they will be in a revolving fund instead of grants. It's a terrific opportunity to be of service to downtown programs some municipalities might already have," says Radford. "Most likely we'll work closely on accountability with Southface Energy Institute, the gold standard. We've had good dialogues with them, and they're interested." Unlike the other energy block grants, these grants would go to private businesses, he adds. "Southface has shown very good stewardship helping businesses in sustainability efforts, and we hope to leverage $2 million with private funds as well."
"This $2 million can put us into a different sphere not only for smaller sustainability loans, but to take on more of an advisory role to help some downtown areas to thrive," says Starr. "We see so many interested in contributing to revolving loan funds who see the value of sustainability. It's a difficult time to raise money for revolving funds because of the economy, and the fact that people are becoming more specific about funding means they will find the sustainability [element] to be very attractive."
"It's another tool in the toolbox as we deal with projects in the future," says Radford. "We can meet with our partners like Main Street or Downtown Development Authority managers, who originate these projects, early in the process, to propose making investments in green technology, and integrate this new tool with the other financing tools involved. There will be other projects that have already invested and may want to retrofit."
Still, the process of securing a loan through GCF is not necessarily an easy one. "We have not approved every project that comes across the desk," says Starr. "The best thing to happen to a downtown entrepreneur is to run their applications past Perry [Hiott]. Businesses have been able to go to banks and get a better rate, better structure, as a result of having done so well with a GCF loan and bank loan. Some are getting more mature, and it's nice to see them be able to step out and do things on their own – we've been in business long enough to see that occur."
The foundation's board hopes to increase its available funding to $25 million, with a sustainable $15 million loan pool, says Radford. "A downtown is in a constant process of reinvestment in order to keep it good. The character of a community requires constant nurturing."