Reinventing Young Harris College
Under Cathy Cox's leadership, the north Georgia school is moving from two-year to four-year status with new majors, new faculty and big plans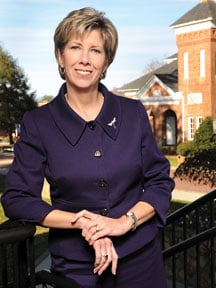 "I can talk until people fall over in a dead faint when I'm excited about something, and I'm really excited about what we're doing here." Cathy Cox isn't kidding. These days, Georgia's former secretary of state finds herself with much to talk about, having moved into a new role in life – college president – and she's spending most of her time talking about it in one way or another, whether it's to reporters, prospective students, potential donors, civic leaders or anyone else who will listen.
In 2007, Cox became the 21st president of Young Harris College (YHC), a 123-year-old Methodist-affiliated school in Towns County with about 700 students. In her new role, she's charged with overseeing YHC's evolution from two- to four-year status, which entailed the addition of baccalaureate degrees in four subjects last year – English, biology, theater, and business and public policy.
It's all part of a 10-year strategic plan that calls for more than doubling the student body, eventually to as many as 1,500 students, and adding faculty to teach them (50 new faculty members are already on staff) in as many as 20 new major fields. To help house those students, YHC opened a $15 million, 200-bed LEED certified dorm this fall – Cox believes it may be the state's only LEED structure north of Gainesville. A $15 million athletic facility, currently under construction, will offer fitness areas, practice courts and a 1,000-seat arena for sports such as basketball, which is returning to the school after a 40-year absence.
Those projects are just a prelude to things to come. The school's master building plan, a component of the strategic plan, calls for everything from a new $40-million library, dining facility and student center to apartment-like housing for upperclassmen to creating a viable downtown for Young Harris, currently a one-stoplight town boasting a few storefronts across Georgia Hwy. 76 from the entrance to the college.
It sounds like a lot to take on, but YHC's volunteer leadership has faith in Cox's ability to open doors for the school and spread the word. "One of the statements I made at her inauguration was, 'The train has left the station, you better grab on,'" says Board Chair Jerry Nix, CFO of Atlanta-based Genuine Parts.
Sea Change
The new president feels she's up for the challenge, too. "Had they just been looking for a coast-along president to keep the lights on, I would be practicing law today," says Cox, who was preparing to resume her legal practice after an unsuccessful run for governor in 2006 when YHC Trustee Bert Lance called to see if she was interested in the job. "I thought he had the wrong number," she recalls.
But he didn't, and Young Harris wasn't looking to coast along anymore. Yes, the school had a sterling reputation, turning out students who were well prepared to finish their undergraduate degrees at far better known schools around the state. Yes, Young Harris has produced two governors (E.D. Rivers and Zell Miller, also a former U.S. Senator), two Grammy-winning singers (Ronnie Milsap and Trisha Yearwood) and a nationally renowned poet and author (Byron Herbert Reece). And yes, its deep pockets allowed it to help virtually any student who wanted to attend and needed some financial aid.
Gradually, however, faculty and staff began to realize the two-year formula was no longer working. "We had, in effect, become the best black and white television in a color TV world," says Admissions Director Clint Hobbs, a Young Harris alum who's worked with the school for 20 years. "There was no market out there anymore [for YHC]. There was no niche."
Hobbs, who spends his days interacting with prospective students, was among the first to see the writing on the wall. "Today's generation of college students," he says, "is really the first generation of students that are going beyond the bachelor's degree. They're going to two different colleges – they accept that. It became awkward to even try to get into a conversation with them about coming to YHC for two years, then going on somewhere else for two years, then somewhere else for two or three or four years."
Professor Lee March, dean of the school of social and behavioral science, says several faculty committees "began to take a look at where we thought the college should be in terms of academic standards. We looked at continuing the two-year model, moving to a four-year model, some combinations and we came up with a recommendation that … the college look at the four-year model. It sounds funny, but the process really did develop a momentum of its own."
For school leaders, the message was clear: Young Harris needed to become a four-year institution offering degrees that could provide students a firm foundation for their graduate studies, or its days were numbered.
The next step was convincing the board. Hobbs says higher education consulting firm Noel-Levitz provided assistance, talking the board out of a plan to establish YHC as a prep school with transfer agreements guaranteeing students admission to schools such as Vanderbilt, Sewanee and Furman.
The board charged Zell Miller, a trustee and longtime Young Harris backer who grew up – and still lives in – the area, with chairing its four-year transition project. His group visited other institutions that had made the shift, and ultimately persuaded the board to expand the school to four years.
The Go-Ahead
That's when the really hard work started. Taking a college from two years to four years is no easy process – not if the institution wants to be accredited by the Southern Association of Col-leges and Schools (SACS), that is.
To receive four-year accreditation, says SACS Vice President Cheryl Car-dell, YHC had to notify SACS it intended to make a change in curriculum a year before it planned to implement that change, then submit an application for the change two months prior to one of the board's biannual meetings (December or June).
"From the moment I got here in 2007," Cox says, "we were having weekly meetings of all our various planning committees so that we could submit that documentation to SACS in 2008. We spent the better part of that first year working night, day, weekends, to flesh it out." SACS required a course list, a syllabus for every class and instructor credentials for each new major. "It's an exhaustive amount of paperwork and planning you have to prepare," she says.
In addition to faculty input on curriculum, Cox says, the school brought in focus groups, making the most of local retirees, many of whom worked in health sciences, to help fashion the biology degree. The business community, including board members such as Jimmy Tallent, president of United Community Bank, was tapped to provide input on the business and public policy degree.
"I think that helped us go through the SACS process," Cox says. "They could see – because we have to document all that to them – how much work we had done to plan these majors. We didn't just pull a biology degree off somebody's shelf and say let's copy it, we custom designed this based on lots of input from the academic world, from the business world, from the graduate school world to make it, in our view, the best of all worlds."
SACS' board of trustees reviewed YHC's application last December and gave it the go-ahead. The institution set an implementation date for fall 2009 and, Cardell says, SACS sent committee members out for a substantive change visit – a comprehensive review conducted by peers from similar colleges in the region – in October.
"We got everything approved by SACS the first go round, which doesn't happen," Cox says. "SACS is known as the toughest accreditor in the country. They inspect everything in great depth, and I think it was a real testament to the team we had on campus that they developed such well thought out and well planned programs that they all flew through the SACS process."
New Lessons
One alum in particular was a strong advocate of the new business and public policy degree. "Zell Miller says there were lots of times when he was in politics that he'd talk to other politicians and think, 'Boy, you need to know more about business' and talk to business leaders and think, 'Gee, you need to know more about public policy,' so he's really excited about our meshing of these two disciplines for a degree program unlike any offered in the southeastern United States," Cox says.
March, who oversees the division that will host the new degree and helped plan it, says it mixes traditional business courses such as marketing and management with classes in ethics in business and public policy; students are also required to take a foreign language.
YHC has implemented an Ethics Across the Curriculum program that weaves the concept into topics as diverse as English and statistics. The program is as much a response to questionable practices among today's business and political leaders as to the school's faith-based background. "Whatever a student decides to major in here, we are going to integrate ethics into their classroom discussion," Cox says.
This year, YHC will debut five new majors: communications, history, outdoor education, theater, and music theater. Performing arts are near and dear to Cox's heart, she says. The school has acquired an elementary school building across Hwy. 76 for a performing arts center, and Cox added soundproof music practice rooms to the new dorm.
YHC's primary focus in 2011 will be on education majors. "As soon as we can get our education majors online, we want to move into graduate programs for educators, because teachers in the area are very anxious to get advanced degrees so they can move themselves ahead and benefit students in this region," Cox says.
Finding Funding
If you're wondering how YHC plans to pay for all this growth, Cox has a plan for that as well. She and her staff are preparing to launch a capital campaign and find other means, such as tax exempt bonding options, to fund that master building plan, which calls for bringing $250 million in new construction projects out of the ground within the next 10 years.
"Going from two to four years is a huge capital investment," Jimmy Tal-lent says. "It's not like you can gradually go from a two-year to a four-year school, because there's so much infrastructure required."
The plan also calls for transforming downtown Young Harris into a mixed-use village with bookstore/coffee shop, a new post office, an Appalachian heritage enter and faculty housing. "We're looking for partners with the city and county and other governmental entities to try to do things that benefit everybody," Cox says.
Towns County Sole Commissioner Bill Kendall, a Young Harris alum, says Cox's plans have his stamp of approval, as do her efforts to use local contractors to build the new structures on campus. "Young Harris College has always been a great asset to our community," Kendall says. "The number of buildings they're building and fulltime faculty employed is really giving a shot in the arm to our county during this recession."
Young Harris Advancement Director Jay Stroman, who first worked with Cox at Macon's Mercer University, where she was a trustee, isn't too worried about kicking off a capital campaign at the tail end of a recession. During Stroman's 12-year tenure in advancement at Mercer, the school conducted a $350 million capital campaign and built 12 new buildings. He credits the success of that effort to the leadership of Mercer's then-president R. Kirby Godsey, and says Cox is cut from the same cloth. "I can't tell you how thankful I am to have somebody like that," he says, "because I can't imagine working with someone that couldn't open doors and didn't have that energy and passion."
The capital campaign, Stroman says, is currently in the silent phase, testing the potential donor waters before the campaign goes public later this year. "We are collecting some nice gifts and talking to a lot of people," he says, "trying to figure out who's going to be in leadership positions for the campaign."
The college is fortunate when it comes to volunteer leadership. Stroman credits a strong push among Atlanta's leading Methodist churches in the 1950s to support the school, resulting in a volunteer leadership that still features names such as Rollins, Pattillo and Robinson. Many families have had multiple generations of board involvement. Zell Miller's son, Murphy, for example, serves on the board alongside him.
Board leaders and faculty alike appear to agree with Cox that "Very few colleges in the history of our country get the chance to do what we're doing, which is really start from scratch and say how do you build it and what do we want to be known for and what do we want to be best at, and let's go to it."
The efforts are already proving successful. Hobbs says last year's freshman enrollment was a near-record 366 (the high mark, 406, was in 2008). Even better, 20 percent of this year's sophomores plan to stay for all four years and, at press time, nine students who graduated in May 2009 had applied for readmission.
Douglasville's Tyler Morris will be one of the first students to receive a four-year degree from YHC in the spring of 2012. A junior majoring in biology who's also on the SGA board, Morris says he scoped out several area schools such as Southern Polytechnic and Reinhardt, and he envisioned the stereotypical football games on weekends, living in an apartment and hanging out with friends.
And then he visited YHC. "I saw the campus and thought it was really beautiful," he says. "I had a really good feeling about the campus, like I wouldn't get lost in the shuffle. The whole environment here changed what I thought I wanted out of college."