Georgian Of The Year: Smooth Sailing
Under Doug Marchand's leadership, Georgia's deepwater ports have boomed. They contribute $15 billion annually to the state's economy and account for nearly 300,000 jobs.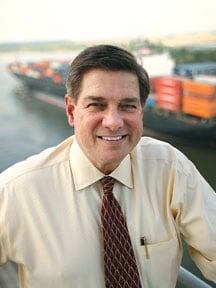 Doug J. Marchand is sitting at his desk in front of a huge window on the second floor of the Georgia Ports Authority building located some 18 miles up the Savannah River from the Atlantic Ocean. He is framed by two huge cranes that lift containers of cargo from the ships that brought them to the Port of Savannah from their foreign points of origin. And he is talking about "dwell time," not the 15 years he has guided the Ports Authority but the amount of time those containers stay on the ground before they are loaded onto trucks or trains for delivery to their final destination, an average of 1.71 days.
It is part of the minutiae that attracts his attention, and in so many ways formed his strategy in guiding Georgia's Ports of Savannah and Brunswick to a place of prominence in international shipping while delivering jobs and revenues to every corner of the state. For Marchand, little things mean a lot. To the shippers of the cargo and those who await it, "Time is money," says Marchand.
Last September when Marchand announced he was stepping down after 15 years as the executive director of the Georgia Ports Authority there were no champagne corks popping, no retirement dinners and no gold watch to commemorate the moment. Truth is, he will "hang around" as the executive advisor to the GPA.
"No, I'm not ready to just quit cold turkey," the 62-year-old Marchand says. Like so much of the dizzying success that marked his tenure guiding the growth of Georgia's ports, chiefly those in Savannah and Brunswick, the move was carefully calculated to achieve a goal – in fact, several goals. First, his advisory role would help smooth the transition of leadership into the hands of the incoming executive director, Curtis J. Foltz, the GPA's COO for the past five years.
"Curtis and I have worked extremely well together," Marchand says. "It's time to put him in the chair and let him get the experience of some of the other parts of the job, including dealing with the various agencies of the state. And our customers will get the impression that there are no problems at Savannah. I think we did a pretty good job of succession planning. And the way we announced it was intended to have the effect I think it has had."
And there was some unfinished business. "I'm not through," he says. "We have the Savannah harbor deepening project, and I want to see that get started. That's the biggest thing we have on the books and it will take this port to the post-Panamax level. It will handle the ships, as of 2014, that are too wide, too long and too deep to go through the Panama Canal today. It's important that we get that [harbor deepening] done." And Doug Marchand knows about getting things done.
Unprecedented Growth
Since assuming the leadership of the GPA in 1995, Marchand has presided over unprecedented growth, as the Port of Savannah became the fourth largest and fastest growing container port in the nation. Georgia's deepwater ports in Savannah and Brunswick contribute $15 billion to the state's economy and generate nearly $3 billion in taxes to its government. Nearly 300,000 jobs have been created and sustained by the ports activities. Marchand is credited with the creation of the Beneficial Cargo Owner (BCO) concept that led huge retailers like Home Depot, Target, Wal-Mart and IKEA to build distribution centers in Georgia to handle imports through the Port of Savannah.
"Georgia has historically had strong exports," Marchand says. "But we had all these guys who were trying to ship stuff overseas, but they didn't have enough ships and [containers] to take their freight out of Savannah. I got here and people would call and say, 'You've got to help me get 20 more slots a week … otherwise I'm going to have to move that freight to Charleston and that is going to cost me a lot of money.'"
More imports would bring more ships to unload their containers, and the empty containers could then be filled with Georgia's exports for shipment to foreign ports.
To get more imports, Marchand began pitching to the retail giants the idea of placing distribution centers around Savannah. "You get the Home Depot [distribution facility], which was one of our first big successes, and you get these imports coming in and dumped in a warehouse in your backyard here and the box [container] is empty," Marchand says. "And what happens to the box? It's going to be loaded with forest products or you can stick some clay in it or stick some cotton in it. The more imports you get, you're also getting an outlet for your more traditional cargo from the state; you're getting a way of having the ships coming to a port in their state that is conducive to their inland economics."
The end result, he says, is a rise in imports, creating more exports from Georgia, as well as the addition of new distribution centers and the jobs they bring. And those new jobs are not restricted to the immediate area of the Port of Savannah.
When a new Academy Sports distribution center opened in 2008 along Interstate 16 in Twiggs County, 110 miles west of Savannah, local leaders celebrated the arrival of 412 new jobs and a $50 million investment in their community of 10,000 people. That happy event was produced by leads developed by the marketing staff of the GPA, directed by Marchand.
"And since then we have become one of the three newest Foreign Trade Zones in the state," says Judy Shurling, executive director of the Twiggs County Economic Development Authority. "And TFS, a trucking company, has located in Twiggs County to transport Academy Sports products to the marketplace. We look to the port as our key economic driver, and Doug Marchand has been one of the key players in our whole mission."
For Marchand, I-16 is one of what he calls "corridor tools," a reference to the distribution assets held by counties bordering the two interstates that intersect in Savannah near the port – the other is I-95. Using a computer program developed by the GPA, prospects looking for distribution center sites can quickly scan every county on those corridors and identify appealing possibilities.
"Some company that needs a distribution center to serve the Southeast can easily look at what's available in Georgia," Marchand says. "They can also look at Georgia's tier system and examine the different tax incentives the state has to offer. We built that here."
Statewide Benefits
Georgia's coastal ports have generated trade and facilities in every congressional district in the state, with the Metro Atlanta area totaling $7.7 billion dollars in 2008 alone. Even the poorest congressional district, the second, counted $252 million in port trade value in the same year.
"Our mission is to create employment opportunities and to create economic development for the state," Marchand says. To make sure the users of the Ports of Savannah and Brunswick get the best of service, Marchand has continued to improve facilities and provide unique, and fast, problem solving programs.
Sitting at his desk, Marchand is surrounded by real-time reports on cargo at sea, on the docks and going out the gate. "Here's a report on every ocean carrier, the number of loads, the empties, 20-foot chasses, 40-foot loads, 40-foot chasses, how many empty boxes; and all this was printed at 8:20 this morning," he says, lifting a sheaf of papers.
Equally important to Marchand is what happens to the cargo when it lands in Savannah. Problems can occur when a container is set aside by U.S. Customs or the USDA for inspection or left unloaded because a freight bill hasn't been paid. That's when the GPA's Client Relations Center (CRC) rep jumps in to help with locating the cargo and resolving the problem. "Nowhere else in the country in a public port authority will you find a centralized customer group like we have here," Marchand says.
Marchand seldom uses the first person in his sentences, preferring the collective "we," "us" and "our," a clue to his management style. For brainstorming on innovative international marketing or issues of port security, it's all hands on deck. "We do a lot of things here by committee," he says. "So everybody sort of sees the complete picture. You can't work in silos. That's probably so in most businesses, but it is certainly true in this business."
The team approach is also a reflection of his love of baseball, says his friend Tom Schafer, a retired marketing executive who first met Marchand on the baseball field where their sons played in a youth league. They quickly became friends.
"Doug was there for every game when he was in the country," recalls Schafer. "He helped out in coaching, hit fly balls, et cetera."
Schafer was the coach and the baseball-savvy Marchand soon evolved from the helpful parent. "He became a sort of acting assistant coach, because he knows baseball pretty well," Schafer says. "He definitely was a stickler for details and for telling the kids not to make the mental errors kids at that age normally make."
The friendship continued on the golf course where the two played occasionally. Schafer puts Marchand on a handicap in the mid-teens. "When he does retire it's going to be funny because his golf game is in tatters," says Schafer, a five-handicapper. "He only plays about once a week because his work gets in the way. I told him when he retired he'd have some time to work on that and wouldn't have any excuses."
The Systems Guy
Marchand, a native Texan, spent his first two years of college as a premed student before switching his major to marketing, a fortuitous move for his career. After graduating from Lamar University in Beaumont, Texas, he was offered a job at the Port of Galveston as payroll supervisor, the first of many career steps that ultimately brought him to Georgia. That first port job required him to take antiquated accounting methods and computerize them. "I was a numbers cruncher, but I was more of a systems guy," he recalls.
The job entailed the transfer of payroll, accounts receivable and payable, inventory and general ledger data to the computer. He soon advanced into positions that required him to manage labor and shipping at the port. "I was 27 and unmarried and it was a good opportunity to see what went on on the waterfront," he says.
After about four years on the waterfront Marchand became the assistant to the Galveston port manager and was given responsibility for all port operations, becoming the marketer who was in charge of operations, and learning an important lesson in the process.
"To a large degree, operations and sales go hand-in-hand," Marchand says. "If you know what you're selling and how it has to be handled as well, it's more helpful." Based on the strong recommendation of then GPA director George Nichols, who was retiring, Marchand was offered the job as his replacement, which he accepted, departing his Galveston post for Savannah.
What Marchand found when he arrived in Georgia was what one GPA official described as "a sleepy backwater port." But a closer look revealed far more to Marchand.
"We had the ability with the assets here to really do something with the place," he remembers. "But as much as that, I liked the operating model. I liked the fact that we owned the facilities and we operated them." With other ports offering a maze of communication lines, and what can be bureaucratic decision processes between governments, unions and managers, Georgia's deepwater ports seemed a blank slate for an imaginative mind.
"We're responsible for how well it works," he says. "We're responsible for productivity on and off the vessels. It's our cranes and our crane operators. We're responsible for the gates. It's our system that is creating the velocity in getting the trucks in and out." And keeping the rail traffic on track, and all systems in sync, all the while growing and growing and growing.
Under Marchand's guidance, container traffic at the Port of Savannah quadrupled, as did the number of autos and machinery moving in and out at the Port of Brunswick. After receiving a container load of state, regional and national accolades and awards, last May Marchand traveled to New York's United Nations building to be inducted into the International Maritime Hall of Fame, the highest honor in the shipping industry.
Marchand and his wife Brenda have two children, Jack and Kristen, both of whom have launched careers in maritime-related industries. Jack is employed by IKEA in Savannah and Kristen works for Rolls Royce Global Marine in Galveston.
As he was preparing to transition to his advisory role, clean out his desk and call the movers, Marchand was unwilling to discuss retirement, a word he clearly avoids. "I'm not through yet," he says, looking over a stack of cargo activity reports.