Cobb County: Forward Progress
Strong local companies and some construction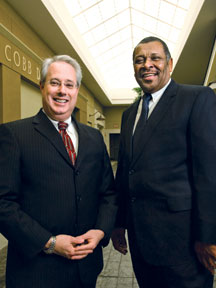 The great recession of 2009 may have laid low communities across Georgia, but not Cobb County. While this north metro county has seen job losses and business closures, it also has companies that are still expanding and public works projects that are under way.
"Clearly we're doing far better than most all of our sister jurisdictions," says Cobb County Commission Chairman Sam Olens.
The county has been able to avoid layoffs and furloughs even as it approved a new budget that was $45 million less than the prior year's. It's also kept its tax rate – already lowest in the metro area – at the same level while maintaining essential services.
Not that Cobb has been immune to declining tax revenues. Some 200 positions were eliminated over the last couple of years through attrition and retirement. Workers gave up raises and overtime to keep spending in line with revenues.
County government is continuing to build although at a slower pace – one fire station this year instead of three. But a seven-story courthouse is rising less than a block from the current facility. A new eight-acre Public Safety Village recently opened its door to provide state mandated public safety training that was previously conducted in local schools.
Running a tight ship will allow the county to emerge from the recession in good shape and ready to start growing again.
"Unlike six or nine months ago when we had few calls about potential expansions we are now starting to get those inquiries again," says Olens.
Just how well Cobb is doing may depend on what sector of the workforce you find yourself in. Like the rest of Atlanta, construction, and to a lesser extent manufacturing, have taken considerable hits in Cobb. Although they make up 14.9 percent of jobs, these two sectors accounted for 37 percent of all job losses, according to Don Sabbar-ese, director of the Econometric Center at Kennesaw State University.
"You've got a huge job loss there and the bulk are coming out of construction," he says.
In terms of sheer numbers the biggest losses were in the service sector, which includes retailing. They tracked closer to their representation in the market – 73.8 percent of jobs and 71 percent of job losses, according to Sabbarese.
So Cobb is counting on its large technology sector to help lead the way out of recession. Business communications and IT provider Cbeyond recently announced plans to create more than 600 new jobs as it builds out a new call center and training facility, and other companies are expected to follow suit.
"Unlike a lot of places we're well positioned because of the diversity of the employment base," observes Don Beaver, COO and senior vice president for economic development with the Cobb County Chamber of Commerce.
The county does have a wide variety of companies ranging from corporate headquarters for Home Depot and Genuine Parts to military contractor Lockheed Martin. The largest private employer is WellStar Health System, which is currently in an expansion mode. The county also boasts several life sciences companies including CryoLife, Solvay Pharmaceuticals and UCB Inc.
The Arts Factor
One of the attractions of Cobb for companies has to do with quality of life. Along with ample housing, low taxes and a manageable crime rate, local leaders point to the county's extensive and growing arts community.
While the county has long had a number of small, but well regarded arts companies, the big breakthrough came with construction of the Cobb Energy Performing Arts Centre in the Galleria area. Its size and quality caught the attention of arts patrons and performers alike – particularly when the Atlanta Ballet, Atlanta Opera and Atlanta Broadway series decided to move there.
On a smaller scale, the renovation and transformation of storied Marietta Square movie house, the Strand, into a performance stage for the Atlanta Lyric Theatre also added more options to the arts menu.
As the number of arts organizations has soared, so has the need for support that goes beyond simply buying tickets. That led to the creation of United Arts of Cobb after a local chamber study recommended creating an organization to represent the arts.
"There needed to be one voice for all the groups," says Ron Francis, president and CEO of First Landmark Bank, who heads the organization. "Each one is always out raising money and attempting to do their own thing. So they kind of got in each other's way at times."
The United Arts of Cobb's primary goal is to build an endowment that can provide additional support for all the groups. These extra funds could be used to send arts groups into the schools to teach ballet, dance or acting.
Francis also hopes the group can help pry more money from corporate donors for the arts. Even as most groups are getting more money from individual donors, gifts from companies have fallen.
Revitalization Efforts
While hopes are stirring again, many cities have seen their dreams of revitalization – once in overdrive – put on hold. It's not hard to find empty fields fronted by signs proclaiming the next mixed use development or subdivision whose paved streets are still silent.
In Marietta, officials say that their urban revitalization projects range from the completed and leased to foreclosure. Owner occupied housing is a cornerstone of Marietta's plan to revitalize itself, says City Manager Bill Bruton. That effort began almost a decade ago with the realization that the city was out of step with other successful urban areas.
"We had some issues with crime and we saw we wanted to remake ourselves in a number of ways," he explains. "We had too much rental housing in the city, and at that point our numbers were the exact opposite of the national average."
In fact, most of the city's housing had been converted to rental. That encouraged transient residents who placed an extra burden on local schools and sometimes helped create pockets of crime. A master planning project called for the city to raise the number of owner occupied units beyond 50 percent and replace lower income properties with higher quality condos and townhomes.
The city partnered with the local housing authority to build affordable housing in areas dominated by apartments. Since then the number of townhomes has soared, with four projects underway and in various stages of completion.
The city is also a destination for tourists, with attractions such as the Gone With the Wind Museum on Marietta Square. This year the city was the focus for the 70th anniversary celebration of the classic film. Thousands flocked here for events such as a gala "re-premiere" of the film, a costume ball and mass Virginia reel re-creation. The attention attests to the enduring strength of the Margaret Mitchell novel.
"When she was asked is it [the novel] a love story or a Civil War epic, she said it contains all of that," says Connie Sutherland, museum director. "But to her it was a story about survival, and I think that has been its key all along for these last 70 years."
Other Cobb cities have been busy as well. Kennesaw in North Cobb had been focusing attention on developing more commercial activity including retail, office and business parks both in its historic downtown core and along the U.S. 41 corridor.
"The last year and a half has been very challenging in terms of development," says Kennesaw's Community Development Director Bob Fox. "A number of projects that were initiated one or two years ago are in different stages, but quite frankly progress has slowed down because of the economy."
The city added 300,000 square feet of new industrial space and about 50,000 square feet of Class A office space; but other projects, including some planned for mixed use, came to a halt. Downtown four such endeavors that included 250 residential units, had gotten under way.
With the residential market still suffering, developers are reluctant to move forward on housing even if they can obtain financing, according to Fox.
Small-scale shopping centers have been somewhat more successful, but big projects are having a harder time. The 34-acre Columns development on Highway 41 that was projected to include 16 buildings and more than 400,000 square feet of commercial and office space along with a hotel, is at a standstill.
One building has been completed, but stands unoccupied. It was slated to be home for the Edge Connection Enterprise Center, a business incubator now headquartered on the campus of Kennesaw State University. The 30,000-square-foot space would have provided areas of low cost offices and workspaces along with technical support for start-ups. When funding for the move fell through, the nonprofit decided to remain in its current location. The city still hopes to find additional sources that will eventually allow the building to be occupied.
Kennesaw's northern neighbor Acworth has experienced a similar pause in commercial development. For the past several years the talk of the town has been a proposed $40 million senior housing tower and mixed-use development planned for the site of the former Day's Chevrolet. So far the old car showroom still stands empty as the development company rounds up funding, according to Assistant City Manager Brandon Douglas.
"Most likely they'll hear something by the end of the year because they have several funding mechanisms they're pursuing right now," he relates. "The city is also actively engaged in trying to find one of the last remaining pieces to get them over the hurdle to get started."
In the meantime, several smaller projects are under way around the city's historic town center. An old grocery store and pharmacy have gotten new façades and several new restaurants are either open or under construction on Main Street.
Small Victories
Elsewhere, officials are counting their small victories as they wait for developers to move forward. In South Cobb, Smyrna had high hopes for the redevelopment of two aging and rundown shopping centers into high-end mixed-use developments. Both are still inching forward, according to the city's Economic Development Coordinator Andrea Hall.
Belmont Hills, one of the first regional centers built in the 1950s, is already under way. "They're demolishing the last buildings," says Hall, "but I'm not sure when they'll move ahead with vertical construction."
Meanwhile, the Jonquil Village project is on hold even though the developer says he plans no changes in the concept.
"We've asked them, 'What do we need to do to get these things moving?'" says Hall. "Do we need to tweak the plans or is there something that might work better? And the answer from both developers is 'no' because the long-term demand fundamentals for this area are still the same. It's a matter of the banks not loaning money right now."
Strip centers in the area have fared better with lenders than big, complex and perhaps riskier projects. A $25 million redevelopment of an older center at the corner of South Cobb Drive and Concord Road, by Triland Properties, is in the works.
Just north of Smyrna, Imagine International Academy, a public charter school, has converted the former Rich's department store building in Cobb Center off of South Cobb Drive into its new campus. That move has given new life to the remaining businesses that surround it in the mall. The nearby Publix grocery store has seen an upsurge in its business – apparently from parents combining shopping with after school kid pickups.
As if the economic downturn and soaring foreclosure rates weren't enough, flooding produced by heavy rains last fall damaged almost 700 homes in Austell. The rising waters closed roads and swept through some businesses and city facilities.
While most homeowners will probably rebuild, a substantial number who were facing foreclosure may just walk away, says Jimmy Graham, community development director.
"So it's really hard to say at this point what the future is going to bring after we look at this," he explains.
In the past couple of years developers had been showing little interest in investing in Austell. In the meantime, the city is planning to forge ahead with its downtown streetscape project in a bid to spruce up the city and make it more attractive for newcomers.
Neighboring Powder Springs is also recovering from what Mayor Pat Vaughn describes as a 500-year flood that destroyed homes and even damaged the city museum. The big concern for her is how to get development projects moving forward again without sacrificing the level of quality the city leaders had originally set.
When a builder wanted to downgrade a proposed subdivision to lower priced starter homes, the city balked. The original plans called for more expensive models and officials wanted to keep it that way.
The economic slowdown – which has resulted in a $1.5 million city budget cut – has tabled some of the city's projects, such as the construction of a performing arts theater.
When Vaughn talks about the city's efforts to spruce up its downtown, she likes to pull two large photos showing before and after views of the main street. One shows empty storefronts, while the more recent is an image of decorated sidewalks and active businesses. Thanks to $2.2 million in streetscape projects, the thoroughfare now resembles the traditional downtown that attracts people and businesses to the area, says the mayor.
"We're also trying to find businesses to fill up some of the empty storefronts in the center of town," she says.
Community Snapshot
Local Leaders
Sam Olens
Chairman
Cobb Board of Commissioners
770. 528.3305
Don Beaver
COO and Senior VP,
Economic Development
Cobb County Chamber of Commerce
770.859.2342
Ron Francis
President
United Arts of Cobb
770.792.8870
Bill Bruton
City Manager
City of Marietta
770.794.5506
Population
(2008)
Cobb County, 698,158
Acworth, 19,476
Austell, 7,062
Kennesaw, 31,628
Marietta, 67,562
Powder Springs, 15,614
Smyrna, 49,854
Per Capita Income
(2007)
$43,554
Unemployment
(September 2009)
Cobb: 9.6 percent
Georgia: 10.1 percent
Top Employers
Cobb County Public Schools, WellStar Health System, Lockheed Martin Aeronautics, The Home Depot, Cobb County Government, Publix Super Markets Inc., Kennesaw State University, Wal-Mart, Six Flags Over Georgia
Sources
Cobb County Chamber of Commerce, Georgia Department of Labor, U.S. Census Bureau