The Commerce Club Looks Ahead: A Conversation With David Ratcliffe
Atlanta's 50-year-old downtown business club plans a merger and a move.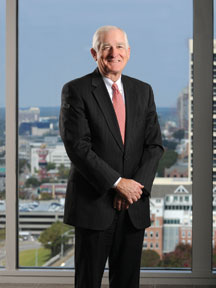 The Commerce Club, the premier meeting place for Atlanta's civic-minded business community since it was founded in 1960, will combine its membership with the One Ninety One Club and move from its Broad Street location to the 49th floor of the One Ninety One Peachtree Tower in downtown Atlanta in late 2010 or early the following year.
The club served as a meeting place for black and white civic leaders during the early days of the Civil Rights Movement; those meetings and the agreements and alliances that came out of them were largely responsible for Atlanta's ability to embrace change peacefully and avoid the strife that affected so many other places.
The new Commerce Club will be managed by ClubCorp, a Dallas-based operation that currently oversees the One Ninety One facility. The One Ninety One Club, established in 1991, is chaired by Tom Bell, retired CEO of Cousins Properties, who is also vice-chairman of the Commerce Club.
Georgia Trend Editor Susan Percy talked to Commerce Club Chairman David Ratcliffe, who is president, chairman and CEO of the Southern Company, about the club's history, its role in developing local leadership and its plans for the future. Following are edited excerpts from the interview.
GT: It sounds as though there are big changes ahead for the Commerce Club. How did this come about?
Ratcliffe: We've had numerous conversations over the last 10 years and various overtures to look at moving the club or combining the club but none of them ever materialized. But about a year and a half ago, the ClubCorp folks approached us about the possibility of combining One Ninety One and the Commerce Club. We began to explore that in more detail and continued negotiations for the better part of a year and signed an agreement to move forward.
GT: What's the response from Commerce Club members?
Ratcliffe: A mixed bag, but I would characterize it as overall positive. People who have a long history with the Commerce Club feel passionately about the reputation, the importance of the Commerce Club and the history of the Commerce Club, appropriately so. They are concerned about preserving that and making certain that as we try to move to a different construct we don't lose whatever is great about the Commerce Club. There are people who love the facility itself. It is a wonderful place with artifacts and just a feel to it that is unique. So there is a certain sense among some very few people that they would never like to move. The people who use it routinely are more conscious of the logistics of getting in and out. You [have to] look at the opportunity to do something different and arrive at something that obviously we think preserves the best of both of these entities. As people understand that, I think they are getting more and more excited. By and large the reaction has been very positive.
GT: It's a pretty historic place.
Ratcliffe: It clearly is. The folks who founded the Commerce Club around the idea of a place for the business community and corporate leaders to come together and not only enjoy good food but also deal with issues the community may face — that is a major part of the legacy of the Commerce Club. It has been a place where leaders come together to deal with issues that community leaders ought to deal with and to include leadership and the development of leadership for the community. It was one of the first business clubs, if not the first, to admit minorities and females as members.
GT: Is it still fulfilling its original role?
Ratcliffe: I think it is. Our senior board meets every month just to discuss issues going on in the community, whether it's the city of Atlanta financial situation or whether it's healthcare, in a fairly low-key fashion, so that people can be candid. No media, so [there's] robust discussion. We also invite leaders in those respective areas to come tell us what they know about what's going on. We try to maintain a lively dialogue about issues.
GT: Atlanta's business community has a long history of being heavily invested and involved in civic matters.
Ratcliffe: When you go back and look at people who founded the Commerce Club, they were the corporate leaders of the day. You go back to Mills Lane and Bob Woodruff and Ivan Allen. There's a long list. There was, in my judgment, an expectation that those men, not only as leaders of their companies but as residents of the community, would work to make it a better community. They were able, because of their standing, to create an expectation of corporate leaders. It began to be almost expected of you as a corporate leader – almost a part of our corporate DNA. That has served us well. It's a legacy that Atlanta continues to enjoy fruits of. There is a sense — whether it's the Metro Atlanta Chamber or the Georgia Chamber or United Way drives or the Woodruff Arts drive — there are expectations that if you're a business leader, you're supposed to be involved in those kinds of things.
GT: Some people even call it "the Atlanta way."
Ratcliffe: I think other communities watched that model and tried to replicate it in later years. Atlanta was blessed with a large presence of major corporations – Coca-Cola, Georgia-Pacific, banks. That has changed over the last 20 years. We have seen competition and consolidation of different industries. But even now there still remains a sense that you really ought to be involved.
GT: Do you worry that the sense of community involvement is not as strong as it once was?
Ratcliffe: Those of us who've been around longer are mindful of the fact that we must preserve that, and there are conscious efforts to reach out to new leaders. A company moves to town and we try to reach out and invite them to be part of the Commerce Club and the chamber and integrate them into what's great about Atlanta.
GT: How does this fit in with the Southern Company's philosophy?
Ratcliffe: Because of the nature of our business, we're sort of planted in the state of Georgia and the Southeast, going back to the founding fathers of our respective companies – Georgia Power, Alabama, Mississippi or Gulf Power – the expectation that you were supposed to be a leader in the community. Preston Arkwright, who was CEO of Georgia Power for 30 years, coined a phrase in the '20s that has stuck with Georgia Power, and it's pretty common across our other subsidiaries. The expectation is that we will be a citizen wherever we serve … that we're to be involved in the community. So it has become part of us, too, finding opportunities to collaborate with other leaders in places like the Commerce Club or other institutions, something that facilitates the process.
GT: The Commerce Club has always attracted top business leaders. What is the appeal to you personally?
Ratcliffe: It goes back to what we talked about before. The reputation of the Commerce Club as the premiere business club for the leaders of corporate Atlanta is what we want to sustain. It's an honor to be part of that. I think the One Ninety One membership likes that… the cachet we have, based on our forefathers and their leadership and their clear demonstration of a willingness to deal with tough issues and to do it in a collaborative and cooperative fashion. A big part is that people want to be there.
GT: What are the advantages of the new location?
Ratcliffe: The number one answer for anyone who's been to the Commerce Club would be parking, and the fact that One Ninety One has ample parking. In contemplating a move down there, we've been mindful that would be a priority to make it as convenient as possible. Beyond that is making certain that we achieve a final design on floor space on the 49th floor of One Ninety One and make it as elegant as we can afford.
GT: Do you expect it to have a more traditional feel like the current Commerce Club or a more contemporary feel like One Ninety One?
Ratcliffe: The answer is both. Our objective is to be mindful of what the Commerce Club has been for 50 years and to try to preserve the very best of that, but also recognize it is not the same club it was 50 years ago and to take some acknowledgement of what the One Ninety One Club is — in terms of a bigger audience and more diverse membership, and to meld these two into something, so that the resulting entity would be better than either by itself.
GT: And what about the Commerce Club ice cream? Will that make the move?
Ratcliffe: I suspect it'll have to be on the menu. It will be the Commerce Club.