Reshaping Healthcare
Hospitals are paying more attention to design, combining aesthetics and function with an emphasis on patients and families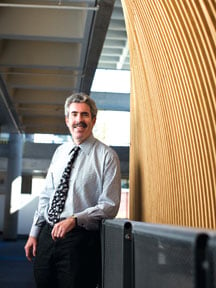 Hospitals are scary and necessary motherships of healing where medical miracles happen daily, and where tens of thousands of people die unnecessarily every year.
Patients, who don't want to be there to begin with, have to confront their illnesses and injuries while dealing with a stressful physical environment that often has all the therapeutic benefits of a dungeon. They and their families and the hospital staff are enclosed within an uncomfortable and confusing maze of technology, noise, poor ventilation and lousy air.
At times it's difficult to believe these monoliths were built with humans in mind.
"Every system is perfectly designed to achieve its current result," says environmental psychologist Craig Zimring, professor of architecture and psychology at Georgia Tech.
"We created a system that makes going to the hospital one of the leading causes of death in the U.S., partly because we've created physical environments that are chaotic and noisy, where errors occur and infections increase the length of stay."
But that is changing.
Zimring has been part of a research movement over the past few decades that has shown better hospital design can lead to better patient outcomes, reducing patient, family and staff stress while increasing clinicians' ability to effectively deliver care. And newer hospitals have taken note, including all stakeholders – patients, families, nurses and doctors – in the planning process, to build human-centered facilities.
Essentially, the look and feel of a place can improve the overall quality of healthcare.
"What we've come to understand is, the physical environment is part of the overall care system," says Anjali Joseph, director of research for the California-based Center for Health Design. "It impacts patient safety and satisfaction, staff satisfaction and effectiveness."
Joseph, who now lives in Boston, studied at Georgia Tech and was part of the team headed by Zimring that produced a study called, "The Role of the Physical Environment in the Hospital of the 21st Century: A Once-in-a-Lifetime Opportunity." The 2004 report, a joint venture with Texas A&M, was funded by the Robert Wood Johnson Foundation for The Center for Health Design, and focused on a national hospital building boom.
"The last great hospital building boom was the 1940s through the 1960s, and those facilities are wearing out," Zimring says. "Meanwhile, we've had demographic shifts, new competitive pressures, technical pressures. The consequence is, billions and billions are being spent on healthcare construction. It's one of the biggest building booms we've ever seen. We're reshaping healthcare."
According to the report, the U.S. spent $16 billion on healthcare construction in 2004, and Zimring expects that number to exceed $30 billion or $40 billion a year in the next few decades. Much of the bricks and mortar will be configured in a holistic way as designers and architects move beyond outmoded boxes built around scary-looking technology, beyond institutional décor, embracing evidence-based designs.
Even the military is following that route, says Zimring. Georgia Tech's College of Architecture has been working with the Military Health System (MHS), which has 59 hospitals and 800 clinics worldwide. They're planning to spend more than $2 billion just to replace Walter Reed Military Hospital.
"The MHS is committed to world-class, patient-centered care and our work on evidence-based design is being used," Zimring says.
"Everything is much more focused toward people, toward patients and families and staff, than 20 years ago," says architect Norman Morgan of Texas-based firm HKS, which has made a specialty of healthcare design and has established an ample footprint in Georgia, where hospital expansions are combining aesthetics and functionality with an emphasis on the humans who inhabit these spaces.
Family Ties
Any parent whose child has spent time in a hospital, any husband whose wife has had to stay, knows the dance, the get-out-of-our-way dance. For decades hospitals discouraged family involvement with a patient's hospital care, especially in intensive care units. And hospitals were built accordingly – very little space for extra people. Families and friends were banished to tense waiting rooms.
But reams of research have shown that patient outcomes improve with family involvement. Who better to advocate on a patient's behalf?
Hospital designers have responded by creating environments that support a family's involvement in the caregiving process, though it still takes some inducing for clinicians who have been weaned in the old ways.
When HKS was in the process of designing the North Patient Tower at Northeast Georgia Medical Center, Morgan's team spent a lot of time interacting with staff at the Gainesville hospital.
"We wanted to provide a different environment than what they were used to, an environment that would promote family inclusion," Morgan says. "That was a big culture change for the ICU, because the staff didn't want families in the room. They wanted the families anywhere else."
The staff wasn't aware of any other way, says Carol Burrell, chief operating officer of Northeast Georgia Health System Inc. It was another example of, "Well, this is the way we've always done it!"
But "the way we've always done it" was not the patient-centered approach.
"There definitely was a mindset on the part of the clinical staff of keeping the family away," Burrell says. "But we spent a lot of time looking at evidence-based outcomes that demonstrate the family's role actually helps the patient. We went through a series of site visits and talking with other facilities that have gone through the same kind of process.
"Through those experiences we were able to demonstrate that family involvement, having the family close by, not only led to a better patient experience, but improved communication between the patient, family and staff."
So – larger patient rooms, sleeping space for families near the patient, more comfortable waiting rooms and accommodations for the long haul became part of the design. And the North Patient Tower – which opened in April – doesn't look so scary.
The entrance to the six-story north tower opens into a light-filled rotunda, 63 feet high with views of the first three floors. Walls and columns covered in stone and wide-open views of the garden outside and the mountains in the distance give the place a warmer than usual feel.
Waiting rooms on the first three floors overlook the lobby. Natural light through big windows – a staple of modern hospital design – streams in throughout the facility, into the 128 patients' rooms, which have hardwood laminate floors, soothing color schemes and precious space for families. The wide, curving, skylight concourse creates easy access from the North Tower to the medical center's existing facilities.
"It's a whole new identity for the hospital. We wanted to create a front-porch mentality, to bring the outside in," Morgan says. "We wanted to develop a brand that portrayed confidence and warmth, so that anybody coming to the hospital knows that while they are feeling the hospitality of northeast Georgia, they are getting the technology and sophistication one would expect in Atlanta. But we did not want to create the look and feel of a claustrophobic, giant institution that you can get lost in."
Last November, Northeast Georgia Health System unveiled its new Women's and Children's Pavilion at the medical center. Taking evidence-based design principles into account, they created a more nurturing space. Larger, more accommodating rooms allow for mother-baby bonding – the little ones stay with mom.
The Neonatal Intensive Care Unit (NICU) – formerly crammed into a single, tight space that all the at-risk babies shared – now features individual spaces (rooms in groups of two, each area separated by a curtain, so baby and parents are afforded much needed privacy). These rooms also have large windows with blackout shades that allow as much or as little light as is needed, depending on the baby's developmental needs.
The new facilities in the Northeast Georgia Health System display most of the tenets of modern, evidence-based design, including decentralized nurse stations (alcoves between each room with computer stations), art on the walls, access to or views of nature. Even the chapel in the north tower is a stark contrast to the older, dark room in the south tower (which is what they're calling the old hospital now). The new chapel is circular in shape, rich in stonework with stained glass windows and has room for 40 to 50.
"When we envisioned the north tower and the women's pavilion, our goal was to have this seamless blend of state-of-the-art technology and human comfort," Burrell says. "Something that feels indigenous to this area."
Nature figured prominently in Children's Healthcare of Atlanta's (CHOA) $365 million expansion of its facilities at Egleston and Scottish Rite, where the goal was to create a child-friendly, nature-themed environment to counter the stress of a child's hospital visit.
One of the first sights greeting a visitor to Scottish Rite, for example, is a large fish tank in the three-story atrium lobby. As you make your way into the hospital interior, there is a giant screen with an interactive deep-sea video. Visitors are guided to the "butterfly" or "flower" elevators, depending on which wing they are aiming for. Gardens and sunlight encourage the healing process.
In the basement, where medical records used to be stored, Scottish Rite built The Zone, which includes a movie theater, games and quiet areas for quiet play.
"We tried to see through the eyes of our young patients and their families," says Joyce Ramsey Coleman, VP for nursing and patient care services, and the chief nurse executive for CHOA. "Sometimes we think we know what families need, but we finished the redesign with input from families."
Bigger rooms, sleeping quarters and a lounge area for parents, roomier staff lounges and a physical therapy gym that is three times larger than the old gym are all part of the Scottish Rite facility, which opened in 2007.
It Takes a Village
In September, Zimring (who is on the Center for Health Design's board of directors) and Morgan were at work planning a new Paulding County hospital, part of an $800 million, 10-year expansion plan by Marietta-based WellStar Health System.
In Paulding, the design team isn't thinking of a building, per se. This will be a greenfield development, a fresh start on fresh ground to replace a 50-year-old facility.
"We're not calling them hospitals any more," Morgan says. "We're calling them healthcare campuses."
Chris Kane, WellStar's Senior VP for Strategic Business Development, says, "we envision a health community that includes a hospital and other innovative capabilities.
"We've made site visits to other innovative facilities that were created over the last few years, and those visits have value. But I would say the optimal value is to stimulate our thinking and anticipate how we can build upon those models, not mimic them. Our premise is to anticipate the future, to take those concepts a step forward."
Morgan is thinking outside the big box – particularly, outside the big, five- to eight-story box that describes most hospitals, even the really good new ones.
"Imagine you're going to a higher-end retail shopping village, putting a pharmacy or drycleaners, or a market on the ground, sort of a healthcare village," he says. "The whole premise is to create a healing environment, utilizing nature and landscaping."
First, WellStar has to get a Certificate of Need (CON) justifying the hospital, with hopes of breaking ground next fall.
"We'd like to push the envelope in Paulding County," Morgan says.
Zimring thinks Emory University Hospital may have done that already with its Neuro Critical Unit, which opened in January 2007, then won the 2008 ICU Design Citation Award (co-sponsored by the Society of Critical Care Medicine, the American Association of Critical Nurses and the American Institute of Architects).
With its Neuro ICU, Emory became one of the first U.S. hospitals to bring family living quarters into an intensive care unit.
"It's the perfect example of incorporating evidence-based design and the role that the built environment can play," says Zimring, who assisted with the design. "They asked questions like how can family members be more involved, how can we improve the experience for patients, how can we better support staff and care coordination and teamwork. What they ended up with was a project that is quite remarkable."
It's a facility designed for the long haul. The average stay for patients here, says clinical nurse specialist Ann Huntley, is eight to 15 days.
"Patients and families are here for a long time. We've had some stay for over six months," she says. "This was designed so families can always be nearby."
A Better Envelope
Emory staffers call the 20-bed unit the 2D ICU, to indicate its location and floor – there is, for example, a 2G ICU, an older unit. The new unit features family living spaces in each room – something that Medical College of Georgia Health System incorporated into its Neuro ICU in 2003 (and the average length of stay for patients fell by 50 percent).
Emory's unit has a play area for visiting kids, a laundry and showers, comfy chairs with desktops, wide halls and doorways, and long sight lines, wood floors, nurse alcoves, windows for wellness-inducing natural light, and overhead booms (as opposed to wall units) that allow caregivers 360 degrees of access to the patient bed.
"We set out to design the hospital of the future," Zimring says. Emory's recently-opened Orthopaedics and Spine Hospital, designed with the help of patients, incorporated many of the same elements.
When Gwinnett Medical Center (GMC) planned its new, eight-story north tower in Lawrenceville, it set out to transform healthcare in the region.
"We wanted it to feel more like a home and less like a cold, sterile institution," says CEO Phil Wolfe. "Something with a softer feel, the concept being to involve the family in patient care, and to enhance communication between the patient, caregivers and the family. This was a real collaborative effort."
The architecture firm Perkins and Will took input from more than 50 clinicians, as well as patients. They built full-sized mock patient rooms in a warehouse so nurses could test drive the design.
A spectacular $80 million building emerged on the Lawrenceville campus, incorporating many of the proven aspects of modern healthcare design – the wood floors again, hepafiltration system, large rooms with couches and recliners for family visitors, seven-foot-wide doors, slip resistant bathroom floors and roll-in showers. A steady, virtually subliminal flow of white noise creates a peaceful sonic backdrop throughout the building.
Equipment alcoves are carved into the walls, and every floor has a guest retreat center. There even is a separate exit for patient discharges, to avoid the typical traffic jam at the hospital entrance. And the facility is flooded with natural light.
"Daylight can be an enormous factor in healing," says Libby Laguta, interior designer for the project. "Also, patients want to know when it's night or day. When they can set their biological clocks, they heal faster."
Laguta estimates that about 95 percent of the work her firm, L2 Designs, engages in is healthcare-related. Her design work used to be totally driven by technology, she says.
"The focus for the past 15 years or so has been on the human factor – hospital equipment can be so intimidating, and hospitals were constantly retrofitting, constantly trying to fit new equipment into an old envelope.
"What we've tried to do is build a better envelope."