Joining Education With Private Enterprise
The University System's Intellectual Capital Partnership Program, born in Columbus, helps meet workforce needs throughout the state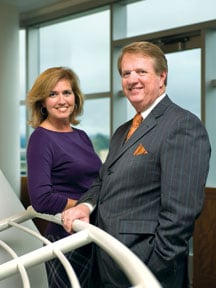 It was a heart-stopping moment for Columbus' Mike Gaymon back in 1996 when word leaked out that one of his community's most valuable corporate citizens, the credit card processing giant TSYS, was thinking of relocating. "They were talking about 2,500 jobs, basically computer programmers," recalls Gaymon, president and CEO of the Columbus Chamber of Commerce. "That represented hundreds of millions of dollars in salaries."
TSYS, it seems, was growing fast and investing in new technology, but having difficulties finding the computer programmers it needed to keep up the pace. "That was when we were all beginning to hear about Y2K, and the world was coming to an end and where were we going to get computer programmers." Gaymon's concerns reflected those of the state's entire economic development community, all the way to the highest levels of government. Something had to be done to keep those jobs and their higher paying salaries in Georgia.
Gaymon remembers vividly the conversations that occurred during a hastily called strategy session to find an answer. "We had a meeting with computer science folks from Georgia Tech, and the meeting changed direction quickly when then-Chancellor [Stephen] Portch [of the University System of Georgia] asked how many computer science grads Georgia Tech would have coming out of their program that year," Gaymon says. "And the Georgia Tech guy said, '69.' And the guy from TSYS said, 'I could hire the grads from your program for the next 10 years today.' Then Dr. Portch said, 'You can change the course of history easier than you can change a history course,' talking about the difficulty of tinkering with curricula. The statement from Chancellor Portch drove us all to say that business as usual will not get it done. And that's how ICAPP was born."
ICAPP, Georgia's Intellectual Capital Part-nership Program, was designed to quickly create training and educational courses tailor-made to suit a business or industry need at a specific moment in time. It began as an effort involving the University System of Georgia's institutions of higher learning and a private enterprise with workforce development needs. But ICAPP has grown in all directions like the roots of an oak.
The first ICAPP partnership between Colum-bus State University (CSU) – it was a college then – and TSYS was designed to satisfy the company's need for computer programmers; and it worked beautifully, according to one of those present at the birth.
"I was actually a recipient of many of the graduates from the first few ICAPP classes," says Charisse Hill, a TSYS programming manager in 1996, now the company's senior director of IT development and support. "It was unbelievably successful right from the beginning. We had team members from other parts of the company that wanted to be programmers so just about every class that we had had internal team members that we sponsored."
The ICAPP partnership between CSU and TSYS ended in 2003 after a seven-year run, much longer than most current partnerships. But a 2008 $100,000 ICAPP grant got the university back into a partnership, this time with defense contractors coming to Columbus and setting up shop and readying themselves for an Army – and armored –"invasion."
The first of what is expected to be about 30,000 military men and women and their dependents, civilian employees and government contractors have begun arriving in Fort Benning, Columbus' giant Army base. Among the early arrivals are soldiers from the U.S. Army's Armor School at Fort Knox, Ky., and soon to be clanking along right behind them will be nearly 1,000 tanks and armored vehicles that might as well be loaded with gold.
Retailers, real estate brokers and bankers are lining up to welcome the population boom, and an advance guard of soldiers has already landed on the campus of Columbus State University for concentrated study programs to teach students how to develop the computer games software that is used by defense contractors in training soldiers and, significantly, armored vehicle crews to use modern weapons systems. There will be additional software for topics such as leadership.
The ICAPP grant is funding the curriculum development and attendant costs connected to the games software development. "We already have a number of military and retired military that are both in our graduate and undergraduate [ICAPP] programs," says Dr. Wayne Summers, a professor at CSU and chair of the Computer Science School, who is shepherding the new ICAPP program in computer modeling and simulation for Fort Benning's Maneuver Center of Excellence Battle Lab.
"What they basically do in such simulation centers is evaluate weapons systems and different protocols before they put them out in the field," Summers says. "The simulation centers are like the flight simulators used by the Air Force. Our strength will come in helping to prepare graduates to produce materials for training in the battle labs."
The training materials are much like video games and will be used to train tank and armored vehicle crews to operate the modern Army's high tech weapons systems, as well as provide programs for a variety of other purposes.
CSU has been recruiting students for the ICAPP program with the slogan, "Games, Seriously!" which Summers says sums up the coursework. "We define games as being recreational simulation and we define simulations as being serious games," he says.
And CSU's ICAPP training in computer simulations is serious economic development. "I have now, almost on a weekly basis, a meeting with a different defense contractor that wants to link up with Columbus State University," Summers says. "We've got defense contractors that, because of this project, are relocating some of these simulation [operations] to Columbus, Ga."
Developing Leaders
Dr. Wendy Thellman, director of Gainesville State College's (GSC) Office of Continuing Education and Public Service, is managing her institution's half of an ICAPP partnership with Merial Select Inc., a Georgia-based company that produces about 16 billion doses of chicken vaccine annually for use around the world. Merial Select's Gainesville facility management team was looking for ways to build leaders from within, improve interdepartmental communications and broaden the knowledge base of some of their employees.
"Leadership succession in all industries has become a concern," Thellman says, "and too often internal talent development is not really given the attention it deserves. Merial's focus was trying to move an employee from an extremely specialized functional area to becoming a leader across the organization."
With an annual economic impact of $18.4 billion statewide, Georgia's poultry industry and the vendors who keep it healthy are important to the state's well-being. So it didn't take long for Thellman to hook up with Sheryl Ripka, the Gainesville site manager for Merial, to develop a strategy using ICAPP funding to put the coursework in place and the students on a fast-forward schedule.
The end product was an 82-hour curriculum to be completed in six months that included study in microbiology, calculus and using math to determine specific formulations for Merial's products. The first class began in January 2009 with 23 students enrolled; all completed the program and graduated with a certificate in basic poultry manufacturing and biologics. Then the unintended consequences kicked in. "Eighty percent of those who graduated said they planned to continue their education as a result of the ICAPP program," Thellman says. "For some it means an associate degree, and for others it means a second master's degree."
Daniel Thome, 26, had been at Merial for two years when he was recommended for the program by his manager. "It sounded interesting and so I made the commitment," says Thome, who already held a Bachelor of Science degree in chemistry. "I think in the long run the program will increase my income." Another Merial employee, quality assurance manager Rick Stowe, had little experience in the poultry industry when he entered the program. "My background was in human diagnostics," says Stowe, 45. "The ICAPP program helped me understand, not only from the technical applications in the lab, but also how the product is used out in the field and the challenges the end users face."
Ripka, Merial's site manager, liked the custom tailoring of the program's coursework. "ICAPP was a welcome arrival," she says. "It gave us the opportunity to put together an organized training program that provided a broad-based knowledge of the poultry field and related topics. That was valuable to us because a lot of times you can't just go out and get that in regular academia."
But regular academia gets ICAPP benefits too. "This ICAPP grant will provide some of our faculty the opportunity to teach in a little more depth in a science, biologics, so important to our economy and the mission of this college," says Dr. Martha Nesbitt, president of GSC.
Software Design
In most cases, ICAPP partnerships begin with a modest USG grant, usually $30,000 to $100,000 to start a curriculum. But there have been occasions when the private enterprise partner brings a sizeable gift to the marriage, such as the case in 2002 when technology firm NCR contributed $3 million in software, equipment and training to two rural universities for separate projects, with both aimed at creating higher paying jobs.
The 2002-2006 NCR partnership with Georgia South-western State University (GSW) in Americus was especially meaningful for Dr. Boris Peltsverger, dean of the Computer and Math Science Department at GSW. "The ICAPP/NCR project was a very beneficial four years," he says. "From my point of view, if you have a small university in a rural area you still have smart faculty and bright students. And it is cheaper for a company to build software in such an environment and we have proved that is true."
The GSW ICAPP deal produced software designed by students for NCR that is still in use today, and students who worked on that project went on to land jobs with NCR, the U.S. Army and Microsoft. At the same time, Georgia Southwestern still owns some computer programs designed in the ICAPP/NCR project that could generate revenue for the university through licensing fees. And, says Peltsverger, the ICAPP experience laid the foundation for attracting major grants from the National Science Found-ation and AT&T.
Delta Project
In April 2007, Delta Air Lines emerged from bankruptcy after 19 months of restructuring, found itself short of managers and formed an ICAPP partnership with nearby Clayton State Univers-ity (CSU) to fill the empty slots. "Delta's intent was to help train from within to re-place a lot of the managers they lost," says Ginny Bass, CSU's director of degree completion and administrator of the Delta ICAPP project.
Delta and CSU reps crafted a curriculum with studies in fleet planning and management, FAA requirements, labor relations, airport operations and a course in leadership and management techniques in aviation.
"But airline employees don't work traditional 8-5 regular jobs. They work all kinds of hours, so the traditional classroom setting, even in the evenings, didn't work for them," she says.
That meant online classes for almost all the students from Delta, which turned out to attract even more students. With the CSU/Delta ICAPP curriculum including online offerings in basic business courses such as applied accounting, management, human resources and applied economics, the program became popular among the general student population. "The great benefit of the partnership with the Delta and the ICAPP funds is that it also led us to opening up a degree for people that are interested but do not want the aviation-related courses," Bass says.
What began 13 years ago to keep an important corporate citizen in Georgia has grown beyond its original boundaries to offer an appeal to those not included in the birth of ICAPP. "We can see the ICAPP program as something that might be useful to, say, an English major," says Terry Durden, assistant vice chancellor, USG's Office of Economic Development, which manages ICAPP.
"Someone who has an existing bachelor's degree and wants to go back and learn something else, such as nursing then can use that core curriculum from the first degree to sort of jumpstart into nursing. What we're trying to do is help Georgia businesses succeed by helping them find workforce they don't already have."