Forsyth/Monroe County: Change On The Horizon
New government offices, new schools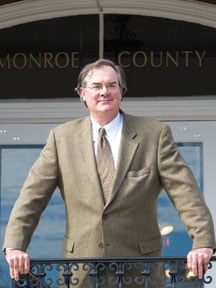 Big changes are coming to Monroe County. In 2010, the Department of Corrections is moving its headquarters out of downtown Atlanta and onto the former Tift College campus. It's a move that will affect all aspects of the county, from schools to utilities to infrastructure, and it's pushing several initiatives into high gear.
"There's going to be a wealth of opportunity with the Department of Corrections coming in," says Tiffany Andrews, president and CEO of the Forsyth-Monroe County Chamber of Commerce and executive director of the Development Authority of Monroe County. "It's really about trying to identify that and plan for it."
Additionally, a recently announced new college satellite campus promises to bring students and jobs to the area. It's all heady stuff for this county of 25,000 people.
Named after the fifth president, James Monroe, Monroe County was created in 1821. In 1838, the Forsyth-to-Macon rail line was completed, carrying cotton, supplies and travelers between the two towns. The line was later extended to Atlanta and continues to play a role in the county's economic development. When I-75 was completed in 1968, it cut a swath directly through the center of the county from its northwest corner to its southeast end.
Estimates show that the county is expected to grow at a fast pace over the next decade.
According to its 2007 comprehensive plan, the county estimates growth rates will increase at approximately 30.4 percent through 2025.
That's in part due to its location; Forsyth, its county seat, is 64 miles south of Atlanta and 25 miles north of Macon. Urban sprawl from both Atlanta and Macon, coupled with the accessibility to I-75, will inevitably lead to housing growth.
Both Bolingbroke and High Falls have also seen an increase in residents due to each town's proximity to the interstate.
But Monroe County faces a challenge. Its infrastructure is not quite up to the task, locals say; but the county is working to change that. It's in the midst of several SPLOST (Special Purpose Local Option Sales Tax) initiatives to extend water lines into residential areas and build a new water tower in the northern part of the county, and has recently acquired a water treatment plant.
Despite the economic downturn, the chamber of commerce has 300 members. While some have dropped off due to economic hardship, 40 more were added in the last year.
"It's been a slow trickle down, because we had so many things going on in Middle Georgia outside the natural shifts in the economy," says Andrews. "A lot of houses are going up for foreclosure, and businesses are starting to close … so we're really now starting to feel that impact. [But] next year we have the upswing with the Department of Corrections coming in. So that will counterbalance what we have been feeling over the last couple of months."
A Good Move
The Department of Corrections is moving its five Metro Atlanta headquarters to the campus of the former Tift College, which closed in 1987. The move puts the department closer to the majority of its prison facilities, and will save the DOC an estimated $4 million a year due to consolidation and reduced rent payments.
The 40-acre campus includes 225,000 square feet of building space, which has undergone $7.5 million of renovations in preparation for the move.
The Department of Corrections Academy, which trains 12,000 correctional officers and other DOC employees annually, is also transferring from the nearby Georgia Public Safety Training Center (GPSTC) to the Tift College campus, freeing up space at GPSTC for other uses.
By October 2010, the administrative component will be fully up and running, shifting 450 employees to Monroe County, 350 of whom will be there on a daily basis.
Although the DOC is creating a number of jobs, many in the county do not expect all DOC employees to move to Monroe County immediately, due to the current housing market. It is likely to be gradual. Still, the impact will be felt.
"Any time you put 450 jobs in the county, regardless of how many people move here immediately, we consider it to be a good thing for growth," says County Commission Chairman James Vaughn. "That's almost 10 percent of Forsyth's population."
While the Department of Corrections move promises to open up new avenues for growth, the county's current main economic drivers are forestry and agriculture, which account for $10.6 million annually. One of its larger employers is Perdue Farms, which invested $9 million in its Monroe County feed mill and hatchery in 2005.
The Robert W. Scherer Electric Generating Plant, a 3,520,000-kilowatt coal-fired facility, is one of the largest single generating stations in the country. Plant Scherer sits on nearly 12,000 acres near Lake Juliette in the southeast part of the county.
The plant employs 400, most of whom live in Monroe County. The county also receives more than $6 million in property taxes from the plant, which is operated by Georgia Power.
Plant Scherer is undergoing a long-term construction project to improve air quality.
"There's approximately 1,400 construction workers at Plant Scherer doing billions of dollars of air quality construction," Vaughn says. "They're spending more money renovating it and rehabbing it than they did to construct it. It's the largest coal-fired power plant in the country. It's in Monroe County, and we're glad of it."
Monroe has several industrial sites, including Meridian 75 Logistics Center on Rumble Road, which it recently sold to real estate company Industrial Developments International (IDI). The 250-acre site, with 3 million square feet of warehouse distribution space, has the potential to bring 1,500 jobs to the county.
In a public-private partnership, the Development Authority of Monroe County and IDI teamed up on a PILOT (payments in lieu of taxes) financing plan. The Development Authority issued $11.5 million in PILOT bonds, which were purchased by IDI to fund infrastructure improvements to the site. Proceeds from the sale to IDI will enable Monroe County to develop another industrial park elsewhere in the county.
The county is currently in the midst of several SPLOST initiatives, including a $3.5 million project to construct a new county administrative building just off Forsyth's square.
The Monroe County Hospital is considering a $4.3 million renovation and construction project that includes a new office building and extensive renovations.
The hospital hired a new chief executive officer, Kay Floyd, this past summer.
The county is doing an extensive $5 million construction project to extend its water lines throughout Monroe, largely into residential-zoned areas to accommodate future growth. It also has plans to build a new tower in the northern part of the county that can hold 250,000 gallons of water.
Currently, Monroe County purchases its water from the city of Forsyth, the Macon Water Authority and Butts County. But the county has plans to operate its own water treatment plant. This past year, Monroe purchased the former Plant Camilla in Juliette for $700,000 in SPLOST funds in hopes that it may one day become its primary water source. The county has already replaced the voltage system and some water pumps, but the bulk of the overhaul won't be able to be completed for several years. The plant has a capacity of 6 million gallons a day.
Up The Hill
Forsyth, the county seat, is just a few blocks from I-75 exit 187. The road that comes off the interstate is lined with gas stations and fast food restaurants, but few who stop venture past the railroad tracks at the top of the hill.
"It's kind of been a pass-through to this point," Andrews says. "Whenever you talk to people, they say, 'That's where I get gas, that's where I stop on the way to Florida or to Atlanta.' But we're really trying to change that."
"I-75 is a tremendous economic engine, but most of the time, people don't come over the tracks," Forsyth Mayor Tye Howard adds. "We truly are one of these cities — hopefully we'll retain it — that's positioned where we are a nice, small, well-functioning community, but we have a lot of growth and changes that are coming."
Forsyth and its town square sit at the intersection of six state routes, including State Highways 41, 74 and 83, and US 341.
"We've got everything from pulpwood trucks to transfer trucks that come through," Howard says. "We need better ways to address the fact that we have a beautiful but small downtown square, and we've got a bunch of streets coming in."
A lot of truck traffic passes through, but the town is getting ready for a $1 million streetscape project that will make downtown more pedestrian-friendly.
"It's a long-term project we've been waiting to get started on for several years now," says Laurie Pippin, Better Hometown Director. The city expects to implement a later phase along the corridor connecting downtown to its I-75 exit; but for now, the main focus is on the four streets surrounding the courthouse square.
"The purpose is to increase pedestrian safety and encourage more pedestrian traffic," Pippin says, adding that the project will also include street lighting and landscaping. "It's an exciting city project."
The streetscape initiative is timely, as more and more people are beginning to use the downtown square, and not just during business hours. "There's a lot of nightlife on the square," says County Commissioner Anita Buice.
"There's been a lot of restaurant development in the past few years," agrees Chairman Vaughn. "Ten years ago, if you came to Forsyth at night, it was rolled up. Now it's very active."
The city hosts several events throughout the year that not only bring the local community together, but also attract people from neighboring counties.
"When I was a kid, there were no restaurants here. In fact, all that was here were gas stations and motels," the mayor recalls. "Now we've got quite a lot going on. The things to do have increased dramatically over the years."
The town holds the Forsythia Festival each spring, a well-attended concert series each summer, and recently launched its first "Taste of Monroe County" this fall.
The Better Hometown program also launched a local farmers market this year. Two years ago, the city created a downtown-wide wi-fi hotspot through a grant.
The county and the city have also invested in their history. The county courthouse, built in 1896, is finishing up an extensive $1 million rehabilitation. The city rehabilitated the 1890s City Hall and turned it into its welcome center, which now houses a number of government offices. The local theater group restored the historic Rose Theatre facing the square two years ago.
"One of the things that I'm proud of on the square is the renovation of the Rose Theatre," says Vaughn. "That was walls and a front façade with no roof and a bunch of rubble in it three or four years ago."
Working Together
As the city and county anticipate additional growth, they are finding new ways to work together. Just recently, the city and county administrators, the hospital administrator, the county school superintendent and the chamber's Andrews have started having quarterly meetings to make sure everyone's on the same page and helping each other as much as possible.
"There's so many things that overlap that we can help each other with," Andrews says. "We're truly looking at it from a cohesive community planning aspect."
"A lot of people over the years have told us that there is no good way for a city and county to work together. But that's not what I have seen," Howard says. "I think we're doing a great job of coordinating efforts. Maybe because we're a different crowd than 15 or 20 years ago, we can work on anything until we know that we can't."
The county has a strong school system, considered one of the top in the state. "The key to everything else is the education system here," Howard says. "It is unparalleled in the state of Georgia."
The board of education purchased 37 acres on Highway 83 to build the $14 million K.B. Sutton Elementary School. The technologically advanced elementary school, which was funded through an Educational Local Option Sales Tax (ELOST), opened this past August.
"With the projections of future growth in the county, if we're already at max capacity in the other schools, we needed another school to provide space for the students that we have as well as the students who are continuing to move into the community," says Anthony Pack, superintendent of the Monroe County school system.
Another issue for the school system is access to post-secondary schools within Monroe County. "That's a little bit of a struggle for us because right now we do not have a technical school or a four-year institution inside the boundaries of Monroe County," Pack says.
But there are more changes on the horizon. Two new colleges will soon be opening satellite campuses. The board of education partnered with the development authority to purchase Monroe Academy, a private school that closed last year. Macon State College and Central Georgia Technical College will share the space for their new campuses. It's big news for a county that hasn't seen a four-year or technical college in more than 20 years.
"In Middle Georgia, we were the only county that did not have a presence of a technical school," Andrews says. "This will be huge."
The combination of the new schools and the Department of Corrections move make the future look promising.
"I really don't think any of us can truly envision what the Department of Corrections is going to do, because you figure you're looking at a population of the city at around 5,000, and you're about to add 400 on a daily basis," Andrews says. "That's a pretty unknown picture that we're getting ready to paint. And it's exciting. It's really energizing to think of all the opportunities."
"Right now we're kind of surviving this economic downturn," Howard says. "The long term plan for us is to be frugal with people's money but at the same time plan for what is happening now, and what it portends for the future. Eight years from now, you probably won't be able to recognize this town."
Community Snapshot
Local Leaders
Tiffany Andrews
President and CEO
Forsyth-Monroe Chamber and Executive Director,Development Authority of Monroe County
478.994.9239
James Vaughn
Chairman
Monroe County Commission
478.994.3830
Anthony Pack
Superintendent
Monroe County School System
478.994.2031
Tye Howard
Mayor
Forsyth
478.994.5649
Population
(2007)
Monroe County, 25,145
Forsyth, 4,637
Per Capita Income
(2006)
Monroe County, $30,352
Georgia, $32,095
Unemployment
(September 2009)
Monroe County, 10.2 percent
Georgia, 10.1 percent
Top Employers
Monroe County Board of Education, Georgia Power Company/Plant Scherer, Monroe County Commission, Al Burrus Correctional Institute, Georgia Public Safety Training Center, Monroe County Hospital, Forsyth Inns Inc.,
City of Forsyth
Sources
U.S. Census Bureau, CityData.com, Forsyth-Monroe County Chamber of Commerce, Georgia Department of Labor