Rome/Floyd County: Marking Milestones
New Roads, New Solutions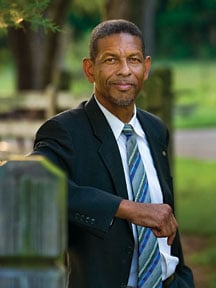 When you live in a city named after one of the most famous places on earth, thinking big just comes naturally. So when Georgia's Rome celebrated its 175th birthday earlier this year, it did so in style, cutting the ribbon on a brand new town green connecting the city's bustling downtown district to the bank of the Oostanaula River. The verdant green, complete with dancing fountain, replaces what was a gravel parking deck adjacent to the city's entertainment venue, The Forum.
Visitors needn't worry about parking, though, as the other portion of this joint city-county project is a brand new parking deck. City Manager John Bennett says the $1.8 million town green was paid for with Special Purpose Local Option Sales Tax (SPLOST) funds and the $7 million parking deck resulted from a joint city/county bond. "These are two big additions to our downtown," he says. "They were very much needed."
Rome dedicated its new town green on the Friday before Labor Day, then tried to add to the glory by throwing a bona fide daylong toga party, complete with bands, at The Forum. Attendees were asked to wear official Roman-style togas (the city printed a handy brochure on how to fold one properly) in an attempt to set a Guinness World Record for most people in one place attired in – what else – a toga. The attempt fell short, probably due to its competition with the opening day of college football season, but Rome's leaders haven't lost sight of the big picture.
"We're extremely excited about the potential of what's to come and kind of refocus folks downtown," says Assistant City Manger Sammy Rich.
Leaders are also excited about what the success of this latest city-county venture says about the high degree of cooperation between the two governments. "For a couple of decades the city and county [have] been working very well together on projects that have been very beneficial to the whole community, specifically working on projects in the downtown Rome area, recognizing that Rome is the heart of the Floyd County community," says County Commission Chair John Mayes.
In fact, he's anticipating the launch of a new combined city/county website by year's end, something not usually seen outside a consolidated government. "We are not consolidated, but here we are putting together a joint website."
Funding Frenzy
Come November, citizens are set to vote on another SPLOST to fund a new wave of joint projects.
One important undertaking will be a $4 million FCC required upgrade to the public safety communications system (public works, city, county, hospitals, ambulance service and schools) to an 800 MHZ system. "We have a pretty old system," County Manager Ken Poe says. "We're on a VHF radio and the city of Rome is on UHF, so we can't talk directly to them."
The new SPLOST would also provide $3.3 million in upgrades, including the installation of artificial turf, to downtown's Barron Stadium. When that is complete, Poe says, the National Association of Intercollegiate Athletics will agree to hold its championship football game there for 10 years. The stadium, which hosted last year's championship game, also serves as home field for the Rome High School and Shorter College football squads, as well as a high school marching band competition.
However, the biggest chunk of change – $5.9 million – Rich says, will go toward the acquisition of industrial property in the northeast portion of Floyd County near the intersection of S.R. 53 and S.R. 140, just seven miles from I-75.
Though Rome has a healthy industrial community (Pirelli tire expanded last year, says Heather Lathbury Seck-man, economic development director for the Greater Rome Chamber of Com-merce, and Bekaert Steel is expanding locally after closing down a facility in Mississippi), the city center is about 25 miles from either of the nearest I-75 junctions.
While that distance may make landing one of the ancillary businesses spawned by the new Volkswagen plant in Chattanooga, some 50 miles north on I-75, a bit more difficult, Rich believes the lack of a major highway has been good for Rome. "One reason we have such a high quality of life in Rome is because the interstate didn't come here. We've had slow steady growth all these years and we didn't get run over with interstate development like a lot of communities have."
Mayes agrees that distance from the interstate is both a curse and a blessing. "That's what makes Rome, Ga., and Floyd county so unique," he says. "In general I think that's why we're doing as good as we're doing as far as the economy is concerned because a lot of the industry that came to Floyd County came not because of the interstate or the highway, they came for other reasons like lifestyle. They came on purpose; it wasn't by accident. You have to find your way to Rome, Ga. You have to want to be here."
Roads Rule
Distance from I-75 notwithstanding, Rome's leaders seem bound and determined to prove that all roads either lead to Rome – or bypass part of it.
Previous SPLOST funds are paying for the new Riverside Connector, a $1.2 million project that will extend Riverside Parkway, which currently runs east from downtown to Veterans Memorial High-way, where it dead-ends at the Rome Braves' State Mutual Stadium. The new road will provide a new bridge over the Oostanaula River west of town and bypass a congested portion of busy Highway 27, which runs north from downtown Rome past Mount Berry Square Mall and Berry College, before tying back into 27 as it heads north to the Armuchee community.
"Right now the only connection to the northern part of our county is Martha Berry Highway, which is U.S. 27," Bennett says. "And right now if it breaks down, because of the river and Berry College, there's no way to get around that. You have to go miles around to get around it."
Poe hopes the project will "generate some more interest in outparcels around the stadium," a county-owned facility that's leased to the baseball team. "The property owner there has come up with some ideas about retail, office mix around the stadium," he says.
Another road project, Rome's western bypass, is finally under way – some 15 years, Poe says, after the county paid the state Department of Transportation $6 million to fast track it. The project is divided into three spurs and the first to be constructed is, more or less, the one in the middle. The new segment begins at U.S. 411 southwest of town and will eventually tie into Highway 20 on the northwest side of town, adding a new bridge across the Coosa River as it meanders west toward Alabama.
When finished, Poe says, the bypass will help divert truck traffic that currently must plow directly through downtown Rome on Highway 20 en route to Rome's long-standing economic engines, the Temple-Inland paper mill on the city's northwest edge, and Georgia Power's Plant Hammond.
Quality Of Life
As Rich aptly notes, sometimes quality of life speaks more for a community than asphalt when it comes to recruiting new businesses and residents. One thing Rome has going for it is educational opportunities, from the prestigious Darlington School, a college prep school founded in 1905, to Unity Christian School, which just marked its first decade.
On the public school front, Rome High School is adding on a two-story building that, says Rome City Schools Superintendent Gayland Cooper, will house two new science labs, a cosmetology lab, nine classrooms, restrooms and an assistant principal's office.
Rome's higher education scene is bustling as well. Shorter College is about to become Shorter University, Georgia Highlands College began offering classes in Douglasville this year and Berry College, which recently opened new LEED-certified dorms and is working on a new dining hall and ballroom, is going back to its roots encouraging students to start businesses from scratch (See "Local Flavor," below.)
The biggest changes occurred this summer when the doors of Georgia Northwestern Technical College (GNW) opened on not just one but two campuses – the original Coosa Valley Technical College (CVT) campus in Floyd County and the campus of what was Northwestern Technical College in Gordon County.
As part of a streamlining process, the Technical College System of Georgia announced the combination of several technical schools last year; GNW opened its doors in July after receiving Southern Association of Colleges and Schools accreditation in April. The fall session started in late September and, says GNW President Craig McDaniel, who headed up CVT prior to the merger, enrollment is "going to be somewhere in the neighborhood of 15-20 percent over where the combined enrollment of the two colleges would have been last year. A lot of those are displaced workers."
Students can take advantage of the institution's culinary arts program, which will move into a new Floyd County facility in January. The school has added a second staff member to the aviation maintenance program at Rome's Richard B. Russell Airport and hopes to start its avionics program with as many as 25 students, says McDaniel, adding that he expects to see college students taking credit classes at the Floyd County College and Career Academy, which opened this year adjacent to the Floyd County campus "and career academy students coming over and taking horticulture and culinary classes."
Perhaps the biggest news is taking place farther afield. McDaniel says GNW received $3 million from the technical college system and a 34-acre tract from the Catoosa County government to open a new school just 10 miles from the Volkswagen plant in Chatta-nooga. "I think we will get complete funding in this session of the General Assembly, and my goal is to have it open by fall 2012," he says.
The new school will focus on "mechatronics," which, McDaniel says, is a European concept combining industrial mechanical and industrial electrical and electronics.
"We found out in dealing with Volkswagen that they like a regional approach … so we're going to look at that entire region and find out where there might be some gaps in terms of program offerings and we're going to try and focus on building those programs," he says.
In addition to education, access to quality healthcare is another plus for any community and that's something that Rome – with Floyd Medical Center, Redmond Regional Medical Center and the Harbin Clinic – provides in abundance.
The Harbin Clinic, which traces its roots to a small local hospital founded by brothers Robert and William Harbin in 1908, is expanding its presence in northwest Georgia with a new 75,000-square-foot facility in Cartersville uniting all the specialists in that city under one roof, says President Kenneth Davis. It's also establishing a presence in Cobb County with a new physician in Acworth as well as in Trion, in Georgia's far northwest corner. Davis says details on a new cancer center in Rome are forthcoming.
South Rome Rebound
While housing in Rome is not an issue for most, there is one population segment that could benefit from more offerings, says Karen Moore, director of South Rome Redevelopment Corp., the city agency charged with rehabilitating the 2.2- mile area that is home to about 10 percent of Rome's population.
Though not without detractors (it was the subject of a zoning lawsuit, but the city commission backed the project) Etowah Terrace is a $10 million, five-acre mixed-use development that would provide 77 residences for area seniors.
Anchoring South Rome's revitalization since it opened last fall, Moore says, has been the South Rome Unit of Boys & Girls Clubs of Northeast Georgia. The club worked with the Georgia Depart-ment of Community Affairs and other local schools and colleges to develop a Servant Leadership Academy and opened a community garden with help from Federated Garden Clubs of Rome.
Moore says her organization is turning an eye toward developing a master plan after having adopted the East Lake Holistic Model for Redevelopment. Based on the East Lake Foundation's efforts in Atlanta, Moore says the plan rests on two pillars: "creating affordable housing options and providing cradle to college educational opportunities for children and their families."
She adds that she expects great things from the organization's ongoing relationship with the Cousins Family Foundation and its New Community Ventures program, which aims to make its holistic model work in other communities.
Rewatering Cave Spring
Floyd County's only other city, tiny Cave Spring (population 950 and holding steady, according to Downtown Development Authority Director Betty Sue Hickman), is located in scenic Vann's Valley 14 miles southwest of Rome. It has checked some pretty ambitious projects off its list lately as well.
Last year Cave Spring finished up a $25,000 façade grant project that spiffed up its downtown, home to intriguing antiques shops and charming bed and breakfasts, and added a Veteran's Memorial Plaza, complete with flags representing each branch of the service and commemorative bricks (which are still available for purchase by veterans and non-veterans). A $100,000 grant from the state transportation department will provide walking trails linking downtown to Rolater Park, home to the city's namesake cave and spring.
Mayor Rob Ware reports that some $850,000 in SPLOST funds covered the addition of a new four-bay fire station – converted from an old housing authority community center – as well as a new civic center located in what once was a dining hall for the locally headquartered Georgia School for the Deaf.
But the go-ahead on what Ware terms "one of the biggest things that's ever happened as far as community improvements" came in late September when notification came that the city was approved for $7.2 million in funding from the American Recovery and Reinvestment Act to repair some 19 miles of water lines and add a million-gallon reservoir, an elevated storage tank and a new pump station and controls.
"We're eligible for $7.2 million in stimulus funding," says City Clerk Judy Dickinson, but the loan amount is $4.3 million and the subsidy part that won't have to be repaid is $2.9 million. Bids came in under $5 million.
Ware says efforts to secure the funding began in December, when he first got wind of the proposed stimulus legislation. Getting the project approved and shovel ready by Nov. 1 this year was critical, he says, and involved writing an engineering proposal, doing the plan to specifications and getting the plans approved by the Georgia EPA. "Some of the problems other communities had is that they didn't take quite the aggressive approach as we did, making themselves ready if they got the money."
Though Ware says that Cave Spring "moves at a pace that's a little slower than everybody else's," he has high praise for the city council's willingness to move quickly on the project. "These improvements have been needed for probably 20 years," he says. "This will really enhance our ability to serve our customers."
COMMUNITY SNAPSHOT
Local Leaders
John Bennett
City Manager
Rome
706.236.4402
jbennett@romega.us
John Mayes
Chairman
Floyd County
Board of Commissioners
706.234.2157
Rob Ware
Mayor
Cave Spring
706.777.3382
info@cityofcavespring.com
Population
Floyd County, 95,980 (2008), Rome, 36,142(2006)
Per Capita Income
(2006)
$28,233
Unemployment
(August 2009)
Floyd County, 11.1 percent; Georgia, 10.2 percent
Major Employers
Floyd Medical Center, Floyd County Schools, Harbin Clinic, Mohawk Industries, Redmond Regional Medical Center, Temple-Inland, Floyd County, City of Rome; Kellogg, Syntec Industries
Sources
Greater Rome Chamber of Commerce, U.S. Census Bureau, U.S. Bureau of Economic Analysis, Georgia Department of Labor