Help For The Helpers
Donations are down, but needs continue to grow.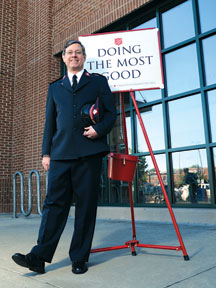 Behind the familiar Salvation Army bands and the colorful red collection kettles that appear during the holiday season, evoking Norman Rockwell-like images of humility, good will and charity, is one of America's most powerful organizations.
The "Christian Army," which came to the United States from England in the late-19th century, now operates in more than 100 countries. Its Metro Atlanta Area Command is a $16 million annual operation.
The charity is known for offering help without strings, often to those who cannot find such help anywhere else. It operates emergency shelters, provides social services to youths and the elderly, offers drug and alcohol recovery programs, dispenses aid to the needy and assists in disaster relief.
The Salvation Army works throughout Georgia, often tailoring its efforts to specific local needs – working with homeless men in Albany, helping homeless children in Gwinnett County. After the devastating floods in September, the Salvation Army gave out meals and bottled water to displaced victims in Carroll and Gwinnett counties and in Toccoa.
Yet this unique organization is not insulated from the problems affecting other area nonprofits and charitable endeavors – flat donations and a growing population in need of its services. The Atlanta command alone gave out $665,000 more in emergency aid the first few months of this year than it did in the corresponding period in 2008.
"The needs are rising faster than we can keep up [with]," says Atlanta Area Commander Major James Seiler. "I've been an officer 25 years, and I've never seen this. There is a tremendous amount of stress on our frontline people. "
Over the last few months, the Salvation Army has seen the number of individuals and families seeking its services in Metro Atlanta increase by 15.6 percent. Many of those are new to hard times. In Clayton County, 1,400 of the 6,000 requests for help last year were from first time cases.
The Salvation Army relies on a combination of private donations – often coming in very small amounts, proceeds from its annual holiday red kettle collections and, in many communities, funding from United Way or other local agencies.
Typically, the charity's yearly growth, measured by donations and collections, is about six percent nationally. Last year the metro area command's holiday Red Kettle Campaign was short $20,000. To compensate for the shortages, the command reduced its workforce by 10 employees. Staffing facilities and events has become particularly difficult.
"That's true for nonprofits everywhere," Seiler says. "The vast majority of our expense is people – not that they're overpaid. They make less working for us than they would in the private sector, but they're working for love of the people."
He says the Salvation Army is dedicated to spending 83 cents of every dollar on direct programming, leaving little left over for increased staffing needs.
A case in point: the new addition to the downtown Red Shield Lodge that will house the Metro Area Command's Family Room Project, scheduled to open in early November. The addition offers 21 family spaces, each with a bathroom.
"It's the only place a family in crisis can stay together in Atlanta," Seiler says. "In most shelters, the men are kept separately from the women. Red Shield was designed to keep the family together and give them some privacy. Being able to wash your baby in private is very important. We also have computers to help the parents get jobs, and an addition to the dining room so the families can eat together."
But those families need a lot of support staff to keep going. "When the same people are cooking 82 meals a day, they need help in the kitchen," Seiler says. A maintenance and cooking crew need to be on hand as well as caseworkers and night monitors, and Red Shield will cost $50,000 a month to operate.
"We think we've raised enough to keep it running the first six months, but after that it's an ongoing challenge," Seiler says.
Children's Needs
A recent Back to School Bash at the Salvation Army Gwinnett Corps Com-munity Center saw a significant increase in parents seeking backpacks and school supplies for their children.
Nearly a thousand families showed up, says Lafeea Watson, communications officer for the Metro Atlanta Command. "That's triple the amount from previous years," she says. "We had to reach out to the additional corporations for support when we saw how great the need and requests were for the school supplies. "
In Gwinnett, the problem of homeless children is particularly acute. The Gwinnett Daily Post reports that 60 percent of those displaced by foreclosures in a recent year were children; the local school system accommodated some 3,000 homeless students.
"Homelessness in Gwinnett just keeps rising and rising," says Captain Bobby Westmoreland of the Gwinnett Salvation Army Corps. "At the same time bricks and mortar are hard to get up here. We have a couple of transition housing projects, but no homeless shelter, and a lot of families are becoming homeless without a safety net of extended family to fall back on."
The county would not let the Army build a homeless shelter on its property on Sugarloaf Parkway, but several churches got involved in the effort, and seeded Home Sweet Home Gwinnett, a different approach to homelessness that has become a national model.
"Debbie Wengrow, who runs our Family Emergency Services Depart-ment, thought if we put them [homeless families] in an actual address instead of a shelter, with intensive case management, it would be easier for them to get a job," Westmoreland says. "Then a coalition of religious groups called Churches United, lead by Chip Sweeney, got behind the idea."
Home Sweet Home Gwinnett, which started in October 2008, involves renting existing units for the family near or in their former neighborhood. "The idea is that we don't separate people as though they were folks with a disease," Westmoreland says. "Our first client now has two jobs, a car, and is in the process of buying a home."
The program also includes a caseworker who seeks out needy families, including those often locked into a cycle of moving from hotel to hotel – a form of "transitional homelessness" – living from week to week. The program enables them to rent apartments at a reduced rate for nine months to a year before moving to transitional housing (a subsidized community like Rainbow Village in Norcross), or directly into their own apartment or home.
"Debbie has gotten some amazing letters from families that have moved on," Westmoreland says. "The things they said about the program were so powerful – like that they're so happy to have furniture for the first time. That gives us a boost, and lets us know we're on the right track."
The program has helped seven families to date, a small dent in a big problem. "As far as we've come – from nothing to something – we're still not where we want and need to be," he says. "We need to go to 20 apartments, which would require two more caseworkers, because that one on one attention is the secret to our success. We just received a small amount from stimulus funding to help us bring on another caseworker, and we're very encouraged about that. "
Such alternative funding sources are now becoming more common.
"The lion's share of our donations come from our wonderful friends, those who send us $25 or $100 a month, and that's the area [where] we've really taken a hit," Seiler says. Many longtime donors are no longer able to contribute. "Some are even coming to us for help."
"We're now going to area foundations and corporations that are un-tapped, and partnering with other nonprofits – we're open to ideas," Watson says. "We've also increased our number of volunteers through online engagement, to offset the loss of staff."
"Volunteering adds the biggest fuel to our fire," Seiler says, "especially the kettles. We depend so heavily on that." When a volunteer is helping out with kettle duty, "it not only prevents us from having to hire, but increases the giving because most of the time, you have friends who walk by, and thus you can put more pressure on donors. Those nickels and dimes really add up. A million and a half [dollars] is raised that way in the Atlanta area alone [each year], accounting for 10 percent of our annual donations."
That amount could expand as the Army reaches out to younger generations with its Online Red Kettle effort. "We've tried it for two or three years, but this is a concerted effort we're making to promote it this year," Seiler says. "We want to reach younger generations that get their news in a different way. We don't have a big public relations budget and not a lot of people know about our services."
The average online credit card donation is $135, he says, compared to a $2 average for individual kettle donations.
Corporate Partners
Meanwhile, the Salvation Army will depend on corporate partners – some new, some existing – to make up for the flat donations. Coca-Cola donated $10,000 toward the Family Room Project at the Red Shield Lodge. In July, Autotrader.com sent 107 people from its National Update Meeting in Dunwoody to renovate the Army's West End Boys & Girls Club for a day.
"We worked with the Salvation Army and Boys & Girls Club staff to identify the greatest needs of the Boys & Girls Club, what projects would utilize our employees' talents and how our financial donation could make the largest impact. Our goal was to help make this club a comfortable, fun and motivational place for kids to spend their afternoons," says Jennifer Ander-son, community relations coordinator for AutoTrader.com.
Another corporate partner, Publix, recently increased its donation levels to the Army. "It's the only category we increased this year," says Brenda Reid, media and communications manager for Publix. "Usually we maintain our level of giving, but this year we recognized that based on what's going on across the country, this was an opportunity to have a real impact. Business has been bad, so our foundation hasn't been able to grow; but this year we really wanted to make a difference."
The giving translates to 1,000 turkeys for Red Shield, two pallets of canned food items from their annual Food for Sharing program, and manpower to load and warehouse food during the 11Alive Canathon in December.
"This saves us thousands of dollars which we would have to use to purchase food for the shelter," Watson says. "Publix also donated $5,000 toward the Red Shield's new Family Room Program."
"We've made a number of requests to different foundations that typically support us through capital, to give us cash instead – it's helped alleviate the seriousness of the situation. They've acknowledged that these are unusual times," Seiler says. "I've sensed that the real estate market is coming back, and a growing realization that our needs are so great. We're sensing there is some hope on the horizon."
In Albany, the Salvation Army's struggle mirrors that in other communities.
"Our funding from United Way has been cut by 50 percent, or $35,000," says Doug McClure, Albany command officer. "Our mailings [mailed donations] have been down in last six months close to 14 percent. At the same time we're helping 160 people a day – twice as much as our previous year. We operate a 42-bed homeless shelter that's one of just a few in Albany, and only one of two for homeless men. Men are our primary focus because our male population is very high.
"We have had to make staff cutbacks," he says. "We're down to two in administration, two part time cooks, and two shelter monitors. But the phone is ringing off the hook. We get 30 to 40 utility calls a day, and have to turn away 75 people a week. Volunteers have helped, but we can't have volunteers doing casework and processing confidential files."
"Southwest Georgia needs help this Christmas," he says. "The Albany Command serves nine counties, so we're really trying to get word out. It's a huge area. Our mandate this year is to stay open, and continue doing what we do – no matter what – and be the people God wants us to be."
The Metro Atlanta Command's Seiler says forecasting donations is "more art than science. We wind up budgeting at a certain level, then if the income creates more resources, we can go to the next level. It's not an easy thing to do, but then we're in a faith business. And we believe the Lord will provide for our needs."
Editor's Note: Online donations can be made via the Salvation Army's website at www.salvationarmyatlanta.org; information about volunteering is available by calling 800.SAL-ARMY.