2009 Silver Spoon Awards
Some casualties and some successes for Georgia restaurants, plus our annual list of the state's 10 best.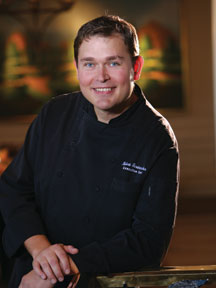 The first to suffer, the last to recover – restaurants are leading economic indicators for both the worst of our current fiscal crisis, and, many hope, the way out of it.
As businesses around the state begin to regain their footing from the depths of the Great Recession, many restaurants are still reeling. Once-thriving dining establishments now stand bare, or worse, closed. Atlanta casualties ranged from upscale (The Ritz-Carlton Buckhead Dining Room) to hipster haunt (the Globe) to down-home (the late, beloved Son's Place, where the chicken was fried in Deacon Burton's cast-iron skillets).
Losses are still mounting, but incredibly, upscale hotel restaurants are still engaged in a high-stakes battle of attrition.
The sparkling new St. Regis, at presstime, readies itself to open Pano's, Pano Karatassos's new French bistro. On Sea Island, the Cloister's Georgian Room earned its Mobil five-star rating for the second year in a row.
At the Georgian Terrace, former Taurus chef Gary Mennie learned that when one door closes, you can turn it into a champagne nook: Livingston, the new restaurant across from the Fox Theater, sports a sexy, contemporary redesign (the old revolving door now showcases a giant ice bucket and chilled bubbly) and a witty Mennie menu.
At the other end of the scale, some nimble restaurateurs are engaging in forms of guerrilla warfare – slashing prices, serving take-home food, and opening smaller, swifter, more downscale spots designed to serve great bites, many of them with the time-honored silver bullet for hard times: the cocktail shaker.
The Four Seasons' Park 75, battling both a slow economy and seemingly endless roadwork outside its doors, offers an incredible $35 three-course prix fixe – with matching wines.
Holeman & Finch (from Restaurant Eugene chef Linton Hopkins) is the forerunner of a new breed of more casual spots from the city's best chefs, with Abattoir (from Bacchanalia's Anne Quatrano and Clifford Harrison) a more recent entry. Both serve exquisite small plates of affordable meaty treats, with clever drinks.
At Flip, former Top Chef finalist Richard Blais turns the great American hamburger on its … buns? His hand-ground burgers, with inventive sides such as sweet potato tater tots and blue cheese foam, attract long lines. In a still-emerging section of Peachtree, Dogwood strives to lure customers to its beautifully modern SoDoHo (Southern Down Home) environment, anchored by its ever-changing "grits bar."
In Brunswick, a changing of the guard shows promise that this coastal dining destination is back on course: Cargo Portside Grill, established by former Atlanta restaurateur Alix Ken-agy and later taken on by her daughter, Kate, is now helmed by husband-and-wife team Jayson and Christy Ridinger, formerly of Christy's.
Some early encouraging reports from readers, as well as a quick peek at the menu – featuring some of the old, beloved dishes like the grilled peach poundcake, and some new ones, such as lobster corndogs – have us eagerly awaiting our next visit.
And in the mountains, another new set of owners, at Glen-Ella Springs Lodge, have carefully maintained the great food and atmosphere at this well-run hideaway and corporate retreat.
Finally, in Macon, one of our favorite new restaurants is casual and inexpensive, but ambitious in an entirely different way.
This restaurant (and adjoining catering and conference space), run by Goodwill Industries, is a kind of internship program for the students of its cooking school. Scholarships pay the way for culinary students who couldn't otherwise afford it; profits go to keeping the school open. At this sole Goodwill outpost to possess a liquor license, you can do good by eating well.
GEORGIA'S TOP 10 DINING DESTINATIONS
1. The Georgian Room
Sea Island's toniest restaurant manages to win national awards and accolades – as well as the affections of its largely Georgia-Florida clientele – with straightforward presentations of full-on flavors. No foams, no sous vides, just the essence of the freshest ingredients, many of them from nearby Sapelo Farms.
Sea Island, 800.732.4752, ext 4347.
2. Restaurant Eugene
Chef Linton Hopkins is forging the way for the South's next generation of cooks, creating a refined, elegant cuisine from pork belly, deviled eggs and house-made soda crackers.
2277 Peachtree Road (in the Aramont), Atlanta, 404.355.0321.
3. Glen-Ella Springs Lodge
Thankfully, new owners Ed and Luci Kivett revere good food and a quiet, relaxing atmosphere as much as previous owners Bobby and Barrie Aycock. The old BYOB policy is gone – the dining room is now considered a tasting room for Habersham Winery, and offers several Georgia wines.
1789 Bear Gap Road, Clarkesville, 877.456.7527.
4. Greyfield Inn
One day, this mystical property will revert to the National Park Service. Until then, you still have the chance to experience this singular, historic inn and its equally unique guests – not to mention the unspoiled beaches and well-made suppers. Staying overnight is unforgettable, but expensive; however, day trips and dinner visits are also often offered.
Cumberland Island, 866.401.8581 or 904.261.6408.
5. Park 75
Chef Robert Gerstenecker's rarified menus have a much more pronounced Southern accent these days, available at Atlanta's only true chef's table.
Four Seasons Hotel, 75 Fourteenth St., Atlanta, 404.253.3840.
6. Canyon Grill
On the twisting roads near glorious Cloudland Canyon, this always-clamoring little gem serves up specialties like the "slash-and-burn" catfish, a hefty feast of fried fish smothered in black bean sauce. BYOB.
Scenic Hwy. 189 at Hwy. 136, Rising Fawn, 706.398.9510.
7. Five and Ten
Celebrated chef Hugh Acheson mirrors the Atlanta model, partnering with Chef Peter Dale and opening less-expensive sister restaurant the Nation-al, with the best lunch in town. Still, Acheson's quirkily delicious original is one of the best restaurants in the region.
1653 South Lumpkin St., Athens, 706.546.7300.
8. Bacchanalia
What is perhaps Atlanta's best-loved and most-honored restaurant has its most consistently amazing food – and cheese selections. We hope that a recent visit, involving loud, rowdy neighboring diners and an unscheduled move to downstairs' Quinones, was an aberration.
1198 Howell Mill Road, Atlanta, 404.365.0410.
9. MF Buckhead
Brothers Chris and Alex Kinjo (Nam, MF Sushibar) took a giant leap of faith by opening this gorgeous, massive paean to sushi and Japanese culture. This year, diners were finally welcomed into the even more exclusive "omakase" room, with specialized tasting menus.
3280 Peachtree Street, Atlanta, 404.841.1192.
10. Elizabeth on 37th
After all these years, it's still Savan-nah's best, even after visionary chef Elizabeth Terry retired from the kitchen. Still, the Alice Waters of the Southeast was one of the first in the region to champion local, seasonal ingredients, and today young chefs at newer hotspots like Local 11 Ten and Cha Bella are following her lead.
105 E. 37th St., Savannah, 912.236.5547.