Perimeter Area: On The Move
Making transportation a priority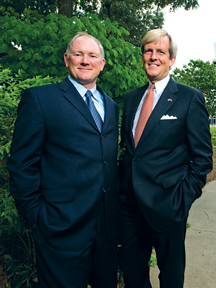 The road fronting Perimeter Mall is filled with traffic as throngs of pedestrians make the trek across the multilane street to dining and shopping. This intersection is a good indication of the change that has come to the busy Perimeter area of north Metro Atlanta.
Yvonne Williams remembers a time when workers in the Ravinia complex behind the Crowne Plaza Hotel never ventured out because traffic made crossing the street too dangerous. That has changed, thanks in large part to the work of the Perimeter Community Improvement District (PCID), which she heads.
At a time when state government has punted on finding a solution to the congestion clogging Atlanta roads, Perimeter business and civic leaders have been working to create something of a little oasis. Working through the PCID, a self-taxing district located partly in Fulton and partly in DeKalb counties and including the cities of Dunwoody and Sandy Springs, businesses and property owners made transportation a high priority. And they've been willing to put their money on the table to make it happen.
"It's easy to sell these projects to the local owners who are willing to tax themselves," says Robert Voyles, president and CEO of Seven Oaks Co. and longtime chair of the DeKalb PCID. "I'm not aware of a single no vote on a project and I think that's the strongest evidence of companies' buy-in to these projects."
Coming to grips with transit is motivated by a simple idea – the bottom line. As a result, property owners have been willing to open their pockets to local taxation with little complaint.
"It really impacts us in two ways," says Chuck Altimari, a vice president with UPS who serves as board chair for the Fulton component of PCID. "We have our corporate headquarters here in the Perimeter and it impacts us from the perspective of helping our people get to and from work and lunch when they have to leave the office and also making this an attractive place for employees from a hiring perspective."
The growth in retail and office, not to mention residential, has pushed up property values. The PCID boasts more than $3.36 billion in commercial along with $453 million of residential.
This convergence of jobs and people has also made getting here difficult and recruiting talent harder. Workers who have a choice – and those are usually the best ones – won't willingly accept long commutes into congested roads and streets.
"Where it helps us is that we can see that this market is committed to trying to address the transportation issues," adds Dale Hughes, senior vice president with Cox Enterprises, Inc., which has several locations within the Perimeter area. "So it gives you a sense of wanting to invest in this market. To say it is OK to have 60 acres here. It is OK to think about building buildings in this market and actually owning them, not just leasing and thinking, 'Well if things get bad I'll move.'"
To achieve these goals the PCID has poured lots of dollars into easing the daily trek. Since 1999 the PCID has collected more than $46.45 million from self-imposed commercial property taxes. About $27 million has been committed to completed or active projects that leveraged a 4.3 to 1 investment of $116 million in local, state and federal dollars.
New Sidewalks
All that spending is on display for drivers and pe-destrians alike. Sidewalks have replaced well-worn dirt paths from the MARTA station, and pedestrian crosswalks coupled with better-timed lights have made the dash across busy Ashford-Dunwoody Road safe at last.
Other projects include a flyover bridge across I-285 that was "one of the biggest capital projects completed in this part of the metro region," Williams says.
The PCID is now working with Georgia's Department of Transportation (GDOT) to construct a "half diamond" interchange that includes an exit ramp onto Hammond Drive to 400 South and an entrance ramp from Hammond onto 400 North.
This project came to fruition through an innovative partnership between the PCID and the city of Sandy Springs. The city used its low interest borrowing ability to help obtain a $5 million loan to complement GDOT's own $12 million expenditure.
These extended ramps will provide better access to retail and office, as well as the sprawling concentration of medical facilities.
All these projects are aimed at implementing a vision for a highly walkable connective urban community, Williams says.
"We had this development pattern, but there were so many missing elements," she explains. "We didn't have sidewalks around the transit station, and the street lights weren't synchronized. Or there were no pedestrian safety measures to show you how to cross and what we call those wonderful pedestrian pads that show you visually the safety of crossing these major arterials."
The PCID is tracking these improvements through Walk Score America, an organization that ranks 2,508 neighborhoods in the 40 largest U.S. cities. While Atlanta is generally ranked as one of the worst cities for getting around on foot, the Perimeter area scored much higher.
"Our whole goal is to make Peri-meter an urban walkable multiconnected community to several uses, whether it is your business, your residence, your entertainment, your ability to have greenspace for biking and connectivity among the communities," Williams says.
The emphasis on building a walkable environment reflects the belief that Perimeter is being transformed into one of Metro Atlanta's premier urban cores. It isn't simply a collection of offices or even retail, but a complete community where the emphasis is on mixed rather than single use.
"The areas that are thriving now are urban centers of choice where employees want to live," she explains. "People want to be in a place that is vibrantly connected with transportation choices."
The so-called creative class that fills knowledge-based jobs would rather ride a train or a bike than sit in a car. They also want access to the high level of cultural experience that an urban center can provide. Recently, Forbes.com named Sandy Springs one of America's Top 25 Towns to Live Well. The award looked at factors such as employment rates, quality of life, weather, natural beauty and schools.
One of the largest of these developments to come out of the ground has been Sembler's Perimeter Place, a 452,000-square-foot multi-anchored mixed-use development in the heart of the central Perimeter submarket.
The downturn in the economy has put other projects on hold, but local leaders believe the direction of development has now been set.
Home Rule
As this region has grown wealthier, it also has become more assertive in its desire to plot its own course. The cry for home rule took shape three years ago with the chartering of the city of Sandy Springs, located in Fulton County, and more recently Dunwoody, in DeKalb.
Proponents claimed cities could be more efficient and responsive and, for the most part, that seems to be playing out despite some initial opposition.
At her office in a low-rise office park off Roswell Road, Sandy Springs Mayor Eva Galambos likes to show visitors her collection of winged pigs. All are gifts from supporters who recall the words of State Senator Vincent Fort that "pigs would fly" before Sandy Springs was granted city status.
Four years after the metaphorical pig took wing, the city is on its way to delivering what it promised, Galambos says.
"People see that the streets are getting paved and sidewalks are getting built and codes are being enforced right and left, and all the things that never happened in unincorporated Fulton County are being taken care of," she declares.
Much of that success can be credited to the city's decision to outsource all services with the exception of police and fire to a private company. That greatly reduced the ranks of city employees even as it tripled the number of police officers on the beat.
Most other employees work not for the city, but CH2M Hill, a Colorado-based company that provides public works, community development and IT services.
"We're not running the government. The elected officials or the mayor and the council and the appointed and designated officials are in charge," explains Don Howell, director of operations for the firm's municipal services division. "We're simply service providers and we follow their directions and polices and we implement them."
Operating as a private company, CH2M Hill has been able to concentrate resources where needed. In years past Fulton County inspectors seldom got around. Now codes and ordinances are being enforced and fees are being collected that in some cases hadn't been in years. In fact, the city is now so efficient, says local businessman Bruce Weiner, that some owners are feeling the pinch.
"It is tougher to have a retail store here because code enforcement is watching what you do with your signs and if you have a car dealership, how you park your cars or what you are really allowed to do out there," he explains.
The new efficiency even cost Weiner his favorite morning treat. A local bakery had to stop making donuts after inspectors cited the owner for failure to install the required range hood.
The management company also has been quick on its feet in meeting unexpected needs. When financial services company CompuCredit Corp. decided to consolidate operations in 411,000 square feet in Concourse Corporate Center V and VI, the city shifted resources to aid the process, reviewing plans and speeding along the required inspections.
"It gives us a lot of flexibility," Galambos explains. "We don't have any civil rules that prevent us from switching employees from one task to another when situations change."
Deals such as CompuCredit are rare during the current economic downturn, but the city already is planning for recovery. Redevelopment is a watchword for the area along Roswell Road featuring mid-rise office and retail development.
Up And Running
Sandy Springs' success has been an inspiration to its DeKalb neighbor Dunwoody. Chartered just last year, it got up and running quickly by following the same outsourcing model, says City Manager Warren Hutmacher, who describes the pace of building a new city as "like a whirlwind."
Dunwoody adopted a slightly different approach to outsourcing services. Instead of hiring one company to handle everything, the city broke up functions and parceled them out to three bidders. The advantage? "If one company were to drop out, the whole city wouldn't collapse," he explains.
Going the outsourcing route proved advantageous when the city moved operations from a 6,000-square-foot temporary facility to its 23,000-square-foot location off Ashford-Dunwoody Road. The private company handling information technology was able to call in staff from Florida to set up operations over a weekend.
"We closed the door on a Friday in one location and opened up Monday morning here," he recalls.
One of the biggest jobs was organizing a 40-officer police department before the city's three-month contract with the county expired.
"We are in a stage where we are stabilized and now we are working at more traditional activities such as developing ordinances and zoning," he explains.
In addition, the city recently created a convention and visitors bureau to help promote Dunwoody's many hotels and attractions as a destination.
Dunwoody has created a lean operation in more ways than one. It owns no land of its own. City officials had hoped to acquire parks from DeKalb County just as Sandy Springs did from Fulton. Fulton commissioners simply turned over park land to that city, but DeKalb has demanded the city pay fair market value.
"That's an ongoing discussion," says Hutmacher, who believes the two governments will eventually reach an amiable solution that will serve local citizens well.
Community Snapshot
Local Leaders
Yvonne Williams
President
Perimeter Community Improvement District
770.390.1781
ywilliams@perimetercid.org
Eva Galambos
Mayor
City of Sandy Springs
770.730.5600
eva.galambos@sandyspringsga.org
Warren A. Hutmacher
City Manager
Dunwoody
678.382.6700
warren.hutmacher@dunwoodyga.gov
Population
(2006)
Sandy Springs, 82,674;
Dunwoody, 39,583
Per Capita Income
Dunwoody, $48,443; Sandy Springs, $53,871
Unemployment
(July 2009)
Sandy Springs, 8.8 percent; Georgia, 10.3 percent
Largest Employers
Northside Hospital, Children's Healthcare of Atlanta at Scottish Rite, Saint Joseph's Hospital, United Parcel Service, Cox Enterprises, Inc.
Sources
U.S. Census Bureau, Georgia Department of Labor, Perimeter Community Improvement District (PCID)