Dalton/Whitfield County: A Tradition Of Manufacturing
Working toward a more diverse economy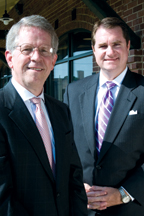 Known for years as the Carpet Capital of the World, Dalton has seen its fortunes affected by both the national decline in homebuilding brought about by the recession and the gradual consolidation of an industry that has shrunk from 400 companies to only three.
However, the area's rich tradition of manufacturing and distribution, combined with an extensive infrastructure to support such a concentration of companies, will contribute to its ability to recover and eventually diversify its economy.
"Companies routinely employed overtime and had significant numbers of jobs not filled," notes Dalton-Whitfield Chamber of Commerce President and CEO Brian Anderson, who's also a former Whitfield County Commission chair. Now the city has an unemployment rate of 13 percent (June 2009), the highest among Georgia's large cities; and to make things worse, poultry processor Pilgrim's Pride recently shuttered its operations, sending 300 workers into the pool.
Dalton also has seen a brain drain creep into local culture, and is mounting a concerted effort to retain young minds and attract young families to the kind of quality of life that brought carpet entrepreneurs here in the 1970s.
"From 2000 to 2006, Dalton grew dramatically, but our population of young people actually shrank 4.3 percent," says Mayor David Pennington. "We want to create a community that young educated people want to live in."
The Dalton College Foundation recently campaigned to raise $21 million to boost programs and educational opportunities here, and Whitfield County is working with Dalton Utilities to expand sewer service to entice new residential development.
The two-pronged attack is aided by many factors: Interstate 75 access on the west and northern parts of the county, the fine quality of life provided by the wildlife and parks in the mountainous terrain, and the announcement that Volkswagen is opening a $1 billion manufacturing plant just outside Chattanooga, across the state line in Tennessee.
Additionally, local leaders are taking aggressive steps to put the region on the radar screen, with a new commerce park and Special Purpose Local Option Sales Taxes to keep up with needed road improvements.
Going Green
Even as carpet manufacturing volume increases and returns to the levels of 2005, Anderson says, the unemployment rate in Dalton could remain higher than other Georgia communities. "As the carpet industry has consolidated and matured, capital has been invested in technology improvements, and inefficient plants have been decommissioned. Our community, going forward, will not employ as many people as before in the carpet industry."
The carpet companies have also become more efficient in using resources, a process that went hand in hand with similar efficiency restructuring at Dalton Utilities.
"Several years ago, Dalton Utilities and our industrial customers partnered with the Georgia Department of Natural Resources' Pollution Prevention Division in an effort that has significantly reduced phosphorous in our waste stream and has also resulted in conservation efforts and improved economic efficiencies for the industry," says Dalton Utilities President Don Cope.
This program led carpet company Shaw Industries to expand its green initiatives dramatically, and has created a new culture of sustainability and eco-responsibility in this community.
Dow Chemical Company partnered with the city of Dalton and the EPA's Landfill Methane Outreach Program to pipe methane gas to Shaw's manufacturing plant for the production of latex carpet backing, using 200 billion BTUs of landfill methane gas annually rather than natural gas. Dalton was named a Siemens Sustainable Community Award honoree last year for this effort.
The Dalton-Whitfield Regional Solid Waste Management Authority, which operates the landfill, charges Dow for the gas, and is funding the construction of 60 landfill gas wells and a two-mile pipeline to facilitate the operation.
Shaw uses a conversion facility to turn carpet and wood waste into energy that fuels a boiler to create 50,000 pounds of steam an hour, lowering plant emissions while reducing landfills and saving more than 2.5 million gallons of fuel a year at just one manufacturing site alone.
The Dalton-based Carpet and Rug Institute, the industry trade association, received accreditation as a certification body for indoor air quality last year from the American National Standards Institute for its Green Label and Green Label Plus programs, which measure emissions from carpet, carpet cushion and adhesive.
If that sounds futuristic, try to wrap your mind around Dalton Utilities work with the UGA Biorefinery and Carbon Cycling Program to produce biodiesel fuel from algae, a byproduct of wastewater operations. Inspired by the phosphorous removal program (algae feeds on phosphorous in the water), this fall Dalton Utilities will begin constructing a one-acre pilot facility, which, by next spring, will treat 50,000 to 100,000 gallons of wastewater a day. The ultimate goal: a full-scale biodiesel plant that could power the university's diesel fleet – some 250,000 gallons per year.
One noncarpet player on the eco-friendly scene is Brown Printing, which recycles 30 different materials for the city and county, totaling more than 200 tons a month.
Economic Diversity
Cope, like many leaders in mountain communities, sees a big future in technology entrepreneurs flocking to Dalton for its low utility rates, coupled with high-quality and high-volume utility services, great quality of life and expansive fiber-optic network. But leaders aren't taking such an influx of brainiacs for granted, and are taking other steps to diversify the current one-trick economy.
"For the last 30 years of growth, we've been very fortunate to have this warhorse called the carpet industry," says Whitfield County Commission Chairman Mike Babb. "It's been very, very good to our community from the standpoint of jobs, tax base (30 percent residential/70 percent industrial), and all that goes along with a vibrant economy. But as the industry has matured, things have changed up here and we're actively in the market to diversify. We're having to reintroduce ourselves to the state."
"Beginning in 2005, our community became serious about economic development and created the Dalton-Whitfield Economic Development Authority," Anderson says. "[Its] earliest work … was a collaborative initiative with Angelou-Economics to understand the industries that would complement our community. Those targets include plastics, chemicals, advanced manufacturing, automotive, etc."
The organization has since been renamed the Dalton-Whitfield Joint Development Authority (JDA). The county recently spent $2.5 million to buy and develop 44 acres on the south side of the county near I-75 and its bypass for an industrial site and is working with the JDA to bring a client to this site.
"All other counties along I-75 have them, including [those in] Tennessee," Babb says. "Industries that come in want to be up and running in a year. That's a hard thing to do if you don't even have the site. We need at least one win to show that we're serious about working with industry to get them to come here."
To make it easier to lure that first tenant, the county has enabled the authority to offer a tax abatement structure of up to 60 percent from property and education taxes over a 15-year period.
"In order to improve the competitiveness of our community, we have an aggressive and flexible incentive plan," Anderson says. "Based on a targeted recruit (existing or new) meeting certain criteria, the community will offer an incentive package over a 10- to 15-year period. If the new investment is a sizeable capital investment, is in a targeted cluster, creates jobs, offers wages that are higher than current averages, the incentives could be 40 to 60 percent of the tax liability. The flexibility in the plan allows the community to gauge and control growth, continually monitor the return on investment to the community, and provide for accountability."
Dalton also is working to improve its tax rates, and voted to combine its road department with the county's, resulting in a 20 percent tax cut. "We knew [taxes] were too high," Pennington says "But we didn't cut services; we just became more efficient."
A ballot initiative was necessary to change the one mill dedicated to the recreation department, which, Pen-nington says, had a $3 million surplus. The county also has taken over services such as planning and zoning and inspections to speed up the permitting process and reduce duplication. "We early retired some 45 people," Pennington says.
To help attract more distribution centers, Dalton and Whitfield County passed the first Freeport Exemption on certain classes of inventory. "We were the last county on I-75 that didn't have it," Pennington says. "We hope to redevelop some old buildings on I-75 and the two railroad lines (CSX and Norfolk Southern) that intersect the county." The buildings, many vacated by vanishing carpet companies, have somewhere between 2 and 3 million square feet, Pennington adds.
Quality Of Life
As important as industry recruitment is to the region's vitality, retaining bright minds is equally critical, Babb says. "I'm a perfect example – I've lived here since 1971; graduated from Georgia State, came here, got married and had three kids. They're all college graduates and none of them live here. We have to not only recruit but retain."
Dalton's coveted tax base could be knocked off balance by suburbanization in the north; Chattanooga already has been suburbanizing into north Georgia, and the new VW plant is expected to create 2,000 direct jobs – not even counting the indirect jobs and Tier One, Two and Three suppliers that will follow.
"We're late to the game, but we'll still reap some benefit from VW," Cope says. "If nothing else, people are realizing we're a part of a bigger world. We've been somewhat insulated, but we've also brought a lot of positive things here – things we're doing that are ahead of their time."
The county's topography makes the southern end more appropriate for industrial growth, and the northern end, which rises up a steep slope, better for residential. Voters passed a $50 million Transportation Special Local Option Sales and Use Tax (not a regional T-SPLOST) last year to improve roads, and an Education SPLOST in 2006 to build several new schools in unincorporated Whitfield.
"We have to have new things, and new approaches to attracting young people – mixed use, planned development or better use. In California, I lived in communities we could very easily mirror in northern Whitfield – mixed use and condos up to small zero lot line homes, all the way to four and five acre mini-farms – to share amenities, and preserve the natural beauty people are attracted to."
A New Identity
Dalton is working to make its downtown more attractive to new residents; it has remodeled a second train depot to enhance tourism. After all, the popular Dalton Depot/Trackside Café complex, located a few blocks from the depot currently being remodeled, has been the cornerstone of the city's nightlife for 20 years.
"It will be finished this fall, and have a gift shop, the Downtown Development Authority and the Convention and Visitors Bureau," says the Dalton Downtown Development Authority's Veronica French. "We also have about 16 lofts available, so we hope to become more residential."
Dalton is adding more restaurants downtown, building on the success of historic locales such as the Oakwood Café and the Wink Theater. "Almost all the restaurants and retail in downtown are locally and privately owned," French says.
Part of Dalton's struggle to market itself afresh is to establish a new identity – not just independent of flooring, but as part of a unified region. Its high unemployment rate, coupled with Chattanooga's suburbanization efforts, must be addressed in a coordinated fashion.
That means different factions – city and county – are cooperating as never before. Leaders and attorneys across the county came together to support the law office of McCamy Fordham Phillips & Tuggle after it was bombed last year (see story, page 106). A new campaign, Grow Greater Dalton, has been launched by county leaders seeking to raise $4.5 million for economic development, in conjunction with University of Georgia's Archway Program to support communities in recovery.
"We are actively talking, and trying to work out areas of mutual agreement," Babb says. "We don't agree on it all by a long shot. We can address five issues, agree on three, and disagree on two – that's not a failure. Let's look at the successes.
"Regardless of what people have heard, times are not disastrous in Dalton and Whitfield County. We have some of the lowest taxes in the state, and the best utilities in the country."
Anderson adds that bringing back the economy will take a regional effort. "We have a culture of manufacturing in this region extending into Murray, Catoosa, Walker and Gordon counties," he says. "Dalton-Whitfield is the center of our manufacturing region."
Community Snapshot
Local Leaders
Brian Anderson
President and CEO
Dalton-Whitfield Chamber of Commerce
706.278.7373
anderson@daltonchamber.org
David Pennington
Mayor
City of Dalton
706.226.0186
dpennington@alliedinsurancestrategies.com
Mike Babb
Chairman
Whitfield County Commission
706.275.7500
mbabb@whitfieldcountyga.com
Population
Whitfield County, 93,835*; Dalton, 33,035**
Unemployment
(June 2009)
Whitfield County, 13 percent; Georgia, 10.1 percent
Per Capita Income
(2007)
$21,555
Top Five Employers
Shaw Industries, Inc., Mohawk, Beaulieu Group, Hamilton Health Care System, Tandus
Sources
Georgia Department of Labor, U.S. Census Bureau, Dalton-Whitfield Chamber of Commerce
*2008 **2006
RECOVERY AND RETURN
Dalton was shaken to its core last year when a man attempted to blow up a law office in the middle of town, directly across the street from an elementary school.
The pile of explosives a disgruntled client, Lloyd Cantrell, attempted to detonate by crashing his truck into the 1923 home that serves as the office of McCamy, Phillips, Tuggle and Fordham LLP (established in 1932) did not ignite – the foundation stopped the truck from crashing into the first floor.
Instead, Cantrell physically heaved a chunk of explosive into the library, as attorney James Phillips, who was handling a property dispute between Cantrell and his youngest son, Bruce, attempted to stop him.
Cantrell was killed instantly, and Phillips suffered severe burns.
In the matter of the property dispute, Cantrell believed himself wronged, according to attorney James Fordham, who had just left the office with a dozen clients for court that day.
"I knew him for 20 years," says Fordham of the elder Cantrell. "He always had a joke, and a Chihuahua puppy in the front of his overalls. He was not dangerous, but when he lost his property, he went over the edge. People are very passionate about real estate. It's the most sensitive type of civil case, after divorce."
Fordham pauses for a moment. "You can't analyze how intense emotions can be. We hear hundreds of lawsuits every day; but they only have one, and it's all they can think about."
Had the truck exploded, it likely would have blown up the offices, the post office next door, the adjacent apartments and part of City Park School.
The experience rattled the community, but the law offices opened in a week, bolstered by community support. Dalton City Hall had empty spaces the attorneys could use temporarily, and other attorneys voluntarily gave over files to help in the recovery, says Fordham.
Attorney Robert H. Smalley III has overseen reconstruction of the original building, which will reopen with a community open house in October. Phillips is recovering, but has elected not to return to work.
"We're a community law firm – we won't be defined by this," Fordham says. "[The swift reopening] was pretty much a miracle." – Ben Young
(For a list of McCamy, Phillips, Tuggle and Fordham attorney profiles, see Georgia Trend's Online Exclusive Page.)