How KIA Came To Georgia
All it took was hard work, determination, persistence, good will and maybe a little divine intervention.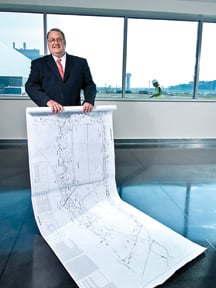 Craig Lesser still has the bar tab three years later, tucked away in the back of a commemorative photo album. Scrawled on the back of the receipt are details of a billion-dollar deal that is salvation for a struggling Georgia border town.
It was February 2006, not long after Valentine's Day. Negotiations between Georgia officials and Korean automaker Kia hit a wall in California the previous week. So after cooling off, the two sides gathered again in Atlanta.
Kia wanted to build a car manufacturing plant outside the little town of West Point (population about 3,400). The land was already secured thanks to one local, sleep-deprived economic developer. But the two sides were still separated by about $100 million in incentives.
"We were really close, and we wanted to close the loop before they went back to Korea," says Lesser, commissioner of the Georgia Department of Economic Development at the time.
The two teams met at the Atlanta Fish Market on a Friday night. Before dinner, Lesser sat at the bar with Byung Mo Ahn, Kia's team leader. When their table was ready, the teams faced each other from opposite sides.
"We took the bar tab and wrote on the back of it the five or six things we had not agreed on, and beside each, a number, the dollar figure we were apart on each issue," Lesser says.
"We slipped that tab back and forth across the table for about 20 minutes, each time crossing out the old number and writing a new one."
They haggled down to common ground and finally shook hands. It was about 7:30 p.m. when Lesser used his BlackBerry to send the happiest email of his career. It read, "Gov. Perdue, we have a deal."
The $1.2 billion plant would employ 2,500 workers, and Kia suppliers would create an additional 5,000-7,000 jobs in an area that has bled thousands of textile jobs in a slow, steady decline. Kia would get about $400 million in state and local incentives.
On Saturday Ahn flew back to Korea with the details. Georgia had landed a big fish story that economic developers will be telling for years to come, and the economic resurrection of West Point had begun.
"There's a sign in a yard in West Point that says, 'Thank you Jesus for bringing Kia to our town,'" says Randy Jackson, director of human resources and administration at Kia, the man charged with managing the human capital that has launched the plant. "Things are about to change here in a big way, and that sign says a lot about the impact this plant already is having on the community."
Drew Ferguson III thinks divine intervention may have been at work all along. Lesser calls Ferguson, who recently retired as chairman of the West Point Development Authority after 25 years, "the miracle man."
Former president of Capital City Bank, where he still has an office, Ferguson convinced 30 property owners to sell the land (2,259 acres, to the state of Georgia, for about $35 million) that the Kia plant now occupies. Working with a ridiculous deadline, it took him little more than a month to get the residents' unanimous consent by February 2006.
"It was like putting a giant jigsaw puzzle together, and when I look back on it now – I say this in all honesty, not to brag – I never made a mistake," says Ferguson, whose son, Drew IV, is now mayor of West Point.
"I'm not an openly religious person, I'm very private about it. But I do believe in God," Ferguson III says. "And as I got a commitment from this landowner, and then this one, and everything was falling into place, I started thinking that this project was a gift from God. I truly feel that he had his hand on my shoulder."
Ferguson can clearly see in his imagination the land the way it was.
"It was absolutely gorgeous," he says. "It was a spot of heaven out there."
So, after moving about 12 million cubic yards of earth, they paved paradise and put up a manufacturing plant.
Roots of the Deal
Chris Clark, now commissioner of the Georgia Department of Natural Resources, was Lesser's deputy commissioner at the Georgia Department of Economic Development (GDEcD) and lead negotiator for the Kia project. Clark says the deal really started back in 2003, when Gov. Sonny Perdue first visited Korea and called on the chairman of the Hyundai Kia Automotive Group.
"He was planting the first seeds," Clark says.
Hyundai had built a plant in Montgomery, Ala., about 80 miles from the Georgia state line. It was during the drive on I-85 from Atlanta's airport to Montgomery that company executive Byung Mo Ahn noticed a picturesque piece of land just off the expressway.
Georgia knew Kia was looking for a place to put its first U.S. plant. In spring 2005 the company had dissed the state's large site in Pooler, the same site DaimlerChrysler ditched several years earlier.
But Kia's discussions with Mississippi were going south, and in August GDEcD got a call from its office in Seoul, South Korea, saying the company was interested in Georgia. Nothing much happened until the Tuesday before Thanksgiving.
"We were working late that night when they called and asked if we knew about the property on Webb Road near West Point," Clark says. Then they scrambled to find a map.
Jim Ewing, who had worked many projects for GDEcD over the years, including the bid to land DaimlerChrysler, was there that night.
"I'm a site guy, that's my expertise, but that property was on no one's radar," says Ewing, who became the project manager for the Kia development. "Ahn knew exactly what he wanted. But when we went down to look at the property I said, 'There's no way.'"
The land on Webb Road and Gabbettville Road near West Point comprised about three-dozen parcels. At least 20 families lived out there. So Clark contacted Jane Fryer, president of the LaGrange-Troup County Chamber of Commerce at the time.
"When he said they were working with a large international company that wanted a site between LaGrange and West Point in Troup County, I figured he meant the LaGrange Industrial Park," Fryer says. "Because I thought there was nothing else between LaGrange and West Point."
She got a look at the land Ahn had in mind and shared Ewing's assessment: No way.
"Mr. Ahn saw the land with the cows and horses and thought it was beautiful, and that's what he wanted," Fryer says. "He never took into account the 30 families who lived there, some of them for all their lives."
There was another swath of acreage farther north, near Hogansville. State and local officials showed that to Ahn, but he'd made up his mind. And he had a timetable – Kia wanted to start making cars at its first U.S. plant in 2009.
"You have 30 families on the site, and if one of them says no, it blows the whole deal," Fryer says. So, she called Ferguson in West Point, and she brought Diethard "D" Lindner, chairman of the LaGrange Development Authority, to the table, and the mayors of West Point and LaGrange, and county government leaders.
But Ferguson was the key to the property.
"Very seldom do you get an economic prospect that says, from day one, 'This is right where I want to be.' Usually, you have to court them," says Ferguson, who had grown used to established companies saying the exact opposite as they moved offshore and closed shop.
West Point Turnaround
Drew Ferguson III grew up in West Point, the son of a much beloved surgeon. Back then the town was a hub of a textile industry goldmine along the Chattahoochee River in Georgia and Alabama.
After spending the early part of his banking career in Atlanta, Ferguson moved back to his hometown in 1971.
"We had about 16,000 textile jobs around here," says Ferguson, who can see the vacant brick building that used to be the corporate headquarters of West Point Pepperell from his downtown bank office.
"We've gone through a painful decline. The textile industry had a 150-year run in this community, a great run. But it was over. I saw a lot of close friends lose their jobs and move away."
If Ferguson knew all of this sad history, knew that Troup County's unemployment rate was among the highest in the state, knew that other local manufacturers were closing down or cutting jobs, the people who lived along Webb Road and Gabbettville Road knew it, too. He was banking on that.
"Everyone had someone in their family, someone they knew, who lost a job in the textile business, if they hadn't lost it themselves," says Ferguson, who attended that first meeting with state and local economic developers. That's when he first met his LaGrange counterpart, Lindner. West Point and LaGrange are only 16 miles apart, but they weren't exactly close.
"I've been here 35 years, and that was the first time we pulled everybody together and something actually happened," says Fryer, who has retired as president of the chamber but still works with the LaGrange Develop-ment Authority. "We'd had a lot of differences about a lot of things."
Ferguson remembers some of the folks from LaGrange suggesting they try to convince Kia to look at the north side of the county. "And I said, 'You got a bull here that wants to go in this pasture. Why are you trying to turn him around and send him somewhere else? Let's try to make this happen,'" Ferguson says.
Clark didn't tell the local team exactly who was on the other end of the phone, "just the parameters and that it was an automotive company that was No. 7 in the world and wanted to move up to No. 5. We pretty much put two and two together," says Lindner.
Originally, it was called Project G, then Project 0515 – Clark's wife was expecting their baby on May 15 (their son, Christian, was born late, on May 23 – Clark says the first bouquet of flowers came from Ahn).
So, beginning just before Christmas with a February deadline, Ferguson started making phone calls and cold calls, driving up and down the country roads, knocking on doors, sitting on a lot of couches at 10:30 in the evening, sleeping every other night.
Though he didn't get the last property's owner until Feb. 10, he got it.
"None of the families objected to the concept," Ferguson says. "The hurdle was, some families had been living on that land for generations."
In the end, some moved to other properties, others moved entire houses; but everyone came to an agreement. The state had wanted to spend, on average, $12,000 to $13,000 per acre, but wound up spending $15,000 to $16,000, Ewing says.
"Without Drew Ferguson, this project would not have happened," he adds.
With the land secured, only the details remained. The GDEcD team met the Koreans in California for what Clark calls, "one of the more contentious negotiation sessions we had. Lawyers were arguing with each other, it was very tense.
"Negotiation is a sport to the Koreans, and they're great at it," Clark says. "Just when you think you're finished and one item is off the table, it's back on a week later."
Kia did not want the local, Troup County team in California, but they were there anyway. While the Koreans were huddling, Clark and his team would be on the phone with Lindner or Ferguson, anticipating questions or getting answers. Could the county provide a Hazmat unit and fire crew? What kind of break could Kia expect on local school taxes?
What didn't get finished in California was hammered out in the restaurant on the back of a bar receipt.
Incentives for Kia included: about $131 million in local tax abatements; another $250 million in state tax incentives; a $20 million training center to house the QuickStart program dedicated to training Kia's workforce; and a rail spur from the nearby CSX line, because 80 percent of the cars will be shipped out by rail.
Not long before the March 2006 contract signing in Seoul, word leaked out that Mississippi was making a last-ditch, $900 million bid for Kia – more than twice what Georgia was offering. Lesser figured that Ahn would consider Mississippi, so he asked him.
"And he looks me in the eye," Lesser says, "and tells me, 'I'm about to get married. How can I date another woman?'"
Temporary Delay
Groundbreaking for the plant had been scheduled for late April 2006, but there was a small setback – Kia was being investigated in South Korea for maintaining a slush fund.
Ceremonial dirt was finally turned in October 2006, but in 2007 Hyundai/Kia chairman Chung Mong-koo was found guilty of running the slush fund. He received a suspended three-year sentence, but never went to jail and was pardoned last year.
Lesser says he was never concerned that the company's legal troubles would kill the project.
"I kept in touch with Ahn, and he assured me that everything was moving along on schedule," Lesser says. "Our thought always was, regardless of what happens to the chairman, the company would continue moving forward."
It did, and the plant is built. That was the easy part, Ferguson says. Following the contract signing, the competition for supplier companies began. The state line is less than half-a-mile from Ferguson's bank office, and part of West Point sits in Harris County. LaGrange and Columbus also were in the mix. All (and then some) competed for supplier companies.
As of June 2009, Alabama's border communities had secured 3,000 new jobs, while Georgia has announced 4,500 jobs in addition to the 2,500 at the car plant. Kia's Randy Jackson expects the plant to employ 1,200 workers by the end of this year, and the full 2,500 by the end of next year, when a second shift is added.
Those Georgia-based supplier companies are in Bibb, Harris, Meriwether, Muscogee and Troup counties. Together, they represent an investment of more than $620 million. Georgia Tech has conducted an analysis that estimated an annual economic impact in the region (Georgia and Alabama counties) of more than $990 million by 2012.
Kia wants to make 300,000 cars a year at the plant, but hasn't set a firm date for when it will start doing so.
"The biggest unknown right now is the economy," says Lindner, who brought the local entities together to create incentive packages for Kia and its suppliers. "Kia doesn't want to start producing cars until it knows it can sell them. Doesn't make any sense to start cranking out cars yet."
But things already have happened to change the look and feel of West Point.
"We've seen our share of tough times, but there is a sense of optimism here that we have not had for a long time," says Mayor Drew Ferguson IV. "We have an opportunity that not many places in the nation have right now."
At least four Korean restaurants have opened in town, and another, the Irish Bred Pub, opened specifically because Kia announced it was coming. Columbus State University will soon open a campus in renovated downtown buildings. At least one housing development is under way in West Point.
On Eighth Street, near all the downtown activity, the local music store is seeing more activity than usual.
"I just sold some guitars and amps to some Korean people who want to start a band," says Harris Nader, who has worked at Nader's with its founder, his older brother George, for 61 years. "Kia is the best thing that has happened to this community in a hundred years."
That's the kind of thing that makes Craig Lesser smile. He and Ahn are on a first-name basis now, the formality of negotiation long behind them. And both have new jobs – Lesser is managing partner of the Pendleton Consulting Group, and Ahn is chairman and group CEO of Kia Motors America and Kia Motors Manufacturing Georgia.
But Lesser still has the tangible reminder of the most extraordinary experience of his career.
"Chris Clark and I stayed a few extra days [in Korea] after the contract signing. Our last morning in Seoul, as we were having breakfast, one of Mo Ahn's staffers comes over with thick photo albums for each of us," Lesser says.
"Our visit is captured in these books. Kia had photographers taking pictures of our stay, the places we'd seen. I thumbed through the book and on the inside of the back cover, there was the bar tab."