Civil War: Georgia-Georgia Tech Football
The State's Premier Rivalry Means Business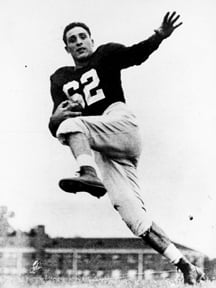 Under different circumstances, there was nothing the Georgia Tech faithful would have enjoyed more than the sight of Charley Trippi falling flat on his face. Unfortunately for the Yellow Jackets, the University of Georgia sophomore phenom was lying prone in their end zone, clutching the football following an 86-yard run.
The play began with the halfback Trippi rolling wide and looking for a receiver. Seeing an opening, he cut back across the field and broke the game open, the touchdown giving the Bulldogs a 20-0 lead at halftime of their 34-0 mauling of the previously unbeaten and top-ranked Jackets.
"That was my favorite game against Tech," Trippi says almost 67 years later. "I always had good days against them, but that game in 1942 was perhaps the greatest event of my college career."
Those are weighty words from a guy who many consider the best football player and best all-around athlete in UGA's history.
"The three games I played against them (1942, 1945-46), we scored over 100 points and they scored seven," says Trippi, a college and pro football hall of famer. "That should give you a good idea of what transpired."
Tech and UGA have been brawling since 1893, and what has transpired is a sometimes not-so-civil war on the gridiron. Some years, the only salvation for either team was the prospect of pummeling the other. Then there are games like Trippi's 1942 favorite, when two powerful teams played for a berth in the Rose Bowl (a game Georgia won, beating UCLA, 9-0, as Trippi starred again).
Over the last 116 years, the football factories in Atlanta and Athens have met 102 times, with Georgia dominating, 59 wins to Tech's 39 (with five ties) – according to Tech. UGA doesn't count Tech's wins in 1943 and 1944, when the Bulldog roster was depleted by World War II (of course, UGA does count its victories over rivals such as Auburn and Alabama in that era).
"These are two schools that hate each other, they really do, in every sport," says Jack Wilkinson, author and veteran Atlanta sports writer. "It's good for sports, and it's good business."
Together, Tech and UGA morph into a single idea called Clean, Old Fashioned Hate – the name of the rivalry, and title of the definitive book on the football series (written by Bill Cromartie). The game, played every November around Thanksgiving, has long been recognized as one of college football's marquee clashes, bringing together two programs separated by 70 miles and a century of mutual disrespect.
Apart, Georgia and Georgia Tech support two very different football programs, each with its own rich history of successes and failures, heroes and goats.
They are the state's premier college football programs, competing at the highest levels in the NCAA, bringing national exposure and millions of dollars to each institution.
"Football is a revenue generator – more than that, it's an interest generator. You know the old axiom, it's the front porch of the institution," says Dan Radakovich, Georgia Tech's athletics director.
But Radakovich and his counterpart at UGA, Damon Evans, are careful not to call the nonprofit athletic associations they run "businesses."
"We're both self-sustaining organizations, by virtue of how the state of Georgia set up the association model for athletic programs," Radakovich says. "But we certainly don't have a business here. If we did, we'd have two sports – football and basketball."
Football and basketball, specifically men's basketball, are generally the only sports that return more dollars to the institution than they spend. So, whether or not the state's two NCAA Division I-A athletics programs are considered "businesses," their football programs certainly are doing big business. And UGA, at least, is turning a huge profit.
A November 2007 report in Forbes magazine ranked the nation's "Most Valuable College Football Teams." Rankings were based on what football contributes to the university for academic purposes; net profit to the athletic department; distribution of bowl game revenue to the conference; and local spending in the community.
UGA was ranked third in both total value, at $90 million (Notre Dame was first, followed by the University of Texas), and profitability, at $43.5 million (Texas was ranked No. 1 at $46.2 million, followed by Notre Dame at $45.8 million).
"From an operational standpoint, I can safely say that we're among the best programs in the country," says UGA's Evans.
According to the University of Georgia Athletic Association annual report released last year, total operating revenues for FY 2007 were $82.9 million and expenditures were $61.8 million, leaving Evans' department more than $21 million in the black. By comparison, the Georgia Tech Athletic Association's FY 2009 operating budget is $55.1 million.
"The difference between us boils down to numbers, because as hard as we try, we can't put 92,000 people in our 54,000-seat stadium," Tech's Radakovich quips.
Even the costs of putting on a game differ dramatically. Each team has six home games a year. Taking factors such as payroll, security, transit and porta-potties into account, UGA spends about $1.7 million a year while Tech spends about $1.15 million for total home game management.
"Economically, Georgia and Georgia Tech are very, very different," Radakovich says. "There's a great revenue disparity between the two schools. Let's just say that whenever we compete against each other, I'm glad we don't compare checkbooks."
Rivalry Reborn
Checkbooks, operational revenue and budgets were far from Roddy Jones' mind as he tiptoed past the UGA bench, racing 54 yards for the decisive touchdown in Georgia Tech's stunning 45-42 win last November in Athens.
"I didn't know if I'd stepped out of bounds or not, so I looked back to see if anyone was blowing a whistle," says Jones, now a redshirt sophomore at Tech. "Nobody did. That's when I got really pumped."
Jones had a Charley Trippi-like afternoon, rushing for 214 yards on just 13 carries, and the visiting Yellow Jackets upset Georgia (who was favored by seven points) in Sanford Stadium, before 92,000 soaked fans.
"The stadium, the atmosphere, it was crazy, unlike anything I'd ever experienced," Jones says. "My entire life, I've been hearing about how good the Georgia Bulldogs were, a 20-year buildup."
In a steady rain, the Jackets ended a seven-year drought, handing Bulldog Head Coach Mark Richt his first loss against Tech.
"That was a big win for our fans and alumni, because they hadn't won that game in a few years," says Georgia Tech Head Coach Paul Johnson. "It's a great rivalry, but to truly be a rivalry, you have to get back to where it's competitive, so that was an exciting first step."
In his first year at Tech, following successful runs at Navy and Georgia Sou-thern, Johnson guided the Yellow Jackets to a 9-4 record, befuddling critics who foretold bad things for Tech last year – Sports Illustrated, for one, predicted a paltry three wins for the Jackets in 2008.
Sure, his renowned triple-option attack worked at Georgia Southern and Navy, but how long could the spell work in an era of pro-style offenses and sophisticated defenses, in the competitive Atlantic Coast Conference, against powerhouses such as Florida State and Miami?
Lucky for Tech, Johnson doesn't put a lot of stock in the armchair experts.
Take the recruiting industry – yes, it is an industry, with magazines, websites and services dedicated to nothing but rating high school players bound for college programs, attaching stars or numbers to a player's name to indicate his value. The five-star athletes are supposedly the can't-miss kids.
"How can anybody in their right mind say that somebody is the number three running back in the country coming out of high school? It's a joke," says Johnson, who won ACC Coach of the Year honors in 2008. "The NFL, for example, spends a lot of time and money on the draft, and they're dealing with a much smaller pool of players.
"They have way more access to players than we have, a lot more information and tape to work with, and look how many busts there are in the NFL draft. So how do you evaluate a kid who is 6-2, 180 pounds his senior year in high school, who could easily be 6-5, 300 pounds when he's a college senior? It's a crapshoot. I'm not going to recruit off of what ESPN or some recruiting service says."
Instead, Johnson (116-43 in 12 years as a head coach) always has trusted his own instincts, whether he's recruiting, taking a new job, or working the sidelines.
"It's hard to imagine his thought process during a game," Wilkinson says. "Even though he's wired to somebody up in the booth, who can tell him what they're seeing from up there, so much boils down to his ability to see at field level. He has an uncanny sense of what will work and what won't.
"He's some kind of play-calling savant, operating on a completely different level, many plays ahead of whoever happens to be the poor sap running the defense on the other side of the field."
The season ended badly for Tech, a 38-3 loss to LSU in the Chick-fil-A Bowl in Atlanta. But, before Johnson, Tech lost seven in a row to Georgia. In fact, since the Vince Dooley era started in 1964, UGA has gone 33-12 against Tech. But the Jackets hold the series record for consecutive wins, with eight in a row (1949–1956), and their win last year prevented Georgia from tying the mark.
"As long as this guy is at Tech, it will always be a game," Wilkinson says.
A few weeks after beating UGA, and less than a year after hiring him, Tech raised Johnson's salary to nearly $2.4 million (including bonuses), making him the second-highest paid coach in the ACC (FSU's Bobby Bowden makes just over $2.4 million).
"We wanted to make sure Paul stayed with us," Radakovich says. "We're protecting our investment."
Life After Dooley
A good indication of the difference in sheer size between Southeastern Con-ference football and the ACC is coaching salaries. Johnson would be the seventh highest-paid coach in the SEC (at $2.8 million, Richt is fifth).
Entering his ninth season, Richt has firmly established himself in the UGA football pantheon. With 82 victories (and only 22 losses), he already is the third winningest coach in the program's history (behind Dooley and Wally Butts). Richt has two SEC titles to his credit and has been named conference coach of the year twice. To be sure, Georgia fans haven't been this satisfied since Dooley retired from coaching 20 years ago.
"He has a mission and a zeal about his job that is very real, and very appealing," says Loran Smith, longtime Georgia booster, author and radio commentator.
According to Evans, Richt has become the face of Georgia athletics.
"Anytime you try to build a brand, like we're trying to do, you want it to stand for things like integrity and character. That's what Mark Richt brings us – class, character, integrity, family values," Evans says.
"He also happens to be a very, very good football coach. He has us competing at the highest level in a very demanding conference. He's made us one of the premier football programs in the country. That's a pretty good return on our investment."
Richt was a backup quarterback at the University of Miami, where he watched starter Jim Kelly set records and build a hall of fame resume. Richt tried to catch on with a couple of NFL clubs – the Denver Broncos and Miami Dolphins – but each team was pretty well set at quarterback, with hall-of-famers John Elway (Denver) and Dan Marino (Miami).
"Yeah, I got to see some pretty great quarterbacks up close," Richt says. "After I got cut a second time from an NFL team, it was pretty obvious I wasn't gonna make a living playing. But there was a trainer with the Dolphins, a guy on loan from Florida State named Jimmy Watson, who said I ought to consider coaching. He put the bug in my ear."
So Richt wound up developing a string of great quarterbacks with NFL tools for Bowden at FSU, and as offensive coordinator he directed one of the nation's most potent attacks. Then Dooley hired him after UGA let Jim Donnan go. The Bulldogs have won about 80 percent of their games since then, contending for division, conference and national titles. Also, about 50 of Richt's players have been drafted by the NFL, including this year's No. 1 pick, quarterback Matthew Stafford (who signed a record contract with the Detroit Lions) and No. 12 pick, running back Knowshon Moreno (Denver Broncos).
Meanwhile, UGA has spent millions expanding Sanford Stadium to its current capacity (92,746) and the Bulldog nation has been delighted, which makes Richt's job a bit easier.
"When I was at FSU, there was a guy at my church who was a Bulldog fan, and I thought he was pretty much off the chain, a rabid fan. I mean, this guy was out there," Richt says. "I was living here in Athens about a year or so and came to realize that just about every Georgia fan is that way. They're very, very passionate and rabid about their team, just a lot of love and emotion over their team."
That passion is inherent in the college game, the purveyors say.
"It's the great separator between college and pro ball, uniquely American," Radakovich says. "Our rivalries are what create the passion, and that passion is the great cornerstone of college athletics."
New Age Rivalry
The nature of the UGA-Tech rivalry has inevitably changed at the ground level. It used to be, in Georgia anyway, that college football was pretty much the only game in town, certainly the only big game, with no NFL, NBA, NHL or MLB within driving distance.
Loyalties were handed down, father to son, for generations. The advent of ESPN, of satellite TV, brings games across the country into our homes. Team loyalty is not limited by geography; hasn't been for years. Television contracts, like last year's deal that will pay the SEC $205 million a year, will put every UGA game on TVs coast to coast.
"When I was at FSU we got a kid from Walla Walla, Washington (Jasper Jones)," Richt says. "When he was asked, 'Why FSU?,' he said, 'The Seminoles are my favorite team, I watch them all the time.' If it was 20 years earlier, he wouldn't have known who the Seminoles were."
The rosters at UGA and Tech are loaded with guys from far-off lands, but the concept of "Clean, Old Fashioned Hate" truly resonates with the homegrown guys.
"It's our mindset that this is a big, big thing," says Scott Blair, Tech's junior placekicker/punter. "It's ingrained."
Bulldog All-SEC junior linebacker Rennie Curran grew up about 45 miles from Athens, in Snellville, home of former UGA greats David Greene and David Pollack.
"I never really had a choice, it's always been my dream to play at Georgia," says Curran, who was courted seriously by Tech and Auburn. "I knew a few Tech fans growing up, but they were like the outcasts."
Curran's teammate, senior defensive end Rod Battle, grew up in Atlanta among the Tech fans in his family.
"At least when my uncle comes around now wearing his Georgia Tech sweater, he's wearing a Georgia hat," Battle says. "When you know the people on the other team, like from high school, and you see them around, that only adds to the emotion of the game.
"Last year was bad," he admits, "and I don't want to be part of the senior class that loses to Tech a second time. That's my motivation."
Roddy Jones, Tech's speedy A-back, also grew up in Atlanta and he has a different kind of motivation for next November's clash.
"UGA recruited me pretty hard, but I wasn't willing to wait around and I committed to Georgia Tech," he says. "My dad reminds me quite often that those guys up the road didn't want me, and I use that as motivation.
"But when you come down to it, I have to treat it like they're just another team and it's just another game, and put it all out on the field, regardless of who the opponent is, and let the fans do all the talking."
They have, they do and they will.