A New Mission
Energized by strong community support, the College of Coastal Georgia steps up to senior status.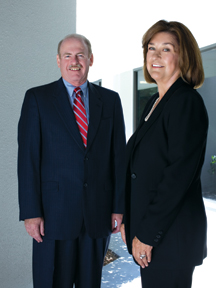 A few years ago if you asked Brunswick residents about the local college you'd likely get blank stares. They might have a vague idea there was a community college (or was it a trade school?) on Altama Avenue, but few had actually been there. Locals also will tell you the old two-year institution liked it that way. The only waves being made were on nearby Golden Isles beaches.
No more. The College of Coastal Georgia (CCG) seems to be on everyone's mind these days. With a new mission and a new dynamic president at the helm, the college is busy getting ready to become a full fledged senior institution offering bachelor's degrees, access to graduate programs, dorms and sports teams.
The once sleepy campus is alive with excitement. Officials, such as newly inaugurated president Valerie Hepburn, show off artist's renderings and plans for a new 50,000-square-foot, multistory science and technical building, student residence halls and a performing arts center. Since taking the helm a year ago, she has become a familiar figure in town, forging close ties with the community. That's one reason she's quick to credit Brunswick and Glynn County for the college's newfound prominence.
"The community is the reason that this college has become a four-year institution," Hepburn says. "They have been the driving force."
When the University System began the process of upgrading CCG to four-year status, it was the fulfillment of a long-term push by business and community leaders. Studies had long shown that young people in this coastal region had to leave town for advanced higher education. Many didn't come back, and that contributed to an ongoing brain drain that made it harder to staff existing businesses and provide the skilled workforce that would be demanded by new companies.
For years locals had talked among themselves and held meetings, even as little seemed to change at CCG. As a hybrid institution, it continued to provide community college courses along with technical programs for those seeking blue- or pink-collar jobs. Now the rapidly developing bachelor's degree programs promise a strong dose of energy for local employers.
"They recognize that the business community is going to benefit from having a first class college here that provides both opportunities for professional development for their existing workforce and also gives them the opportunity to recruit first class workers that have matriculated at the college," explains Nathan Sparks, director of the Brunswick and Glynn County Economic Development Authority.
A senior college is one of the qualifiers that companies seek during the site selection process and it's an asset Glynn County has lacked, Sparks says.
Senior Status
The push for senior status got a tremendous boost when local attorney James Bishop was tapped by Gov. Sonny Perdue to fill a spot on the University System Board of Regents – becoming the first regent from the area since the early 1960s. Although he knew little about CCG, he soon got a call from the chamber asking him to meet with a group of officials and local businesspeople.
"They told me they very much would like to talk about the college," Bishop recalls. "We have a collective interest in the future of the college and want to do whatever needs to be done to see it become a four-year institution."
That was the beginning of what became a remarkably short transition for CCG. The hurry reflected recognition of just how valuable it could be to this community.
Longtime Golden Isles resident Diana Murphy jumped at the chance to be involved with planning CCG's upgrade. Ask her if she thinks there was a real need for it and the response is, "That is the understatement of the day.
"All the stars were aligned, making it a wonderful time for our community to embrace and improve a four-year college," she adds. "To be able to just augment the growth in the community with a four-year, first-rate academic institution is very, very stimulating for the whole growth of the area and, long term, I definitely believe this is going to be one of the significant economic development arms of our region."
In terms of dollars, the impact is already substantial. A study by the Selig Center at UGA's Terry College of Business reported that the two-year institution pumped more than $71.5 million into the local economy in 2008. Those numbers will rise as the institution expands its programs, facilities and student body. If it follows the pattern of similar colleges in the state, the financial impact will range somewhere between $87 million and $189 million.
Those numbers are expected to grow as the number of students rises from its current level of 2,700 to fill expanded programs taught by new faculty members. Applications for fall already are running 40 percent above last year's.
"It will attract new people to the area, certainly it is already beginning to attract academicians. I'm talking about when you are drawing PhDs in here and people with higher degrees … there are new jobs and more additional investment in the community," says Woody Woodside, president of the Brunswick-Golden Isles Chamber of Commerce.
The need for a senior college has long been recognized, says David Morgan, an educational consultant who conducted the Board of Regents study. As the only area of the state without one, the community has fewer than half the number of college graduates some other regions do. Morgan is well acquainted with this area, having done a similar study back in the 1960s, which found much the same situation – a real lack of opportunities for those seeking higher education.
"In all the studies I've done in the past, I don't think there was ever a clearer case of the need in a region and there was a quarter century of history to that need," Morgan says.
Answering Needs
President Hepburn is both realistic and shrewd about CCG's academic offerings. It won't attempt to become a full fledged liberal arts college – there's already one of those in the University System. Instead, the college is filling niches that answer community needs such as business administration, nursing and education.
Local business leaders are particularly excited about the prospect of a new general business program that can train locals for managerial positions in area companies.
"The strength we have is that the program is very rigorous," says Don Mathews, professor of economics. "We require more courses in different areas, marketing, management, economics, accounting, finance than you would find required in almost any other bachelor's program."
The program still is small and students will receive a general business degree rather than the specialized diplomas offered by larger colleges, but "they are getting very close access to teachers and the community," Mathews adds.
The college will ensure that students get out of the ivory tower and into internships and programs with local businesses and organizations.
"The students in class are going to be dealing with real world situations, real world data and then we hook them up with people in the community," Mathews explains. "We want them to be very well grounded in all the principles of business, but we also want them to be ready to apply themselves to real life business situations when they leave."
Local business leaders even had a say in the interview process for the program's chair. Hepburn invited county development authority and chamber leaders to sit down with potential candidates. Locals were encouraged when the college selected Craig Fleisher, an internationally recognized scholar from Canada's University of Windsor, to head the program.
Meanwhile, the expansion of the college's nursing program found ardent support just a block away at Southeast Georgia Health System, a multiple location hospital and physician practice network. A longtime supporter of the college, it is providing equipment and dollars for the nursing program. With expansion of the program from two-years to a four-year bachelor's degree, the hospital saw an opportunity to create a larger and better prepared pool of nursing candidates.
Retaining highly qualified PhD level faculty is a challenge. A nationwide nursing shortage has placed this profession in great demand, and few colleges can muster the high salaries required.
"We felt that the school of nursing would have a very difficult [time] recruiting nursing faculty on all levels," says Gary Colberg, president and CEO of Southeast Georgia Health System. "Dr. Hepburn and I spoke and agreed that for us to really get top notch faculty, we needed to make an endowment for the distinguished chair of nursing and allied health sciences."
That conversation led to a $1 million donation, along with the loan of the hospital's vice president for nursing to teach management and leadership courses. Colberg is happy that the college has finally begun taking him up on other offers of assistance including a campus food service, the Coastal Café, and an infirmary staffed by Health System nurses.
The expanded funds helped secure nursing program head, Dr. Elizabeth Mistretta.
"There is a need for a different graduate," Mistretta says. "Baccalaureate graduates have more community experience, more research and more leadership experience. Plus, it is the stepping stone to a graduate program. One of the types of positions that are desperately needed in areas such as southeast Georgia is nurse practitioner."
A significant part of CCG's economic development angle lies in helping to develop small business entrepreneurs who will be attracted to the area's natural beauty and livability. That helps explain the emphasis on practical experience that takes students out of the classroom and into real world situations, even while they're still carrying textbooks.
"What is unique to our geographic area is that we have such a willingness within the community to be involved, and so the service learning and experience based education is also a very important part of education," Murphy says, adding that CCG will be partnering with businesses, local government and the hospital to provide those types of experiences.
Residential Component
Within the next year, the college will begin the transformation from commuter school to residential campus with construction of its first 300-bed residence hall. This will be the first of a series of buildings that eventually will house more than 1,000 students.
A campus with 'round the clock residents will make it easier to create a sense of community, says sophomore Randall Rozier, who currently commutes more than 200 miles a day from Wayne County. He chose CCG because it allowed him to continue living at home and working part time in a local pharmacy.
"I was really hoping we would become a four year college while I was still here and offer medical related degrees," he says. While he won't be able to pursue a pharmacy degree here, he's enjoying the opportunities that an expanding college offers.
Dorms will also make it easier to get students to stay for events such as the tailgating parties Rozier helped organize prior to home basketball games.
In addition to meeting academic needs, CCG's master planning committee decided a performing arts center would be uniquely suited to the campus. The area lacks an auditorium able to accommodate symphony concerts, performing arts and Off Broadway plays, while the college had the perfect spot on its 200-acre campus for such a structure.
And what would a full-fledged college be without athletics? The school already has a basketball program but is looking at adding sports such as golf, tennis, volleyball and perhaps others, says Reg Murphy, a veteran journalist who is heading CCG's athletic future committee.
"We aren't looking at athletics just for the sake of athletics, but we want teams that will contribute to the life of the students and the college," he says.
While it may be some time before CCG teams are competing against bigger and better known programs, athletics will serve as an additional attraction for students. In fact, one prospective student visited Hepburn recently to tell her that she wanted to come to CCG and become the recipient of its first tennis scholarship while studying to become a pediatric nurse.
"Athletics for many students today are so [much] part and parcel of that college experience," Hepburn says. "We want to recruit scholar athletes and we are going to have bright kids who played sports in high school and who want to continue that experience."
Hepburn also says CCG is uniquely suited to attract students from not just across the state but throughout the Southeast, thanks to its coastal location. With a pleasant year-round climate and sandy beaches just minutes away, locals think the college will sell itself.
"We are going to be a destination college, I don't think there is any doubt, because we just live in such a great resort area," says Pat Cooper, a realtor and president of the Brunswick-Gold-en Isles Chamber of Commerce.
Or as one local put it, "There may be people who don't want to live at the beach, but I haven't met them."