GreenRoom 2009 Summit
Leaders from business, government and nonprofits talk about transportation policy, clean air, greenspace, federal stimulus funds and retrofitting toilets.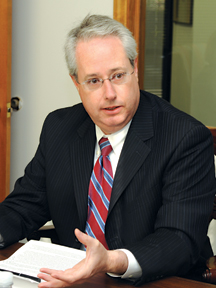 Seemingly, green is mainstream. Conservation, sustainability and environmental responsibility are part of the daily dialogue, as individuals, businesses and communities come to grips with some new realities and line up for funding from the Obama stimulus package.
In Georgia, the challenges have been at the forefront, but Georgia Trend's first GreenRoom Summit focuses on solutions, featuring six panelists who have found strength in collaboration, and, in spite of several unresolved dilemmas, have worked behind the scenes to put Georgia in a surprisingly enviable environmental position, especially in regard to alternative energy.
Panelists included Cobb County Commission Chairman Sam Olens, who also is chairman of the Atlanta Regional Commission (and a recently-announced candidate for attorney general); Oscar Harper, vice president of nuclear power and resource planning for Georgia Power; Billy Ussery, executive vice president, member and external relations for Oglethorpe Power; Helen Tapp, Georgia director for the Trust for Public Land; Deborah Millsap, outreach coordinator for the Etowah Aquatic Habitat Conservation Plan; and David Southerland, executive director, Perimeter Transportation Coalition and Clean Air Campaign board member. Some panelists met each other at our summit for the first time. We hope it isn't the last.
Georgia Trend's Ben Young and Susan Percy moderated the two-hour discussion. Following are edited excerpts.
GT: How can Georgia best utilize stimulus funding and work to improve transportation and conserve water?
Olens: Local water systems are providing the retrofit for residential toilets. In an age of increasing regulation, increasing price and reduced water revenues, it's impossible for the local water providers to provide those same rebates for commercial and industrial users. The Atlanta Regional Commission and the Metropolitan North Georgia Water Planning District expressly requested the legislature last year to provide for state tax credits for commercial and industrial retrofits. We were immediately given a no. I would suggest to you that you can retrofit an awful lot of toilets for a lot less money than building a reservoir. That's from someone who's part of a $120-million reservoir project in the city of Canton. I'm not suggesting there isn't a role for reservoirs; I'm suggesting that you need to do numerous things rather than one thing. We need the state of Georgia to partner with us with regard to commercial and industrial retrofits.
GT: You can't do one without the other. Sustainability practices must be coordinated.
Tapp: I think Sam is right. This isn't an either-or. As folks become aware of these issues and more tuned into the connection between the health and economic and environmental benefits of some changed habits and changed practices, there are a whole bunch of things we can do that have benefits. Then these efforts become commonplace. We all refer back to recycling. With some education it became second nature.
GT: Cooperation and collaboration help, right?
Tapp: About 12-plus years ago the Chattahoochee was on [the] list of most endangered rivers, and the [Upper Chatta-hoochee] Riverkeeper was suing folks. There was a lot of contentiousness, but folks came together. Whether it was a power company or the habitat folks or recreational [users], the green folks or the businesspeople or the developers, industrial users, everybody came together and there was a powerful commitment to clean it up. And thanks to a consent decree from EPA, a little money was thrown in.
GT: Now people can "shoot the Hooch" again.
Tapp: And through that conflict some really powerful partnerships were formed. That level of success and collaboration is a bell that you can't un-ring. Once people understand they can sit down and find a common purpose you can't pretend you don't know that. You may have your differences but you know there's a lot of power in the collaboration.
Southerland: The Clean Air Campaign came about in the late '90s [through a similar] process. [Editor's note: Federal funding for highway projects was frozen in 1998 until Atlanta was no longer in violation of the Clean Air Act.] Georgia Power, the Sierra Club, UPS, a number of other environmental organizations and businesses and the Atlanta Regional Commission [came together], and it was the first time these groups ever sat down and agreed on anything. It was the idea that one of the easiest [things] we can do is try to help people to use alternatives. It is an amazing thing to see the cooperativeness and the understanding of each other's business models that happens inside that boardroom. It just wasn't possible 15 or 20 years ago.
Harper: From a utilities perspective, one of the keys is to take a holistic approach. Problems tend to arise when you have any one group that looks at one very focused segment without understanding the impacts on the rest.
Southerland: I read recently about the lack of knowledge people have about the competitive nature between water and generating energy. To generate more energy you need a lot more water. And then to basin conserve our water and to make the most use of it we need more energy. It seems to be a positive reinforcement cycle that we need to address.
Harper: Plants do utilize water. Now a lot of that water is returned back to the basin.
Olens: It's returned downstream from the basin.
Harper: A lot is evaporated, which falls somewhere else; but there's always a focus, when we start to build a new generating facility, on water usage. Water is one of the biggest problems that we have in Georgia. It's a tremendous challenge and another example of where we've got to look at it holistically. What are the things that we can do so that we have enough water for generation, for business, for drinking water, for our habitats?
Olens: We need to understand that while the environmental, government and business communities are doing a much better job working together, the results are not at the General Assembly. We now have more and more members of the General Assembly who are independently wealthy or whose businesses are engaged with a lot of the issues, and you have folks who know a lot about an issue but not the big picture. Similarly you have small business owners, lawyers, etc. who literally can't afford to take four months out of their business. I think, candidly, this system needs correction.
GT: What would you propose?
Olens: I think the state needs to do a better job in having a process where the small businessperson can be there and where there are more seminars, conventions, where there are times during the year where people get together on a big issue and thoroughly vet that issue, to make better representatives and senators. We're asking these folks to listen to a lobbyist 30 seconds before a bill passes and to fully understand what they're voting on. We need to figure out a way to engage them in a manner that permits them to still have a livelihood.
Harper: I think the key is engaging them early enough to where they have the opportunity to learn about the issues. I've been very pleased with the legislature and the governor and the Public Service Commission's support of nuclear [Editor's note: the Georgia General Assembly passed a bill allowing Georgia Power to charge customers in advance for building two new nuclear reactors], but we've had about two to three years to work with them so that they understand what those issues are.
GT: What will your alternative energy projects – Georgia Power's two new nuclear reactors at Plant Vogtle near Waynesboro, and Oglethorpe Power's biomass facilities [which will utilize pine trees] planned for other areas of the state – do for job creation?
Ussery: [Oglethorpe] is seeing about four and a half jobs per megawatt, so about 450 jobs if you take into account the whole development and operation of the biomass facility. Then you have construction of the site, and then you move out into the timber industry with loggers and the people who drive the trucks to deliver [biomass] fuel, and the people who plant and replant the trees, at a time when the timber industry is in decline. So that has been part [of] our decision to locate those facilities in south Georgia. We don't have a lot of options when it comes to solar or wind, so this is a great opportunity to use one of our few resources from a green renewable perspective in the state, and we continue to explore other opportunities.
Harper: If you look at the nuclear units, you're looking at close to $14 billion of capital investment, 3,500 jobs during the peak of construction, and 800 high-paying jobs once these units come online. [Note: Georgia Power says it will also be hiring to convert its coal plant in Cobb County to natural gas, and continue hiring to "green" or reduce emissions from its other existing coal plants.]
GT: Will the job creation balance out economically, to offset the reduced revenues to your bottom line – a balance of more users using less energy?
Harper: We have to make sure the jobs we're creating and the capital we're investing allow us to remain [competitive] compared to the states around us. If not, then we're driving industry away and it's not sustainable. That's one of the challenges with a lot of the stimulus money and everything else. If we don't use it wisely, then I think it's going to hurt energy efficiency; it's going to hurt renewable, because over the long haul we've invested in something that's not cost-effective. If we use those dollars cost-effectively I think it will sustain itself in the long term.
Olens: From an Atlanta perspective, the pine project is really exciting. South Georgia has an infinite resource right there that provides jobs for south Georgia, and that's good for the environment. That's a great win for our whole state.
GT: How have environmental challenges affected the long-standing "two Georgias" problem?
Olens: I think that's an issue of leadership. For too long in our state it has been easy to attack other parts of our state to get your political game, and it's time we grow up and understand we're all Georgians.
Tapp: Most of us have the same issues. If you deal with the issues functionally, some of that falls away. You have to set the standard. What's acceptable and what's not? That's the leadership issue. Then if you say all right, most Georgians have congestion problems, most Georgians have economic concerns, most Georgians want healthier lifestyles, want attractive sustainable communities, there's so much more common ground.
Southerland: At one time in the Perimeter market you had all these property management companies competing against each other for tenants – they still do. But they came to recognize that the threat of traffic congestion and associated problems actually outweighed the benefits of not cooperating with each other, and they came together and formed the Perimeter Community Improvement District. All the Transportation Management Associations [and Community Improvement Districts] in the Clean Air Campaign are now working together because there are benefits to doing some of the stuff we do regionally. I think the catch is that most of the leadership is coming from the business community. UPS and Cox Enterprises in my market are world leaders.
Tapp: I would say [from] business and civic. One of the strengths in our state is volunteers, whether it's through garden clubs or rotary clubs or church groups or whatever. They just do what it takes to solve a problem.
Olens: Transportation problems won't be solved without state funding. CIDs can't do it alone.
GT: What are your thoughts about converting High Occupancy Vehicle lanes to High Occupancy Toll lanes?
Olens: Clearly there is the need for additional HOV, HOT in our region and the commingling of those lanes for additional transit. But we need to similarly understand that many of those areas, frankly, are past the point of buses, and need rail rather than buses. I'm a fan of arterial buses; I'm not a fan of interstate buses. Most of our region has the density where we need to be looking at light rail and heavy rail and linking up to MARTA so that it is in fact a complete system.
Tapp: We talked about the holistic approach, and there's one example I want to just highlight – the Atlanta Beltline, which is a case of turning lemons into lemonade, taking old infrastructure, repurposing it, or converting it, to something that will provide alternative transportation in the form of light rail, converting that corridor also to a series of trails, about 25 miles of trails, 22 miles of light rail or trolley. A lot of the housing will be affordable housing. It's a 30-year project. But it's working. In five years the Beltline has moved from concept to emerging reality. It's real progress.
GT: Let's return to the first question. Much of the money from the Obama stimulus announced so far [Editor's note: the full energy stimulus had not been announced at press time] will come to Georgia through the Georgia Environmental Facilities Authority to weatherize homes.
Harper: There's an opportunity there for us to work in partnership with all those different customer classes. How can we support GEFA's effort of efficiently getting those dollars distributed, and getting the message out to individual and small commercial customers just how they can take advantage of that? Part of what we look at is how do we partner with those different enablers [like local governments and EMCs] to make sure the customers can take advantage of dollars that are available.
Olens: For clarity's sake, there are two different programs here in the stimulus package. One goes to governments for government use, one goes to community action agencies through GEFA for homeowner and business use. The dollars are different. [Note: GEFA will receive nearly five times – $380 million – what local governments are expecting.]
GEFA is a great agency. It gives most governments loans at a much lower interest rate than they can otherwise get. I've become a big fan of the carrot and not the stick. As we look at the failure of our country to properly fund infrastructure … whether it's transit, roads, water, etc., providing those dollars to local governments where it's a combination of grants, loans with really low interest rates would go a long way toward encouraging the greening of our communities. Local governments can't do it alone. The state can't do it alone, and the federal government can't do it alone. But the ability to provide that carrot … can make a huge difference in making these infrastructure improvements.
GT: Will the state's biggest power customers have to apply a disproportionate share for weatherization? In other words, is an unfair burden being placed on the homeowner, or the industries?
Ussery: If you look at the EMCs across the state as far as the number of customers, we're about 95 percent residential. From an energy basis, those residential consumers use about 75 percent of the energy sold by the electric cooperatives around the state. So we're very focused on the residential perspective.
Harper: When you're talking about industrial customers, especially the larger ones, it's more specific. We work directly with them as to how can they utilize our product more efficiently. And there's an education process as well as grants that may be available to them for modernization, and energy efficiency type projects.
Southerland: Our power friends can talk to you about the structural problems. They can create all the supply and high quality that we have; but when it comes to policy we're all supply-siders. When it comes to the demand side, we tend to ask people to be virtuous, whether it's driving a car or using energy in their home. We don't have the incentives, we don't have the right piece there to do that.
[At Perimeter], we work with energy efficiency in buildings. Buildings actually create something like 30 or 35 percent of all the greenhouse gas emissions in the world. Very few office buildings in my market are owned by the companies that built them. Quite often they're built by some distant investment fund from Germany. They're going to build them as cheap as they possibly can. Someone new buys that building and then their job is to lease it to someone who's only paying their own energy bills for their part of the building. Through that whole cycle, there's not that decision about how do I choose which one is the most energy efficient option. There's no gain sharing. We need to start thinking about the structure of how we price stuff.
Millsap: [In office and commercial development], storm water runoff is a big issue, and there are all kinds of ways to build and control that completely now, and have green buildings with very little runoff. Instead of paving the whole Walmart parking lot, for instance, they can pave half of it with pervious pavement [which filters water] instead. For developers, it's not an additional expense if it's something that can be incorporated into the planning and in the long term actually save money. Getting people to understand that is sometimes problematic.
GT: At some point, it seems everybody decided to make an attempt to get on the same page. There does seem to be a sense of finding solutions rather than just thumbing your nose at people who don't agree with you.
Tapp: Businesses are taxing themselves, citizens are taxing themselves for greenspace. People are getting it, and so I think in some ways we're really at a very exciting time because we're at that tipping point of people realizing that a more holistic approach to our lifestyles and our communities can yield multiple benefits.