Columbus: A New Economy
Gearing up for Kia and military expansion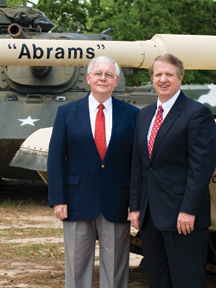 There's a swarm of activity in west central Georgia. The hum of automated manufacturing lines, heavy machinery and futuristic processing systems is heating up the climate, in anticipation of some 30,000 newcomers converging on two gigantic developments: the opening of the new Kia auto plant in West Point in the fourth quarter of 2009, and the opening of the new combined Armor and Infantry School at Fort Benning next year.
The first development is good for West Point, and thus good for Columbus, a regional leader; the second will more heavily impact the city in the form of a whole new economy unlike anything the region has seen before.
The impact of the half-billion-dollar refurbishing of the Martin Army Community Hospital by itself is enough to energize this community of 187,000, which grew just 1.2 percent from 2000 to 2006 and has an unemployment rate just over 8 percent.
"A few years ago, many people thought BRAC was a military thing," says Columbus Chamber of Commerce President and CEO Mike Gaymon, referring to the Defense Base Closure and Realignment Commission that made the decision to relocate the army infantry and armor school to Fort Benning.
"But in the last year, we've been convinced that it is an economic development thing. Kia will provide $1.2 billion in investment, 2,800 jobs and 3,000 indirect jobs. Fort Benning's investment is now $3.5 billion and they are adding 11,000 jobs, which is about twice the size of Kia. So Fort Benning is really fueling our economy in ways that we've not fully realized – $110 million a month on the payroll is gigantic for the region. Once the expansion is complete, it will add another $25- to $30-million per month to the payroll."
Economic growth in Columbus isn't limited to the automotive and military arenas. Gaymon is quick to note that existing businesses are thriving. Aflac still is adding 2,000 jobs, announced in 2005, in phases that most recently include a new Information Technology facility; Prosperity America, Inc. is opening a call and customer service facility in Columbus that will add 300 jobs over the next three years; Lance Inc. is adding 70 new jobs as part of a recent expansion; Kellogg is building a new plant; and St. Francis Hospital is expanding. Even banking companies TSYS and Synovus are holding their own in a down economy.
Another sector set to take off is tourism, which already is a big part of the Columbus economy, thanks to Columbus State University and local attractions such as the RiverCenter, the Columbus Museum and Springer Opera House, once a favorite of travelers such as Mark Twain and Oscar Wilde. The city has approval from the Army Corps of Engineers to proceed with whitewater rapids on the Chattahoochee River; and the National Infantry Museum, which opens this month, and a U.S. Armor and Cavalry Museum to be built nearby will make Columbus a hub of military tourism (see story, page 89). Graduations at the new combined Infantry and Armor School could bring an additional half a million visitors a year to the region.
"We're seeing things are moving in a lot of areas," Gaymon says. "One of our electric suppliers said they'd received more requests for housing in the last couple of months than in the last year."
Fortunate Location
"We're so fortunate to be in our region right now," says Becca Hardin, executive vice president of economic development for the chamber. "We're all competitive but now we're scratching for all we can get – not only for new business but existing business as well. We've done an extensive existing business survey to ask how we can do everything we can to help them survive."
Aflac cut the ribbon in April for its new 165,000-square-foot IT facility in the city's Premier Business Park, and is meeting the targets set in 2005. "They're entering the third phase of this expansion project," Hardin says. "TSYS continues to do very well and is expanding their international efforts, which are big in the United Kingdom and Asia. Synovus is streamlining as part of their Continuous Improvement Plan, Project Optimist."
Synovus opened a new, state-of-the-art data center in Columbus. Even though they are engaged in the continuous improvement project, the facility still opened as scheduled.
The region also has been lobbying for Tier One and Tier Two suppliers to Kia, but this was a broader effort from
Hardin in her other role as executive vice president of the Valley Partnership, which represents Columbus's Muscogee County, in addition to seven neighboring counties and three cities. The Valley Partnership has become a bi-state initiative, incorporating Alabama's Phenix City and Russell County.
Hardin says this has benefited the city's strategy. "We see a lot of swarming," she says. "Fourteen Tier One suppliers made announcements in both states. It's been extremely competitive. I've been to Korea four times! But at the end of the day, every community got something – I'm happy more companies located in Georgia, but it's only right that Alabama and Chambers County [in Alabama] got something."
With Tier One suppliers Daehan Solution, Johnson Controls and Express Materials locating in Harris County, Hardin is now eyeing Tier Two suppliers but doesn't foresee the same brisk activity that came with the Tier Ones.
"These companies will employ like 50 to 150 people, and aren't limited by proximity," she says. Tier One suppliers were required by Kia to be within a 10-mile radius of the plant. "We're seeing the bulk of the project beginning to slow down. Now we're focusing on defense contractors."
The region and state initially had difficulty "understanding this was an economic development project and not a military thing," says Gary Jones, the chamber's executive vice president of military affairs, about the Fort Benning expansions. "Now, our work is seamless with communities, the region and Alabama's and Georgia's economic development organizations.
"I don't know if other communities are using our model of working with military growth as what it is – an economic development project," Jones says, "but it's helped us and the state immeasurably."
"The whole initiative is so much more than BRAC," Hardin says. "We're talking about an economic impact at somewhere around $3.5 billion."
Jones breaks it down to $100 million in salaries, $250 million in contracts, and $4.2 billion a year overall economic impact to the area. The effort also has been good for creating a sort of bi-state mega-regional community in west Georgia. "The Chattahoochee is the brown rope that ties us together – not separates us," Jones says.
Columbus was expecting the bulk of the military-related in-migration to take place between March of 2010 and September of 2011, with "pre-positioning" for individual personnel beginning late this summer. "But we've already received 850 to 900 people," Jones says. "And the military has identified 260 civilians in civil service that are already saying they are coming to our region. We anticipate in excess of 1,800 civil service as well as some 4,800 defense contractor jobs being created in our region based on BRAC associated growth. Over a period of 17 to 18 months in 2010 and 2011, we'll grow by 11,000 jobs, or 28,000 people when you include family and spouses."
"We were told they [civilian military employees] wouldn't move, but since the economy turned there is no guarantee they can keep their jobs at Fort Knox," where the armor school is now located, Hardin says. "That was a real eye opener for us. Once they've decided, they don't want to wait until next year. The government has a killer incentive package, but we didn't anticipate the number [the first wave of new residents from Fort Knox] being so high."
The Valley Partnership supported the Georgia Department of Economic Development's decision to hire a senior project manager (Chuck Hunsaker) to work on capturing the military population, because Alabama had such a person. "Military growth statewide could approach $22 billion a year," Hardin says.
Donald M. Sando, the maneuver center's director of capabilities, devel-opment and integration, is working closely with the Valley Partnership to define the center's needs. The end result will be opportunities for local and defense industry companies to compete for the combat vehicle maintenance, green construction of facilities, modeling and simulation development, as well as information technology and R&D efforts. As a result, defense contractors could rapidly grow or expand their presence in both Georgia and Alabama.
"We received a $3 million Department of Labor grant from Washington through the Georgia Governor's Office of Workforce Development to prepare the citizens and the region to take advantage of the opportunities – whether it's automotive, technology, green construction, aerospace, healthcare, or other fields. For example, all the buildings on the base require Silver LEED (Leadership in Energy and Environmental Design) standards. That will create a huge need for training for everything from electric to plumbing, to brick and mortar," Jones says.
As he notes, the expansions at Fort Benning are the equivalent of a "community the size of LaGrange coming in over a period of 18 months."
As a result of a multimillion dollar grant from the Department of De-fense's Office of Economic Adjustment (OEA), "we have been able to develop a Bi-State Region Plan, the first in the nation," he explains. "From education, transportation and healthcare needs to police protection, regional utilities and emergency, each county in the 10-county Bi-State Region was provided, through OEA's assistance, a 'Regional Growth Management Plan' that provides a road map that the counties should use to prepare for the BRAC-related growth."
Speaking of healthcare, the Army is rebuilding its second oldest healthcare facility, Martin Army Community Hospital, at Fort Benning. The mammoth project will cost $570 million and take two years. The new hospital will have the same capacity as the current hospital, and it's anticipated that approximately 15 percent of base residents' healthcare needs will continue to be handled at off-base facilities, which include St. Francis Medical Center and Columbus Regional Hospital, a system that now incorporates Hughston Hospital and Rehabili-tation Center (sports medicine), Doctors Hospital, the John B. Amos Cancer Center and Phenix City Hospital in Alabama.
"In identifying sectors that will grow, health is a big chapter of that plan," Jones says.
Adding Visitors
The city, too, must expand its services to accommodate not only new residents, but more visitors – a lot more.
"A lot of good things are happening in the city, even in the economic downturn," says Columbus Mayor Jim Wetherington. "They're projecting that 300,000 to 500,000 visitors will come for graduations from the combined Armor and Infantry School. In July, we passed a local option sales tax, which was split 70 percent for public service and 30 percent for roads and infrastructure. As a result, we're hiring 100 additional police officers, to make Columbus one of the safest cities in the country. With the large number of students coming because of the expansion at Fort Benning, the one thing we're not prepared for is education, and another SPLOST is coming up in September to [allow us to] build nine new schools."
Wetherington says the new population will find a lot of things to do in Columbus. "We just finished downtown streetscapes, and it's beautiful now – we already have Columbus State University downtown with 500 fine arts students and faculty, as well as TSYS, Synovus, and the RiverCenter on the riverbank. Then we have our civic center with ice hockey and arena football, and we're building a new ice rink and eventually a citizens' service center with a natatorium.
"In the last three years, we've built a new library, added the Water Witch, a replica of the original boat in front of the Port Columbus Civil War Naval Museum, and built the National Infantry Museum and Soldier Center, a $100 million project that is absolutely beautiful."
Looking to enhance its tourism, the city also has filed a lawsuit against travel company Expedia that has broad ramifications.
"The Muscogee County Superior Court has ruled that taxes should be paid on the retail price – rather than the wholesale price – of rooms sold by Expedia, Orbitz and other reservation companies," Gaymon says. This is the basis of the lawsuit filed by Columbus. Other municipalities, such as Atlanta and Rome, have filed similar suits.
"But we're concerned because since we filed suit, these companies took all our hotels offline," Gaymon says, and many room nights are now being booked in Phenix City instead of Columbus.
"We know there's a difference between wholesale and retail, but that's nothing compared to the difference between a wholesale room vs. retail room rate and no room tax at all – not to mention the gas, food, and spending by visitors. A lot of people are used to using these services, so we could be missing out on a big portion of travelers."
Suit or no suit, tourism will ramp up for the city, especially if plans for whitewater on the Chattahoochee go forward. Columbus' riverbank is breathtaking; the river, super-wide. It's a natural fit that could take downtown to the next level, as well as giving students more opportunities for recreation.
"We had several national outfitters visit to give us some suggestions, and all were ecstatic about what whitewater could do for ecotourism in the region," Gaymon says. "There's even a chance that we could have additional funding for the project from the national stimulus package. It would be a very positive thing for the river."
There's no shortage of motivation in this town of movers and shakers, and it's safe to say that no stone has been left unturned. Columbus will be the Georgia city to watch for the next three years. "We're working on everything with legs that has sustainability for the Columbus region," Gaymon says.
Local Leaders
Mike Gaymon
President and CEO
Greater Columbus Georgia Chamber of Commerce
706.327.1566
mgaymon@columbusgachamber.com
Jim Wetherington
Mayor
City of Columbus
706.653.4712
jwetherington@columbusga.org
Peter Bowden
President
Columbus Convention and
Visitors Bureau
706.322.1613
pbowden@columbusga.org
Population
(2006 Estimate)
188,660
Unemployment
(March 2009)
Columbus MSA, 8.8 percent; Georgia, 9.2 percent
Per Capita Income
(2004)
$29,460
Top Employers
TSYS, Aflac, Columbus Regional Healthcare System, Pezold Management, BlueCross/BlueShield
Sources
U.S. Census Bureau, Greater Columbus Georgia Chamber of Commerce, Georgia Department of Labor