Georgia At The Crossroad
Looking for transportation relief in the midst of an economic crunch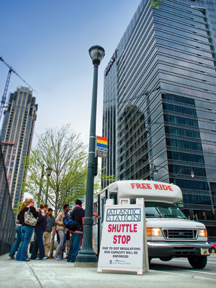 Lately, navigating Georgia's transportation mess is like skiing in an avalanche. In a way, the situation mirrors that of the national economy – no one is sure how we got here or how to get out. But there is hope that the economic stimulus will inch us back to recovery. As the federal government starts doling out billions from the new New Deal, some Georgia leaders are trying to find new ways of paying for past-due transportation needs.
Unfortunately, they got no help from Georgia legislators in the 2009 session. For the second year, the General Assembly was unable to pass a transportation funding bill.
The agency that does the transportation spending, the Georgia Department of Transportation, has become a lightning rod for controversy. Since the 2008 failure of a regional transportation sales tax in the legislature, it had been assumed that the state leadership did not consider transportation a priority; but last fall the governor's office released the IT3 (Investing in Tomorrow's Transportation Today) study.
Compiled by the governor's office, the Georgia Regional Transportation Authority (GRTA), national consultant McKinsey & Company and other sources, the plan is vast in scope but ties strategies to substantial dollar returns based on a reduction in commuter miles over a period of 30 years. This approach also links Atlanta's needs to those of Savannah and other Georgia regions.
Most of the projects recommended were incorporated into Rep. Vance Smith's (R-Pine Mountain) 20/20 Statewide Transportation Act, proposing to create a statewide penny sales tax that could raise $25 billion over 10 years for transportation projects. A competing bill in the Senate sponsored by Sen. Jeff Mullis (D-Chickamauga) would have enabled regions to establish a penny sales tax, or T-SPLOST, for transportation needs. The Atlanta region fought for this device, but it may not be a panacea, says Atlanta Regional Commission and Cobb County Board of Commissioners Chairman Sam Olens.
The two approaches reflected the struggle that played out in the General Assembly over local vs. state control. The 20/20 bill concentrated the power in the hands of the governor, the lieutenant governor and the speaker of the House; Mullis's bill allowed more regional control.
"You may expect me to prefer the T-SPLOST bill, but I thought Vance did a great job compiling his projects," Olens says, adding that bringing together the different factions that make up the region would be a "Herculean task."
Olens says he would have been willing to work with whatever funding solution emerged. "It's not impossible, but the enmity between North Fulton, Fulton County and Atlanta is significant," he says. "And representatives [from other regions] have said that the widening of Highway 27, for example, and improvements to the Fall Line Freeway [projects in the IT3 study] could not be done on a regional basis."
Moving On
Although neither funding measure passed this year, the IT3 study did bring the transportation discussion out of Atlanta for the first time. One of the most promising strategies concerns freight and logistics. Two projects – increasing the capacity of key sections of U.S. Highway 27, a north-south roadway, and the east-west Fall Line Freeway capacity from two to four lanes – would give 18-wheel trucks an alternative route around Atlanta. It is estimated that 60 percent of truck traffic travels through the capital without stopping. "It would absolutely help to get truck traffic out of Atlanta," Olens says. "In that sense [the proposal] is a two-for-one deal."
Throughout the debate, it has become clear that the state's future transportation needs require "mega-regional" coordination – spanning not just county and regional borders but state lines as well. The continued success of the Port of Savannah is a boon to Georgia's economy; but it will test the state's ability to handle freight.
"The Port of Savannah is the third fastest growing port in the world, and it may become the fastest over the next 20 years," says Dick Anderson, executive director of the Georgia Regional Transportation Authority (GRTA), established in 1999 to improve Georgia's mobility, air quality and land use practices.
"Tonnage is projected to increase 500 percent, and only 15 percent of that goes over rail. The rest moves on highways, so there is a significant opportunity to increase our competitive position at the port by moving trucks around Atlanta."
In addition to adding truck route alternatives on the west side, where the new Kia plant is opening and bringing suppliers with it, an eastside route also would be effective. "If we could build a [route] connecting I-16 to I-75, bypassing Atlanta on the northeast side, we could remove 28,000 trucks coming through a day, which is the equivalent to 100,000 cars," Anderson says.
The IT3 report concludes that Georgia has invested up to 45 percent less in transportation in recent years than other states, with the second lowest transportation resources per person in the country after Tennessee.
The report indicates that Georgia could see a return of $57 to $88 billion over 30 years from an investment of $18 to $37 billion to better manage freight and logistics. That's part of an overarching recommendation of $91 to $148 billion in investments that could yield a return of $520 to $590 billion in economic benefit, including 320,000 jobs.
The IT3 freight/logistics recommendations concentrate initially on first and last mile improvements. An investment of $510 million over 10 years would address major bottlenecks at Atlanta interchanges and Port of Savannah interstate connections, where long lines of idling trucks often sit in rush hour traffic. Another $18 billion over 20 years would go to new limited access bypasses between freight origins and middle Georgia destinations, an investment that was deemed "critical" by the report.
The last investment of $10 to $19 billion would go to truck-only routes and new freight rail capacity. University of Georgia Selig Center Economic Forecasting Director Jeff Humphreys recommended converting GRIP (Georgia Road Improvement Program) roads (built with funds for highways from the 1980s) to truck-only routes.
"A limited access facility between Savannah and Columbus along the Fall Line Freeway would be a tremendous opportunity," says William Mecke, GRTA communications director. "We could even see an inland port somewhere around Macon."
Small Changes, Big Impact
Another compelling IT3 find is that the little stuff has a big impact. On that front at least, change is rolling forward. Georgia received a $110 million federal grant last year to convert High Occupancy Vehicle (HOV) lanes to High Occupancy Toll (HOT) lanes, where large carpools could still ride for free but individual motorists would pay a premium.
The changes would affect 14 miles of north- and southbound Interstate 85 from Interstate 285 to Old Peachtree Road, and should be finished by January 2011. The federal grant puts Georgia halfway toward a $220 million investment that would bring in a $40 billion return over 30 years in reduced congestion costs, according to the IT3 study.
To put that ratio to scale, IT3 reports that some of the bigger projects under consideration have tighter margins. Spending $26 billion on a base package of reliable "connecting" infrastructure in Atlanta would yield an additional $40 billion over 30 years.
Investing $17.2 billion on "doubling down" congested corridors (for both transit and road, including a "Big Dig"-style tunnel under Atlanta connecting Interstate 675 to Georgia 400 and "double decking" the downtown connector; as well as more rail facilities along Interstates 75, 85, and Georgia 400) would bring in $10 billion over 30 years.
"As HOT lanes eventually make their way into 630 lane miles, interconnecting throughout, there would be an enormous benefit in terms of the predictability of travel, and we would build additional transit options," Anderson says. New train and bus stations could be built around this data so that "if they choose not to pay individually, [commuters] can ride transit at the normal fare, for a competitive and complementary circulator system."
IT3 envisions pockets of high-density transit options at employment centers – vanpools, streetcars and other circulator systems – that finish that all-important last mile (the distance from the transit station to the workplace). "If they do take transit, they need the ability to get from building to building," Anderson says.
The HOT project must also be coordinated with rerouting truck traffic.
"Assuming we get enough drivers into HOT lanes, and trucks are still in general purpose lanes, we have the potential for making it worse," says Dr. Michael Meyer, professor at the Georgia Tech School of Civil and Environmental Engineering and Transportation. "The whole HOT concept is to lure people out of general purpose lanes, and our current law forbidding trucks from using the two left lanes often results in a wall of trucks in the right two lanes, preventing motorists from exiting. It is not a simple solution."
IT3 doesn't prioritize projects, but it does suggest what can be done fastest, often with help from private investors. For example, "development pattern-coordinated" investment, including parks, roads, shuttles, sidewalks, bike lanes and more mixed-use developments such as Atlantic Station could create a $39 billion return in reduced congestion costs over the next 30 years – for nothing, "if the right investments are made and the market responds."
"Atlantic Station is an effective model, in terms of people responding to the market," Mecke says. "It was built with underground parking and shuttles to MARTA that carry more than [GRTA's] entire Express Bus system carries in a year."
On the other hand, transportation investments in medium-sized metropolitan areas and rural areas totaling $14 billion could create 86,000 new jobs and a $156 billion return over 30 years, according to IT3; reduced congestion in these areas would bring in just $44 billion of that total – the $112 billion balance would come from "unclear benefits."
The $15.6-billion cost to complete GRIP roads, for instance, would have "no measurable benefit in reducing congestion costs, no link to job GDP or population growth, and would expand access to employment centers by three percent," all of which seems to support converting them to truck-only routes. Another part of the remaining $156 billion return is apparently based on an assumption that $6 billion for high speed rail from Atlanta to Savannah, which would reduce the trip from four hours to two, would energize both area economies, plus middle Georgia communities such as Macon.
In other words, while truck-only routes and HOT lane conversion (coupled with transit investment) would have a measurable impact on traffic congestion, high speed rail from Atlanta to Savannah is a gamble – but is still part of the IT3 overall recommendations.
Funding Questions
If the state can prioritize its current resources, Georgia can cover up to two-thirds of the total investment recommended, according to the IT3 study. That means rewriting laws restricting how current funding mechanisms work.
Private investment also is seen as key to making the strategies work. "In both Texas and Spain [where tolls paid for a 31-mile tunnel under Madrid, built in 30 months], tolling plays a significant role in funding, and users have proven more than willing to pay with tolls or direct user fees category, which is based on vehicle miles traveled," GRTA's Anderson says. "Both ap-proaches are good sources of revenue and provide demand management, which is an extremely important strategy in going forward."
"The challenge in Georgia is how do we fund transit at the county level while respecting home rule?" Mecke says. "We're going to find something – what it will look like remains to be seen. It could be a coordinating committee over local committees; there are some models like that, vaguely similar to the Regional Transportation Authority in Chicago."
"When the next set of developments occur, coming out of the economy, we have to be consistent about where we have infrastructure or plan it. We need [new developments] to be walkable and livable, eliminating trips with circulator systems at employment centers. [IT3] should be on the radar screen of any big new development, such as Fort McPherson or Doraville's GM Plant," Anderson says.
Congestion in Atlanta actually fell 36 percent from 2007 to 2008, according to INRIX, an internet company that uses GPS systems to rank traffic in major metro areas (Atlanta fell from 10th to 12th worst in the country). The statistic follows a national trend that was no doubt influenced by higher gas prices in 2008, but it may also indicate that strategies such as the ARC's Livable Centers Initiative, encouraging mixed use development, and a rising number of people moving into downtown Atlanta and suburban mixed-use communities are having an impact.
Cooperative Efforts
Despite legislative inaction, transportation in Georgia should see some improvements. The state's share of the federal stimulus package will include some $932 million for highway transportation and $144 million for public transit.
And Anderson says fractured relations within Georgia's transportation community improved under the IT3 effort, which brought together all Georgia's transportation authorities to endorse the study, including MARTA.
"For the last year, we've been working with MARTA as a full partner, and I sit on the MARTA board," Anderson says. "We have to find ways to fund transit – it is the backbone of our operation."
MARTA will receive $7 million in "modernization" grants from the federal stimulus package, even as leaders continue to hope for more state funding. The beleaguered system gets only a penny sales tax each from Fulton and DeKalb counties. This year's failed House bill included a provision eliminating the mandate that MARTA split that money equally between capital improvements and operating costs.
MARTA General Manager Beverly Scott has warned that, without some help, the transit system could be forced to cut service drastically.
"Every high speed rail system in the world is subsidized," Tech's Meyer says. "The issue is that we are a huge country. Geographically, for instance, high speed rail from here to L.A. wouldn't work," he says.
"But the system connecting Boston, New York and Philadelphia, however, works really well – it's an older part of the country. We don't have that regional identity that they have up there, where many states are small and have more history of working together and managing systems better across state borders.
"But in the future, we'll see that same density come our way. By definition, we're heading in the same direction the northeast has been going for decades if not centuries. It will take a long time, and our next governor will be critical for Atlanta's prospects."