Dublin/Laurens County: Making Things Happen
Location and land are key assets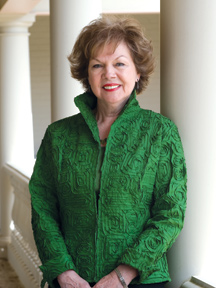 For many travelers, the exits off I-16 at Dublin were just places to stop, relax and refuel on the way to Savannah or Atlanta. These days, however, they're becoming the gateway to an increasing number of new businesses and industries. And that's been good news for a local economy whose diversity has shielded it from many of the travails faced by even nearby neighbors.
"We've had a net loss of jobs, but in our industrial base it is very close to break even," says Cal Wray, vice president of the Dublin-Laurens County Development Authority.
Sure, a small plastics company finally succumbed to pressure from overseas imports, but layoffs among the county's cadre of industries have been limited. Companies with warehousing units such as Best Buy, Fred's and Farmers Home Furniture, along with manufacturers such as Mohawk Carpets, YKK AP America, Inc., New Holland, Parker Aerospace and others are still humming along.
"Most of them, granted, are facing slow times, but no major layoffs," Wray adds. "They're mainly handling it through attrition, but no closings."
Local companies have fared well in their respective industries. Compact tractor builder New Holland is among the top three assemblers in the county, while YKK is a dominant force in architectural products, Wray says. Some companies are even enlarging their operations. YKK AP America, for example, recently completed the third phase of an $80 million expansion.
These businesses fared well because "they were conservative and ahead of the curve and very careful in their decision making," Wray explains.
Dublin is well positioned both figuratively and literally, with easy access to transportation arteries. Local officials are trying to make best use of that situation by joining a new I-16 Corridor Alliance, adds Dublin-Laurens County Chamber of Commerce President Willie Paulk.
The 12-county group is working to attract the attention of developers and site selection folks drawn to this important artery for products moving from Savannah and its busy port to Atlanta.
"I think the developers realize what a tremendous asset we have along this corridor, including not just a transportation route, but available land," she explains.
Those assets already have prompted a growing number of inquiries even though the economy has slowed, Wray adds.
Abundant Assets
Newcomers also will find a community eager to do business and endowed with something many don't have these days – money to lend. Eight local banks recently joined an economic development consortium with combined assets of more than $1 billion and the ability to lend up to $15 million to companies seeking to expand or relocate. The funds are designed to support strong companies that want to grow, not an attempt at venture capital.
Paulk says that a meeting with the Georgia Department of Economic Development to explain the alliance yielded a company seeking money for a relocation project to the area.
The program is made possible because these local banks have largely avoided the real estate collapse and souring loans that have damaged financial institutions in other communities, Wray says. Home prices never rose as high in Laurens as they did elsewhere. As a result, there was never any of the speculative investing that burned lenders in hotter markets. That good fortune meant more money left for lending to qualified companies.
"We just have to get companies to realize that it is out there," Wray adds. "You hear a lot of times that companies have stopped looking right now because there is no financing to be had – we have it."
Another prime asset can be found in Laurens' commitment to upgrading its workforce and ensuring that companies can find the trained employees they need, says Dr. Randall Peters, president of Heart of Georgia Technical College.
"When people are thinking about moving to a new town, they want to know about the education infrastructure, they want to know about the quality of the community, education institutions and that sort of thing," he explains.
When Best Buy announced that it was bringing its Southeastern distribution center to town, the college provided office space and support services for its advance team. As the new building was going up, employees were being trained here as part of the state's Quick Start program.
"So when the construction team finally turned the building over to Best Buy, they had people who were trained and ready to go to work and they didn't miss any time at all from opening their new facility to bringing in people that could move product and drive the forklifts," Peters says.
Attracting Retirees
Dublin hosts a thriving medical community; its hospitals are the county's largest employers. In addition to Fairview Park Hospital with 150 physicians on staff, Dublin is home to the sprawling campus of Carl Vinson Veterans Administration Medical Center. Located on U.S. 80 on the west side of town, it anchors the city's growing commercial strip. The ready availability of medical services also has helped fuel the county's budding aspirations to be a retirement destination.
To help make that desire a reality, the city and county brought in a Georgia Tech study team to tell them what the area really needed to do to attract older residents. Those meetings led to a program designed to make Laurens a "Certified Retirement Community" possessing the services and attractions required by older residents.
"It means that there are certain criteria that you meet that would enhance the baby boomer generation and things that would attract them to move here," explains Dublin Mayor Phil Best.
These factors include medical care, the availability of housing and recreation opportunities and willingness to welcome retirees – all qualities that the area is developing.
One recent development is Dublin's first stab at senior living, the 117-unit Moore Station Village. Under construction on land adjacent to Fairview Park Hospital, it is aimed at more than just retirees.
Best, a partner in the development project, says it caters to those who wish to age in place, not just the 55-plus set. "You can move there when you are 30 if you wanted to and live there until you are 85."
Featuring single family housing built around a "village center" with fitness facility and swimming pool, the development is surrounded by walking and jogging trails to meet the needs of active residents. Aging adults can eventually transition into assisted living quarters at nearby Benton House as they lose the ability to function independently and need more intensive care.
The attraction of this community is much like that of Dublin itself – a traditional, if not quite a storybook, town.
"From the research that we've done, the baby boomer generation does not want to be grouped necessarily with an age group like your 55-plus community," Best says. "They want the old traditional neighborhood. They want a small town. They want a place to walk. They are not going to quit working, so they are going to need a home office. They want to see young people too, younger and older people."
Buzzing Downtown
Downtown Dublin also is enjoying something of a renewal, if not outright renaissance as new businesses and restaurants fill newly renovated historic buildings. Several new restaurants are being opened by newcomer Josh Nichols, a former State Patrol officer turned real estate developer.
The activity is creating a "buzz," say locals, that's inspiring outsiders to seek out locations in the heart of the city.
"People are calling and wanting to move downtown," explains Kathy Jones, executive director of the Dublin Downtown Development Authority (DDA). "Sometimes the buildings that are vacant don't meet their criteria, but it's also caused the existing merchants to come to me and say, 'I want to fix up the front of my building.'"
Several downtown shops have stripped away aging and outdated materials and added more attractive fronts using the city's Façade Grant Program. That, in turn, has inspired more owners to look at doing the same, Jones says.
Meanwhile, other owners are making a greater commitment to the area. Morris State Bank, which has long had a presence downtown, modeled its new main office after the old railroad depot.
Just down the street, Townsend Funeral Home has renovated the abandoned Bank of America building demonstrating, perhaps, that some types of businesses never see a downturn.
One local real estate developer renovated an old off-street strip center and lured two longtime businesses – a bakery and the venerable Peppercorn Restaurant – over to its spaces.
Jones says the upsurge in activity may even cost her department its headquarters. The old Fred Roberts Hotel – the last of Dublin's downtown hotels – is now on the block for redevelopment. The DDA has been busy soliciting proposals for renovating the four-story structure, which now houses a senior center and the recreation department along with Jones' office – which occupies what was once the old soda fountain.
Proposals have included converting the upper floors to apartments with retail and restaurants on the ground to reestablishing the historic building as a hotel. "It's not about the money, but the best use of the building," Jones says.
The city also is seeking a developer for the abandoned First National Bank Building. Known as the "Dublin Sky-scraper," the six-story structure was completed in 1913 and is still the tallest building between Macon and Savan-nah. Plans envision it becoming a focus for expansion of the city's entertainment and shopping district.
Dublin already has put to use a good portion of the more than $10 million invested in downtown by private developers such as Nichols and by government. A $1 million streetscape effort funded by a federal transportation grant spruced up the area, making it more attractive for investors. Another project on Madison resulted in a pavilion that houses a farmer's market during growing season and serves as a stage for community events the rest of the year.
"It is certainly, slowly but surely, encouraging other downtown property owners to improve their property," Best says, adding that the real secret to Dublin and Laurens County's success has been the ability of local governments to work with the private sector and make things happen.
Local Leaders
Phil Best
Mayor
City of Dublin
478.277.5009
Willie Paulk
President
Dublin-Laurens County
Chamber of Commerce
wpaulk@dublin-georgia.com
478.272.5546
Cal Wray
Vice President
Dublin-Laurens County
Economic Development Authority
478.272.3118 or 877.272.3119
cwray@dublinlaurensgeorgia.com
Population
(2007)
Laurens County, 47,575; Dublin (county seat), 17,463; East Dublin, 2,735; Dexter, 541; Dudley, 520; Cadwell, 366;
Rentz, 323; Montrose, 164
Per Capita Income
(2004)
Laurens County, $18,767
Unemployment
(February 2009)
Laurens County, 10 percent; Georgia, 9.3 percent
Top 10 Employers
Carl Vinson VA Medical Center, Fairview Park Hospital, Mohawk Industries, YKK AP America, Flexsteel Industries,
SP Newsprint, Farmers Home Furniture, Fred's Distribution, Parker Aerospace, Rockwell Automation Allen Bradley Co.
Sources
Dublin-Laurens County Chamber of Commerce, Georgia Department of Labor, U.S. Census Bureau