2009 Most Respected Business Leader: Power For The Future
Georgia Power's CEO Mike Garrett is championing a nuclear renaissance, scoring points for his company and working to unite the two Georgias.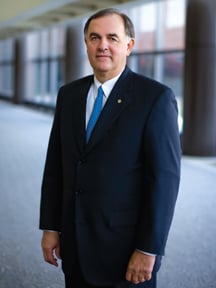 If you're Georgia Power, when it comes to building the plants that supply the energy needs of your 2 million-plus customers for the next few years, you see three choices: natural gas, coal or nuclear.
Gas-fired power plants are clean, but natural gas prices are volatile; coal-fired plants are not so clean, and it's unlikely you could get a permit to build one.
If you're Mike Garrett, Georgia Power CEO, the answer is pretty clearly more nuclear plants; but they're expensive to build.
So the fact that the Georgia Nuclear Financing Act – or Senate Bill 31 – sailed through the General Assembly this year, allowing Georgia Power to begin passing along construction costs to customers five years before new nuclear facilities come online, is a real coup for the utility.
"I'd like to think it was a coup for the state of Georgia," Garrett says. "Until this recession hit, we were the fourth-fastest growing state in the nation. We had projected over the next 15 years our demand was going to go to about 30 percent. We're seeing the projections slide a little bit, but at the same time we've got to prepare for the future."
Just weeks after the funding legislation passed, the Georgia Public Service Commission approved Geor-gia Power's application to build two new nuclear reactors – signaling a nuclear future for the state. It was, by any standard, a defining moment for the company and its CEO.
For his business success and his civic involvement, Mike Garrett is Georgia Trend's Most Respected Business Leader for 2009.
Garrett, who started his career with the utility as a college student more than 40 years ago, has headed Georgia Power, Southern Company's largest subsidiary, since 2004. He was president of Mississippi Power when he was tapped for his current job.
Since returning to Atlanta – he had an earlier stint here in the 1980s – he's immersed himself in the kinds of high-profile civic activities that demand far more than showing up for an occasional meeting. He's current chairman of the Georgia Chamber of Commerce and the state Economic Development Board and a past chairman of the Metro Atlanta Chamber of Commerce. Last year he headed the Atlanta United Way campaign that raised $81 million.
"Everywhere he has been, he has brought with him an energy and a natural leadership ability," says George Israel, CEO of the Georgia Chamber of Commerce and a former mayor of Macon who has known Garrett for more than 30 years. "He empowers the people around him and supports those people."
Committed To Nuclear
Nonetheless, being the standard-bearer for what Garrett terms the nuclear renaissance in Georgia invites plenty of criticism: There are ongoing concerns about power plant safety – he himself references the partial meltdown at the Three Mile Island nuclear facility in Pennsylvania 30 years ago when he talks of building new nuclear facilities; and there are unanswered questions about nuclear waste storage.
Garrett, though, believes nuclear is and must continue to be a big part of supplying Georgians' future energy needs. He says unequivocally that nuclear power is safe, clean, cost-efficient and ultimately better for Georgia Power's customers.
"Nuclear reactors in the United States have proven they are safe. We've not had any major incidents since Three Mile Island, and there basically the plant did what it was supposed to do," he says. "The people that are designing new nuclear units are saying they are even safer than ones we have.
"I think we're going to continue to struggle with spent nuclear fuel," he acknowledges, but not in Georgia. "We're OK – we have dry storage at [Plant] Hatch and a spent nuclear pool at Vogtle, and it will just take years and years and years to take up that storage capability."
He does not think Congress will fund a waste facility – especially since the Yucca Mountain site in Nevada is off the table, but foresees "storage facilities where nuclear fuel is waiting on some form of reprocessing like they do in Europe."
The numbers, he says, are on his side. "We have, since the '80s, built nothing but gas-fired plants, which has caused us to be more dependent on natural gas. Prices have been very volatile. They've spiked up as much as 400 percent. Our customers pay the fuel charge and obviously have to be concerned about that.
"To build a coal plant now," he says, "unless it's a gasified coal plant, would be very difficult to do from a permitting standpoint. You have to ask yourself the question, 'With the [environmental] controls you'd have to put on it, would it really be economically feasible?'"
The new nuclear reactors approved by the PSC will be built at Plant Vogtle on the Savannah River near Waynesboro, joining the plant's existing two. Vogtle has three co-owners – Oglethorpe Power, the Municipal Electric Authority of Georgia (MEAG) and the city of Dalton; but Georgia Power's share, a little more than 45 percent, makes it the chief owner – and the chief architect of Georgia's nuclear future.
Vogtle was built in the '80s, and its construction was characterized by cost overruns, many due to changes – Garrett says it was more than 1,500 – mandated by the federal Nuclear Regulatory Commission (NRC) throughout the construction, most in response to the Three Mile Island incident in 1979. The company took a lot of heat; some critics wondered if it would survive the increased costs. Final tally for the plant was around $9 billion.
Garrett says protections are in place that will help avoid overruns on the new units. A state law passed after Vogtle was built requires the PSC to do regular reviews as construction progresses; and the NRC now has an approved design for nuclear facilities.
The Numbers
"The price tag on these two units is in the ballpark of $14.5 billion," Garrett says. "We're at around $6.5 billion for our piece of that. That's about one-third the size of Georgia Power as it sits now."
Building new nuclear reactors is a complex and expensive multi-step process. About a year and a half ago, the company started negotiating with Westinghouse for two new units and signed a contract in April of last year; it subsequently filed for an early site permit and for a joint construction and operating license.
The PSC certified the two new reactors and approved the company's plans for nuclear expansion in March; Garrett expects to hear in late 2010 or early 2011 whether the NRC will approve the plans. But he clearly is expecting a green light.
"We'll get started with hard construction in '11," says Garrett. "The first unit will come online in '16, the second in '17."
And the company will begin charging customers in 2011 to recover financing costs – but no brick and mortar costs, Garrett says. Estimates put the initial charge at about $1.30 per month for most residential users.
Not surprisingly, the legislation that allows this has spawned some harsh reaction. Consumer groups are dismayed by provisions that they say leave customers vulnerable, requiring them to pay upfront with few guarantees that the price won't escalate beyond original estimates. Others complain that the company circumvented the Public Service Commission, which is charged with regulating the state's utilities.
Garrett says the pay-in-advance system is essential for the company to protect its shareholders – and its customers. "We think over the long haul ratepayers are going to actually pay us less money under this scenario.
"When we build plants, we're allowed to recover financing costs. But now we recover when the plant goes in service," he says. "On something the size of this nuclear plant, we're asking to collect financing costs as we go along, so we are not paying finance costs on finance costs, or interest on interest – it compounds and adds up in a hurry. [That's] some $300 million difference.
"We have about a $3-billion environmental control program going right now. Add to that $6.5 billion in construction," Garrett says, "and all of a sudden you get into cash flow problems [affecting] your bond rating. Our bond rating now is an A. If we were dropped to a BBB, the interest costs could be as much as $100 million a year for us.
"If we truly are going to build nuclear in the future," Garrett says, "we have to have some certainty that … all our efforts to prepare to build a nuclear plant have to have some credit we can capture, or [that we can] collect interest as we go, rather than create another issue where we've got the possibility of a bond rating downgrade."
Ben Clark, portfolio manager for Atlanta-based Invesco Global Assets, who covers global utilities, calls Georgia Power and the Southern Company "a very strong company, a well-managed company." He says the legislation and favorable ruling by the Public Service Commission clearly put Georgia at the forefront of nuclear investment.
"Net-net, it's a good deal," Clark says. "It's good for all parties involved. It's good for ratepayers in the sense that capacity will be there. It's also great for shareholders, because it does allow the company to earn significantly higher margins on power generated from nuclear plants over coal and gas plants. It is good for regulators in the sense that they've given a clear signal to not only the utility but the industry that at least in this part of the country, in Georgia, there is a commitment to ensure sufficient baseload capacity at an attractive rate of return."
Direct benefits, he says, won't come until the project is built. "But ultimately [it] should benefit shareholders with speedier cost recovery and decreased financial requirements."
A Nuclear Future
Some critics characterized Georgia Power's pursuit of the financing legislation as an end-run around the Public Service Commission.
Not so, Garrett says. "This was more about the future of nuclear in Georgia. A state growing like Georgia can't be dependent on coal and natural gas for energy needs. We've got to look to nuclear. I think this bill ensures we are going to be able to do that."
Nor is he worried about his company's relationship with the PSC – he believes a majority of the five-member commission favored the legislation.
"Quite frankly, we would have been crazy to go to the legislature without having first made sure the commissioners were comfortable with that position. The last thing we need is to have a commissioner over there testifying that this is not the right thing to do. I wouldn't dare speak for them, but I'll tell you all of them – well, I wouldn't say all of them, but the majority of them – clearly see the value of construction work in progress [financing] and the value not only to customers, but to the credit rating of the company. They have to keep us healthy, otherwise it costs us more to do business."
PSC Chairman Doug Everett has heard the criticism, but didn't take umbrage at Georgia Power's push for legislation. "I knew what they were trying to do," he says. "That law gave them stability, because it referred to all plants," not just the Vogtle expansion, "so they didn't have to come back and do it again."
Of his own vote to approve the company's request to build the new reactors, Everett says, "Nuclear power is the cleanest, the cheapest and the safest kind of power that we have. For me, it was a very easy call."
"I think we have a responsibility as a public utility," Garrett says, "to the customer to ensure that we provide the best level of service we possibly can and keep their rates well below the national average and be good stewards of the environment. We have to do a balancing act between customer service and the price of our product to customers – we have to give them something they can afford and stay in business, earning returns so shareholders want to invest in Southern."
He says Georgia Power's revenues are down about 5 percent or $350 million. "We're normally at about $7 billion. We've got to provide the same amount of service customers are looking for."
Despite its commitment to nuclear, Georgia Power is converting Plant Mitchell, a coal-fired facility near Albany, to one that burns forest waste – about 170 truckloads of woodchips per day, Garrett projects. It should be the largest such plant in the country and will produce about 100 megawatts of electricity when it is in full operation in 2012. The company says about 5 percent of its current energy supply comes from renewable sources.
Civic Involvement
Georgia Power has a long-standing reputation for involving itself in civic activities – from the small towns and communities where its representatives join boards and chambers and committees, up through its current CEO's broad-scale involvement.
Why is this so important?
Garrett's answer references his small-town beginnings – he grew up in McRae, alternated college and work as part of Georgia Power's co-op program and finished his degree in night school – and his own up-through-the-ranks ascent in the Southern Company.
"When you have the opportunity to come into a situation and be CEO of one of the more progressive companies in the state that has people involved in 1,700 community and civic [groups], it is a once-in-a-lifetime opportunity that isn't going to last long, so you've got to try to make an impact where you can.
"I was born in this state, I love this state. What I try to do is take advantage of this opportunity to sit in these chairs to do what I could to make a difference while I'm here, because I'll look up one day and I'll be playing with my grandchildren and riding a tractor, and I won't be doing these things."
As chairman of the Metro Atlanta chamber, he pushed hard for regional approaches to the state's problems, particularly transportation and water. Now he's using his bully pulpit as head of the state chamber to push for statewide solutions. And he is particularly anxious to take on the "two Georgias" problem.
"We have metro and the rest of the state. It's becoming us and them. I don't think it's healthy for our state. What we have to do as the Georgia Chamber and the Georgia Economic Development board, is talk about the issues and how we can all work together."
George Israel says Garrett's work on uniting the two Georgias reflects his roots outside Atlanta and his role as a power player in Metro Atlanta, "He grew up in the third Georgia," Israel says. "He's very aware of the needs of the other areas" and cognizant of the statewide reach of his own company. "He has a great sense of vision."
Garrett's management style at Georgia Power has been called low-key, but it is undeniably effective. "The day I got here I sat down with the management team and said, 'I hope none of you think you're big shots, because you're now working for the wrong company if you do.' We are employees of this company just like everybody else."
Of course, he has thought about his legacy: "I'd like to be remembered as someone who was responsive to employees and at same time built a relationship with customers and the external public that benefited the long-term future of this company.
"I have a saying that running this company is like shooting pool – anybody can make a shot. In pool, it's not whether you made the shot or not, but where you left the cue ball so you can make the next shot. I'd like to leave the cue ball so whoever takes over this company after me can be as successful as we've been during my tenure."