The Games People Play
Georgia's booming video game industry packed a $72-million wallop last year. Nationally, retailers sold the equivalent of nine games every second.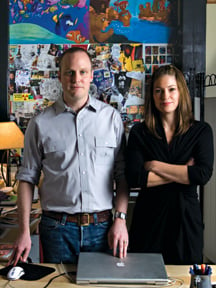 While you're sitting there reading this, millions of your fellow humans are defending the planet against an alien attack, winning the Stanley Cup, raising the dead, trading blows with Muhammad Ali and wreaking havoc on the world's oil supplies, among other things.
They're doing it all with the click of a mouse, the push of a button, the twitch of a joystick, on their Xboxes or Wiis or cell phones or computers – and they're paying good money for the privilege.
Even as the economy withered, the computer/video game industry had its best year ever in 2008: Retailers sold about 297.6 million games in the United States, more than nine every second. The industry topped $22 billion in sales last year. Entertainment software sales made up $11.7 billion of that, a 22.9 percent increase over 2007.
"That by itself is not so unusual in a normal year. But in this economy it's astonishing," says Celia Pearce, assistant professor of digital media at Georgia Tech.
"The industry is booming," says Pearce, an artist, author, game designer/developer and director of both the Experimental Game Lab and Emergent Game Group at Georgia Tech. "Basically, if your kid wants to be a game designer, he's going to have a job."
Georgia has a scrappy, close-knit video game industry, comprising about 70 companies and more than 2,000 workers, who produced an economic impact of about $71.8 million last year. And the state is home to some of the nation's best university video game development programs.
"We're taking this industry very seriously. There is tremendous room and opportunity for growth," says Bill Thompson, director of the Georgia Film, Video and Music Office of the Georgia Department of Economic Development.
According to the Entertainment Software Association (ESA), computer/video game companies employed, directly and indirectly, more than 80,000 people in 31 states in 2007, at an average salary of $92,300. The ESA thinks the industry could support more than 250,000 jobs by the end of this year.
Georgia wants in on that action, so the state offers up to 30 percent in tax credits for productions spending at least $500,000 in the state, part of an entertainment industry incentive package approved by the legislature last year.
Clinton Lowe, a video game developer/entrepreneur, and CEO of industry consultant firm C. Allen Lowe & Associates, worked with state officials to get the incentive package passed.
"Our mission is to grow the video game industry in Georgia and throughout the Southeast," says Lowe, chairman/co-founder of the Georgia Game Developers Association (GGDA). "So far we've had quite a bit of growth in terms of raising awareness and bringing people out of the woodwork. We've also had a number of startups and mergers that have grown the industry here."
He cites CCP, a company from Iceland (developer/publisher of the popular EVE Online game) that merged with Stone Mountain-based White Wolf, which made its mark in the pen-and-paper role-playing game market.
Lowe's ideal scenario would have local companies growing to the point where they are "acquisition-worthy by the large publishers. I don't think there is any reason for, say, an EA (Electronic Arts), to open a 200-person studio here when they could acquire a studio that's already here."
Casey O'Donnell, assistant professor at the University of Georgia's Grady College, has first-hand experience with that setup. He was with Vicarious Visions, a successful game studio in upstate New York, when it was acquired by industry mega-corporation Activision.
"Vicarious Visions went from 75 employees to 150 in the time I was there," says O'Donnell, who came to UGA last August to build a program that will include video games as a major focus. "But that one studio has now been responsible for parenting four or five other studios as talented people left to start their own companies, all of them making money.
"That's what we need to foster, a community of small, independent studios. To me, more people making a living, as opposed to a few multi-billionaires dominating the industry, is the desirable scenario."
To help grow the industry, the Gwinnett County Chamber of Commerce is planning a digital entertainment incubator, and the Savannah Economic Development Authority is offering one year of free rent for digital media companies.
But at least one game mega-corporation already is in Georgia, and it has steadily been increasing its footprint.
In January 2007, EA – the $4 billion California-based firm that develops, markets, publishes and distributes some of the industry's most successful games, such as Madden NFL and The Sims, began collaborating with the Savannah College of Art and Design (Savannah campus), where students are working on games for EA's Florida studio.
In October 2007, the company established a significant Atlanta presence when it bought locally-owned Super Computer International, creator of PlayLinc, an online game browsing and messaging platform. Then last year EA bought Rupture, a social network for gamers, for $30 million, and moved that division to Atlanta.
"EA has shown interest, they're on the ground already. They'll expand if things seem favorable to them," Thompson says, adding, "I think we have exactly what they're looking for. We're the most wired city in America, a ready-made pool of talent, and [have] the best tax incentives in the nation for video game development.
"That's why we're seeing more activity now."
Virtual Worlds
Chris Klaus was into games long before he started Internet Security Solutions (ISS) and became a millionaire. But two years before ISS was sold to IBM for $1.3 billion in 2006, Klaus had stepped out of the day-to-day operation to start something new: Kaneva, a 3D virtual world that Klaus says, "represents a new chapter in gaming."
Kaneva is an MMOG (massively multi-player online game), a broad description for a vast world of internet-based games in which players can create an animated character, or avatar, that lives in a virtual world, going on quests, buying clothing, building houses, engineering hostile corporate take-overs and so forth.
Players can invest as little or as much of their identities into their avatars as they wish. There are thousands of MMOGs out there, some in brilliant 3D animation, requiring video card and other computer upgrades (cha-ching), and some of the best known often are not the most successful.
"If your criterion for success is public relations, then Second Life is far and away the most successful virtual world. But the general perception of what's actually going on is wildly inaccurate," says Pearce, who takes an anthropological approach in her latest book, Communities of Play: Emergent Cultures in Multiplayer Games and Virtual Worlds.
Neither Second Life, nor the wildly popular World of Warcraft, is the most popular MMOG on the Web, says Pearce. "There's a virtual world called Habbo Hotel, targeted to teens and tweens, from a company in Finland," she says. "There's something like 100 million kids on Habbo Hotel."
Like Habbo Hotel and Second Life, Kaneva is a social network more than a game.
"It used to be, we referred to our fake, or online friends, and our real friends in the real world," Klaus says. "But the line is blurring. People are connecting in online communities like Facebook and MySpace, and there no longer is a strong distinction between online and offline friends."
The most technically ambitious and anticipated games being developed in Georgia are MMOGs, which can take five years and more than $10 million to develop completely. Kaneva falls into this category. So does GlobalAgenda, an action game that takes place in a dystopian 22nd century, under development at Hi-Rez Studios, which employs more than 40 people at its state-of-the-art facility in Alpharetta.
And now, after years of developing games for its website, or the major console-based systems (PlayStation, Xbox, Wii, etc.), the Cartoon Network (CN) has launched its first MMOG. When FusionFall was launched in January, after years of development and beta testing, it had 3 million player accounts.
The game has players joining forces with CN series characters to – what else? – save the Earth. It was developed with Korean firm Grigon Entertainment.
"The gaming community in Korea is like rock stars here. Gaming is part and parcel of the culture, it's pervasive," says Paul Condolora, senior vice president, digital, for Turner Broadcasting's Animation, Young Adults and Kids Media Group. "We're the first American company to enter into such a large deal with a Korean game developer."
Meanwhile, Atlanta-based Good Egg Studios, started in 2007 by Craig and Liz Kronenberger, is hoping to instill social responsibility among the players of Elf Island.
"It's a virtual world that empowers kids to make a difference in the real world through their online gaming efforts," Liz says. "We call it 'gaming for good.'"
Good Egg Studios partners with nonprofits such as Habitat for Humanity, Polar Bears International and WildAid, using donations that accumulate as player activity increases to help build houses in the real world, track polar bears or preserve endangered sharks in the Galapagos.
Generally, MMOGs offer some level of free play, but users can only fully engage in the virtual world through a payment system.
In the United States, this typically means a subscription fee. But an increasing number of companies are following a Korean economic model, in which users get free accounts but make micro-payments for virtual items (clothing, cars, houses) and upgrades. Companies such as Korean developer Nexon sell content cards for players to use in their virtual worlds.
"What they all have found is, you lower the barrier of entry, get people in the door and then sell them a better experience," Pearce says.
So, Georgia is making a mark in online-based computer games, not as much in the console-based arena. But there are some success stories in other realms. Blue Heat Games, for example, is one of the largest independent mobile-game studios, having developed 36 games for cell phones and wireless devices.
"This was uncharted territory eight years ago, a new emerging space," says CEO/co-founder Marcus Matthews. "We've grown with the market and now we're developing games for the Wii, Nintendo DS and other platforms."
Lukas Bradley opened Thrust Interactive in 2004, a small studio that has a solid reputation for designing and building MMOGs. But Bradley insists, "We are technology agnostic. Given the right opportunity we'll tackle any platform.
"This is a rapidly evolving industry, and it's playing a big role in fueling the growth in technology."
At Georgia Tech and SCAD-Atlanta, for example, researchers and students are working together on a project using augmented reality (AR), in which virtual reality and real-world elements collide. Imagine wearing a pair of goggles through which you see the real world, but also computer-generated images projected on top of reality.
"If you train students to work on Halo or Guitar Hero or one of the other current games and platforms, you're training them to get a job last year. We have to be thinking down the road," says Matthew Maloney, director of academics at SCAD-Atlanta's School of Film and Digital Media.
"I don't think the future of gaming will be consolidated into one technology. You won't see consoled gaming replaced by AR or goggles. You'll see the inclusion of all of these and other modes of play. You'll see a lot of failed attempts to launch different ways to play games, but ultimately I think we'll see more physical immersion, and more ways that your senses can be engaged in a game."
Game Drain
Georgia had a video game boom and bust in the mid 1990s, says Andrew Greenberg, game designer and a partner in Holistic Designs, Inc. (HDI), one of the survivors from that era.
"One thing that killed it was the lack of investment, lack of venture capital. We were one of the lucky few," says Greenberg, perhaps best known as an original developer of White Wolf's Vampire: The Masquerade role-playing game. "So many good people left Georgia, innovative designers with great ideas. It was this horrible brain drain of people going to the West Coast, because that's where the industry was growing."
Georgia's universities are building even more video game brainpower today. Schools across the state are adding programs dedicated to video game design – Columbus State and Southern Polytech are among the newer players. The programs at Georgia Tech and SCAD (Atlanta and Savannah campuses) are ranked among the best in the nation. Educators at these schools are interested not only in where their students wind up, but what kind of industry they'll wind up in.
"Most graduates go off to California or Seattle or wherever the industry is thriving. A lot of them would happily stay here if there was more of an industry to graduate into," says Georgia Tech professor Ian Bogost, researcher, critic, designer and author of the recently published Racing the Beam: The Atari Video Computer System. "We're not going to be viewed as a serious player in the industry until we see some successful products released, with critical acclaim and all that stuff."
Bogost is co-founder of Persuasive Games, whose games focus on social and political issues (airport security, tort reform, food safety and the oil industry – not your average fantasy fare).
"Georgia doesn't need to create an industry. It needs to create a unique industry," he says. "We should be looking at what a regional games industry would look like. Every state is looking for ways to capitalize on this new form of entertainment, but the opportunity we haven't cashed in on is the specific voice of Atlanta or Georgia or the Southeast.
"In addition to creating jobs, we have an opportunity to create a special kind of regional voice that reflects who we are."
Meaning a diverse population that contrasts with the traditionally homogenous game industry.
"If you search for 'game developers conference' on Google Image, you'll see a sea of white guys," says Brenda Brathwaite, chair of SCAD's Interactive Design and Game Development de-partment, based in Savannah, which will host the fifth annual Game De-velopers eXchange this month (April 16-17).
SCAD started the event to bring together game developers, educators and students with experts to share their knowledge of the game industry.
Brathwaite, an award-winning game designer with 26 years in the industry, and one of the most influential women in video game development, directs a program of 300 students. And while white guys still dominate the industry, Brathwaite is seeing more women and people of color show an interest in the art and science of play.
"When I look across my classroom today, it looks like a quilt," she says. "You've heard that academia is five years behind industry in new technology? Well, we're also five years ahead. I get the students five years before the industry gets them, and right now I'm incredibly happy about the wall of diversity headed the industry's way."