Ken Stewart: Riding Out The Storm
Advice from the state's top economic developer for communities trying to navigate the tough times.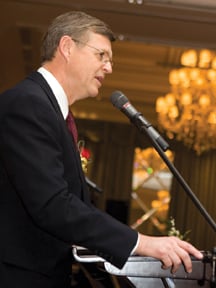 Communities throughout the state are feeling the pain as jobs continue to disappear with no ready supply of new ones to take their place. In search of advice for Georgia's counties and cities, Georgia Trend sought out Ken Stewart, commissioner of the Georgia Department of Economic Development.
Susan Percy talked to Stewart in his office in Midtown Atlanta at Technology Square. Following are edited excerpts from the interview.
GT: How do things look from your perspective?
Stewart: A number of Georgians are suffering right now. We are not alone. People are suffering in other states throughout the country, and the world. The good thing is that Georgia is very well positioned for recovery in a number of ways. Number one, we have a set of assets that are not going away – they had value before and have value now. This includes the airport, the ports, our educational system, a skilled workforce and various programs that are continuing to operate in good times and bad. Couple that with a diversified economy – I liken it to a diversified portfolio of investments. When times are good, we may not go up as fast, but when times are bad, we don't go down as fast.
GT: What makes you hopeful?
Stewart: We're the ninth fastest-growing state in the country and we're continuing to grow. We're a go-to location for young and old and retirees. That's not going to change. That growth demands a lot of construction, commercial and residential. Things have slowed down a bit [for] the construction industry in Georgia, but that's natural. It's going to flex both up and down in a more profound way than some other places that are not growing as rapidly as we are. We are primed for recovery from an economic development perspective.
GT: How?
Stewart: We're keeping our relationships current, knocking on more doors than we've ever knocked on before, calling on more customers in a strategic way, reallocating our assets so more customers know where Georgia is and what we do and [know the] ways we can add value to their bottom line.
GT: So there is activity?
Stewart: Customers are continuing to look very aggressively for the next opportunity. And they're watching this economic cycle we're in. As they begin to see we are reaching some bottom, the companies are rapidly going to begin to make investments; and we're well primed to take advantage of those investments as soon as we get to that point in this economic cycle.
GT: Do you have any specific advice for communities trying to weather the storm?
Stewart: You bet. This applies to communities large and small. Sales and marketing make a difference. If customers don't know where you are, what product you have, it's unlikely you're going to sell them. Some of our less developed communities have product we need to get into our [state] database, or they have the potential for developing product but haven't gone through the planning and development process to make those products available to customers.
GT: How about rural communities?
Stewart: Our more rural communities are well served by acting regionally. We have 159 counties in Georgia, [but] companies aren't concerned about geopolitical lines. What the company cares about is being in the best place to add the best value for shareholders. When a community in rural Georgia wants to compete, they many times can compete more effectively by acting regionally with other counties and cities in their area.
GT: How does that work?
Stewart: Two good examples, large and small. The Metro Atlanta Chamber represents all of Atlanta – they don't care whether it's Gwinnett or Cobb or DeKalb. It's where can the company best be located to bring more value, to be successful over the long term. Valdosta has a number of surrounding counties that aren't as well developed as Valdosta. They created a regional development authority – what they try to do is take advantage of the fact that Valdosta is there, the infrastructure is there. They can pool their resources and do a much stronger job of sales and marketing and developing of product than they could alone.
GT: What sort of strategy works best in tough economic times?
Stewart: I don't think the strategy has changed. It's like a football game. You have to concentrate on the fundamentals, like blocking and tackling, which are sales and marketing. Then you have to decide on a game plan, and for these counties the game plan needs to be what industry do I want to focus on. Then they develop assets that are appropriate for that particular targeted industry segment.
If you don't know where you're going it's unlikely that you're going to get there. I say you start with a strategic plan and act regionally to leverage the assets available to you then you go and through good times and bad, you concentrate on that strategy. You sell harder than ever when times are slow, because that's the time to take market share.
GT: You've been very high on international opportunities for Georgia. Has the economic downturn changed this, or are you still optimistic?
Stewart: International is the bright spot for us. Some 16.5 percent of projects last year were international, but 35.6 percent of the jobs and 33 percent of investment was international. The number of international investments is growing rapidly. Our international offices are performing better than ever and bringing prospects here in record numbers, even to date; and the investments they are making in the state tend to be larger and employ more people.
GT: Is there potential benefit for smaller, more rural communities?
Stewart: Companies from offshore need a couple of things to invest in. They need to know this is a safe environment, because they have never invested in the U.S. or Georgia; and they have cultural differences, including language. They want to be personally treated, and they want to live in an area and invest in an area that respects their culture. Companies coming from offshore many times want to locate in smaller places because they can develop relationships easier in smaller places. EFACEC from Portugal is a great example. They looked at sites along the coast and chose Effingham County. A number of Chinese investors – SANY chose an area out from Atlanta, and General Protecht chose an area out from Atlanta.
GT: Anything struggling communities should know?
Stewart: Sometimes it's confusing who does what. Our job is to sell and market Georgia and find markets offshore for Georgia-made products to bring money into the state. We sell the state of Georgia. Communities have a responsibility to sell their communities and develop products and to act regionally in a way that makes them most effective and brings value for the companies.
We have a very strong economic development team in Georgia. We have over 1,000 people in state of Georgia that wake up every morning to go out and create jobs and investment for the state. Those people are from local chambers, development authorities, regional development authorities, the Metro Atlanta Chamber, Georgia Allies, Georgia Department of Economic Development. They wake up every morning with the idea of giving us sustainability. We must create new jobs and investment every single day – not just for growth, but to remain strong and viable moving forward. We have to aggressively add jobs all the time in order for us to remain healthy.
Visit the Department of Economic Development online at www.georgia.org.