The Feminine Touch
When it comes to healthcare decisions, women typically call the shots. Hospitals say targeting the women's market gives them access to the rest of the family.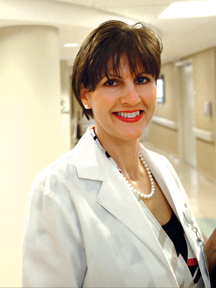 When Allyson Bickers of Flowery Branch gave birth to her second child last summer, via scheduled C-section delivery, she and baby Hudson were instant celebrities. The birth was the first ever at Northside Hospital-Forsyth's new Women's Center. The staff was attentive and welcoming, she says, and hospital administrators "even stopped by a couple of times each day to make sure everything was OK."
On the last night of her stay, the center treated Bickers and her husband, Russell, to a steak dinner for two in the room, with fresh flowers on the table and babysitting provided in the nursery.
Although the steak was a courtesy accorded the first mother to use the new center, the accommodations and treatment are standard for patients there. Resembling an upscale hotel more than the plain-jane institutions where an earlier generation of mothers delivered, the center is part of a growing trend to make the hospital setting comfortable and welcoming, particularly to women.
Appealing to women, it seems, is good business.
"In-patient delivery is one of the biggest reasons why the woman is hospitalized," says Melissa Sisson, director of women's services at Northside Hospital in Atlanta, which delivers more babies than any other hospital in the United States. The delivery of a baby is often a woman's first contact with the hospital, she says, "and it is fairly well documented that if they have a good experience with their maternity experience that sets them up to receive other programs and services at the hospital."
And because women traditionally have made health-related decisions for the family, a woman who goes to the hospital – for whatever reason – and has a good experience is likely to return to the same hospital when she or her family need medical care, Sisson says.
In other words, when it comes to choosing healthcare, women typically call the shots, says Christy Morrow Kunes, a CPA with Allen Pritchett & Bassett, LLP, a Tifton-based CPA and business consulting firm. She references a study that says women between the ages of 25 and 54 make 75 percent of the medical decisions for their households. Thus marketing professionals have found that targeting the female market is an effective way to gain access to the entire family.
"Based on a general preconception, most women are nurturers and men are in denial," Kunes says. "You are much more likely to get a woman in your office to deal with her husband's prostate cancer than you are to get a husband in to deal with his wife's ovarian cancer."
Women typically bring in other patients – not just their children, but their parents and even their friends – and that can mean big business for hospitals.
Specialized Facilities
Many hospitals have built or refurbished special rooms, entire floors or separate centers especially for women. Two years ago, for example, Phoebe Putney Memorial Hospital in Albany created Just for Women, a unit designed to accommodate female patients admitted for specific procedures, including mastectomy and hysterectomy, as well as those who lost babies after carrying them to term. The unit features all private rooms with spacious bathrooms and attractive, feminine décor. Nurses who serve the floor are specially trained to deal with women's issues.
"I think it is comforting for women to know that they are on a floor just for women, staffed only by women trained for the needs just for women," says Regina Martel, a certified breast health nurse and breast cancer nurse navigator. "I think it makes women feel better to be in a clean, bright, refreshing, happy place."
At Archbold Memorial Hospital in Thomasville, Archbold Women's Center opened in 2002. The freestanding facility focuses on the diagnosis of breast, gynecologic and bone disorders in a soothing environment designed with comfort and privacy in mind.
Although most hospitals around the state deliver babies, the scope of women's services varies depending on the size or focus of the medical center. Some centers address health issues that affect both men and women – diabetes, cardiovascular disease, obesity; but most concentrate on issues of particular concern to women. These services may include:
High-risk pregnancy care: Aside from its large number of healthy deliveries, Northside Hospital has a major focus on women with high-risk pregnancies. "We have the center for maternal-fetal medicine which now has four locations including the Forsyth Hospital," Sisson says. "The center sees a huge volume of patients, probably 30,000 to 40,000 a year."
Services offered include high-resolution ultrasonography, genetic testing and first-trimester screening for chromosomal abnormalities. The hospital also has one of the state's largest high-risk perinatal floors with 34 beds. Physicians, nurses and other professionals there specialize in caring for women with high-risk pregnancies; a labor and delivery staff is trained to care for the high-risk patient and take care of any complications that might arise, Sisson says.
Piedmont, too, has an antepartum unit for high-risk obstetrics patients who have to be hospitalized during their pregnancy for medical or obstetrical complications. "We also have a neonatal intensive care unit, which is largely premature infants with complications who stay with us until they are ready for discharge, which can be quite long," says Linda Wagner, clinical manager for the labor and delivery and nursery and antepartum unit at Piedmont.
Breast health: With an estimated 182,460 new cases of invasive breast cancer expected to occur among women in the United States during 2008, breast health programs are an important and potentially life-saving component of many women's centers statewide. Services can range from screening mammography all the way to reconstructive surgery and lymphedema programs for mastectomy patients.
Some programs, including the Doris Shaheen Breast Health Center at Piedmont, have their own freestanding facilities, where women receive care in a comfortable and private setting.
Diana Lewis, director of public relations at Piedmont and also a patient at the hospital's center, says the physical facility is just one part of the appeal. "It's the human touch you notice when you visit," she says. "Everyone is sensitive to my needs, making me comfortable throughout the time spent at the center."
Convenience also is a key concern for attracting women and helping to ensure they get the health screenings they need. Since 1997, Piedmont has offered screening mammography in a department store – at Macy's in Atlanta's Perimeter Mall. Northside offers mammography services in the community through its ScreenAtlanta Mobile Mammography. The specially equipped van makes it possible to offer low-cost screening mammograms at locations throughout the community.
Piedmont is part of the Spirit of Women Hospital Network, a national coalition of hospitals and healthcare facilities. "The program is built on educating the female half of the U.S. population, which makes up to 85 percent of all household healthcare decisions," Lewis says. "Spirit programs such as the Bosom Brunch at the Breast Health Center encourage women to get their annual screenings. Other events educate women and their families about heart health and cancer prevention."
For most centers, education is an important part of breast care. At St. Francis Hospital's Center for Breast Health as well as handful of other hospitals throughout the state, a certified MammaCare specialist, a health professional specially trained in a scientifically validated system for physical examination of the breast, teaches breast self-exams in group and individual sessions. This method has helped women find breast cancers as small as three millimeters.
At Phoebe Putney, a special boutique provides breast surgery patients one-on-one consultation to help them overcome their anxieties, Martel says. Experts, including Martel, are available to fit women with prostheses and help them select proper-fitting bras and clothing.
Bone health: As women age, nearly all will suffer loss of bone mass. As many as half of all women older than 50 will break a bone due to osteoporosis, a disease in which the bones become so porous and brittle that they are prone to break under trauma as slight as lifting a stack of dishes or even sneezing. A seemingly minor fall can lead to a hip fracture, which almost always requires surgery and often is debilitating.
As methods of detecting bone loss have been developed and new medications to help prevent or treat it have become available, bone health has become an important area for many women's centers. Many Georgia hospitals offer bone density tests, which use X-rays to measure the amount of calcium and minerals in a segment of bone. The most common test, dual-energy X-ray absorptiometry (DXA) measures bone density in the spine or hip, but newer tests measure density in the middle finger, heel or shinbone.
At many centers, including Pied-mont, Doctor's Hospital of Augusta and Archbold Medical Center in Thomas-ville, osteoporosis screening tools such as bone densitometry are housed along with those used to screen for and diagnose breast cancer.
Incontinence: As many as one in three women suffers from bladder problems. The most common is stress urinary incontinence, which occurs when the bladder is under stress from coughing, laughing or other physical activities. The problem can occur in men, but women are at particular risk because of their anatomy and damage that occurs with childbirth.
Because fear of incontinence can cause women to avoid activities, the condition can be more than a minor annoyance, and treatment can be important in getting women active, says Martha Roach Boone, MD, an Atlanta urologist and co-medical director of the Urodynamics and Continence Labora-tory at Northside Hospital.
Many Georgia hospitals offer treatment for incontinence as part of their services targeted to women. Treatment may include the Neotonus chair, designed to strengthen weak pelvic muscles; collagen injections, and surgery.
Gynecological health: Most large Georgia hospitals offer a wide range of gynecological services as diverse as embolization of uterine fibroids (noncancerous tumors of the uterus) and surgery for ovarian, uterine and cervical cancer.
Paying Attention
While hospitals increasingly are paying careful attention to the needs and comfort of women, females aren't the only beneficiaries. At Northside, for example, the noninstitutional feel of the women's center has been emulated throughout the hospital, Sisson says. Amenities that appeal to busy women – convenient parking, good signage, a quick registration process – improve the hospital experience for all patients.
Certainly, the larger the hospital the greater number of services it can provide, but even the smallest hospitals can offer programs to improve women's health. For example, Sylvan Grove Hospital, a 25-bed hometown hospital in Butts County, offers free breast health awareness seminars year-round throughout the community.
Large or small, hospitals are finding that programs to help women directly or indirectly benefit their families – and quite often in the process, the hospitals as well. "Beyond caring for themselves, women influence hospital loyalty and preventive care for their families and their friends," Lewis says.