2009 Power Women
Meet four outstanding Georgia women who are leaders in community service, business, economic development and education.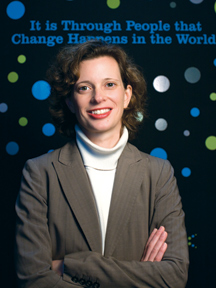 Michelle Nunn
Atlanta
President/CEO
Points of Light Institute
Co-Founder Hands On Network
In 1989, a group of friends met in an Ansley Park condo to found a new kind of volunteer organization, matching helping hands with worthy causes.
Hands On Atlanta soon snagged a $5,000 grant – enough to hire an executive director, at $8 an hour: "I was waiting for my Peace Corps application to go through," says Michelle Nunn, then a recent University of Virginia Phi Beta Kappa grad.
Daughter of U.S. Sen. Sam Nunn, Michelle had grown up in public service, spending summers working in soup kitchens and homeless shelters – experiences that transformed her worldview. "It shows how important it is to get young people involved at an early age," she says.
From that modest start, Nunn has shepherded Hands On Atlanta into a global volunteer nexus (Hands On Network), which in 2007 merged with Points of Light Foundation, creating the umbrella organization, Points of Light Institute. For the second year in a row, Nunn has earned a spot among the NonProfit Times' Top 50 Power & Influence change agents.
Today, with 370 Hands On Action Centers, and an army of more than 785,000 volunteers in a dozen countries, Nunn is looking ahead with both enthusiasm and wariness. President Obama's election "invited the American public back into problem-solving, across partisan lines," says Nunn, translating into a newly energized corps of volunteers. However, corporate gifts are already down, and like many business CEOs, Nunn has consolidated to lower costs and eliminate redundant staff positions.
Still, she believes her organization's "social entrepreneurship" is poised to dovetail with Obama's stimulus plan. That "shouldn't be just about federal dollars, but social innovation," Nunn says. "We'd like to be part of a coalition giving people the opportunity to give back. There is an economic case for service, not just a virtuous one."
Has Nunn ever contemplated the possibility of making change through another kind of public service … politics? "I did seriously entertain the idea of the U.S. Senate in 2004," she admits, eventually declining to tend her young family. But at 42, she isn't ruling anything out. "It's certainly something I do think about. This last election, there was a lot of hope, a sense of possibility." – KR
Sylvia Russell
Atlanta
President
AT&T Georgia
As a child, Sylvia Eugene Russell was taught to value education. And though her parents did not have college degrees, they saw to it that she and her four siblings graduated from college and even earned graduate degrees. Her father earned his associate's degree as Russell was receiving her juris doctor from Rutgers University School of Law in New Jersey.
"They made a lot of sacrifices to make sure we got our education," says the former Sylvia Anderson, 52, who is married to developer Herman J. Russell, Sr. "In our house, there were always a lot of books, magazines and opportunities to just advance."
In nearly 16 years with AT&T Georgia, Sylvia Russell has advanced to president of the company. "The face of AT&T in our state," she represents the company's interests in Georgia, including corporate citizenship, a potential challenge in these tough economic times.
"AT&T has a strong and long history of … civic involvement that spans decades," she says, adding that the company's commitment to community affairs remains unchanged.
"Our AT&T Foundation has a keen focus on education, and as it happens it's my passion, as well," she said. Last year, AT&T introduced Aspire, a four-year, $100 million education program that addresses high school success and workforce readiness.
"Here in Georgia, we had AT&T volunteers working with over 500 high school students, giving them an idea of what earning and learning is all about," she said. "We also awarded a number of … grants to schools and organizations with a demonstrated commitment and track record for improving high school success."
Russell serves on the boards of the Technical College System of Georgia, the Georgia Partner-ship for Excellence in Education, the Commerce Club, the Metropolitan Atlanta United Way and the Georgia Chamber of Commerce, among other activities.
So, how does she balance her personal and professional lives?
"Business folks are used to careful planning when it comes to putting things on the calendar. Not all of us treat our personal time with the same seriousness," she says. "What Herman and I continue to do is to sit down once a week to plan things we want to do with each other and with our families, and we put it on the calendar." – MG
Myrna Ballard
Valdosta
President
Valdosta-Lowndes County Chamber of Commerce
Born in tiny Hyden, Ky., in a coal-mining region of Appalachia that has witnessed a seemingly unbreakable cycle of poverty for generations, Myrna Ballard says, "I grew up wondering what could change that."
At Texas A&M, she earned a master's degree in commercial development, and while researching exactly what spurs economic success, "I remember the very day I thought, 'I want to do what these people are doing.'"
Her husband, Chet, a sociology professor, taught for a while at a small college in Virginia ("until we remembered how little we cared for cold weather," she says) before being lured to Valdosta State.
Although they first thought they would stay only a few years, both decided, "We might actually be able to make a difference here," she says.
Ballard's 13th year helming Valdosta's chamber "has been incredible." At 55, as the rest of the state began fighting the economy's downturn, she has enjoyed "the best year of my professional life" and watched her region enjoy new prosperity and a mini-building boom.
Among the attractions: New developments for relocated Florida retirees who find Valdosta's services and weather just as good, but the real estate and taxes far more affordable. Some new developments are on hold or slower schedules, but Ballard is confident all will be built. The area's Triple Crown Hometown program, a cooperative effort among the Valdosta-Lowndes, Quitman-Brooks, and Lakeland-Lanier Chambers of Commerce, markets the area to affluent retirees. "So far, we've moved over 300 people," she says.
Perhaps Ballard's proudest accomplishment this year is her chamber's accreditation, earning a prestigious five-star designation by the U.S. Chamber of Commerce. Of 7,000 chambers across the country, only 4 percent are accredited; just 1 percent (44 total) earn the five-star award.
Ballard fondly remembers the dinner the chamber's board gave in her honor to celebrate the event – not a big, flashy banquet, but a small gathering of the board, the Ballards, and their families at a local restaurant. "It meant the world to me," she says. – KR
Dorothy Leland
Milledgeville
President
Georgia College & State University
Dorothy Leland, president of Georgia College & State University, has three degrees from Purdue, including a Ph.D. in philosophy.
She held faculty positions at three universities in her home state of California and ran a doctoral program back at Purdue, where she won awards for teaching excellence.
Leland is a maven of formal education, a woman who always saw herself in a university environment.
"I wanted to be a college professor, I wanted to read books and teach English," she says. "Then I was given an administrative role – my arm was twisted. And I found out that this was something I really enjoyed, a different use of my creativity."
Yet it was the time she spent in a remote village in India that remains her most important educational experience. "It was life transforming," says Leland, who joined the Peace Corps while still an undergrad.
Since arriving at her post in Milledgeville five years ago, Leland has worked to give students of this longtime regional college an expanded point of view.
That Peace Corps experience gave her a global understanding, "and I'm a big advocate of that now. We have worked hard here to integrate international content into our majors, to find more opportunities to bring global perspectives into our curriculum."
GCSU, with total enrollment just topping 6,000, has a regional economic impact of more than $170 million and continues to draw most of its students from within a three-hour radius. Although its main campus is seamlessly intertwined with Milledge-ville, the school offers graduate programs at Robins Air Force Base and in downtown Macon.
GCSU has widened its recruitment base, expanded study-abroad opportunities and brought domestic and international students together as roommates through globally inclined campus programs. Retention and graduation rates have risen – along with incoming freshman qualifications and national rankings.
"We're unique in the University System of Georgia because we've been allowed to cap enrollment, to not be one of the state's rapidly growing institutions," Leland says. "This allows us to offer an educational experience you'd find in a smaller, private liberal arts college, to maintain a smaller campus feel.
"Because of that highly selective, limited enrollment, we have been increasingly competitive for many of the state's brightest students." – JG