Where The Rubber Meets the Road
Seven Georgia mayors talk about cities' relationship with the state, the challenges of a tight economy and what they expect from the 2009 legislative session.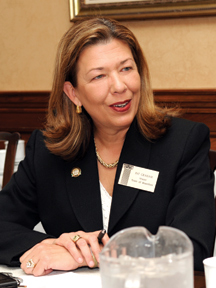 More than 3.8 million Georgians live in one of the state's 500-plus cities and are dependent on them and their leaders for everything from police and fire protection to regular garbage pickup. To find our how municipalities are weathering the economic storm, Georgia Trend convened a mayors' roundtable in November. With help from the Georgia Municipal Association, we selected mayors from around the state and invited them to share their perspectives and their concerns.
Fort Valley Mayor John Stumbo, a retired law professor, presides over a government made up of six council members. "On a warm day when the cats and dogs are counted out in the front yard we have about 9,500 people," he says. Fort Valley is world headquarters for the Bluebird School Bus Company and is home to Fort Valley State University.
Rome Mayor Wright Bagby's grandchildren are the eighth generation of his family to attend the same local church. His city, with a population of 36,000, is the only one in Floyd County. "It makes cooperation a lot easier when there are just two of you," he says. Rome, which will turn 175 old years in April, is governed by a nine-member commission. "The two things that have kept us in good shape for a long time are education and medicine."
Mayor Kenneth Smith's Kingsland, a city of some 13,500 people on the Florida border, is 100 years old. "We are number one, landwise, in the state. We just added 14,000 acres. We are a council of four members and the mayor. We have a staff of city managers that see to our day-to-day operations." Smith is president of the Georgia Municipal Association.
Mayor Mike Bodker leads the city of Johns Creek, which was two years old in December. The population is "about 70,000 people and still growing," he says. "We are a very, very strong mayor form of government; our city manager reports directly to me. He gets to run the city and not deal with politics." Last year Bodker chaired the Metropolitan Atlanta Mayors Association (MAMA), representing 66 cities.
Bill Floyd has been mayor of Decatur for 10 years. His city is one of the oldest communities in the state, dating from 1823. "We are four square miles, 20,000 people," he says. "We are the most dense city in the state of Georgia, doing a lot of high-density developments in our downtown." Decatur has five commissioners who elect the mayor. It is the county seat of DeKalb County.
Deke Copenhaver is mayor of Augusta/Richmond Coun-ty, a consolidated government. He was in banking and real estate development and ran a land conservation organization for four years prior to running for mayor. "I have never been involved in politics, but I really saw the potential for Augusta," he says. His city, with a population of 197,000, has a strong medical community and is home to Fort Gordon.
Mayor Pat Graham's city of Braselton is located in four different counties – Jackson, Barrow, Gwinnett and Hall. "On a regular basis I interface not only with four county commissions but also 32 cities. We estimate our population today to be around 6,000." Braselton is home to Chateau Élan Resort Winery. Graham is only the fourth mayor in the city's history and the first not from the Braselton family.
Following are edited excerpts from the roundtable discussion. Georgia Trend's Neely Young, Susan Percy and Ben Young questioned the mayors.
GT: In light of the state's nearly $2 billion budget deficit, the governor proposed doing away with the Homeowners Tax Relief Grant program that sends tax monies back to the cities. The state has apparently backed off on that, but such a move could have quite an impact.
COPENHAVER: That is a $3.2-million hole in our city's budget and a $3.4 million [hole] in the school system's budget. To me it amounts to an unfunded mandate. I think they are going to fund that program this year but I don't think they will next year.
FLOYD: This is a trend that we have been seeing for a while, where the state [says] they are cutting their expenses but what they are cutting is our money. It's the relationship between local governments and the state. They want to collect the money and redistribute it. If they would let the local governments collect that money and make a decision on how it's spent, they can help the property tax. They have all said they want to cut property tax. Decatur has the highest property tax probably, other than Atlanta, in the state. We have a very small school system and it costs a lot. We don't have any access to any other form of revenue. We don't get one dime in sales tax. Not one dime.
BODKER: One of the things that the cities need to do is to try to operate as lean and mean as they can. When the belt has to be tightened you do find a way. I think the other thing we can do is work more closely together and try to find economies of scale. One of the initiatives that we are pushing under MAMA [Metro Atlanta Mayors Association] this year is on the water conservation side, to actually join the 66 cities of the metro region together on some conservation initiatives.
If I learned one thing from last year's session, it is that our legislators lost their hometown connection. We are the closest form of government to our local citizens.
It is our fire services, it is our police departments, it is our 911 services, or a close relationship with the next closest form of government – the county – that is delivering those services.
STUMBO: If you look at the way the tax policy is structured, if it favors anybody, it favors the counties over the cities, whether it's local option sales tax distribution or whether it's SPLOST or whatever else. I really think that in the last session particularly, the cities were just like an afterthought.
BAGBY: I don't know of any of us in this room that would have any kind of situation coming up in our cities [for which] we didn't hold public hearings and inform the citizenry, bring them in to make them part of decisions. Yet this was just one morning we picked up the paper and basically there it was.
SMITH: I don't think there was any communication on this at all with local leadership, and we're where the rubber meets the road. When we get something like the Homeowners Tax Relief pulled away from us without any type of notification, local homeowners look to us directly.
STUMBO: I think a lot of you told our legislators that they caught us by surprise. And we got some sympathy. But I agree with Deke, they may fund it this year, but I think it's on its way out. Next time we're not going to be able to claim surprise. It worries me.
SMITH: We need to drive that point home to them – don't do it.
FLOYD: The Homeowners Tax Relief Grant – if they decide to cut that program out, we'll deal with it. The frustrating thing was the governor's reason for doing it was that he said we hadn't done enough. He's going to tell us that we've got to cut when he doesn't really even understand how our budgets are made.
GT: Looking toward this year's legislative session, what are you expecting?
MIKE BODKER: From a MAMA perspective, we're looking for three big things. One, they failed to address the transportation issue last year, an issue that will literally cripple the economy of this state; and they must address it. I think we have a good starting point – which was the ending point last year. They brought an interesting thing about with the Get Georgia Moving forum. You had a cross section of folks involved in the transportation issue that we have never seen before, tree huggers and gas pump huggers all at the table together.
GT: What else?
BODKER: Water. We need to deal with the tri-state water board. We have to find a way to get more water. I think that as far-fetched as it sounded at first, the reality is that the Tennessee River is the solution to our problem – or one of the big solutions to our problem.
BAGBY: So you've taken the Etowah out? That's good.
BODKER: We also need to deal with conservation in a real way. If we don't change the curve of usage, it really doesn't matter how much you keep adding in at the top. You are just going to use it up down at the bottom. The third issue is the one we just talked about. We have to find a positive way to reinforce [to] the legislature that we deliver the most essential services. We keep Georgia going.
FLOYD: From a legislative standpoint, what I look for this year is more confusion. The lieutenant governor has asked Get Georgia Moving to write a bill and he'll introduce that. The governor has his IT3 [Investing in Tomorrow's Transportation Today].
And the lieutenant governor wants to let the Toll Road Authority handle it. Why? First of all, it's a board that is appointed by the governor. So he then has control of it, or whoever comes after him has control of it. And the second thing is they have abundant authority. So they have avoided the DOT and all that mess that's going on over there and they have shifted it away. The key to transportation is not the money. It's how you spend that money. In the metro area we are going to have to find a way to spend some of that money on bus and rail and – in communities like Decatur – intersection improvements. If you want people to get out of the car you have to make them feel safe walking and riding a bike or riding a little scooter.
GRAHAM: I think last year's session, riddled with conflict, was the most unproductive we've had in a long time. The state needs to get serious and work on water supply. We need to seriously work on transportation; we need to address trauma care. But if I would want to see one thing happen this year, it would be a change in mindset of our state elected officials. They have the mindset that they are state officials and they are going to legislate what is best for us. That will be our biggest conflict.
FLOYD: You want to know what needs to come out of this session? We need some leadership. We don't need to see them dealing with whether guns can be carried in the bar or not.
GRAHAM: We need some partnership.
BODKER: The reality is the population lives in our cities. The mayors and the cities don't have as strong a voice as they should. Last year GMA did a great job on the defensive, but what we didn't do … we weren't on the offensive.
GT: Are all of you concerned about taxes?
FLOYD: Somebody has to collect the sales tax. The way to do that is like they did in Alabama. They let local governments collect the sales tax. And they either let them hire a private company or do it themselves. The other thing is you have to know where every dollar comes from. We have counties around the state that have a 1 percent local option sales tax and a 1 percent special purpose tax. Two percent. They get two checks a month, and they are $100,000 different. How can that be? I can go to Montana and charge gas on my credit card up there and in 15 minutes pull out my cell phone, access the internet and see that receipt show up on my account. And we can't figure out where the money is coming from?
You have to give local governments a choice about how to tax their people. Give me access to a municipal option sales tax, a local option sales tax. Every city, every county can deal with it differently if the state will say, here's a cafeteria-style selection of how you can deal with it.
In Decatur, if they'll give us access to a municipal option sales tax, I can cut my property tax to just about nothing.
COPENHAVER: I had a member of our delegation contact me and say, rather than looking at a property tax increase, can't you use a penny sales tax to fund municipal operations? I said that would take enabling legislation at the state level, but he did not realize that. Give local government flexibility and give us options.
GT: With the economy so tight, could you talk about what budget cuts or changes you are making?
SMITH: During the summer we went to a 10-hour day, four days a week. We started to monitor our fuel a lot closer.
COPENHAVER: We help fund a lot of local nonprofits. We had all the nonprofits come in and make their case, these very worthy agencies that we have historically funded. It's a difficult decision-making process for local governments. Do you cut funding to the arts council or do you close a community center? Or do you look at a tax increase, which nobody wants? We're going to go to reserve funds in the midst of this bad economy so we can try and balance the budget and try to meet the needs of all our citizens.
STUMBO: One of the things we are looking at instead of buying our police cars outright is maybe doing some financing or leasing.
FLOYD: We are trying to do a budget out four or five years. Most of our budgets are police salaries, fire salaries, you know – benefits and those kinds of things. Your choices are not to cut those salaries. You can say, OK, this year I'm going to lose two policemen so I'm just not going to replace them. You can defer capital expenditures. Police cars, instead of replacing them at 100,000 miles you replace them at 125,000 miles. Where we differ from the state is where we make those cuts, it impacts somebody. Somebody is going to show up at our commission meeting and say, what happened?
COPENHAVER: At the state level the decisions are made on what is politically expedient. At the local level – because we're making decisions in real time and real world scenarios – we are not necessarily thinking about what is politically expedient. We are pretty much post-partisan by necessity. If someone's sewer line breaks and they call you in the middle of the night, they don't ask you what's your political party.
BODKER: People think I'm crazy but I'm a little bit excited about this bad situation because I think a lot of good is going to come out of it.
GRAHAM: I think it will make our governments more cost effective. Braselton's revenue is very heavily affected by the tourism industry. We have developed a much closer relationship with the hotel owners inside our city to stay in communication with them and [know] what their revenue projections are. We don't need to be finding out after the fact that occupancy rates have fallen off, which will greatly affect our budget. We made some decisions this year not to add staff.
SMITH: One of the things that I picked up out of the Navy is [the need for] a maintenance program on our vehicles – trucks, cars, police cars.
GT: Let's talk a little about outsourcing and professional management.
BODKER: We outsource everything but fire and police. If you were to take our public safety out of the picture, we have less than 10 city employees. We have been able to do things and have flexibilities that we otherwise couldn't have. And to be honest with you, we couldn't start a city from scratch without privatization.
BAGBY: We outsource – we have more joint agreements than any other city or county in the whole state. Our city fire department is the fire department for the city and county. The city sewer system is the sewer system for the city and the county. The county runs the recreation department. There is duplication in police, mainly because there is a lot of difference between urban policing and suburban policing.
STUMBO: What about accountability? We brought trash pickup back in house because our contractor was only there one day a week and if they missed somebody, then it was next week before they came back.
GT: What you are doing to encourage economic development and job growth?
COPENHAVER: One great thing still is to leverage and highlight your successes. Use your investors as advocates. Cal Ripken purchased our minor league club. When the Red Carpet tour came to Augusta we had Cal there to meet them and give his testimonial as to why he invested in Augusta.
SMITH: Our geographical location between Jacksonville, Florida; Brunswick, Georgia and Savannah – we are in the middle of a couple of progressive ports. I'm told that we are actually marketed – Jacksonville actually markets us, and we market them. So we realized that there are a couple of zones that we didn't have in place, opportunity zones, enterprise zones. These are attractive to developers. We are in the process of putting those in place. We are constantly updating and looking at our infrastructure needs.
STUMBO: One of the challenges that small towns face particularly is the quality of workforce. Most inquiries will include some inquiry about whether or not you have a sizable workforce that is skilled enough to do whatever it is they need doing. Bluebird, for example, employs about 2,000 people in our city and so we went to a partnership with the technical college to provide specialized training based on Bluebird's needs.