Fully Engaged
Clayton State University, 40 years old this year, has added on-campus housing to enhance the college experience for its students.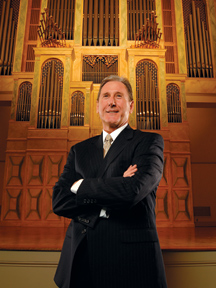 Ciji Fox still isn't entirely clear about why she uprooted herself from the small Iowa college she was attending back in 2006 to come to Clayton State Uni-versity (CSU) on the south side of Atlanta.
"I think I decided to move to Georgia on a whim," recalls Fox, a senior communications major who graduates CSU this spring. "I did have an aunt living in DeKalb County who said I could live with her if I wanted to." But there was another aunt who lived farther south of Atlanta, a music-loving aunt who attended concerts at CSU's famed Spivey Hall. "She told me how gorgeous the campus was," Fox says.
So, after a few online tours of that campus, Fox enrolled at Clayton State and found its small size ideal for her budget-conscious lifestyle. "The campus is not too big," she says. "I live … just off campus. That's really convenient because I don't have a car. I enjoy walking and I can make it to just about every building on campus in about 15 minutes."
This year marks the 40th anniversary of the opening of the little junior college that became Clayton State University – now boasting a student population of 6,000.
Fox came to Clayton State vowing to focus on her studies, avoid extracurricular distractions and zip through her courses. "But it didn't quite work out like that," she says, laughing. She took on a variety of positions at the campus newspaper and co-hosted a weekly two-hour internet radio show called "Her-She."
"I've made this [campus] like home to me," Fox says.
Ciji Fox began her college career living in a dorm at the Iowa college she attended, an experience she says taught her about getting along with others and sharing ideas, leading her to believe the dorm experience is as educational as any classroom lecture. "I think all students should have to live in the dorm their first year," she says.
And if they attend Clayton State University, so they shall. In the fall of 2008, CSU opened the doors to its first on-campus housing, the 451-bed Laker Hall. To make sure first-year students taste the full flavor of college life, CSU's stewards have established rules requiring freshmen to spend that first year living on campus.
"What we want is for the student to be more fully engaged in the life of the campus, with the faculty, with the administration, with other students and with student organizations," says CSU President Tom Harden. "Such community living also helps many students more easily make the transition from parental care to individual responsibility."
Not that being forced to live at Laker Hall for a year is exactly a hardship. The 178,000-square-foot residence features a coffee shop and study areas. Suites offer four private bedrooms and two bathrooms with a shared living room and kitchenette – all wired for the latest in technology and entertainment gadgets.
Another benefit for Laker Hall residents is the 62,000-square-foot Student Activities Center located just a short stroll away. The center houses offices for student groups and campus administration, along with a café, game room, conference room, student lounge and a fitness center.
The two new buildings were funded as parts of a $42 million bond issue financed by the Clayton State University Found-ation Real Estate, LLC. In addition, the university completed its new 15,000-square-foot School of Business as a wing of an existing building, using $4 million in state funds for the project. A $6 million renovation project has been approved to provide new science labs and classrooms in the school's old business and science building and is expected to open in the fall of this year.
But that's just a stopgap measure. "We are maxed out in our labs," Harden says. "All students take a science lab course or two and we can't accommodate them."
The Georgia General Assembly will vote in this session on a $33 million appropriation for a new science building; if the funds are approved by the legislature, construction will begin in the next fiscal year, Harden says.
Harden, who assumed the CSU presidency in 2002, will leave in June to head a college in Wisconsin.
Diverse Student Body
Clayton State's diverse and, in some cases, unique educational opportunities fit nicely with its reputation for a multicultural student population. The school has been named by U.S. News & World Report in each of the last six years as the most racially diverse among the baccalaureate colleges in the South.
"Just being ranked doesn't have much value," Harden says. "But what's behind it is what's important. We are a very diverse campus in so many ways: racially, ethnically, internationally, religiously and age-wise. That gets right down to the experience the student has in and out of class."
For the 2008 academic year, the university counted among its 6,000-strong student population 3,170 African Americans, 1,633 whites, 279 Asian or Pacific Islanders, 124 internationals and 250 of multiracial heritage.
CSU's broad appeal lies in its wide range of offerings, which includes a Paralegal Studies Program approved for a bachelor's degree last year by the Board of Regents and the American Bar Associa-tion, and welcomed by lawyers and their clients.
"The paralegals have meant a great deal to the legal profession in that it's made legal services more affordable," says retired Clayton County attorney G. Robert Oliver, a CSU booster who handled the legal end of a 93-acre land purchase from the local development authority. "And more and more law firms are using paralegals. Clayton State was one of the first that had a paralegal program."
In addition to CSU's current four master's programs, a fifth, master of arts in teaching, will be offered this year, and three additional master's programs are in development. The university currently offers 37 undergraduate programs including five associate degrees.
The Beginnings
The genesis for today's university campus occurred 44 years ago when early Clayton County boosters focused on a dairy farm at the outskirts of Morrow as an ideal site for a new two-year school.
"When the Board of Regents approved a college for the Southern Crescent [region south of Atlanta] the idea was to put a campus on this 163-acre tract without disturbing the natural beauty of the place," says John Shiffert, CSU's director of university relations.
But there were some welcome changes to the landscape, beginning with a manmade 12-acre lake that gave the school's sports teams their nickname – the Lakers.
From the very beginning, CSU has been strongly connected to its hosts, Clayton County and the city of Morrow. Clayton was chosen as the site of the new campus, thanks in large part to its proximity to the recently completed I-75. Local citizens showed their enthusiasm for the idea by approving a bond issue of just under $5 million to construct the first buildings and provide infrastructure. Doors opened to the first students, 942 of them, in 1969.
Clayton Junior College added programs and students when it housed a technical college in 1981 and five years later began offering baccalaureate degrees, becoming Clayton State College. Then, with the offering of master's degrees, a new name came along: Clayton College and State University (CCSU). By then the institution had undergone so many name changes it was in danger of losing its identity.
"Nobody knew what CCSU was," says Harden. "It was a confusing name and it was, quite frankly, a name this campus never wanted."
So the university's leaders decided to change its name again in 2005. "That wasn't a decision that came easy," Harden recalls, "because at that time [Clayton County] was having some problems with its public schools."
The Southern Association of Col-leges and Schools (SACS) withdrew accreditation of Clayton County's public schools last September, following an investigation into the local school board's governance practices.
Harden says the local board's woes have had a ricochet effect on his institution. "People, in their minds, because we are Clayton State University, associate us unknowingly with Clayton County Public Schools," he says. "We feel very badly about that, and we believe one result of that has been a slowing of our growth rate."
But Clayton County high school graduates looking to further their education could find a home close to home, Harden says. "The Board of Regents has a policy that allows us to continue to accept the Clayton County [school system] students if they meet our criteria, as can any college or university in Georgia."
Room For Expansion
CSU's enrollment moved along at a leisurely pace in the '90s; but the first four years of Harden's administration saw dramatic growth, and enrollment reached 6,212 in 2005.
Although numbers have de-clined slightly, university leaders are anticipating renewed growth. They recently purchased the 13 acres and two buildings of the old Atlanta Bible College adjacent to the CSU campus, and are looking for even more room.
"We have taken steps to study and analyze the area to see what our possibilities are for expanding the campus," Harden says. "We're not interested in cutting down all the trees and filling in the ponds and lakes. We want to maintain the natural beauty of this campus."
When the university decided to use campus' natural landscape for a new amphitheater, local contributors went to their checkbooks and came up with most of the $200,000 cost. The Eugene Lawson Amphitheater opened last fall for outdoor concerts, poetry readings and other cultural events.
Even with the addition of new facilities over the past 28 years, the 400-seat Spivey Hall, a performance art venue, remains the signature building on campus, and the subject of much praise from the noted musicians who have played there.
Spivey Hall not only attracts jazz and classical music lovers, it also is a teaching center welcoming 20,000 children from 17 Metro Atlanta counties annually to its Noteworthy Concert Series.
"Spivey Hall is a great recruiting tool," says Doug Wheeler, head of the CSU music department. "And the students love to perform there; they're just blown away by it."
Several years ago campus and community leaders purchased 93 acres of land sitting around the edge of the campus from the Development Authority of Clayton County," Harden says. When the group learned the National Archives and Records Administration (NARA) facility in East Point and the Georgia Archives in downtown Atlanta were both looking to relocate, CSU boosters thought the two could be convinced to move onto a part of those 93 acres.
After hot pursuit by campus and community leaders both archives decided to relocate to Morrow, making Clayton State the only university in the nation with both regional national archives and state archives in the adjacent neighborhood – two huge assets, especially for CSU's history department and its efforts to attract professors and students.
For Dr. Randall Gooden, an assistant professor of history at CSU, the easy availability of the two archives was a career clincher. "I could have gone anywhere," he says. "But I came here because of that unique triangle that exists between the state and national archives and Clayton State."
Gooden sees the presence of the two archives as a singular benefit for the university's archival studies program. Not only do participants in the archival studies program have easy access to historical documents in their original form – what he calls "raw history" – they also have opportunities for internships at the two facilities, and several students have gone on to take jobs at them. "That was a crucial part of this relationship as well," he says.
The archives' presence led to an announcement last November that CSU would receive a $310,000 planning grant from the U.S. Department of Education to establish a master of arts degree in archival studies, the latest of the university's master's programs that include postgraduate offerings in education, liberal studies, healthcare and business. The CSU MBA program will confer those degrees on its first graduates this spring (see related story on page 53). And the university is expanding its programs, including its MBA, to other communities.
When economic development leaders in neighboring Fayette Coun-ty came to Harden several years ago and asked him to establish a presence in their community, the school branched out and is now leasing part of a building in Peachtree City and offering courses there.
"The way you attract economic development opportunities is by having a high quality of life and one of the components of having a high quality of life is a good educational system, not just ending at grade 12 but beyond," he says.
The start of the 2008-09 academic year saw 400 students enrolled at the Peachtree City facility. And CSU has another regional impact tied to economics. A 2006-07 study conducted by the University System of Georgia puts Clayton State's regional economic impact at $184 million, based on its purchases and the 1,737 jobs it creates in Atlanta's Southern Crescent.