Lumpkin County: From Tourism To High Tech
A community explores new avenues to success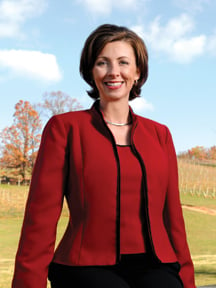 Lumpkin County was blindsided this spring by the announcement that Mohawk, a carpeting manufacturer, was closing its Dahlonega carpet fiber plant, where some 366 were employed – two for more than 50 years.
"They were our largest private employer," says Bruce Abraham, director of the Lumpkin County Development Authority. "It was such a surprise. We threw everything we could throw at them" in terms of incentives, but the writing was on the wall – as it has been for many north Georgia communities dependent on manufacturing as jobs continue to flow offshore.
But this cloud has a big silver lining. The Mohawk plant covered 35 acres and occupied a 365,000-square-foot building, which is now available for $3.5 million. It also used a lot of water, straining the resources of a county that has been steadily growing since 2000. Lumpkin now has time to permit more water for future residents. It also has time to recruit new employers. Abraham stresses that he is seeking better jobs that will help keep Lumpkin's trained manufacturing workforce close to home.
Mostly, however, the closure has forced the county to take a regional approach to planning for the future – an approach that includes an aggressive strategy to run fiber-optic cable up Highway 400 to the North Carolina state line. The big potential for north Georgia tech jobs has been enough to unite Lumpkin with four other counties – Forsyth, Dawson, White and Union – to form the North Georgia Network (referred to as NGN and pronounced like engine). The group received a $240,000 grant from Gov. Perdue Dec. 1 to fund a feasibility study for the fiber-optic project. Lumpkin is the lead applicant, Abraham explains, because it is the southernmost county with a high poverty rate.
Meanwhile, the county is a growing hotspot for retirees and tourists. Festivals and sales tax collections are as robust as ever, and retirement growth has created a corresponding healthcare community.
"We have always wanted to have businesses and their employees relocated to Dahlonega and Lumpkin County. It is more important now due to the decline in the residential housing market," says Jennifer Herring, chairman of the Dah-lonega-Lumpkin County Chamber of Commerce, and also an executive with BB&T. "It's a fine line between maintaining what keeps us so unique and attractive to retirees and tourists, and responding to the need to bring in new people to maintain our tax base, so we can retain our children in the schools and they can own homes here."
New Options
While the Mohawk closing devastated local workers who were expecting the plant to expand operations, it left Lumpkin County with a prime slice of industrial real estate. The Georgia Department of Labor gave Lumpkin $25,000 to market the property, and the development authority held an open house for 80 real estate agents and has two more events planned.
"We've shown it to 10 different prospects, from furniture manufacturing to an energy conversion bio company," Abraham says. "Half of the folks want to tear it down for a retirement community or a college dorm situation. No one has made a commitment."
Consequently, "we're trying something new," Abraham says. "We're following a strategy we started a year and half ago, when manufacturing started leaving north Georgia, which requires us to build a fiber-optic network to enable businesses that are tech-dependant to locate here. We've got Georgia Tech involved as a contractor, and a national consulting firm to help us build our infrastructure and develop a recruiting program. The third piece is North Georgia College; they're a partner in creating the workforce to support it. Everyone is betting on technology for new jobs – not just code writers but those enabled by tech to do business."
Chamber President/CEO Gary Pow-ers expects good things to happen once fiber optics arrives in northeast Georgia. In the meantime, he's pleased with the number of prospects interested in the Mohawk site.
Fiber optics replacing textile fibers could cause a dramatic cultural shift for this north Georgia mountain community, but there is a cushion – a sweet quality of life that's drawing many a retiree and tourist. "This is definitely a tough time for us, but I don't think Dahlonega and north Georgia are hurting as much as other areas," Herring says. "We still seem to have builders and real estate agents looking around – not at the same rate of the last year or two, but there are still houses being sold. We're in our own little bubble here."
Lumpkin County has been growing by about 1,000 new residents a year since 2000. "We're seeing several retirement communities being built," says County Manager Stan Kelley. "Ever since U.S. News & World Report said we were one of the top 10 great places to retire, we've seen a lot of retirees move here. A lot seem to be coming here from Florida."
A year after Lumpkin was ranked in 2006, U.S. News & World Report wrote that 500 units were under construction in Dahlonega "for the 55-and-older-set" (June 11, 2007). "You can't buy recognition like that," says Herring of the ranking. "We continue to see three to five people come into town and into the bank every week, that have either just moved here, retired a month ago or came to visit and decided to retire."
"Growth has slowed down quite a bit, but don't think it's peculiar," says Kelley, adding that the county issued four building permits last month, compared to 30 or 40 ordinarily issued over the course of the month. "We are going through the same hardships as everyone else, but it's kind of a blessing to have some down time to do some good planning. From a growth perspective, it gives us time to put some infrastructure in place. From a revenue perspective, it makes it a little more difficult; but we're updating our regulations for subdivisions, and are also in the process of completing commercial development regulations. It gives us some breathing room."
The city of Dahlonega is building a new water treatment plant that will help increase the city's capacity for future residents, Kelley says.
The county passed a Special Purpose Local Option Sales Tax (SPLOST) last Spring, partly to ramp up its infrastructure for water and sewer treatment capacity. Unlike some other counties, Lumpkin's SPLOST revenues, which come from consumer spending, have not decreased with the troubled economy. "Some of the other counties' SPLOST revenues have dropped off, but ours is holding steady," Kelley says.
Gold, Wine And Hemlocks
While Lumpkin County may still need to diversify its industrial community, it has done a terrific job of diversifying its tourism economy. Dahlonega may be best known for its Gold Rush Days, but it's also a haven for cycling enthusiasts, wine aficionados and others attending the 14 festivals that draw visitors year round. "Tourism hasn't slowed down, not here," Kelley says. "This year Gold Rush was as big as it's ever been."
Gold, which was first discovered in Dahlonega in 1828, is still the most popular element of Dahlonega's tourism. This [past] year Gold Rush Days, held the third weekend in October, drew a record 200,000. "Tourism has helped us keep pace, and will always be a growing industry for us," Herring says.
"But you always have to keep reinventing yourself. We've done the gold thing and it's great but we can't rely on it. We have to keep providing [visitors] with different avenues. Fifty percent of the county is national forest, which provides a great opportunity for outdoor tourism – hikers, bikers, canoe and kayakers." The county also is adding new festivals, such as the two-year-old Hemlock Festival, which raises awareness and funding for the endangered tree and a Celtic Music Festival in March to celebrate the area's strong Celtic heritage.
"There are also our wineries," Herring says. Five wineries have opened in Lumpkin County, one of which, Wolf Mountain Vineyards, produces Georgia's first champagne. Another, Frogtown Cellars, was founded by a retiree living in the Achasta community.
"Because of our climate and slope of land, Lumpkin County has excellent conditions for growing grapes," Herring says. "Our wineries do very well, and thrive on the wedding business. One winery is already booked for next season." Lumpkin's wineries host 30 to 40 weddings each over the four-month traditional wedding season. The busiest tourist season is fall, of course, but spring is becoming popular with visitors as well.
Wineries also have attracted a new brand of tourist to Dahlonega – visitors come up from Atlanta on weekends for the winery tours. "We're starting to get the proof on paper that even though the economy has slowed, people will still drive a couple of hours to get away from it all, and they're coming to Dahlonega," Herring says.
Tourism is the major industry in Lumpkin County and the economic engine that sustains the area through sales tax and bed tax dollars, says Powers, who notes that hotel and B&B occupancy is actually up 9 percent over last year's figures with the city bringing on some new properties and several B&Bs coming online.
"Liquor by the drink was passed last November in the county. We are hopeful that once the economy begins to improve, we can attract some boutique hotels to the Hwy. 16 and Ga. 400 corridor to keep visitors in Lumpkin County and produce more bed tax and sales tax dollars. This could serve as a hub for travelers who still want to explore the beautiful northeast Georgia Mountains," he says.
Town And Gown
Dahlonega also benefits from a student economy that feeds an additional revenue stream into county tax coffers. North Georgia College and State University has an enrollment of 5,500, and is growing both on and off campus. "For our small business owners downtown, the college provides an ample supply of part-time employees," Herring says. "You can really tell a difference when the college is out. The students and their families have a tremendous effect on the economics of our community."
Leaders see a mutually beneficial economy in which these students will become full-time tech and healthcare employees for the dream industries it is hoped they will help attract. "North Georgia is currently graduating 65 to 80 computer science majors [a year], and has a tremendous business, nursing and science department. Unfortunately, most have to go to the Interstate 285 area to work, but we have a work force engineered to drive the whole region," Abraham says.
In August, the NGCSU Mike Cottrell School of Business opened with undergrad courses in accounting, finance, management and marketing. It also offers a bachelor of business administration with a corresponding MBA program in Forsyth County. Dahlonega resident Mike Cottrell, whose company Cottrell Inc. is the nation's largest manufacturer of car-haulers, donated $10 million to start the school, which just named Dr. Max Burns as dean. "NGCSU has also recently been charged by the U.S. Army to graduate 100 commissioned lieutenants a year," Powers says.
The college is a member of the North Georgia Network (the operation formed to bring fiber optics and high tech jobs to the region) as well. "We formed the North Georgia Network to get people to see the technological capability here. If you look around the country at areas that are attracting this type of business – Silicon Valley or North Carolina's Triangle and Triad – you'll find they are branded as regions," Abraham says.
In today's economy, Abraham's timetable is ambitious, and NGCSU plays a pivotal role. "I would say we will get it [fiber optics] in two years," he says. "You see manufacturing leaving the country, leaving the region and consider that wages at American manufacturing companies are still low – Mohawk jobs were $10 an hour – then now is the time to be inventive and creative. I believe we are in a market economy for education. As our area starts demanding a higher level of education, we'll get a better-educated population. It sounds naive, but the old expectation was that you knew you could drop out at 10th grade, and go work at the factory. But if instead it was in your head that your friends make a decent living in tech-related industries, you start to think, 'I can do that too.'"
Keeping Good Company
The Dahlonega-Lumpkin County chamber boasts a membership of more than 600 – pretty good for a county of 27,000 – consisting mostly of small businesses, which made it a natural for the state's Entrepreneur Friendly designation. "Chamber members tend to have 10 or 11 employees. Some are hair salons and services, but the majority of them are geared toward the tourism sector," Herring says. Along with the college, these businesses make Lumpkin County attractive to retirees and visitors, and will continue to grow in number, if not size.
"The financial impact that Mohawk had on our community could not be replaced by adding some new small businesses. However, I believe that our community is better suited to smaller businesses, and we have worked hard to achieve the Entrepreneur Friendly Community Designation, which will help us in the future. Being one of 80 entrepreneur friendly communities in the state is a tremendous honor, and it will further help us to promote small businesses that come to Dahlonega," Herring says. "It's not only a good driver for our mom and pops, it could also help attract smaller IT-type businesses. It helps us look for ways to create higher paying jobs for locals and graduates of NGCSU, so they don't have to leave home and drive to Atlanta for higher paying jobs."
Lumpkin's Entrepreneur Friendly status has provided it with tools to help start-up businesses, Powers says. He points to such new companies as RefrigiWear, which manufactures heavy clothes for workers in extreme cold conditions; The Louver Shop, which produces wood shutters and is shifting its manufacturing line to Lumpkin, and Polly Portables, which manufactures 15 to 20 percent of all portable toilets and chemicals, that serve growing "niche" markets, and boost the county's brand as a haven for small, smart companies – all of which could be magnified by a beefed up technology infrastructure.
Abraham adds that "retired people moving here are still active – not just playing golf, but getting involved, communicating with computers, and there's something there." His enthusiasm for high tech in north Georgia is contagious. "This country was built first on waterways, then railroads, then roads and interstates – this is just another highway," he says. "The best way to predict the future is to invent it."
Community Snapshot
Local Leaders
Bruce Abraham
Director
Lumpkin County
Development Authority  
706.864.0423
babraham@lumpkincounty.gov
Stan Kelley
706.864.3742
County Manager
stan.kelley@lumpkincounty.gov
Gary Powers
President
Dahlonega-Lumpkin County Chamber of Commerce
706.864.3711
gary@dahlonega.org
Population
(2007)
Lumpkin County, 26,554
Per Capita Income
(2006)
Lumpkin County, $25,591;
Georgia $30,914
Unemployment
(Oct. 2008)
Lumpkin County, 7.8 percent; Georgia, 7 percent
Major Employers
North Georgia College & State University; Lumpkin County Board of Education; Walmart; Timken U.S. Corporation; Chestatee Regional Hospital; Southern Switches; The Louver Shop; RefrigiWear; The Home Depot
Sources
U.S. Census Bureau, Georgia
Department of Labor, Lumpkin
County Development Authority